My internet-based photography business
15 Comments
In a previous post, I've listed what I consider to be the
top ten proven ways to make money from photography
. As those who know me may have guessed, I did
not
use any of those avenues during my first ten years in business. Instead, my photography income is almost entirely based on the sales of prints and licenses of images created on self-assignment, through this website.
The mode of operation of the business was therefore the following: I visited on my own locations of personal interest to me, created photographs there, published them on terragalleria.com, and waited for visitors to find them. This way of doing business worked particularly well for me for two reasons.
On the photography side, this kept the fun and inspiration: functioning as an artist, I was able photograph exactly what I was interested in, in the way I meant to, free of any interferences associated with commercial jobs or external pressures at a time when I was developping my vision. Whether the resulting images would be "saleable" or not was not a consideration, since I feel that all images would contribute something interesting to the website. While peripheral activities such as teaching, writing, and providing other services, can be rewarding on their own, not engaging in them let me devote more time to my photography projects, which were the reason I chose to have a career in photography. This also provided a test of whether my images were strong enough for me to make a living for me and my family from them alone.
On the business side, I have a modest, low-profile personality, which would prevent me from being an effective salesperson. In particular, I am not particularly good at "pushing", trying to attempt initial contact with specific buyers. This is how most professional photographers operate (top proven ways to promote your photography) because the alternative approach can be expensive. In "pull marketing", instead of contacting clients, you use mass-media outlets to get clients to respond by contacting you. Traditionally, pull marketing has relied on print, television, and radio. Because of the cost of advertising in those media, pull marketing was used mainly by large companies. That's where the internet has been a game changer. I was more a mathematician interested in the perception of space than a software developer, but my technical background (CS PhD) still made it possible to create a large photography website using a text editor ten years ago when there were no easy-to-use tools or services for doing so. Although I am not good at coding, I am even worse at cold-calling, having worked in a field where you are judged by your results (science and engineering are areas that use proofs).
The internet has transformed how we access and consume information. Potentially anyone with a computer and a connection from around the world can see your images around the clock, opening up for the first time a line of direct communication between artists and art buyers. People do not visit your website because you handed them a business card, but because they somehow found it on the internet. Yet, this seemingly random mechanism can sometimes provide a number of viewers comparable with traditional media, at an extremely low cost. This makes the internet the first affordable medium for pull marketing. Maintaining and updating terragalleria.com represents a considerable amount of work, however the hosting fees for the dedicated server are less than $250/month.
It's not just marketing. Unlike in the physical world, it is also inexpensive to own and operate your sales outlet. A gallery would split the sales proceeds, but more importantly, it would carry only a small selection of your artworks. While a gallery does promote its artists, that promotion is split amongst represented artists – not evenly, and not in your favor if you are not a "star". But the bulk of the promotion effort goes towards the gallery itself. This is even more true of stock photography agencies, with the difference that while good galleries are true partners for their artists, rare nowadays is the agency which has your best interest in mind when making their deals, while many are borderline exploitative. On the other hand, your own website accepts every work you submit: it gives you total control on which work is presented and how it is presented, and no one else is represented there. This was key for letting me publish the images I created by visiting my own locations of personal interest and maximizing revenues from sales. When you sell a product through a third party, most often you need to provide them with an inventory of finished products, such as prints, or fully corrected and keyworded digital files. They can be produced on-demand if you do the fulfillment yourself, saving time and resources.
The bad news with doing business on the internet is that it takes a lot of viewers to make a photography sale. Most people who came to your site just stumbled on it. Therefore, unlike those who go to a shopping site such as amazon.com, they did not come there to buy something. Nor can they be talked into buying something by pushy webpages and a hard sell: those just turn potential clients away. Selling photography on the Internet is a bit like hunting birds by shooting randomly in the sky. In my experience, it requires a considerable amount of traffic, since the ratio of buyer to visitor is only a tiny fraction of a percent. To give some numbers, in the year 2009, terragalleria.com received 5.7 M visits. This was measured using the great Google Analytics, which offers (since 2008) the most accurate site statistics because it automatically disregards numerous visits by the search engine crawlers, unlike for example Webalizer. That year, we sold 267 prints and 148 licenses, which actually generated more revenue than prints. So it took 21,000 visits to sell a print and 38,000 visits to sell a license. True, if we had priced our licenses and prints at a lower point (prints currently start at $350 for the smallest sizes), we would have sold more, but that would have meant more work. We were pleased enough with the balance of revenue and work at our price point, which catered to high-end buyers, but this choice has to be different for each photographer.
In retail marketing, location is everything. On the internet, the equivalent of location is traffic. The good news is that it is possible for an individual photographer website to get high traffic numbers before attracting traditional media attention. Although my images have been widely published – thanks to photo editors finding images on terragalleria.com – my name hadn't been noticed by a wide audience before the airing of The National Parks: America's Best Idea which occurred in late Sept 2009. However, by 2004 terragalleria.com had already more than 2 million annual visits (difference between statistics packages factored). The year 2011 is not finished, but the number of visits was 6.4 M YTD, which is 640,000 monthly, or about 21,000 daily. This possibly makes terragalleria.com the most visited of individual photography website this year, although numbers can fluctuate dramatically in way that I cannot predict or understand, as seen in the following graph from Alexa. Unlike Google Analytics, Alexa let you estimate traffic metrics for all websites, not just yours. If the traffic for a target website is above a certain threshold, I have found the statistically-derived metrics to be quite meaningful. Although Alexa provides several statistics, the most significant in comparing different websites is "Reach". I've added for comparison statistics from two other sites. Trey Ratcliff (Stuck In Customs) is the most popular photography blogger and most followed photographer on Google+ at the time of writing, and has a sizeable team working for him. Fotopedia (the publisher of my National Parks App) is the first collaborative photo encyclopedia with more than 750,000 photos, curated by a community of thousands of members, and supported by a VC-backed company with more than a dozen employees.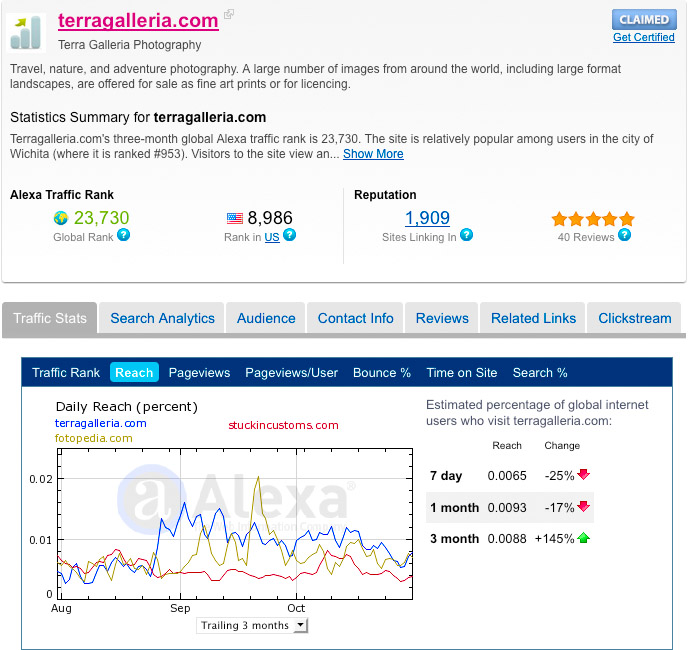 In the next post in this series about our 10th year in business, I'll go into some details about how terragalleria.com got that amount of traffic. Part 5 of 6: