People's Park
No Comments
Earth Day is a global event celebrated every year today, April 22nd. It is a day to raise awareness about environmental issues and take action toward creating a more sustainable future. Since National Park Week is held in conjunction with Earth Day, given my longtime association with public parklands, in past years, I have taken the occasion to
celebrate
our
national parks. This year's post is instead about a specific urban space, People's Park in Berkeley, California.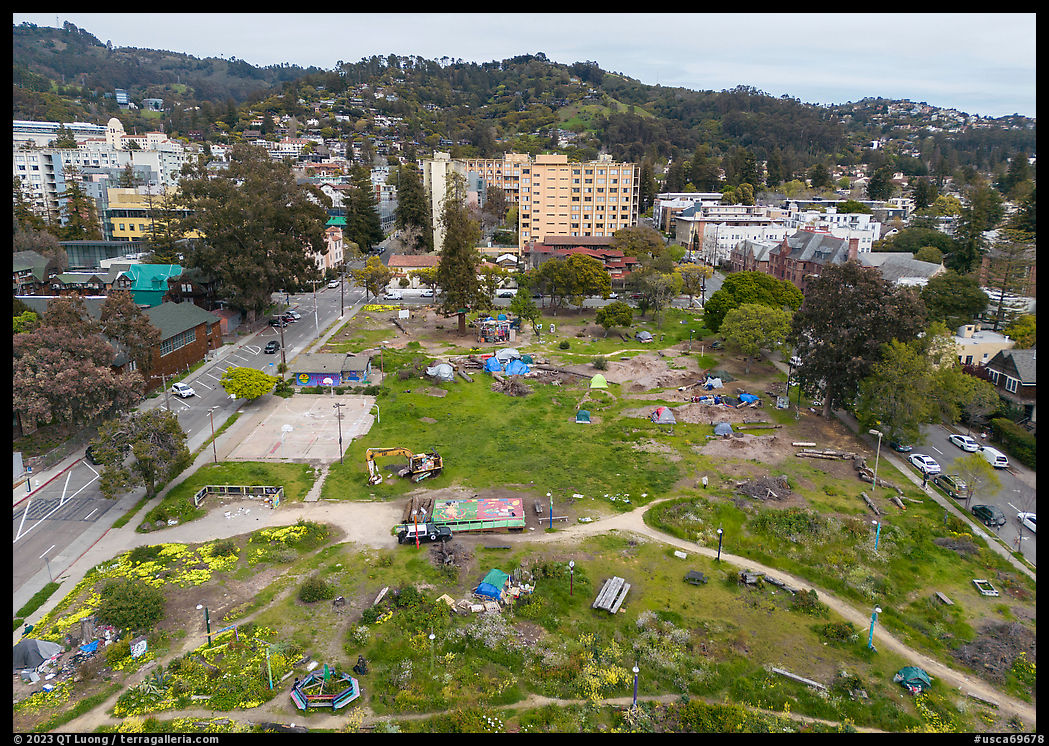 The presence of nature close to where we live provides numerous benefits to our well-being. While distant and large protected areas such as national parks, national monuments, and wilderness areas are essential for conservation, it is local green areas that provide opportunities for people to connect with nature on a regular basis, thus contributing to community well-being. They are essential for promoting physical and mental health through exposure to nature. They play a part in environmental sustainability by filtering pollutants and reducing heat island effects and carbon emissions. They help sustain biodiversity and can provide local food sources.
One such local green area is People's Park, south of the University of California (UC) campus in Berkeley. Its history well-detailed in the Wikipedia, and recognized by a National Register of Historic Places designation is closely tied to the anti-war, civil rights, and counter-culture movements of the 1960s. Yet, almost by its nature, it has always been a precarious and contested place.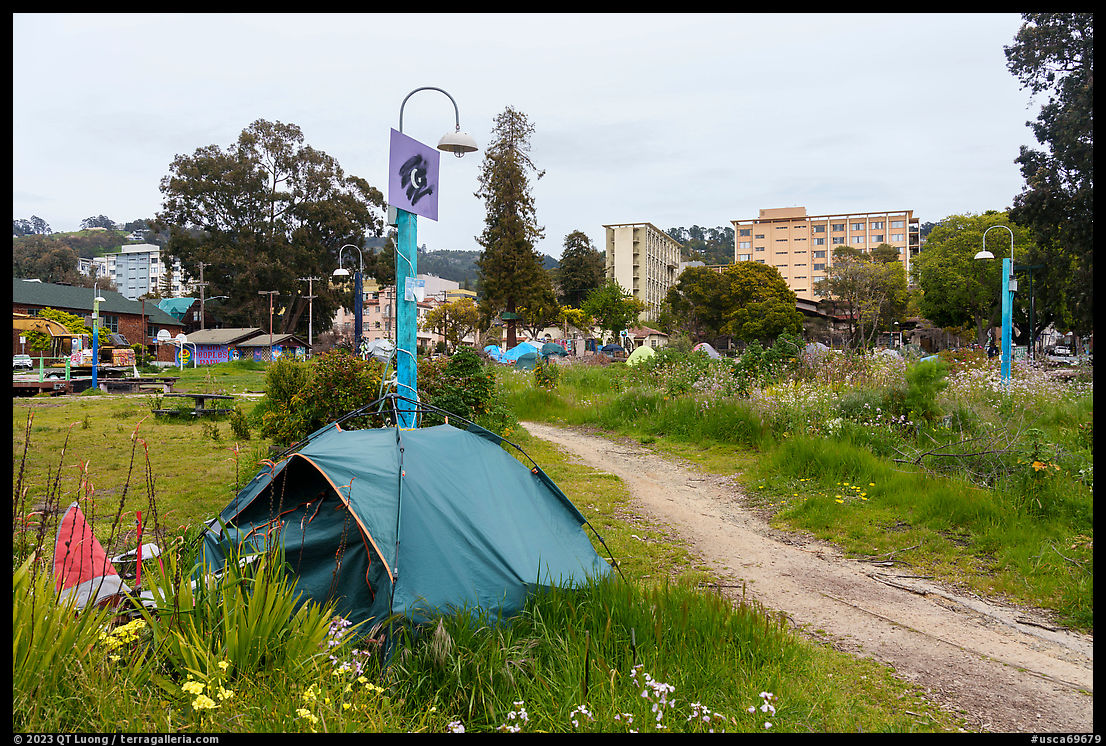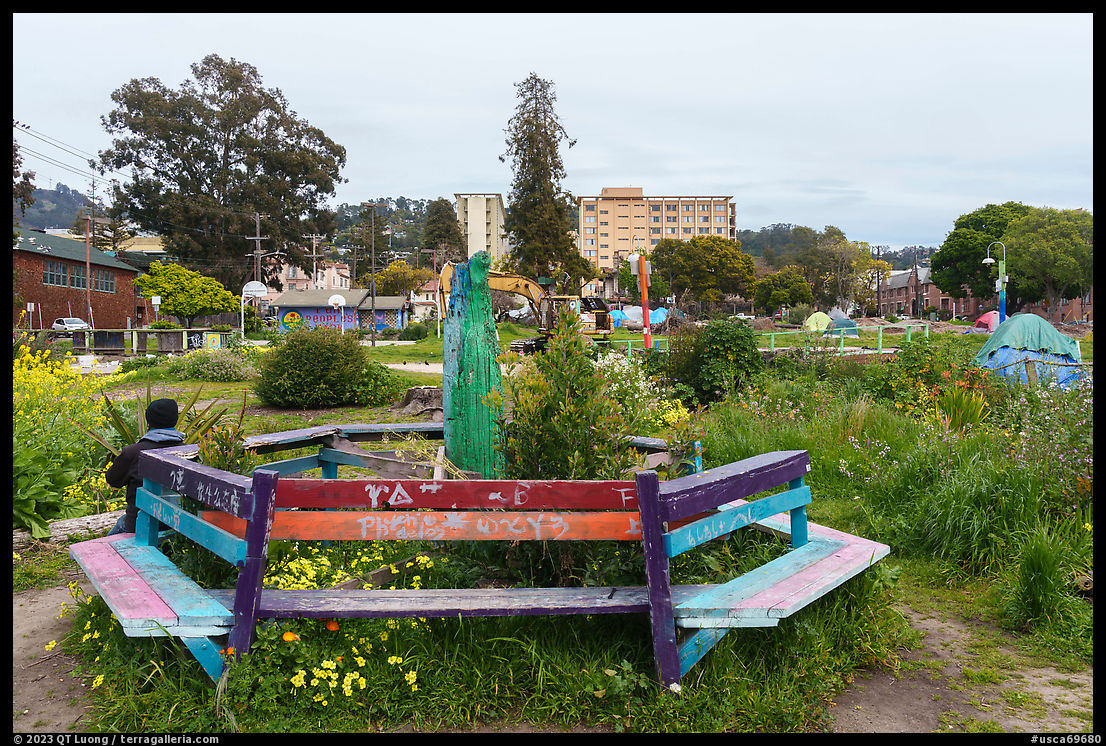 Upon acquiring the 2.8-acre piece of land by eminent domain and clearing it, the University had plans to build student housing and a parking lot, but due to a funding shortage, the site had remained in a destitute state. On April 20, 1969, following a call in the community newspaper Berkeley Barb to beautify and utilize the vacant lot, a hundred people came and began to lay sod. Within a month, community members and activists built a green public park where free speech could flourish. The anniversary of the People's Park therefore roughly coincides with Earth Day – which first took place on April 22, 1970.
In the 1960s, the University was the birthplace of the Free Speech Movement and a center of student activism. Ronald Regan had been elected governor in 1966 by riding the backlash against it with the promise to "clean up the mess in Berkeley". He considered the creation of the leftist park a direct challenge to the property rights of the university, of which he already disapproved the tolerance of anti-war student demonstrations. On May 15, 1969, a day remembered as "Bloody Thursday", workers accompanied by police armed with tear gas and shotguns loaded with birdshot were sent to tear down and fence the park. In the ensuing violent attack on the large crowd of protesters, a man was killed and many seriously injured. The Governor called a National Guard force of 2,700 that subsequently occupied Berkeley for two weeks. However, after another protest, the Berkeley City Council voted to lease the park site from the university in 1972, officializing the status of the park.
Like the battle for conservation in the words of John Muir, the battle for People's Park has been never-ending. Over the years, the park has faced numerous challenges and threats of closure, but it has remained a vital community space and a hub for activism and social justice. It was home to a natural stormwater management system, a communal vegetable garden, and various activities such as art classes, film screenings, concerts, dances, and cookouts. In a context of gentrification, community members and activists have fought to protect the park from development and commercialization, and it continues to serve as a space where people could hang out for community support, engagement, education, and advocacy.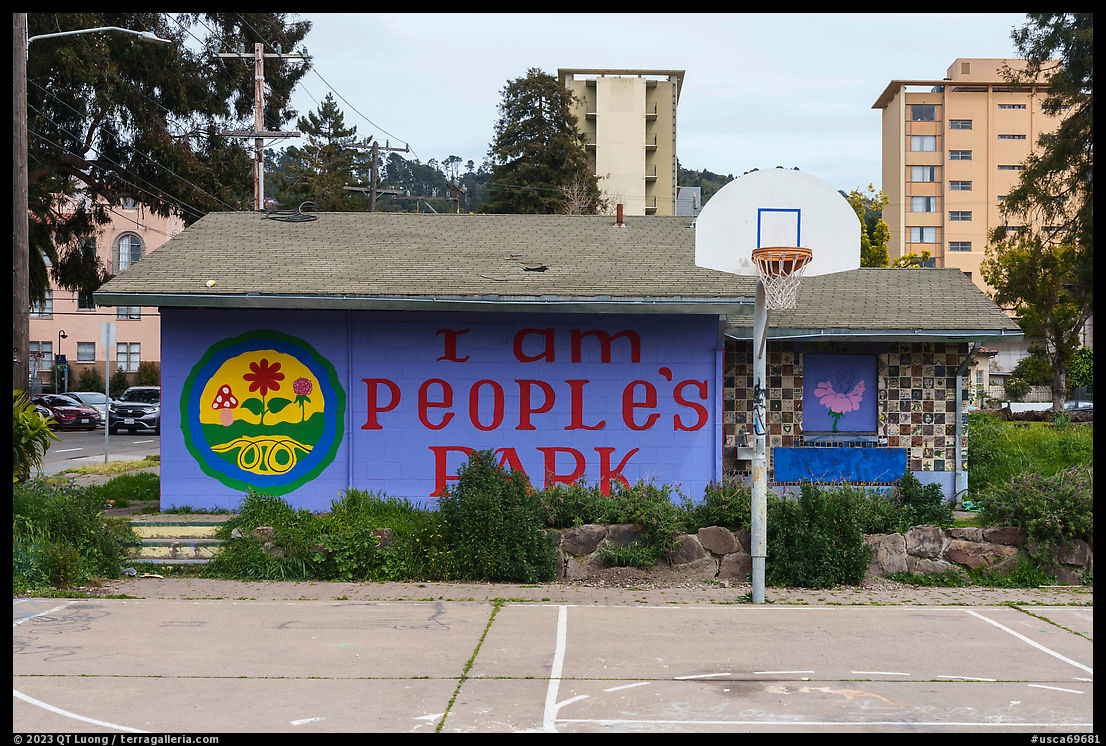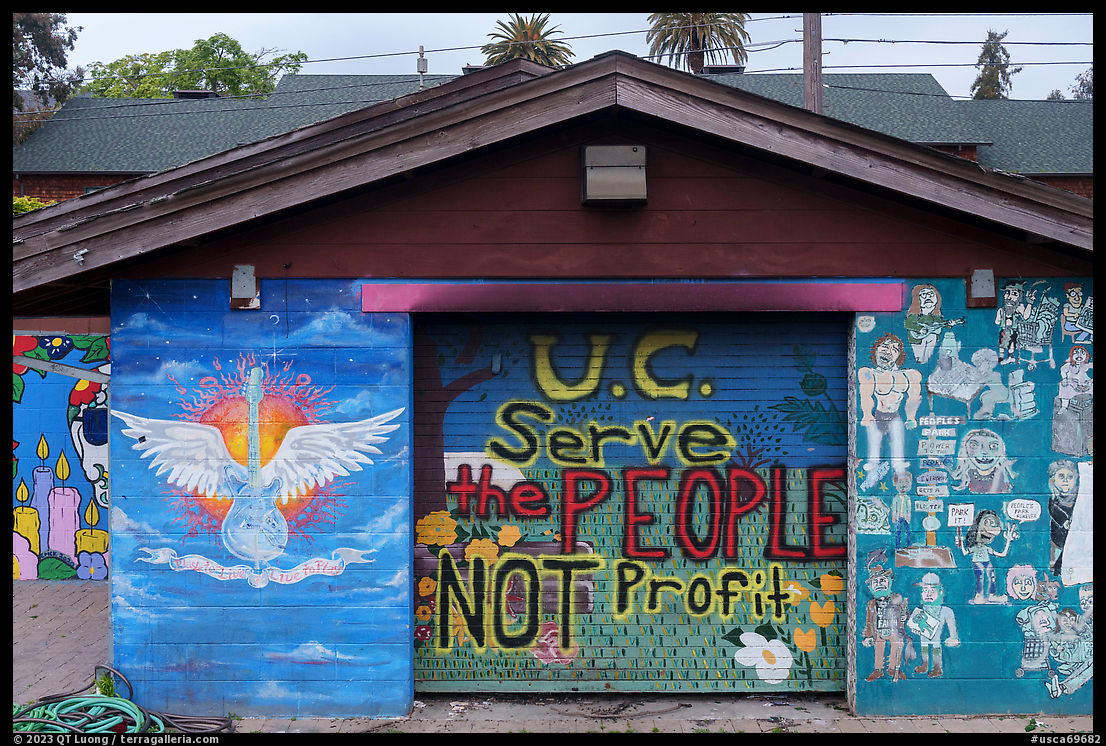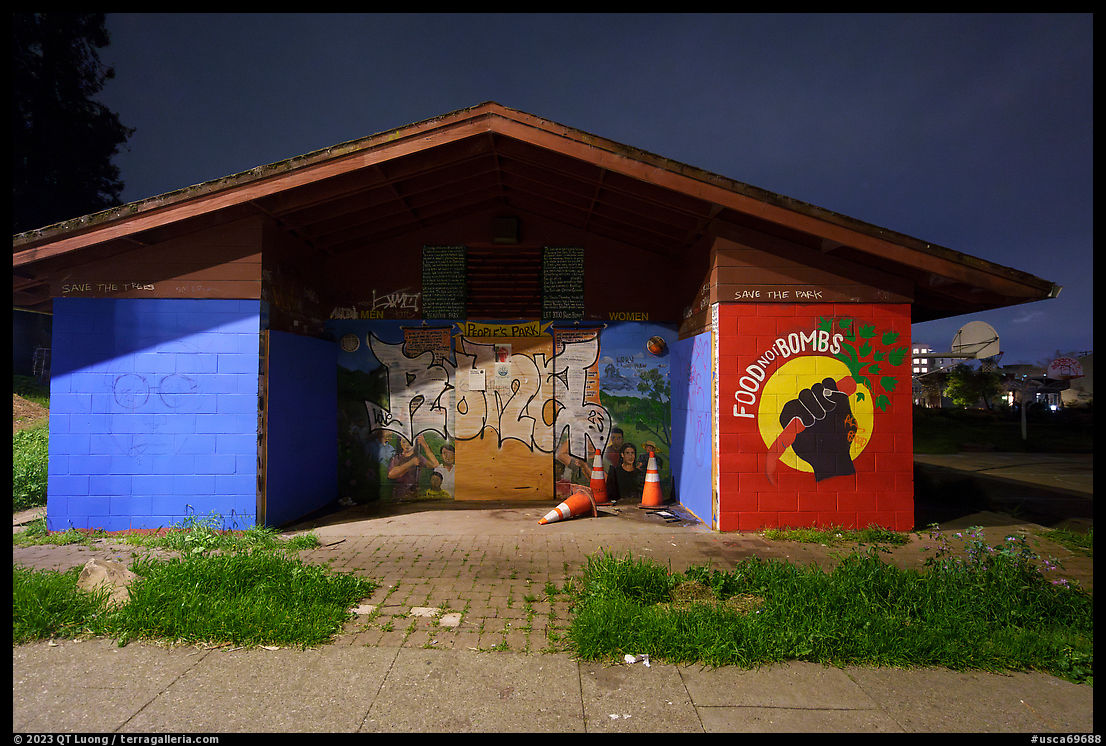 Upon arriving in America, I lived for three years in Berkeley. Having fond memories of this time, I kept following news about the city. I read about the latest development plans from the University of California, and the resulting protests and legal challenges. Finding myself in Berkeley at the beginning of this month to help with a field trip for the school my son is attending, I took the opportunity to pay a visit to People's Park. It had been a long time since I last set foot there. Still, I remembered a thriving urban woodland. I was shocked to find the space sparsely forested and littered with many felled tree trunks that included a large palm tree and several redwoods. Graffiti-scrawled heavy machinery was stationed, as well as several tents housing homeless residents.
For decades, the camera has spurred me to see more of the world. After attending a BBQ dinner with the school group at Cesar Chavez Park near the Berkeley Marina, I returned to Telegraph Avenue and strolled around to look for photographs. At first, I hesitated to walk into the park at dusk, as it appeared forlorn and dark. However, I heard a young woman cheerfully calling for people to get a meal if they were hungry. I was not feeling satiated since the school BBQ dinner didn't have much vegetarian food, and I also wanted to strike up a conversation to find out what was happening to the park. It turned out that a local reporter also came later to interview the activists – unsurprisingly, she asked better questions than I did.
I learned that the current threat to the park, a construction project announced in 2018, was the most serious in its history since Bloody Thursday. Its goal is to build housing for up to 1,100 students and supportive housing for 100 low-income people – that the activists dismiss as being too expensive to be useful. The ostensively liberal Berkeley City Council seems to agree with the University's plans. The park's ecosystem was most recently damaged in the summer of 2022 when backed by yet another contingent of police in riot gear, the University illegally cut down about 50 trees in the middle of the night.
Authorities have deliberately allowed the park to deteriorate to garner public support for its destruction. For instance, a water pipe issue was left unfixed so that the park had no water supply for weeks, the doors of the bathroom shut were welded shut, and lights were turned off, making the site hazardous for elderly residents and unwelcoming for visitors. If students stayed away from People's Park because it appears a scary place as it did for me at first, they would not become part of the park's constituency or learn about the plight of its users.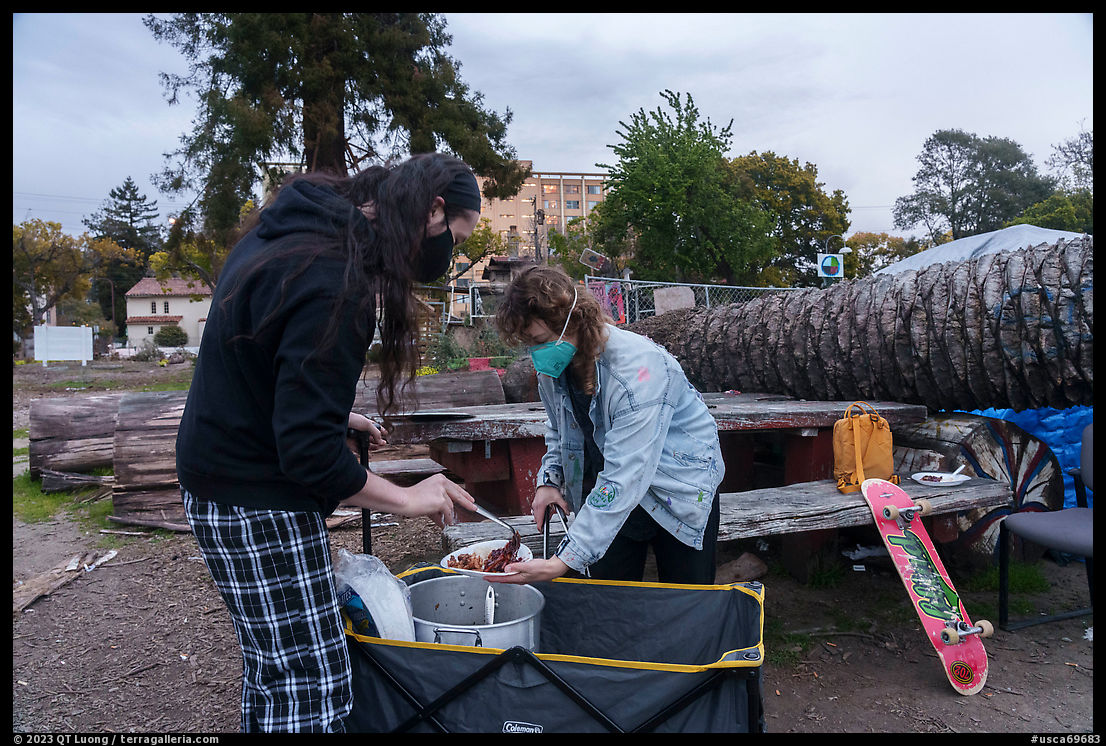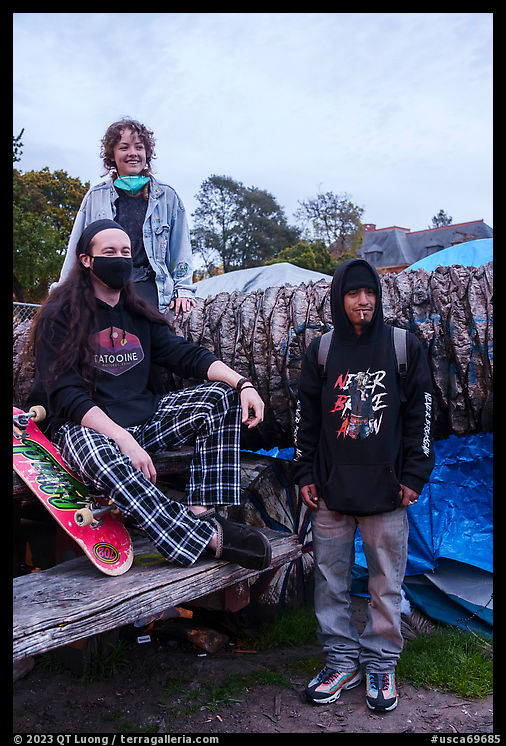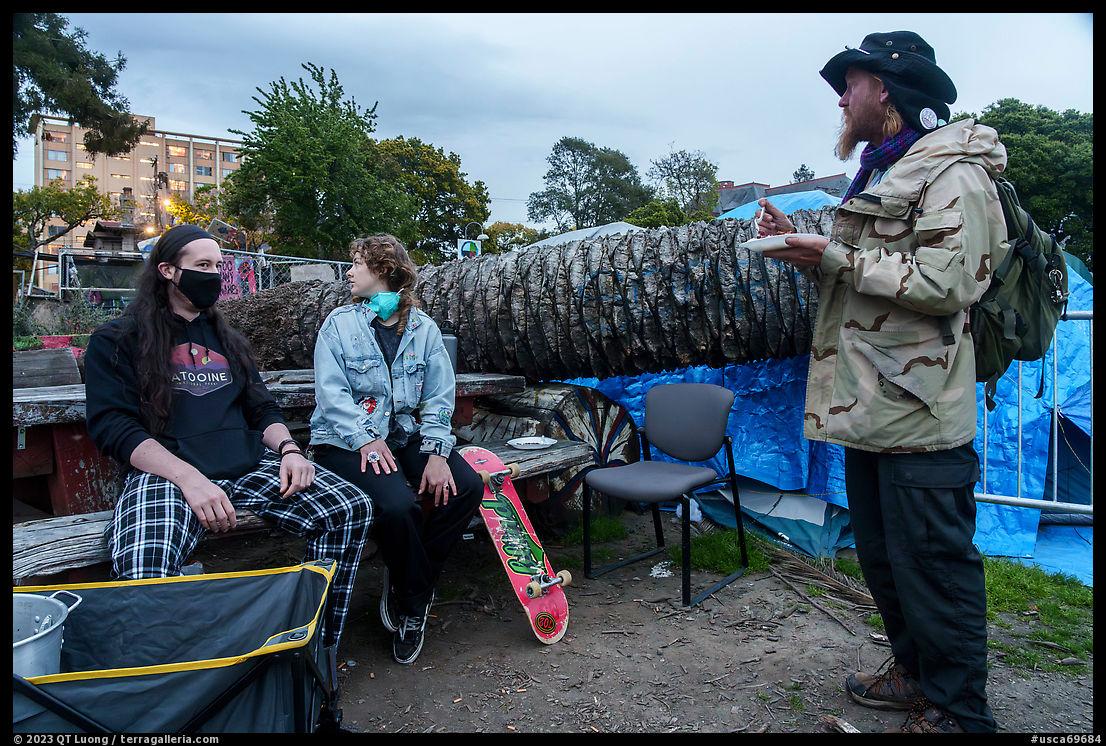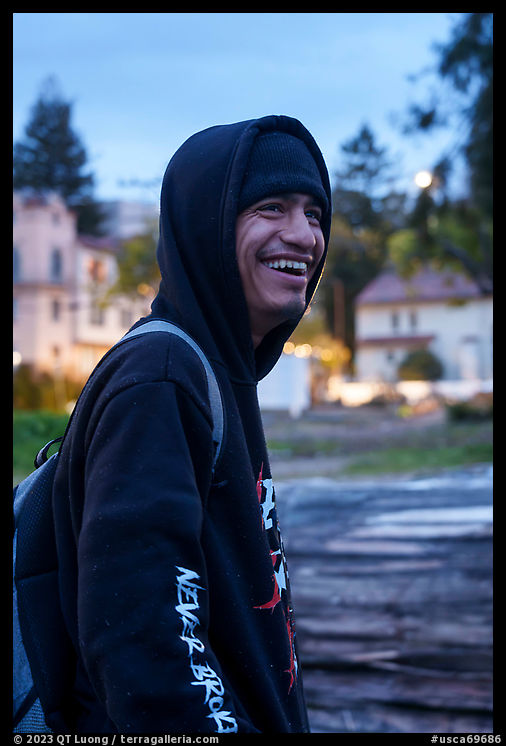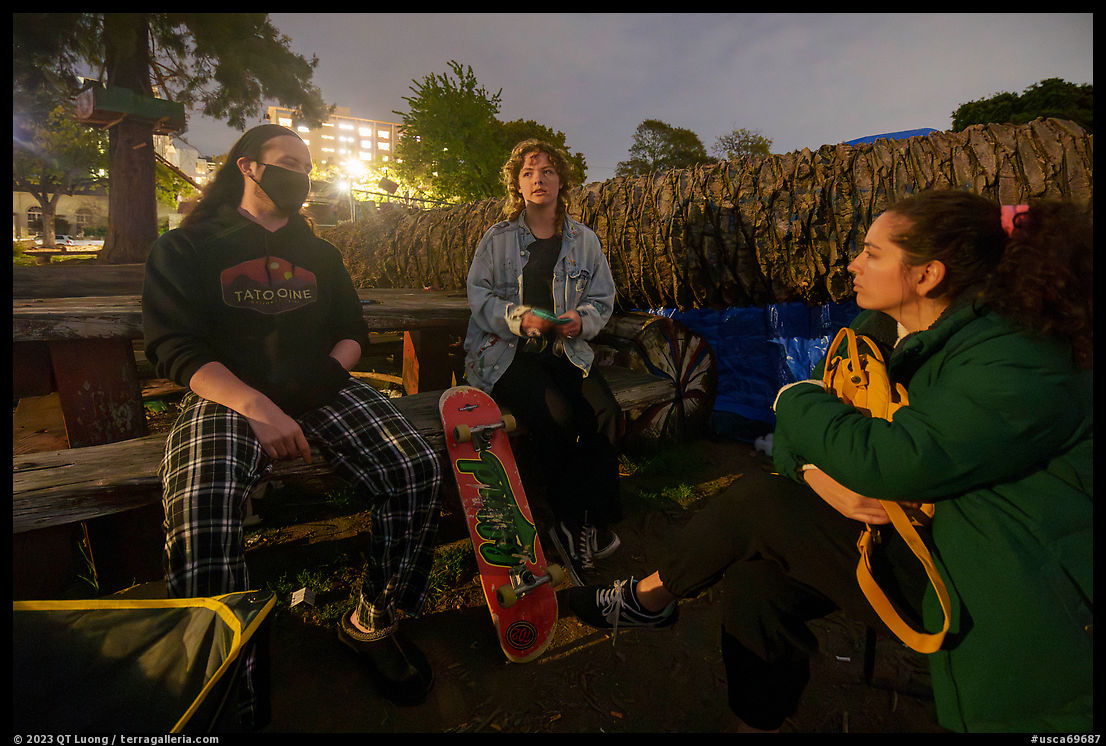 The pair of activists had kept the meat separated from the delicious vegetables. I shared the free home-cooked meal with two residents. One of them offered pot that I politely declined. Sitting in the friendly company of those strangers, I was glad that I didn't let the first impressions keep me away. Since my daughter had applied to UC Berkeley, I could personally understand the University's desire for extended enrolment and need for student housing. Yet, there are nine alternative sites on which they could start building right away without opposition, so why the instance on reclaiming People's Park? Indeed, as reported on People's Park website, in the latest decision in the legal fight, the Appeals Court found in February 2023 that UC's Environmental Impact Report did not adequately analyze feasible alternative sites. Unlike others, People's Park is a historic landmark, and a well-established center for mutual aid. University officials must have felt that such an unruly and (currently) unsightly place a few blocks away from the prestigious campus was a nuisance, but I felt a liveliness absent from the neat suburb where I live.
In keeping with today's occasion, People's Park is one of the last green spaces in the most densely populated Berkeley neighborhood. Due to the abundant rains of the year, a profusion of wildflowers of all colors was blooming. I imagined how, with a bit of care and attention, the place could become again a beautiful public commons, whereas once an open space is gone, it is lost forever. Don't we all need more, not less open space?