Most visitors to Katmai National Park come for bear viewing during July to see thousands of salmon jumping over Brooks Falls, sometimes straight into a waiting bear's mouth. The autumn is a much less known time to visit, but it is also great, providing a quite different experience.
Brooks Camp stands out as one of the few places in the world where humans can coexist beside the bears in their own natural habitat. It is one of the most reliable places for seeing a large number of bears up close. At Brooks Camp, services are offered from June 1 through September 17.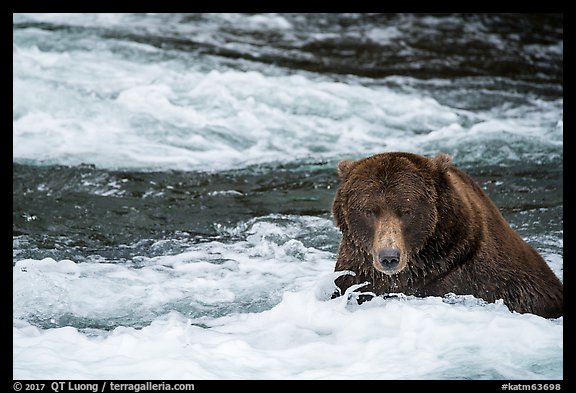 Summer in Brooks Camp
In June, the salmon run hasn't yet started. In July, salmon swim in massive numbers up the Brooks River towards their spawning grounds, with the peak of the salmon run occurring in the middle of the month. This is the only time of the year to try and capture images of a brown bear catching a salmon flying midair. At that time, bears are most numerous, and so are people. See my detailed description of
bear viewing at Brooks Falls in July
that covers all the bear viewing basics.
The main logistical difficulty is booking a place to stay in Brooks Camp during the salmon run window of late June through late July. The small lodge often sells out a year in advance, and you can't camp within 1.5 miles of Brooks Falls, except at the designated campground, which also fills up fast. The viewing platforms are often full. When that happens, a quota is set. A ranger takes your name for a waiting list, and after you get in, calls you out after one hour. During my July visit, shooting shoulder-to-shoulder with other photographers, there was no room to even spread out the tripod. Besides other bear viewers and photographers, the salmon run also attract a lot of fishermen who are standing in the river.
Fall in Brooks Camp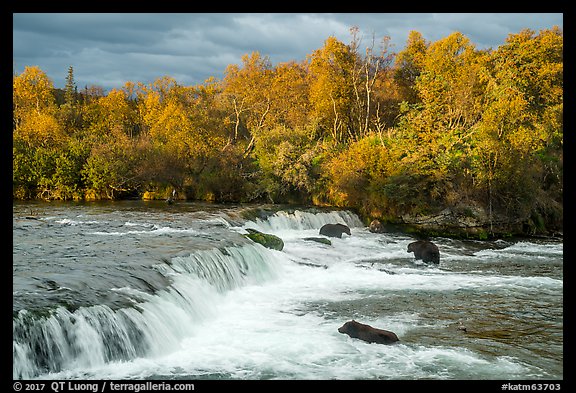 August is a quiet month along the Brooks River. It is often empty of bears because the density of salmon is low, and those present are still energetic and therefore difficult to catch. At that time, bears seek smaller streams in the area with higher salmon density. In September, sockeye salmon are spawned out and dying, making them easy to catch. At that time, bears return to the Brooks River, and they are still fishing. The scientific name for this feeding phase is "Hyperphagia", when the bears try to put on the last pounds before their winter hibernation.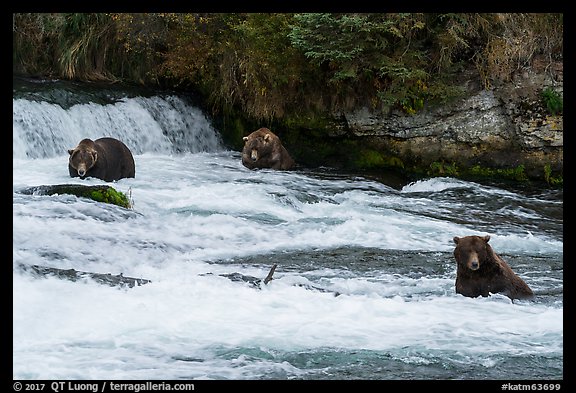 Usually more than thirty bears hang out in the Brooks Camp area during the fall. Early in the season, the bears look fairly ratty, but after a summer of feeding, they look big and fat again, with more shinny and full coats. Like most mammals in North America, they look their most magnificent in the fall.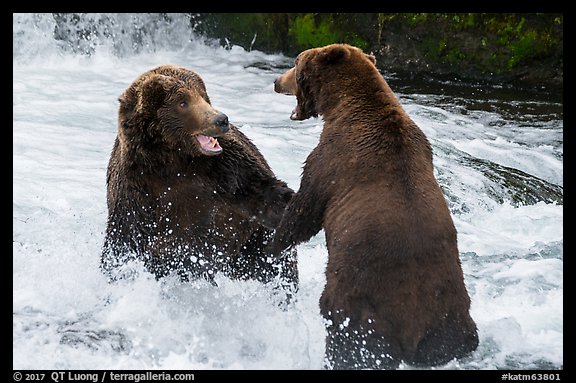 During the summer, most of the bear activity takes place at Brooks Falls, and in the fall, it is still a great place for bear viewing, with an occasional fight even taking place. Occasional means that it's the only one I saw out of 3 days of (part-time) bear-viewing. However, a lot of activity takes place at the lower platform near the mouth of the Brooks River, where the behaviors are more diverse. I also find the scenery more appealing there, and in addition, mid-September brings beautiful fall foliage to the area. The weather at that time of the year is often more cloudy and rainy than in summer, but that is not a problem for bear photography.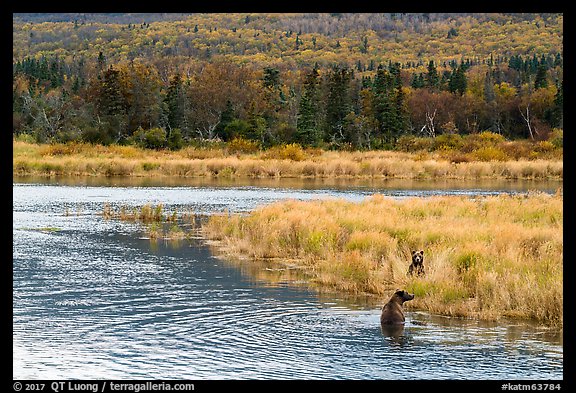 Maybe the factor that makes an autumn visit such a great experience is the relative lack of crowds. One month in advance, there were still plenty of campsites open for online reservation. Even at midday, the Brooks Falls platform was never full, and therefore never subject to a time limit. The fact that you could move freely from platform to platform and never have to wait for a spot to free up made for a very relaxed experience.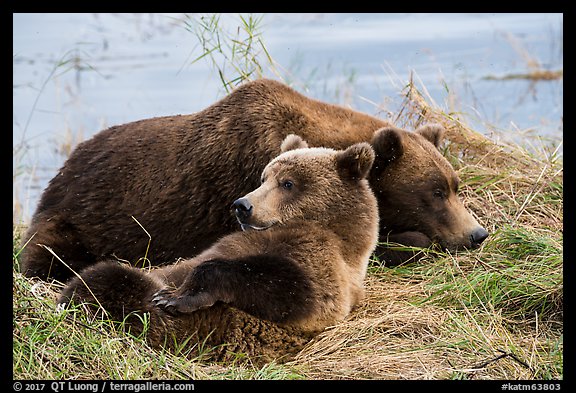 The summer season winds down mid-September in Alaska, with most places shutting down, and Katmai is no exception. Although the campground remains open, on September 17, the visitor center and lodge close. More importantly, all scheduled flights also stop, which means that you need a more expensive charter flight to get there. I wished I could have stayed longer when I boarded the very last scheduled flight of the season. Just an hour before, we were still stuck on the other side of the Brooks River, as a napping sow and bridge had closed the footbridge!