Yosemite's Horsetail Fall Firefall at Last
30 Comments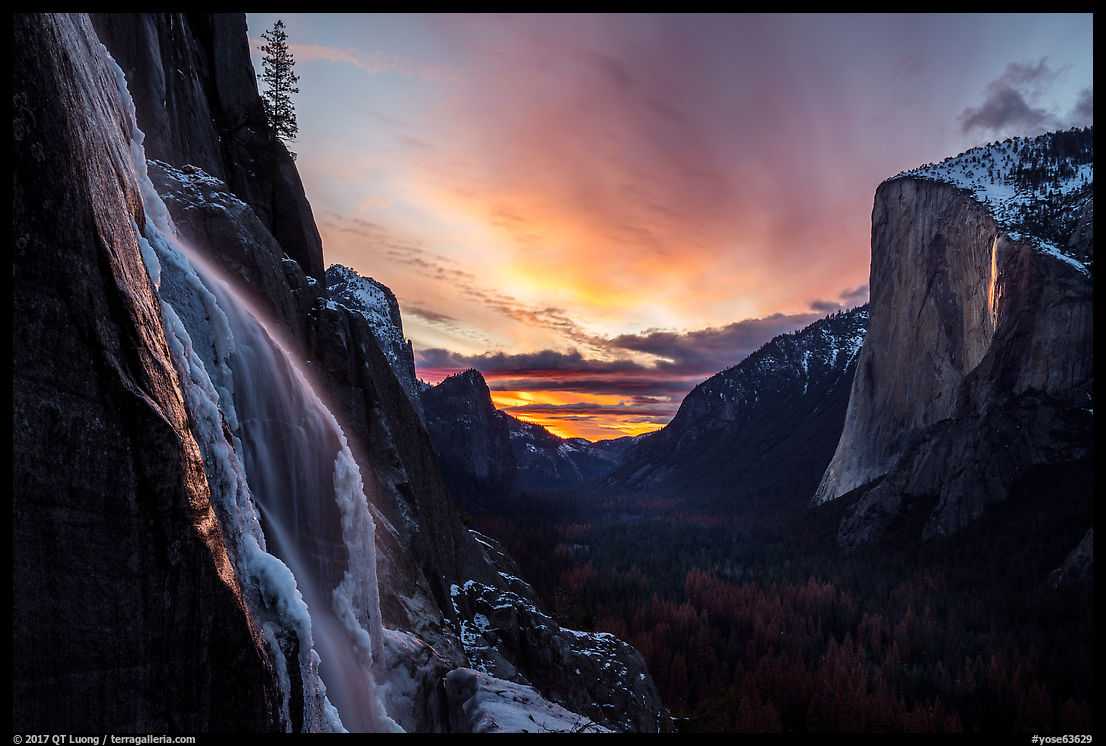 In mid to late Feburary, Horsetail Fall on El Capitan is backlit by the setting sun, creating the unique natural phenomenon known as the "natural firefall". Nowadays, the Yosemite firefall is widely known to the public, and even makes media headlines each year. The National Park Service has to close the inner lanes of the park loop road near the two viewing areas to provide parking for hundreds of viewers, whose cars line up the road for almost a mile. This year was the first time I photographed the Yosemite firefall. Why did it take me that long?
The Yosemite firefall was first photographed by Galen Rowell in 1973, and included in his seminal book Mountain Light (1986) that I read a few years later. During the first year I visited Yosemite, in 1993, I identified the location of Galen Rowell's image and concluded that there was little room to make a different composition from there. I do not disdain iconic views, far from it! However, unlike wide vistas such as Tunnel View where varying light and weather allow for an almost infinite number of different images, the Yosemite firefall is in essence always the same. Despite all the accumulated knowledge, and the progress in camera technology, I noticed that hardly any of the thousands of images posted on the Internet improved on Galen Rowell's, which when you think about it for a moment, is quite remarkable. Arriving in the morning to reserve a spot and standing shoulder-to-shoulder in a crowd of hundreds of photographers to repeat an image from someone else isn't exactly my idea of nature photography.
In 2015, maybe because the crowding at the two viewing areas had reached a critical point, for the first time photographers found higher viewpoints which allowed to include Horsetail Fall in the context of Yosemite Valley. I was much inspired by the potential shown in images by Michael Frye and Shawn Reeder, but in the winter of 2016, I was way too busy trying to complete Treasured Lands to even think about a trip to Yosemite. This year, we had initially planned a family trip somewhere else during the school winter break of February, but when it was canceled due to unforeseen circumstances, I found myself with a few free days. I set my sights on the Yosemite firefall, on the last "good" day according to photographic wisdom, with the goal to create an image not seen before.
On Thursday, Feb 23, I hiked the Four-Mile Trail up to the point where it became washed-out by an avalanche. While the trail didn't offer the views I was looking for, from it I spotted a promising location. After traversing precarious terrain (definitively not recommended, and remember that I am a more experienced mountaineer than most!) that included boulder fields, a steep gully and the partly frozen Sentinel Creek, I arrived at the base of a seasonal waterfall. I recognized it from a picture I saw a few days before, but due to the recent cold snap, a new crust of ice had formed, adding to the wintry impression. Since I knew that the waterfall flows only during wet years, I made sure to make it a main component of my composition. I liked the symmetry, that it echoed the distant Horsetail Fall, and that a sliver of wet rock, when photographed at the right angle, took on a specular quality, reflecting the sunset sky. I had started the hike under light snow flurries, hoping that clouds would allow a hole at sunset, but this did not happen. Apprehensive of coming back via the same hazardous terrain, I opted instead to go straight down directly in the forest, despite that being a new route to undertake in the dark. Although there was a bit of bushwacking, it turned out to be a much easier and safer route.
Friday morning was clear, but as the day progressed, the clouds built up to fill up most of the sky. Thinking that if nothing else, I'd get some exercise, at 4.30PM, I hiked up the steep 700 feet slope to the base of the cliff, passing on the way open views that included Cathedral Rocks with El Capitan on the right – a composition also available from the Four-Mile Trail. Due to warmer weather, chunks of ice were periodically falling down, making the base of the cliff quite a dangerous place to be – as is often the case of Yosemite cliffs. I kept an eye and ear upwards, ready to run away, and improvised some protection for my head. Next time, I will be sure to bring a sturdy mountaineering helmet! As I was beginning to think that a third attempt would be required, a shaft of light began to illuminate the base of Horsetail Fall. Within two minutes, a large part of the waterfall glowed, and less than two minutes later, the light was gone. It was a marginal show compared to some other days, when the light could last for more than ten minutes and the waterfall was illuminated from top to bottom. But to have witnessed that ephemeral and magical moment felt even more precious and lucky. Was the photograph worth the wait?
P.S. In case that wasn't clear enough, this is a dangerous spot exposed to icefall, rockfall and avalanches that requires steep off-trail scrambling to access. Not recommended unless you are experienced in traveling wild mountain terrain!
Update Feb 24, 2019 from my friend Tommy: "Knee deep snow and ice all the way to the top. I was extremely careful when I reached the bottom of the fall. I surveyed the situation and concluded that the upper section was dangerously unstable. The upper section of the frozen waterfall did collapse when I was there, sending a river of large ice chunks down the cliff in a spectacular avalanche. It wouldn't have been survivable even with a helmet, had I been directly in its path."