Half Grand Canyon rafting
20 Comments
Yesterday was the day I was to fly out of the Grand Canyon, but my trip down the River was cut short one week ago. After making the following image upon entering Horn Creek Rapids, I have no recollections of what happened in the following minute, only of feeling pain and hearing concerned voices around me.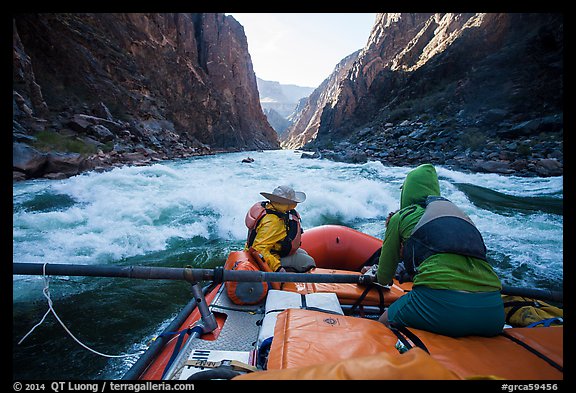 It turned out I had broken my collarbone after losing my grip. The worse of the physical pain was to come one week after the injury: I had to call 911 from home and spend 6 hours in the emergency room after a bone shifted, leaving me in debilitating pain, and maybe the prospect of a surgery. This was the biggest disappointment I had suffered, on so many levels, but in particular to have let down a fine group of photographers and persons. Sorry I had to leave and thanks for your help Sonia, Mark, Tom, Victor, Elaine, Dick, Margit & Juergen, Meggi, Linda, Sun, and John. Fortunately they were able to continue the trip with co-leader Oliver and great river guides from Hatch River Expeditions: Kelly, Lena, Riley (sp ?), Sean, Dom, and Matt.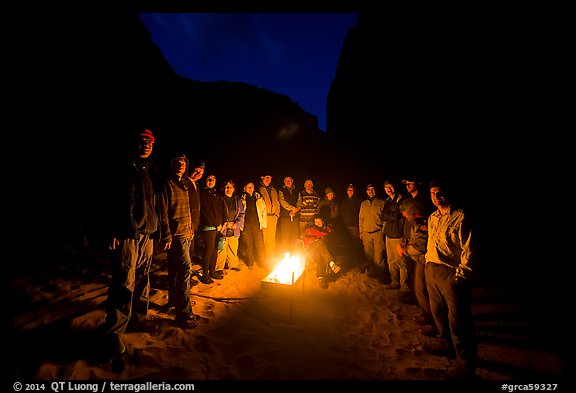 In 2003, I had reached the Colorado River in the course of a tough four-day backpacking trip with an elevation change of 5,000 feet, where I had to carry 8 quarts of water in addition to the usual camping gear and 5×7 camera. As I hiked on the trail between Tapeats Creek and Deer Creek. I noticed rafts whizzing by, seemingly without effort. Since that day, I've wanted to explore the River by raft.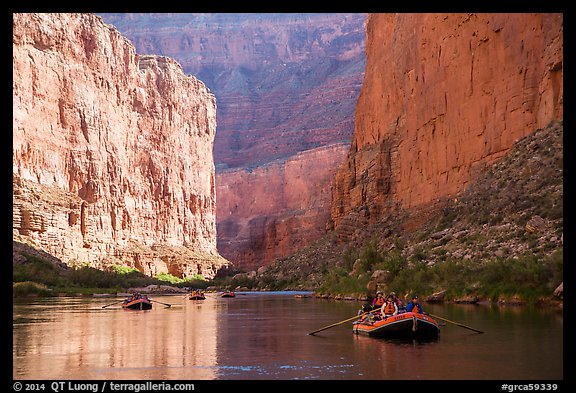 Back then, there were no photography-oriented trips on the river. I saw some in the past few years, but although they were led by prominent photographers, the timing decisions made on some trips looked questionable. They also all used motorized rafts. I understand that they travel faster, nevertheless, they looked a bit like busses. The quiet and intimacy of the smaller oar-powered rafts, traveling at the pace of the river, looked appealing. Experiences are the foundations of my photography, and an oar-powered seemed to provide a better experience on the river, as well as more opportunities for action photographs.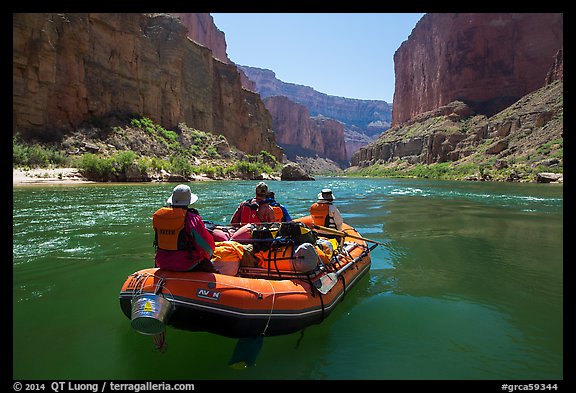 The expedition I had planned was exactly the trip I wanted to be on. For the first five days, except for one adjustment (necessary because of slower travel on the river than expected), it went perfectly on track. Each day, we went for a hike of about one hour (RT) to explore side canyons accessible only from the river.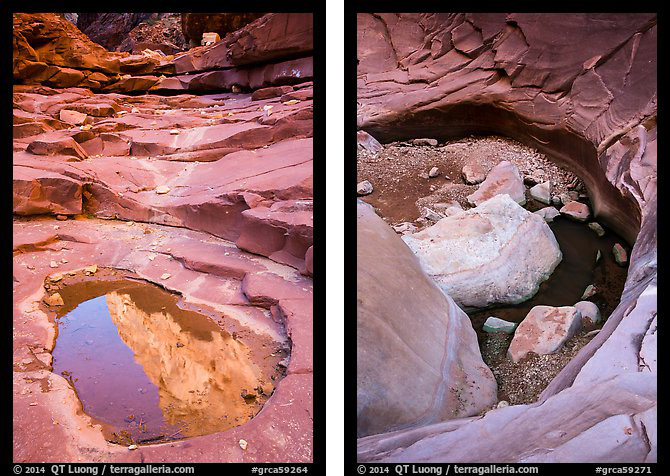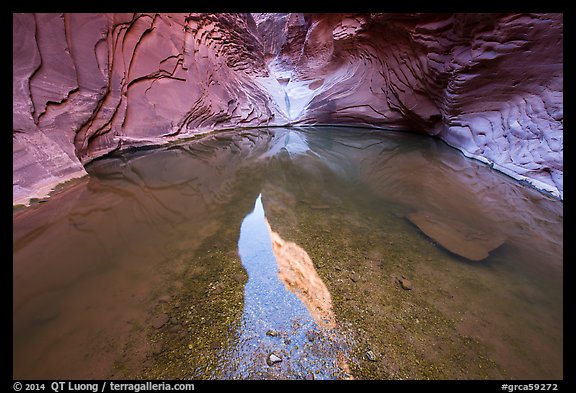 Our first hike was the North Canyon (river mile 20). It was only 1.5 miles RT, but hiking times can be deceptive in the Grand Canyon, as we had to scramble over boulders. The highlight of North Canyon was a reflection pool at the base of a sculpted spillway, which fortunately was still in the shade at 8:30am.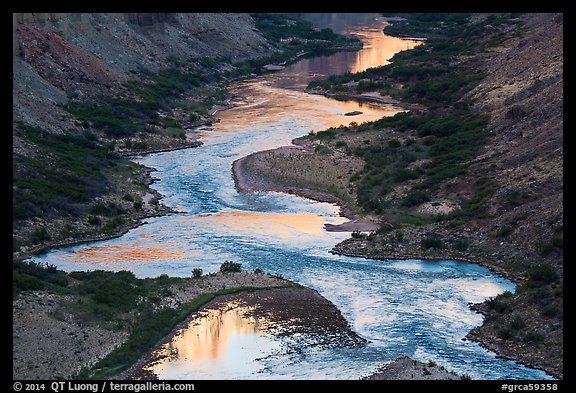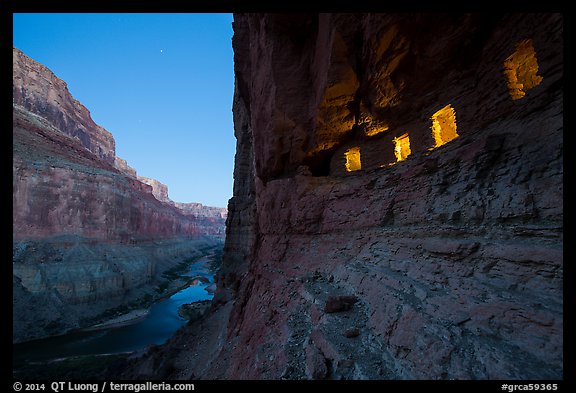 Nankoweap Granaries (river mile 53) were used by the ancient Anasazi people (earliest Grand Canyon habitation) to store their seed stock and protect it from vermin and rot. One of the last regions that the Anasazi moved into was Nankoweap Canyon, which ends in the largest tributory delta in the Canyon. The abrupt departure, beginning at AD 1100, but also what prompted those people to move into Nankoweap Canyon remain a mystery. 500 feet above the river, the views were spectacular in late afternoon. We stayed until dark for a rare night photography session there.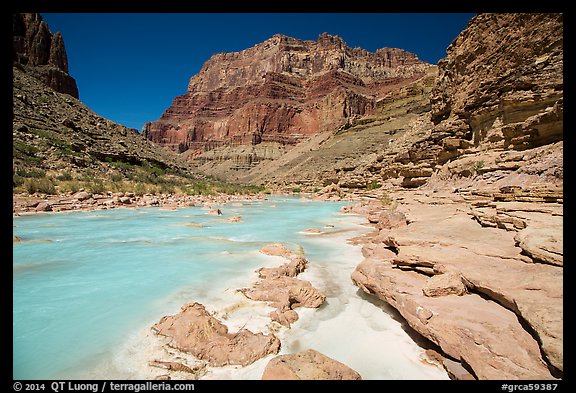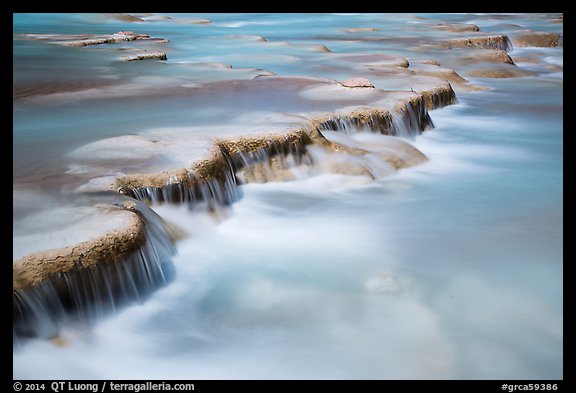 Little Colorado River (mile 61) is one of only two side streams of the Colorado River with turquoise color, others are clear. Color is caused by high alkalinity, and dissolved calcium carbonate in the water. After the summer rains, it turns brown.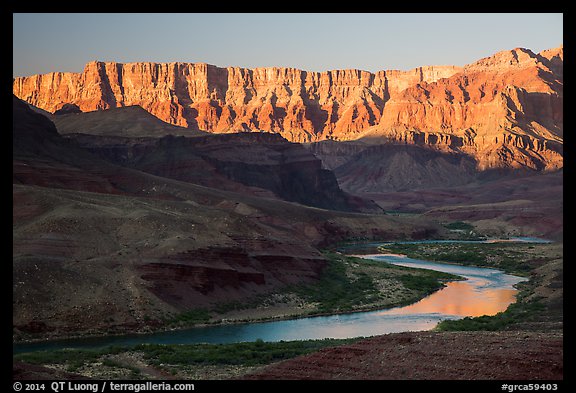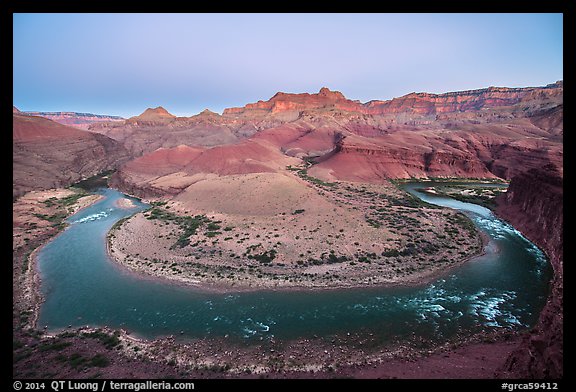 From the Cardenas campsite, a 30 minute hike up the hill provided for sunset a great view of the Palissades of the Desert, and for sunrise an impressive river bend which includes the Unkar Rapids (River mile 72) observed from the top of a sheer cliff.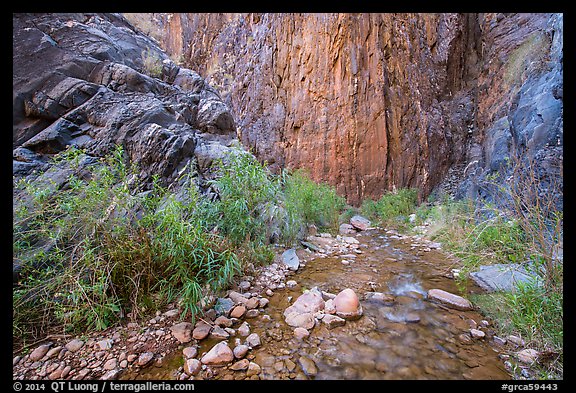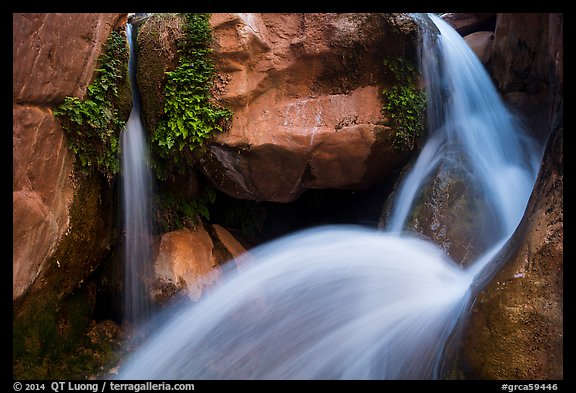 In mid-afternoon, we scrambled directly in a refreshing stream aptly named Clear Creek to see box canyons culminating into double spouted Clear Creek Falls (mile 84).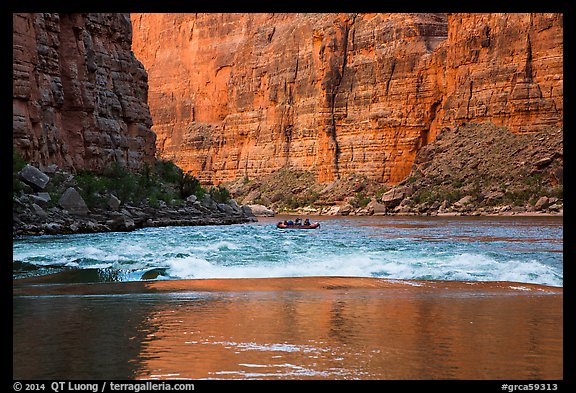 Most our time was spent floating the river. This was particularly rewarding in the shade of the stricking Redwall limestone cliffs that dominate Marble Canyon. The tall, vertical, brightly colored, north-south oriented walls were more photogenic than Granite Gorge which began after the Little Colorado confluence. Unlike other famous whitewater rivers, the Colorado doesn't sport continuous rapids, but instead alternates between rapids u and long calm sections. Some of the Grand Canyon rapids reach class V, on the International Scale of River Difficulty I-VI, with VI meaning "unrunnable" – if a rapid is repeatdely run that was once thought to be class VI, it is typically reclassified as Class V.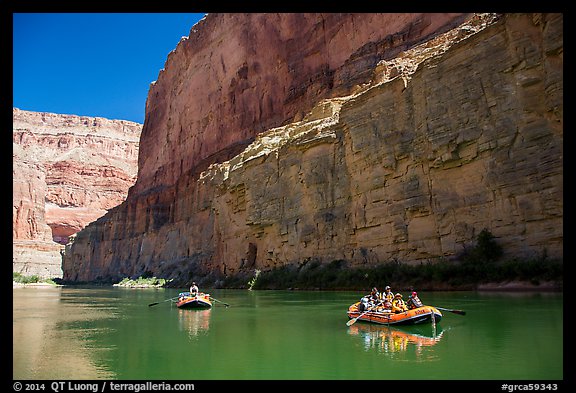 On the calm sections, it was easy to photograph with a DSLR camera. Although many – including myself – used waterproof Lowepro DryZone 200 bags, the most handy place to store a camera and lens was the small dry bag provided by the outfitter as day bag.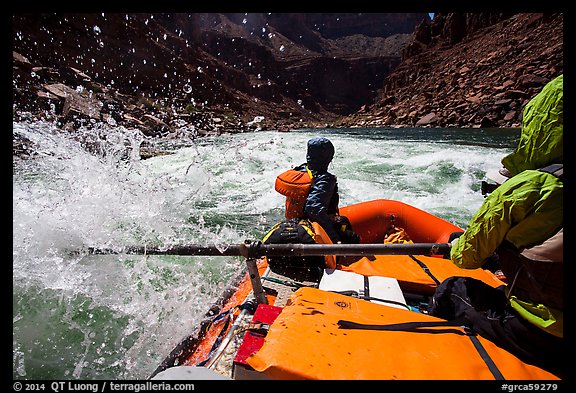 On the rapids, using a flexible waterproof enclosure (the Outex), I was able to photograph water splashes. However, this is what ultimately may have caused my accident. On the strong rapids, we were told to hang on with both hands to the raft. If only I had listened … why didn't I heed the advice ? The rear line on our raft, to which I should have held, was behind the tube, so I didn't see it. It had been recharged and unused, however the battery of my hands-free (head-mounted) Gopro was flat. The ride had been quite smooth in some of the previous big rapids (including feared Hance), where it was enough to hang on with one hand – which some other photographers in the group also did. However each rapid is different. Nobody saw exactly what had happened to me, but our river guide thinks I was tossed forward when the bow plunged, hit her back with my head (losing consciousness for 30 seconds), and then something else with my clavicle. The lesson: hold on with one hand in the front and one hand in the back.
Although the NPS performs between 2 and 8 evacuations per day, most of them are for hiking falls or dehydration. River accidents are rare. About 1,500 people ride with his company each year, but the last river accident Steve Hatch remembers requiring an evacuation was about a dozen years ago, also on Horn Creek Rapids.
Since it was too late on that day, I got to spend one last night in the Canyon with only mild pain, watching the river flow as I talked with Oliver about the trip. A NPS helicopter evacuated me to the rim at first light. From there, I boarded a NPS ambulance to Valle, then a private ambulance to the Flagstaff hospital, which discharged me remarkably fast. I was able to find a flight home that day. It was less expensive to buy a new one-way fare on US Airways than to change the existing reservation. I am specially grateful to Steve Hatch and his wife Sarah for their kindness in personally taking care of me upon discharge, and also for mailing me my gear.
View landscape images of Grand Canyon
(in particular Marble Canyon 1/2, North Canyon, Nankoweap, Little Colorado, Unkar, Granite Gorge)
View images of Rafting the Grand Canyon