Jeju Island, South Korea
One Comment
In South Korea, I had stayed at hostels and at a "love motel". In the fishing village of Seongsang Ilchulbong, I was going to try a third category of accommodation, a "minbak": room for rent in a private home. Arriving quite late after
hiking Mt Halassan
, disoriented after getting out of the bus, I called a taxi even though I knew that the Lonely Planet-listed minbak was only a few blocks away. It turned out to be full, but the driver motioned me by to follow an elderly women waiting nearby, who promptly and decisively proceeded to carry my tripod, talking to me volubly as if I could understand Korean. Since it was getting late, she suggested that I look for food, walking me to a restaurant. There, I pulled out a note written in Korean script which said that I am a vegetarian. For the first time since I arrived in Korea, I was out of luck: after some tricky exchanges, I understood that they had nothing but seafood. There were still a number of other open restaurants, but the result was the same. I went into a grocery, and bought a few bananas, crackers, and some tofu. When I came back, my host inspected the bag, and apparently concerned that this wasn't a proper meal, insisted to sell me a bowl of pre-cooked noodles. We went upstairs and were going to prepare it, when her daughter came home. She didn't know that I was a vegetarian and seemed concerned that my noodles weren't tasty enough, so she exchanged them for something else, but I noticed in time that the wrapping had pictures of seafood. I ended up eating the original noodles, with my host peaking from time to time into the room to make sure everything was fine.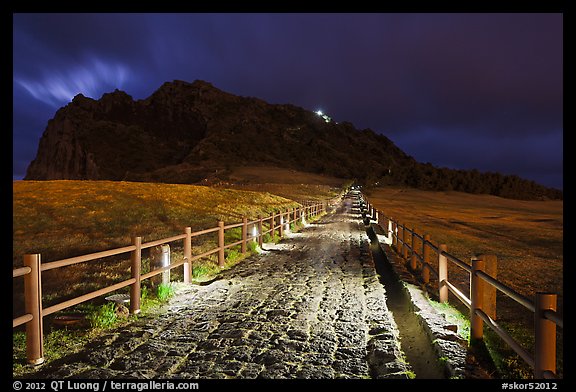 I woke up before dawn in order to climb the steep Ilchulbong plug volcano crater in time for sunrise at the top.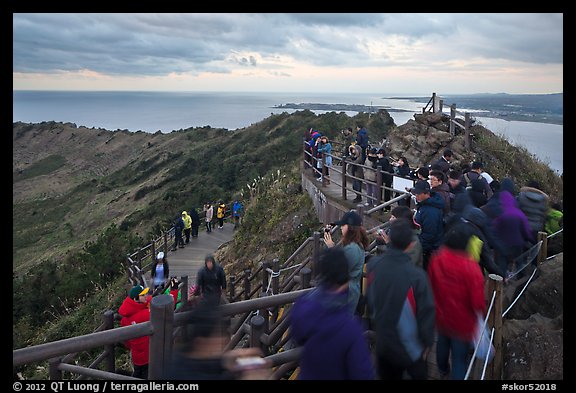 Despite the early hour, I wasn't the only one with that idea, although it looks like I was the only foreigner there.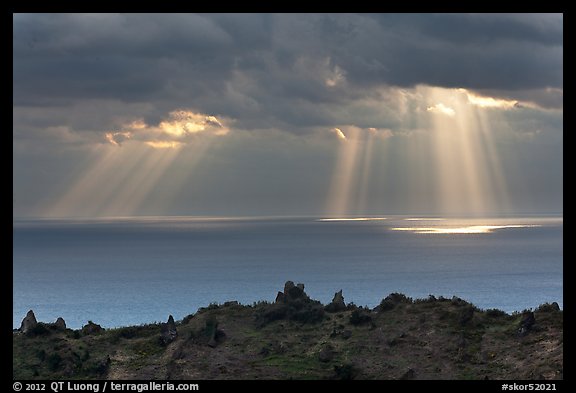 There was no sunrise. The morning was cloudy, so I decided to visit the caves.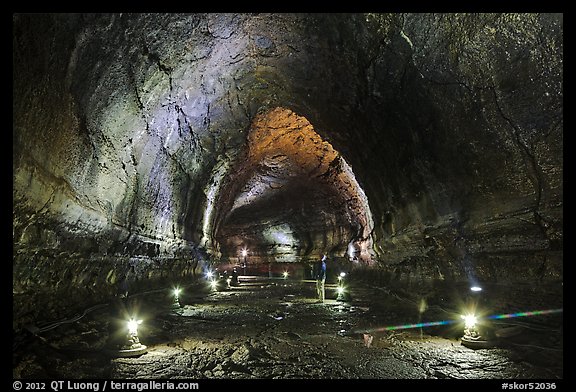 I had visited lava tubes before, in Northern California and Hawaii, but Manjanggul – one of the world longest lava tube cave (13 km long) – was at a different scale, both in length and size.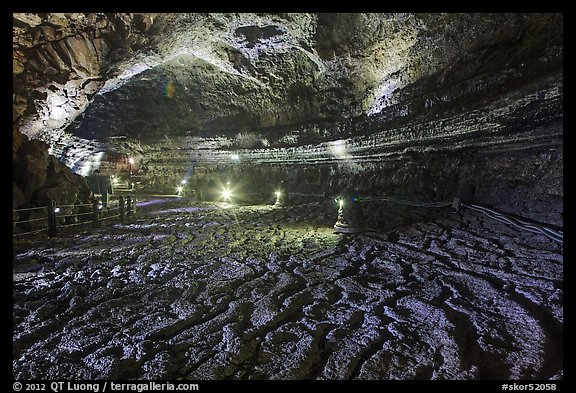 The section open to the public is about 1km long, but takes more than half an hour to walk because of the rough floor (unlike the paved paths in US National Parks caves).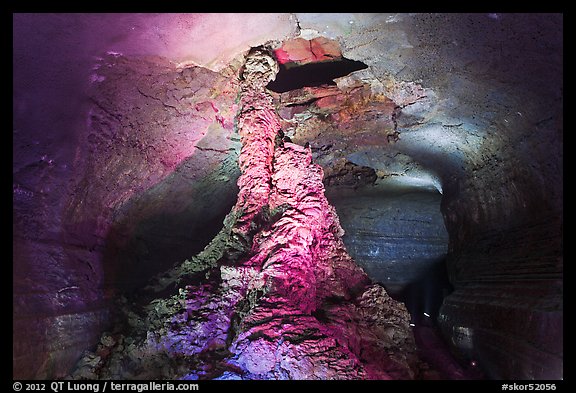 It finishes at a lava column of 7.6m high, which is the largest in the world.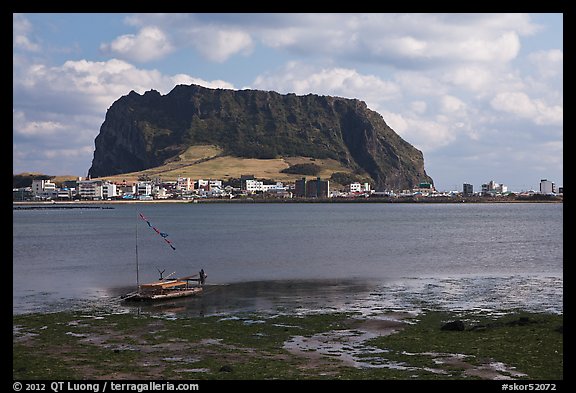 I returned to Seongsang Ilchulbong in time to see more elderly women – and seafood. From what I read, Jeju Island is renown for its seafood, offering several delicacies not found anywhere else.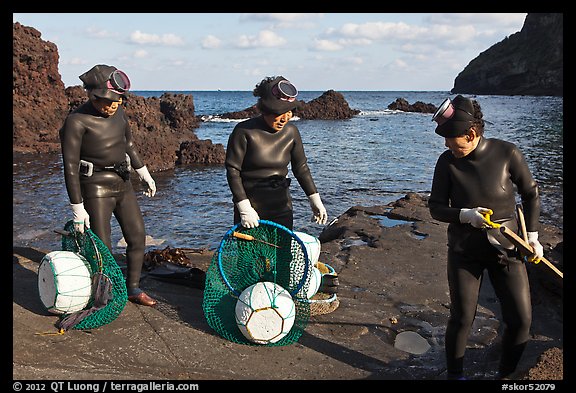 Seafood gathering is done by women, who unlike in most of Asia, are also head of family. "Haenyo" are the famous women divers of Jeju Island. They give a demonstration of their diving skills every day in a cove next to Ilchulbong.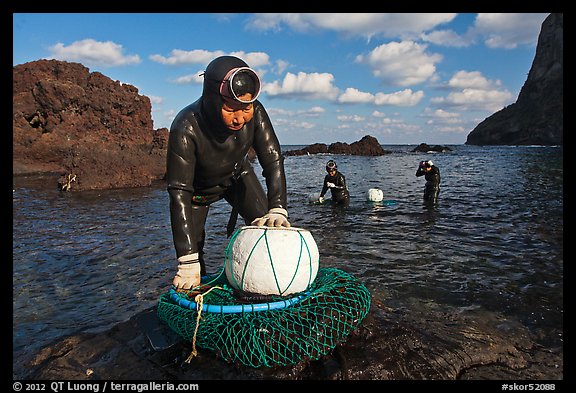 They look so old, wrinkled, and bent, that it is amazing that they can free-dive down to a depth of 20m, using low-tech equipment and no tanks, holding their breath for up to two minutes. This is the last generation of those remarkable women divers, as their daughters prefer to work in less physically demanding jobs in the cities and tourism industry.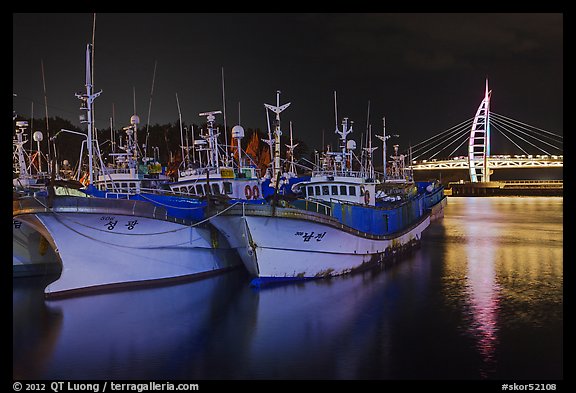 For my last night in Korea, I took the bus to the city of Seogwipo.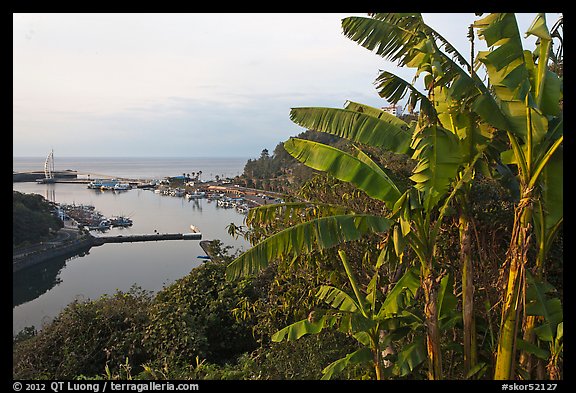 While on the upper slopes of Mt Hallasan were encrusted in rime ice, the seashore near Seogwipo had a tropical feeling, not unlike Hawaii.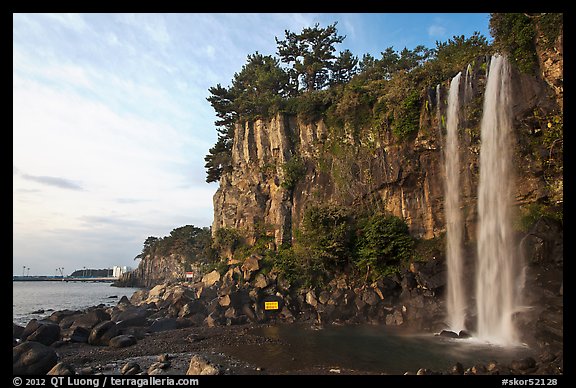 In the morning, after seeing another waterfall, I hurried to visit Jeongbang Pokpo, only waterfall in Asia dropping into sea. After a brisk walk, a bus ride, two taxi rides, a domestic flight, a shuttle transfer, and the trans-pacific flight departing from Seoul in the afternoon, I arrived home.