Firefly Variations
9 Comments
In this post, I revisit a firefly photograph in some detail, first comparing it to a similar image made with a different technique, then showing its components images to highlight firefly specifies within.
Single exposure v. Digital composite
I mentioned
previously
that there are two approaches to photograph fireflies together with the forest, a carefully timed single long exposure or a digital composite from several short exposures. Even if you are not going to photograph fireflies any time soon, note that those considerations also apply to star trails or even light trails from cars at night. The composite approach is safer for several reasons. The first reason is that it makes it possible to use a base exposure while there is still light, so that one can avoid high ISO and a long exposure, a combination particularly problematic, as taken individually, each of them is already the main cause of noisy images. The second reason is that besides noise, a single, long exposure is vulnerable to incidents such as someone shining a light. With several short exposures, you have the option of simply not using the affected frames, whereas a single exposure could be ruined beyond repair. The third reason is that it makes it easier to control the brightness of the final image. If you do not time well a single exposure and it is too long, the forest may end up too bright relative to the fireflies, which would ruin the shot. With separate exposures for the forest and the fireflies, you can easily tune their relative brightness.
With the lens set wide open at f/1.4, I focussed at infinity. This resulted in the light from the fireflies forming an out of focus disc of size inversely proportional to their distance, which helped convey the sense of the depth in the forest I had in mind for this photograph. Unlike for others, I had chosen a slightly elevated viewpoint to this effect. However, in the single exposure frame below, some fireflies had flown very close to the camera, resulting in blobs of light that could be distracting.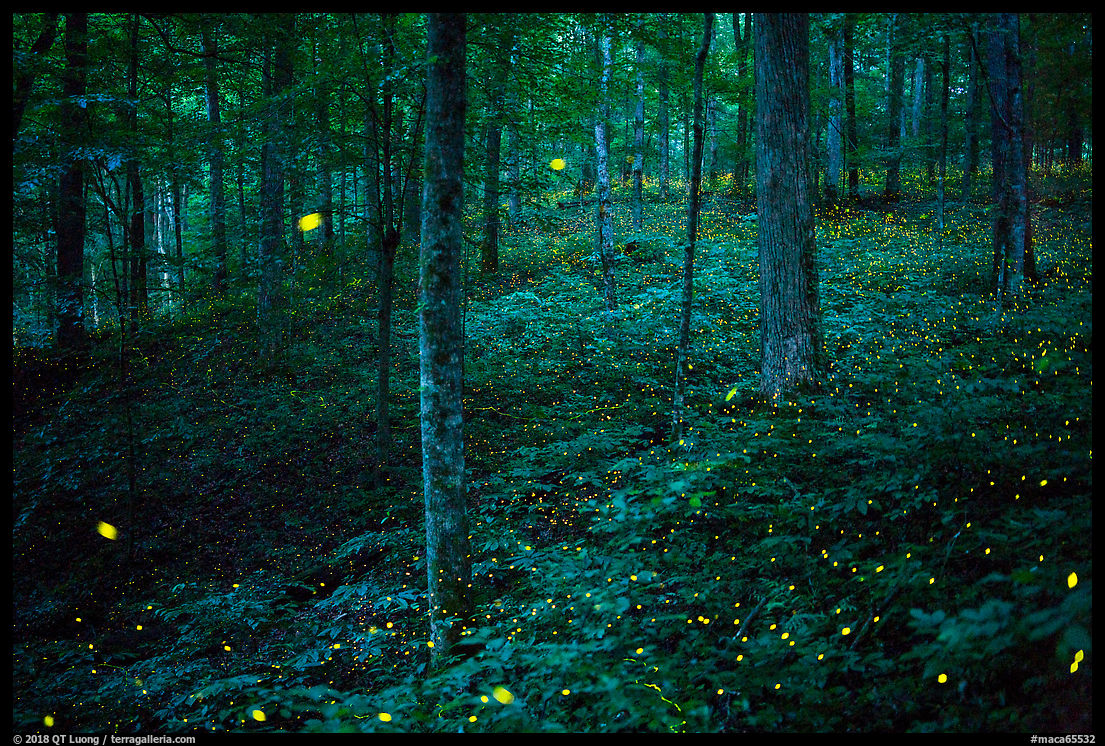 Single frame, Sony A7R2, Rokinon 35mm, 8 min at f/1.4, ISO 800 (Click image to enlarge)
For the digital composite, I selected 13 frames, leaving out those with distracting fireflies, resulting in a similar total exposure time. I loaded them as layers in a stack by using "Tools > Photoshop > Load Files into Photoshop Layers" in Bridge (you can also do that directly in Photoshop with "Files > Scripts > Load Files into Stack"). Then in the Layers palette, I selected all the layers and changed the blending mode from "Normal" to "Lighten". The "Lighten" blending mode creates a composite by taking for each location the brightest pixels in the stack, and since the fireflies are brighter than the forest, I was done. I tried to use a brigher base exposure for the forest, but eventurally prefered the darker exposure from the first frame of the stack.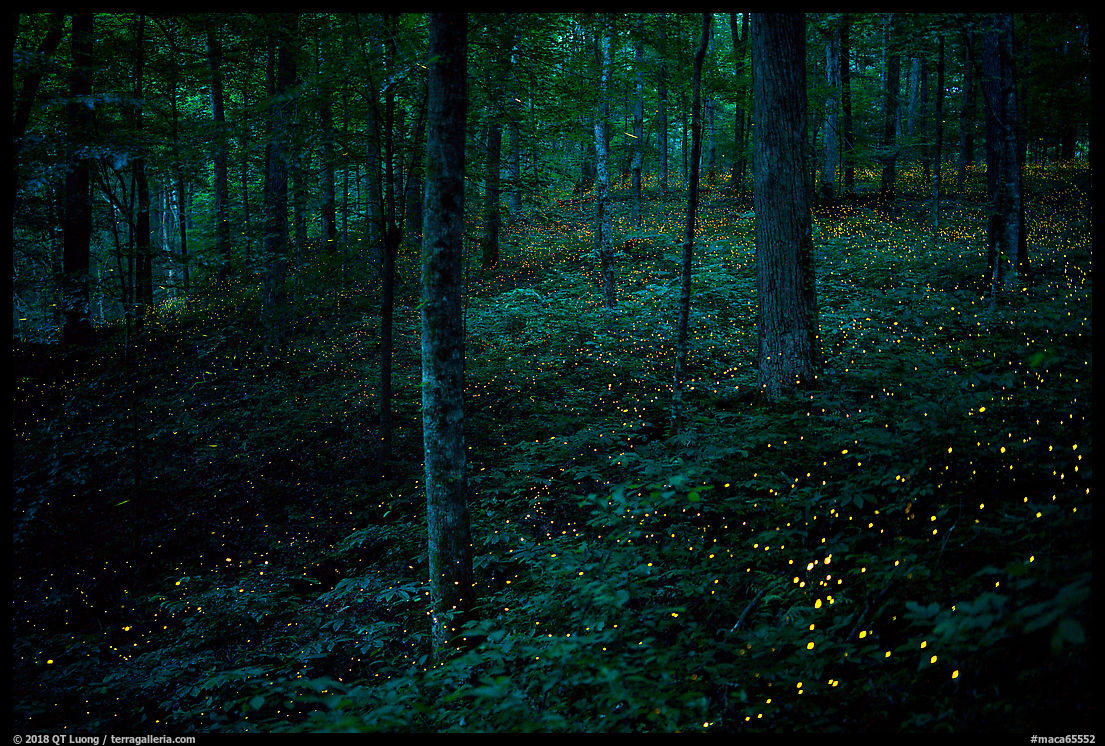 Digital composite, Sony A7R2, Rokinon 35mm, 13 frames, 30 sec at f/1.4, ISO 1600 (Click image to enlarge)
I'd appreciate it if you would let me know which of the two is your favorite? Does it matter that a photo was captured as a single exposure, or does only the result count?
Create your own user feedback survey
Click here to answer poll if you don't see window above
Photinus frontalis v. Photinus carolinus
Another benefit of making several short exposures is that the individual frames reveal the light patterns of
different firefly species
better than a single long exposure or a composite does, even if the later is more impressive by virtue of the myriad of lights captured. In the two photographs above, the fireflies appear to be all over the place, blanketing the forest. However, the 30-second exposures let you see the long light trails of the Mammoth Cave National park fireflies with evenly spaced blinks like the
Photinus frontalis
species. The animated GIF below consists of the 13 frames that make up the composite.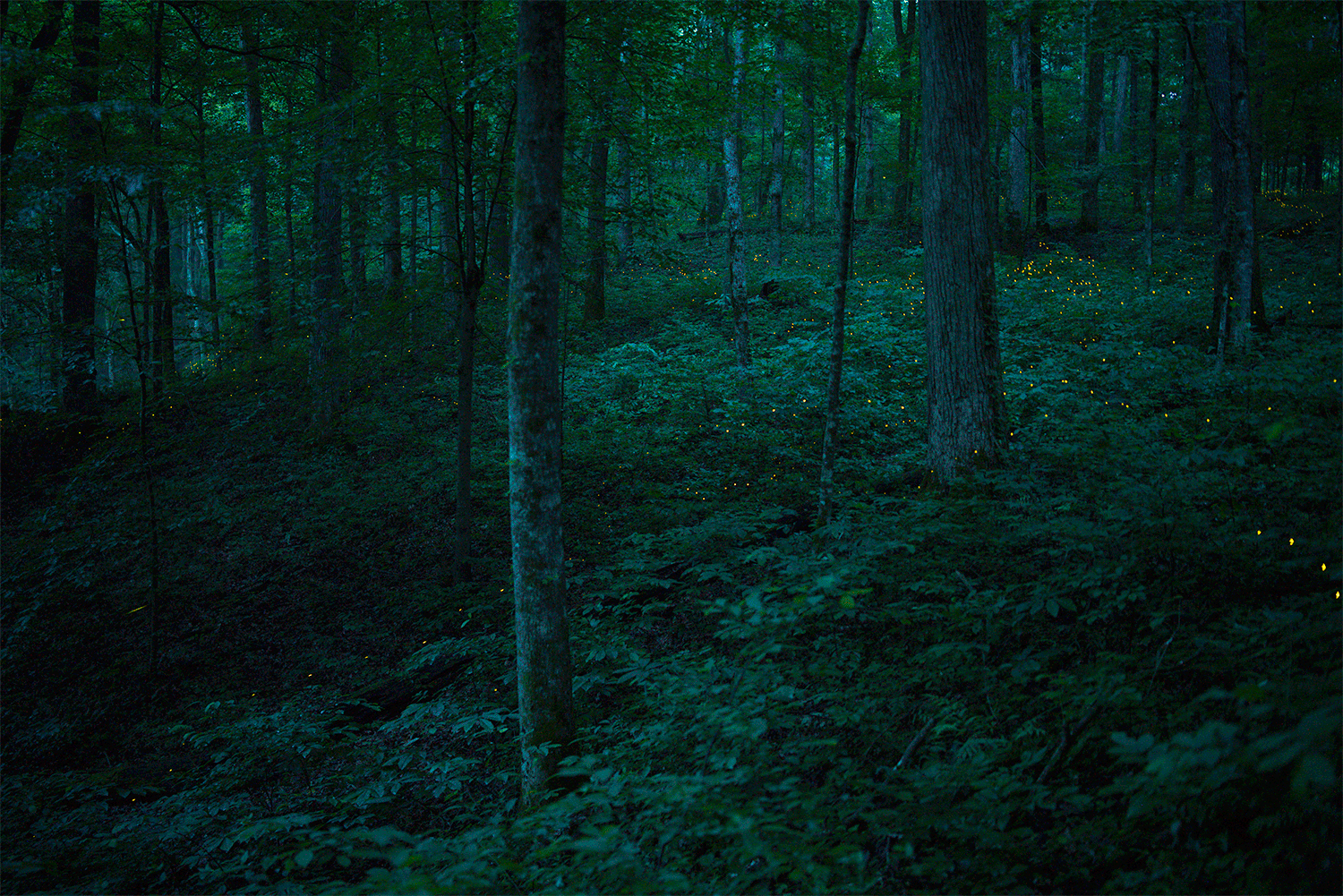 Mammoth Cave National Park fireflies (click image to enlarge)
By contrast, the Photinus carolinus of Great Smoky Mountains National Park have shorter light trails, since they blink only 5-8 times before going dark for a period of time longer than the flashing time. This can be seen in the animated GIF below.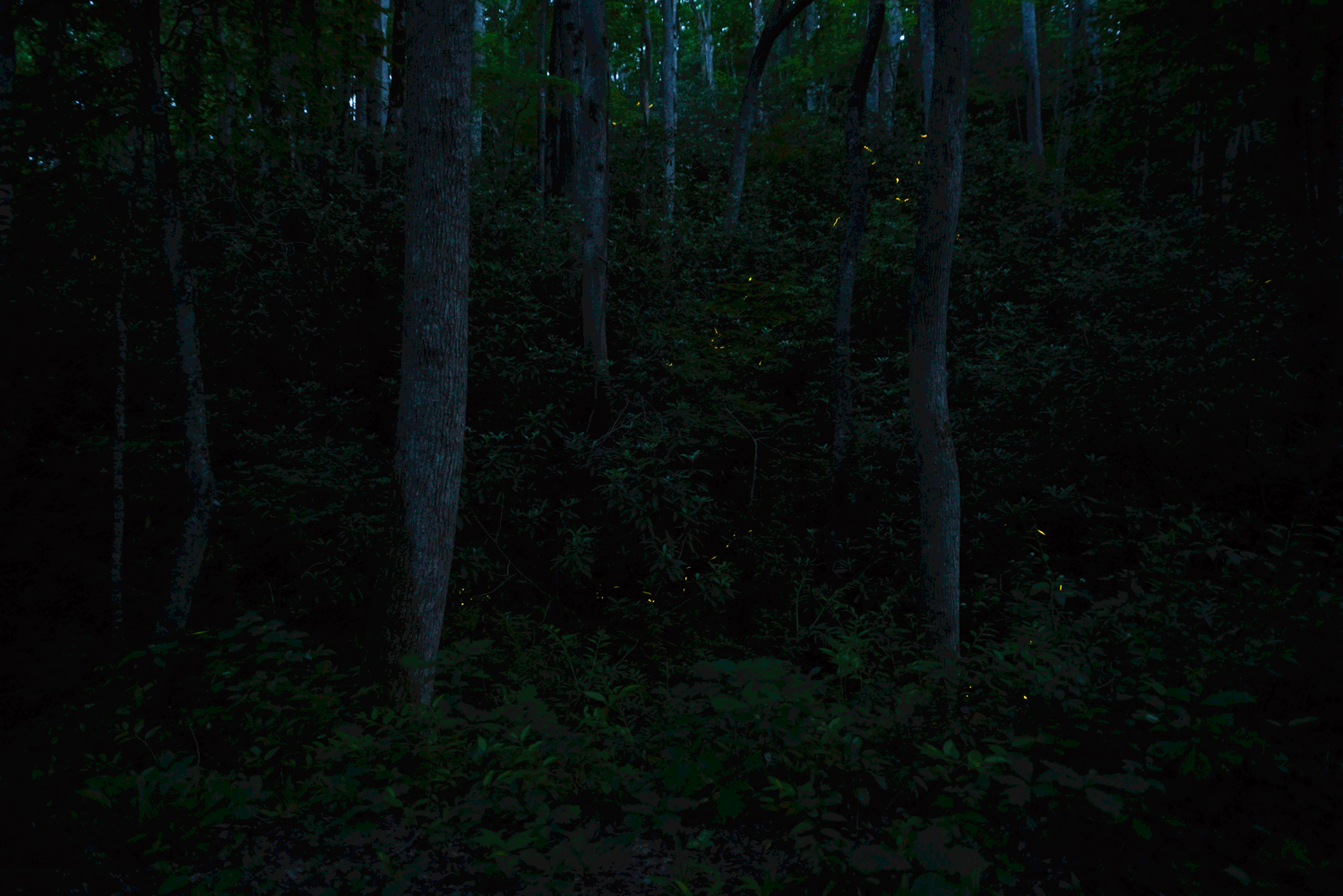 Great Smoky Mountains National Park Photinus carolinus fireflies (click image to enlarge)
The difference in flashing patterns was not as readily observed in the final composite image below: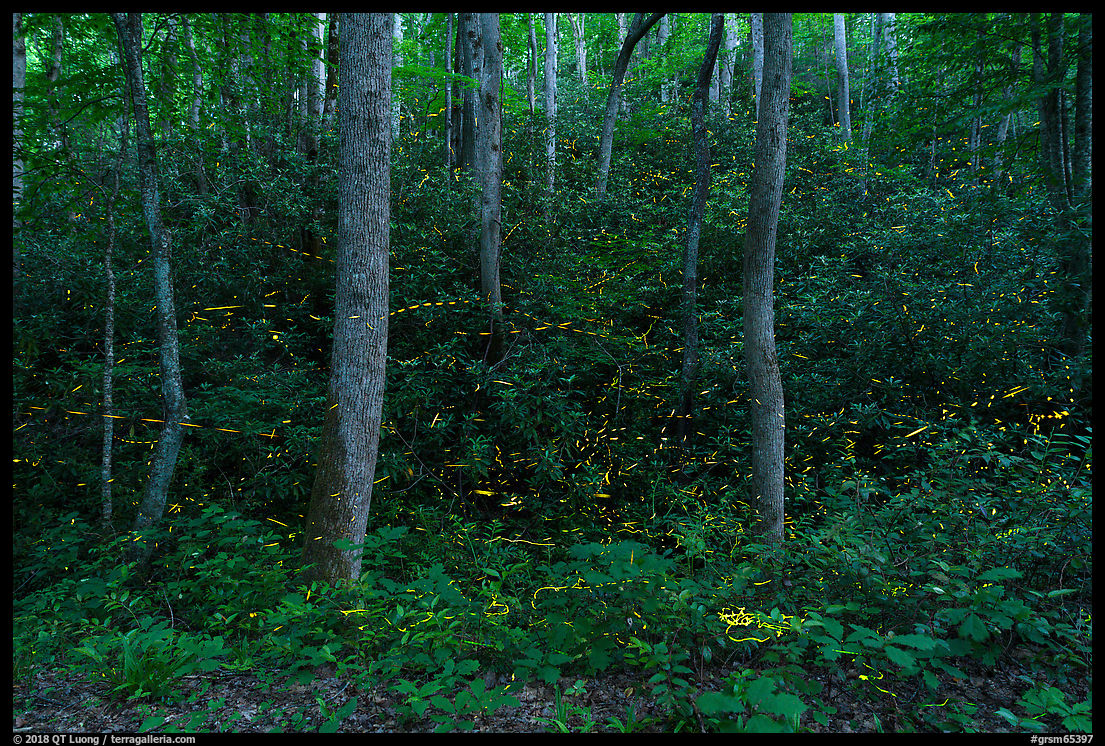 Digital composite. Sony A7R2, Sigma 20mm f1.4 lens. Base exposure: 30s at f/2.2, ISO 200. Fireflies: 28 frames, 30s at f/1.4, ISO 3200
I hope that this series of posts has inspired you to go and seek these bioluminescent beauties that bring enchantment to summer evenings in the eastern forests, and has given you enough information to try your hand at photographing them. Firefly populations are on the decline, due to increased light pollution and habitat loss, so while enjoying them, be sure to thread lightly!