Synchronous Fireflies Beyond the Smokies
5 Comments
Great Smoky Mountains National Park was once thought to be the only place in North America where the synchronous fireflies (Photinus carolinus) can be seen. Fittingly for the most visited national park in America, the event has become very popular, as described in the
previous article
. During my East Coast trip this spring, I observed fireflies at two other national parks, where you can sidestep the hassle of the lottery, mandatory shuttles, lines, and crowds.
Firefly species
Large concentrations of fireflies tend to occur in humid, dark, and clean environments, and besides Great Smoky Mountains National Park, Mammoth Cave and specially Congaree National Park fit this description quite well. The synchronized fireflies found there are of a different species, the
Photinus frontalis
. Their flashing pattern consists of quicker flashes at regular intervals of less than a second, which register on photographs as circles rather than the short light trails of the
Photinus carolinus
. By the way, in some of
those photographs
, esp. 10:21 PM, you could see a long light trail with a cooler hue. This is the black sheep of the firefly family, the rare blue ghost firefly (
phausis reticulata
) that glows the wrong color and for too long, lighting up continuously for up to minute. The
Photinus carolinus
's flashes are synchronized in the sense that they blink in unison, but they do not all go dark at the same time. Pauses in the flash pattern occur at irregular intervals. In other words, the males flash synchronously, for several flash cycles, then, one firefly will stop flashing while the other continues flashing, and then the stopped firefly begins to flash again synchronously.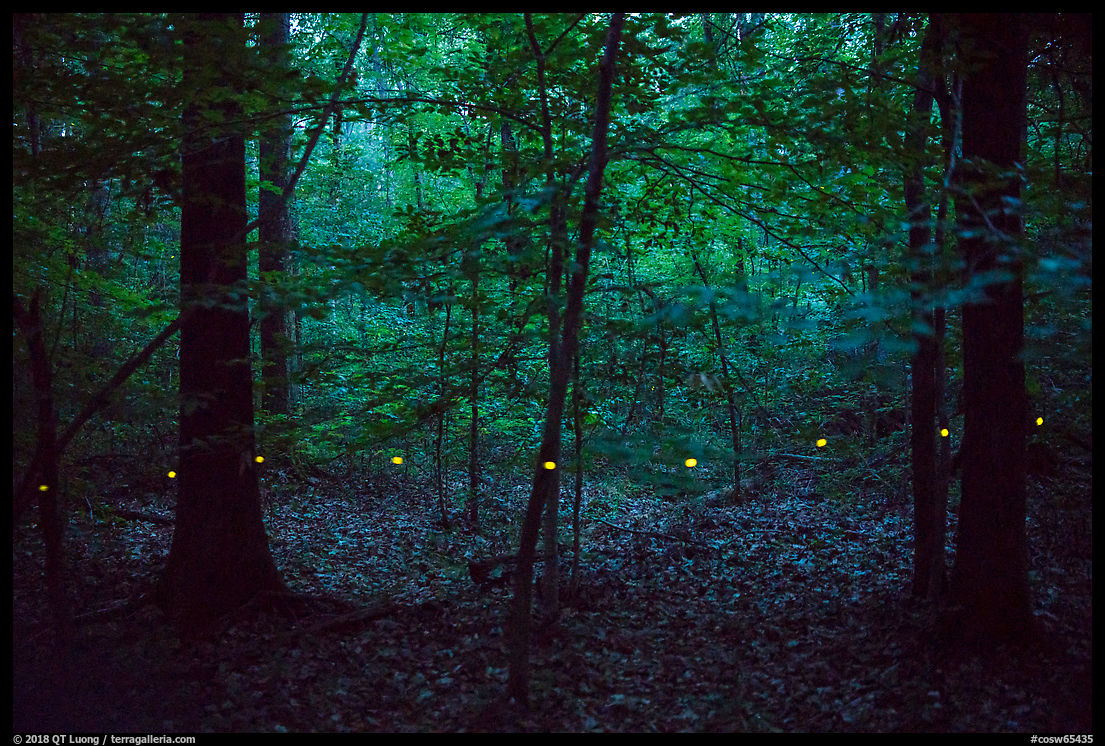 Light trace of a single firefly. 9:21 PM. Sony A7R2, 35mm, 30s at f/1.4, ISO 6400
Congaree National Park
For firefly viewing, Congaree National Park has been recommended by the National Park Service as an alternative to Great Smoky Mountains National Park, and here is the
park's firefly information page
. No bus nor lottery is necessary there, but it is wise to arrive early since parking is limited. The activity takes place less than a quarter-mile from the visitor center parking lot, and you can witness it along the park's trails and boardwalks. During the 2018 firefly viewing period, the NPS has put in place a "Firefly Trail", which goes one-way and starts from the picnic shelter, with the elevated boardwalk reserved for accessible access. The Firefly Trail is roped and is lighted by red lanterns placed on the ground so that visitors do not need to use flashlights. In order to find a viewing spot unaffected by lights, I walked along the Bluff Trail instead. I certainly don't begrudge the hikers who shined a red light during my exposure. It was so dark in the forest that at one point, as I wanted to check something on my phone and stepped away from my camera so that its display would not affect the exposure, I found myself totally disoriented!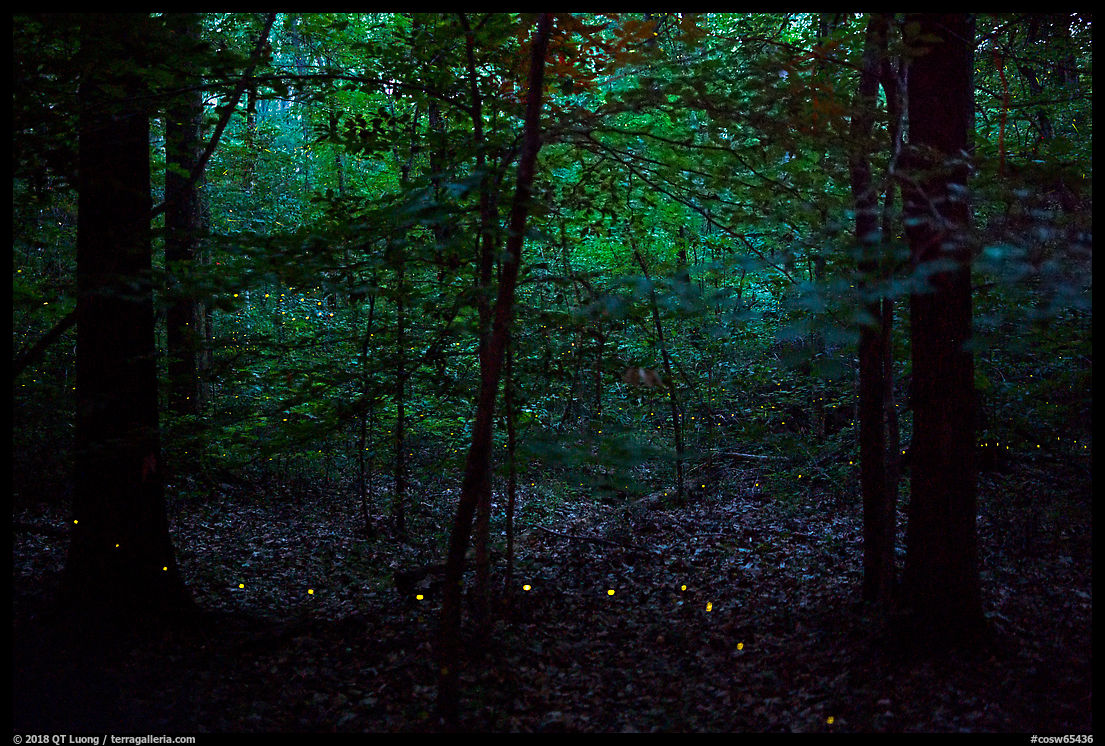 9:24 PM. Sony A7R2, Rokinon 35mm, 14 min at f/1.4, ISO 1600. Composited with 30s at f/1.4, ISO 6400 frame to remove light pollution from hiker flashlight
The synchronization period lasts about two weeks, but at Congaree National Park it takes place earlier in the year and in the night than at Great Smoky Mountains National Park. In 2018, The synchronous fireflies became active on May 16 and ended the first week of June. Their activity starts at sunset and lasts only about one hour. The park is also home to other species of fireflies that remain active all night, and I my camera captured a few during a time-lapse that I set next to my tent at the Longleaf Campground.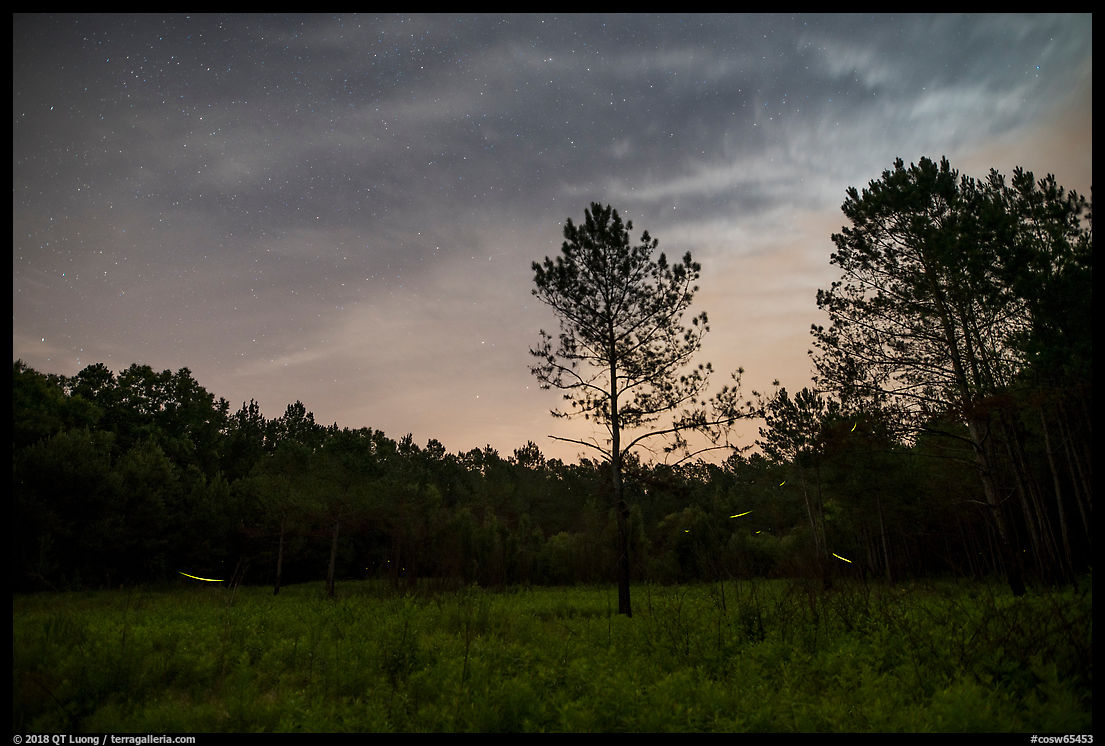 Digital composite, four frames, Sony A7R2, Sigma 20mm, 15s at f/2, ISO 800.
Mammoth Cave National Park
Maybe because almost all visitors come for the cave, Mammoth Cave National Park's fireflies are under the radar. In fact, the
NPS website's page dedicated to insects
doesn't even mention them at all.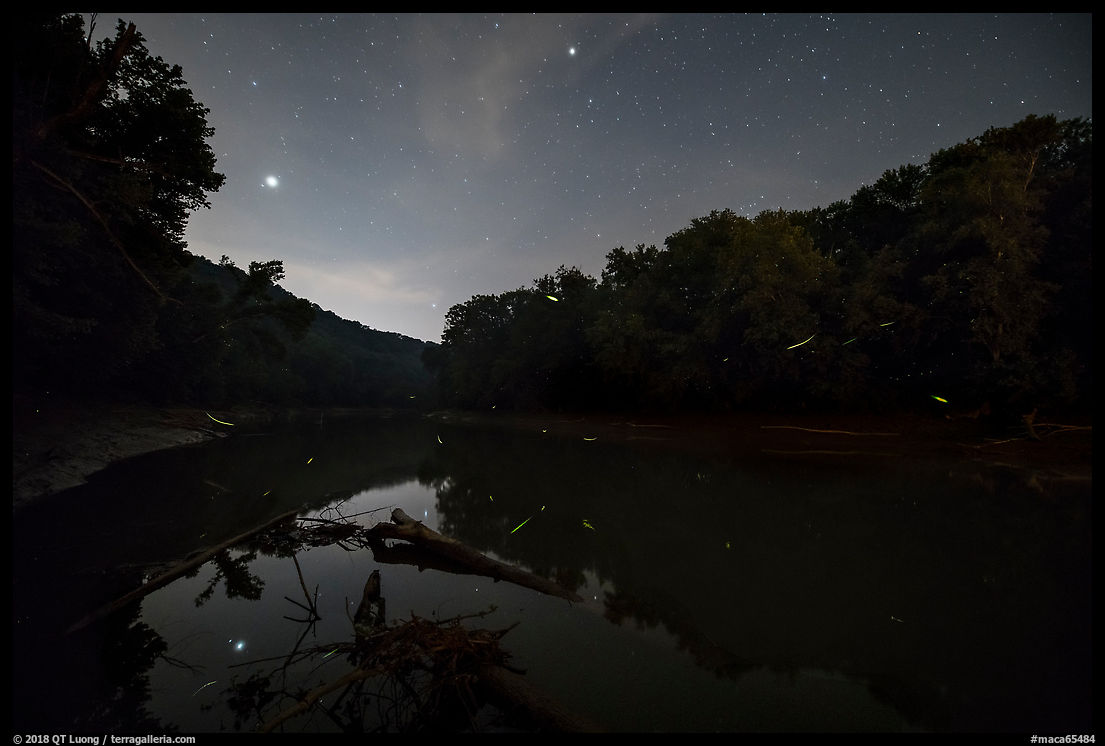 Digital composite, six frames, Sony A7R2, Nikkor 14-24mm @ 14mm, 30s min at f/2.8, ISO 3200.
Upon arriving at the Houchin Campground one hour before sunset, I noticed fireflies flying upwards on grassy areas while flashing a single sustained yellow light in the shape of the letter J. Since I was focused on photographing the Green River with the colors of sunset, I planned to photograph them later. But by the time the color was gone, so were those fireflies. I subsequently learned that they were the Photinus pyralis that finish displaying by 9:30. My time-lapse camera by the river captured fireflies with a light trail similar to those in the meadow in Congaree.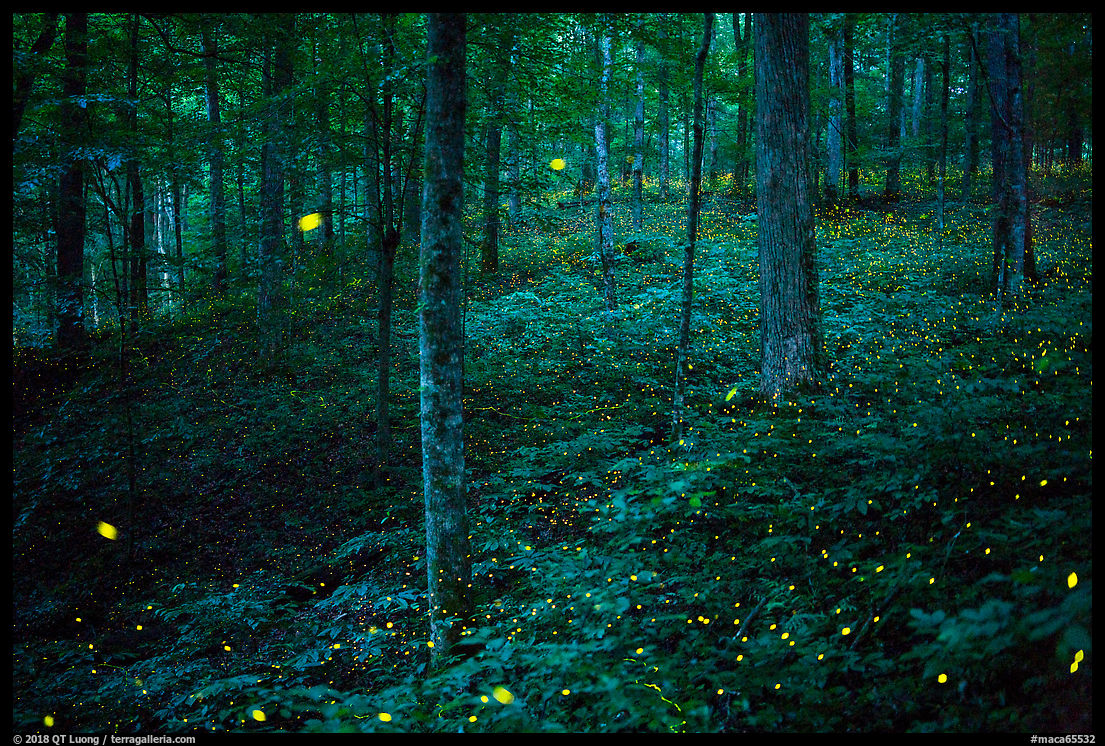 10:10 PM. Sony A7R2, Rokinon 35mm, 8 min at f/1.4, ISO 800.
Because of torrential thunderstorm rains in the afternoon, I ended hiking a trail quite late in the evening. As I began to notice the now familiar blink of fireflies, I rushed to my car to retrieve my f/1.4 lenses. Not expecting them there at all, I was delighted to see that the fireflies were in pretty large numbers, and synchronized too, the same way as the Photinus frontalis.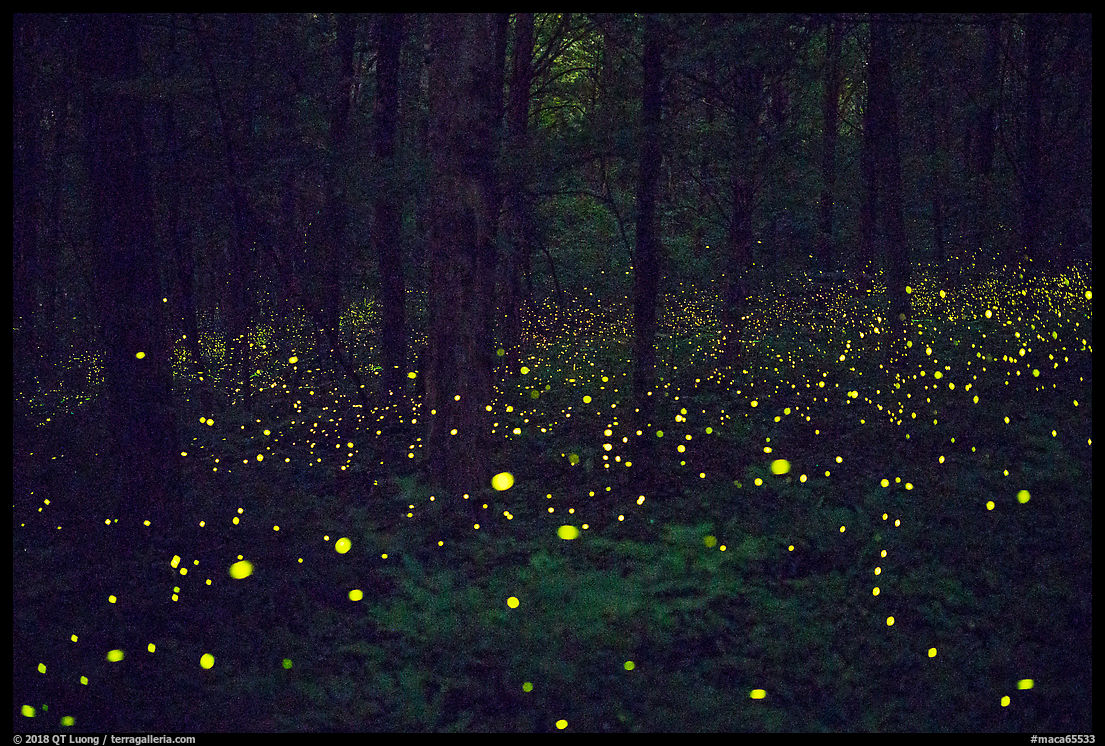 10:41 PM. Sony A7R2, Rokinon 35mm, 8 min at f/1.4, ISO 3200.
Except for a few, their flashing looked similar to them, but that species isn't mentioned in that survey of Mammoth Cave fireflies, so I am not sure which species they were. However, sitting by myself on the trail, I for sure enjoyed the unexpected gift. After so many forest photos, I moved to capture the fireflies with the backdrop of a sink hole typical of the terrain found in the park.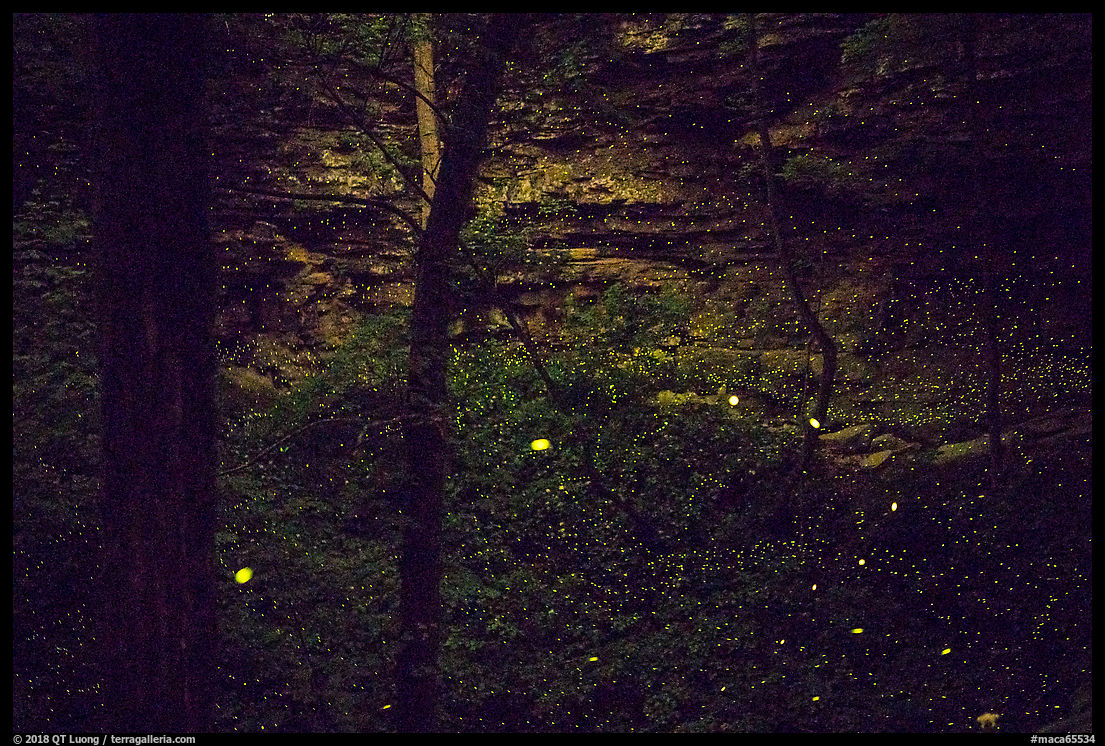 11:15 PM. Sony A7R2, Rokinon 35mm, 8 min at f/1.4, ISO 3200.
A few other spots have now emerged as places to view synchronized fireflies, but I hadn't seen Mammoth Cave National Park listed amongst them. My experience leads me to think that as you wander in the eastern hardwood forests at night, you might find the next one.