Chena Hot Springs, Alaska
One Comment
There are several hot springs around Fairbanks. They were discovered around the turn of the 19th century by miners seeking an escape from the cold. The most easily accessed is Chena Hot Springs, which is the terminus of its own highway (Chena Hot Springs Rd), 46 miles East of Fairbanks.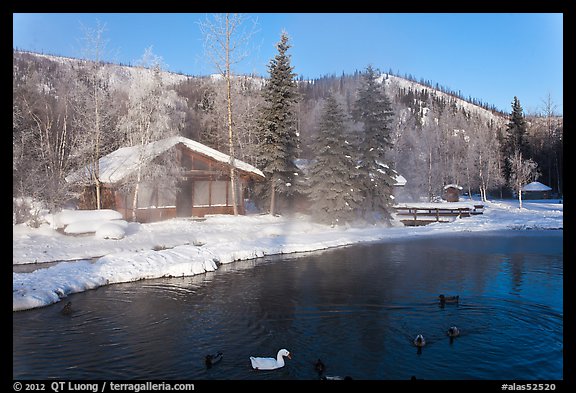 All water around Fairbanks is normally frozen solid, but the runoff of the hot springs provide water free of ice for those swans and ducks. Travelers can have the rare experience of soaking outdoors by temperatures well below 0F (-17C).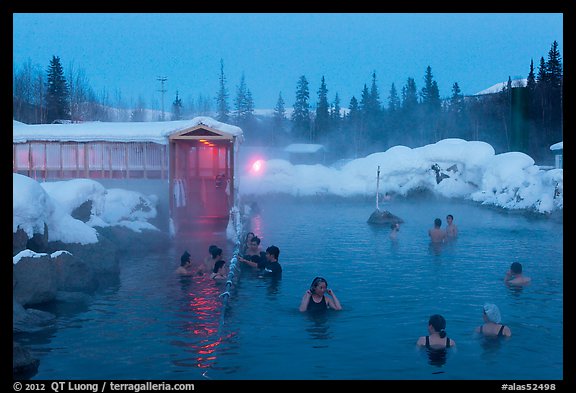 Arriving there in late afternoon, the light wasn't great, with the pool in the shade and the sky and mountains quite bright. We had an hour waiting the more even light of dusk, with its interesting blue cast. We paid a small fee and jumped in the water (they rent towels and swimsuits). The water is plenty warm, but the tricky part is to get outside the building wearing nothing but a swimsuit. Fortunately, there are pools inside the bathhouse that one can use to store some heat, and the outside path (on the left of the picture) between the bathhouse and the outdoor pool is covered. After a few minutes, frost forms on your hair as it gets wet from the steam. Out of concern for condensation, I did not want to risk bringing the DSLR. I wished I had a waterproof camera to take pictures while soaking.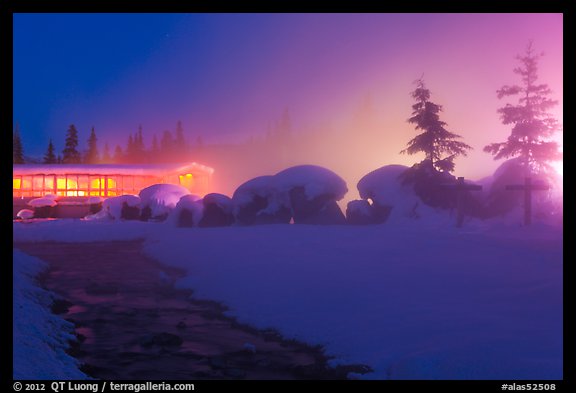 With air temperature that low, there was an abundance of steam coming from the pool. This, and the combination of twilight light and artificial light contributed to create unusual colors and atmosphere as the night fell.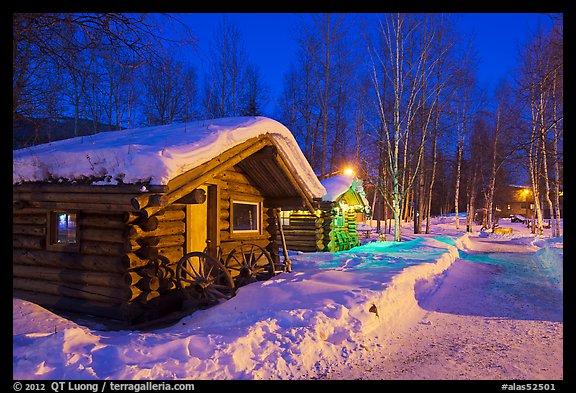 A large resort is built around the hot springs, offering hotel-style as well as cabin accommodation. Despite the advertising, I think the displays of Northern Lights that can be seen while soaking in the springs must be rare, as the light surrounding the pool are quite bright. More generally, the light pollution caused by the resort probably makes it less than ideal for viewing the Northern Lights. Despite a predictions for a moderate (3) activity we saw nothing. However the resort offers a snowcoach ride up to the top of a surrounding mountain which is likely dark enough.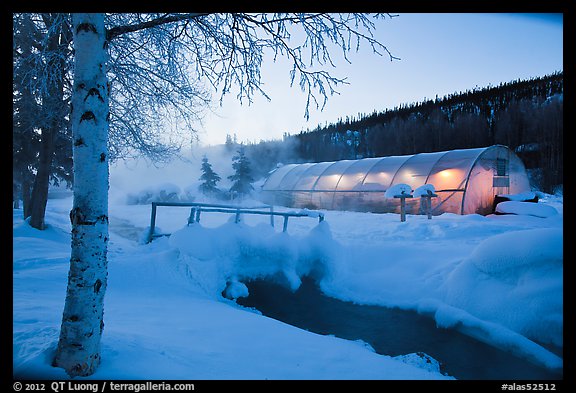 The hot water is also used to produce electricity, and to heat a number of greenhouses which provide fresh vegetable to the resort restaurant.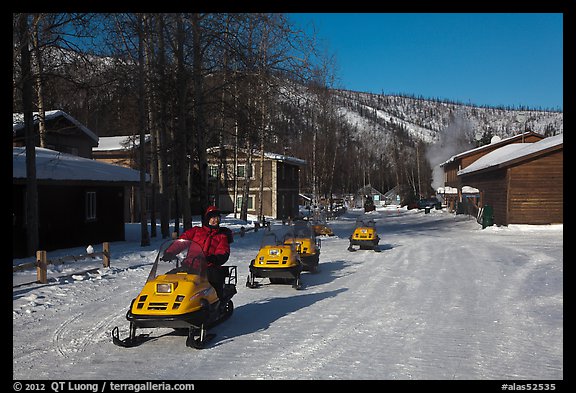 All the typical Alaskan activities are offered, including snowmobiling, scenic flights, a year-round ice sculpture museum housed in huge building refrigerated during the warm months.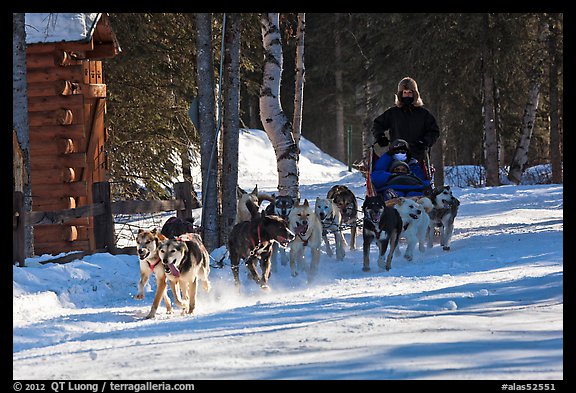 The most interesting to watch and photograph were the dog sled rides. Those huskies zoom by you in no time. If you want to have a varied experience of Alaska in winter in full comfort, Chena Hot Springs would be a good choice.
Part 4 of 5: 1 | 2 | 3 | 4 | 5