Voyageurs National Park boating guide
3 Comments
Voyageurs National Park may sound more difficult to visit than the other national parks because you are traveling by water, but this is what makes your experience there unique. After reading my tips for getting on the water – based on my three visits to Voyageurs National Park – you'll see that driving a boat through Voyageurs National Park is quite simple.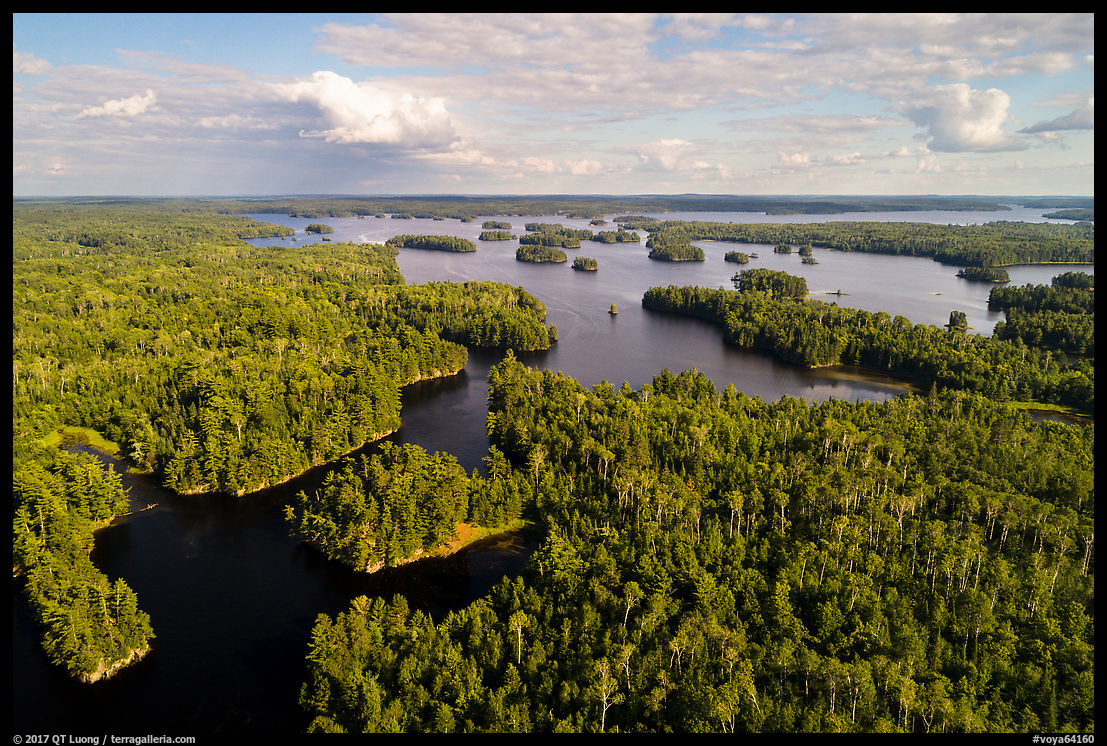 While it is possible to catch a glimpse of Voyageurs National Park from the road (see descriptions for Ash River and Kabetogama), to really see it you must get on the water. The National Park Service (NPS) organizes a few tours, there are water taxis and shuttles, but to have more freedom to explore, look for wildlife, and to carry all your gear easily, it is preferable to have your own boat. Boats there are like cars in other parks, and most of the time you'll prefer to have your own, right?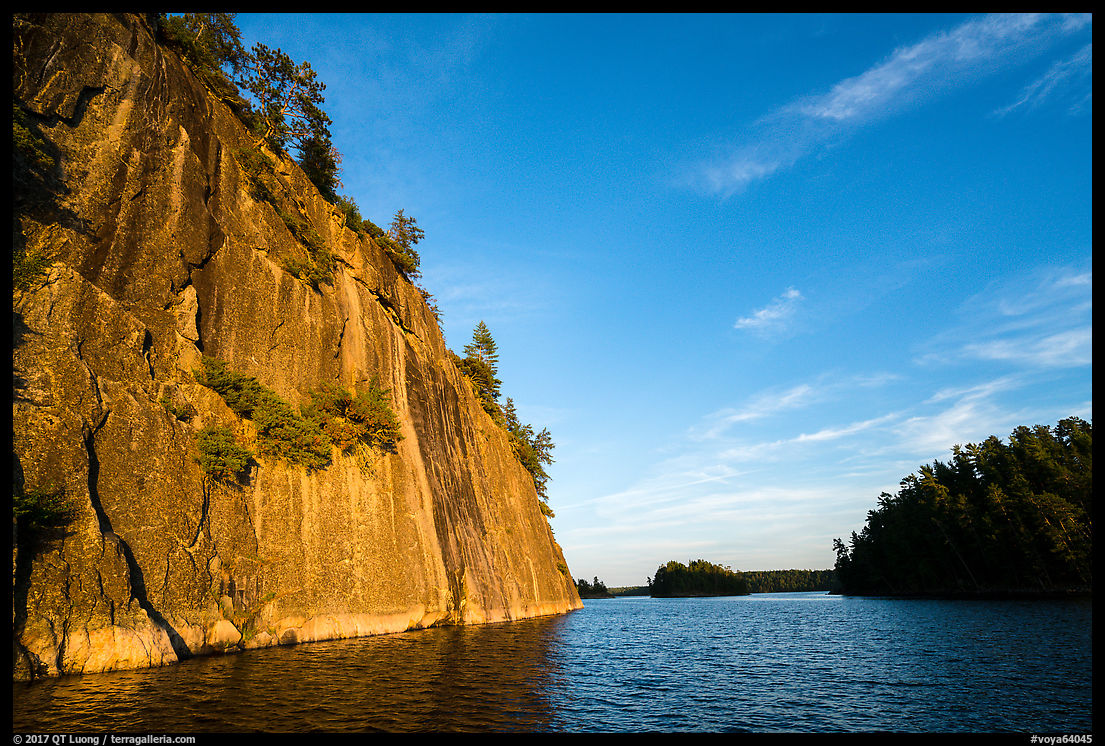 Despite the fact that most of the park cannot be reached by road, Voyageurs National Park is not considered a wilderness. Rather most of the destinations within are classified by the NPS as frontcountry, with the distinction that you reach them by boat rather than by car. You'll see many other boats, especially in summer. While this limits the solitude, it will be reassuring if you don't have prior boating experience.
Understanding the lay of the waters
Voyageurs is a mosaic of land and water. Lets break it down its waterways:
The park comprises four large exterior lakes: Rainy Lake (pictured), Kabetogama Lake, Namakan Lake, Sand Point Lake, and a small portion of Crane Lake, which form the park's frontcountry. Rainy Lake, Kabetogama Lake, and Crane Lake are the entry points into the park, and where you will find outfitters that can rent you a boat. The exterior lakes are interconnected via "narrows", which here mean narrow navigable channels.

The narrows between Rainy Lake and Namakan Lake are not navigable because of a dam forming Kettle Falls. With a boat shorter than 21 feet, you can bypass those narrows by a short mechanized portage, where a truck hauls your boat on a trailer for about a quarter of mile. In 2017, the cost was $25 each way.

In addition, there are a number of smaller interior lakes which are not connected to the five exterior lakes, to which you hike. Those lakes, such as Beast Lake (pictured) offer more of a backcountry experience, with more quiet and solitude. The NPS parks canoes or rowboats on the shores of many of them, and they are available to visitors for a small fee. You can make a online reservation and pick up keys at a visitor center one day prior to the trip. Note that you may not portage your own boats into the interior lakes because of the risk of spreading aquatic invasive species into these pristine lakes.
Boat options
Unlike at other national parks, there are no concessionaires within Voyageurs National Park. You rent your boat from one of the many outfitters located in the communities surrounding the park. There is plenty of choice. On my last trip, I rented with Voyagaire in Crane Lake. Besides a great choice of boats, they are professional and helpful. Here is my assessment of the options.
Canoe and kayak. Voyageurs is a superb destination for paddling, however it is fairly large park (341 square miles) with big lakes whose waters are plied by a multitude of motorboats, often at full speed – there are few one no-wake areas, mostly near Kettle Falls. For those reasons, if you want to primarily paddle, the nearby Boundary Waters Canoe Area Wilderness is a better choice if you'd like a quiet experience. A kayak could still be useful for exploring shallow areas if you use a houseboat, although with care, a small motorboat can navigate them as well. As mentioned before, you cannot bring your own boat into the interior lakes.

Motorboats. The most basic boat you can rent is a aluminum fishing boat with a 15HP motor. While they are adequate and will get you anywhere, I found a 17 feet boat with 40HP motor to be a worthwhile upgrade (about $120/day in 2017). Not only the maximum speed increases from 15mph to 25mph, but more importantly, the motor is equipped with electric start, which is much easier to use than a manual start. A 17 feet boat is stable enough to stand in, which is definitively useful for photography. In addition, a fiberglass hull will absorb the waves better than a aluminum hull. There are larger motorboats for rent, but past a certain size, they cannot be portaged at Kettle Falls, which means that you cannot explore both Rainy Lake and the three other lakes on the same trip.

Houseboats. Houseboating is an experience which is unique to Voyageurs amongst all the other national parks. They are like floating large RVs and offer you the comfort of home, with beds, sitting areas, a full kitchen, and a full bathroom. Another advantage of a houseboat is that it gives you more overnighting options. Houseboats may use any designated houseboat sites on a first-come first-serve basis, and can be parked pretty much everywhere, even at undesignated sites, whereas campers are limited to their reserved sites. The drawback, besides the cost is that houseboats are rather slow (7 mph). While they would be great for fun a trip with family or friends, I did't feel I'd really use the amenities since I'd spend all my time exploring and photographing. Also, houseboats cannot be portaged at Kettle Falls. Houseboating is a popular activity, so reserve in advance.
Boating tips
The idea of renting a motorboat for the first time was a bit intimidating on my first trip, especially since I was traveling solo, but I found out that they are quite easy to operate even without prior experience. The motor has only two controls: forward/neutral/reverse and the throtle. Unless you are going full speed towards an obstacle, it's difficult to hit anything, and you don't have to worry about staying on a road! Here are a few lessons learned:
Make sure you have enough fuel: On my return trip from Anderson Bay to Kabetogama, a storm had created big waves. In the middle of Kabetogama Lake, my fuel ran out and, deprived of momentum, the boat began to bob up and down, out of control. I was very worried of getting stuck on the lake with just a few hours of daylight left. Fortunately, I found a spare fuel tank left by the outfitter under a seat and somehow figured out how to swap it with the empty tank. On my next trip, not only I asked the outfitter for a generous spare tank, but I made sure to refill at Kettle Falls. With a few side trips, roundtrip to Big Island from Crane Lake used about 20 gallons with 45HP.
Beware of rocks: There are many submerged rocks on the lakes, and only some of them are marked with buoys. Hitting a rock will damage your propeller. If there is a risk of hitting rocks, slow down and lift your motor. Rocks are by far the main hazard for water travel.
Understand navigation channels: Safe boating channels are marked by green and red buoys and you must stay between them. Knowing which one should be on your left and which one should be on your right can be confusing. The rule is that the red buoy is on the right side of the channel when facing upstream ("Red, Right, Return – The Red buoy is on your Right-hand side when Returning to the source of the water"). Generally, the water flows north into Canada so the source is south. So for instance on Crane and Sand Point Lakes, traveling north, red will be on your left. Knowing which direction the water flows isn't always that easy, since Namakan Lake and Kabetogama converge. More details.
Use GPS: On my first trip two decades ago, keeping track of where I was on the water using the map was quite tricky, since all the places look the same. This year GPS Apps made it a breeze, but I made sure to have offline maps downloaded. Cell phone was available with ATT but not Verizon.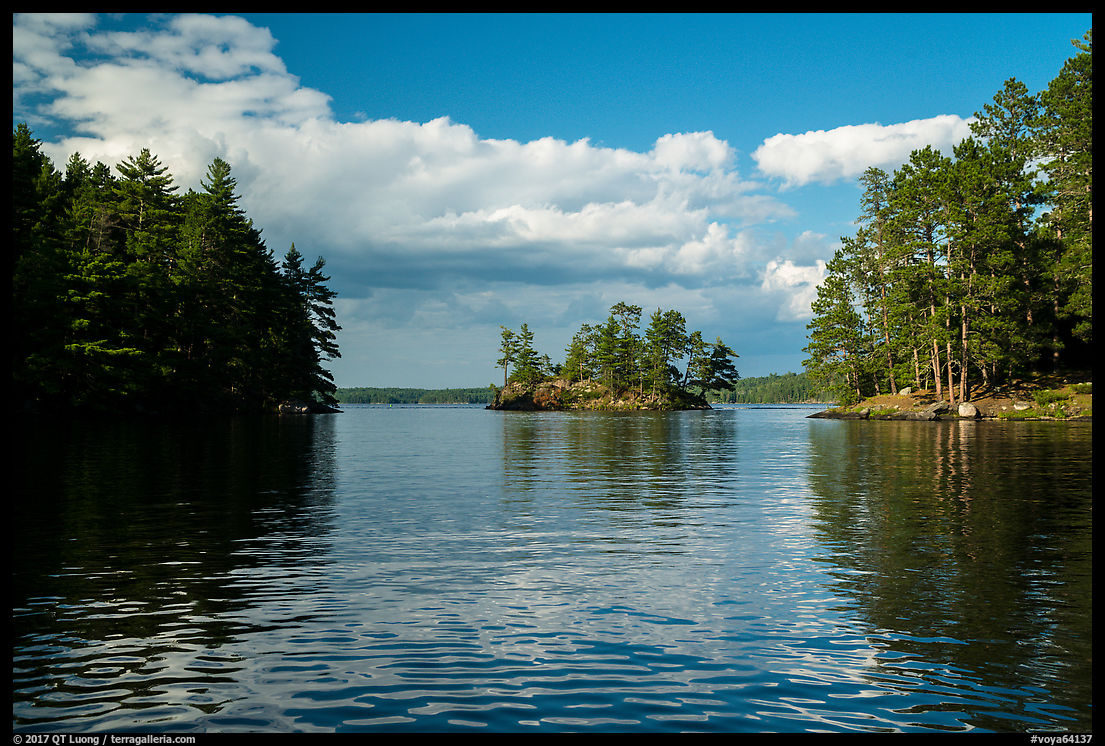 Camping and Lodging
Many resorts surround the park. Within the park, the only lodging option is the historic Kettle Falls hotel, which is reasonably priced unlike many park lodges. They offer a water shuttle if you don't have your boat, as well as boat rentals, so it could be a good base.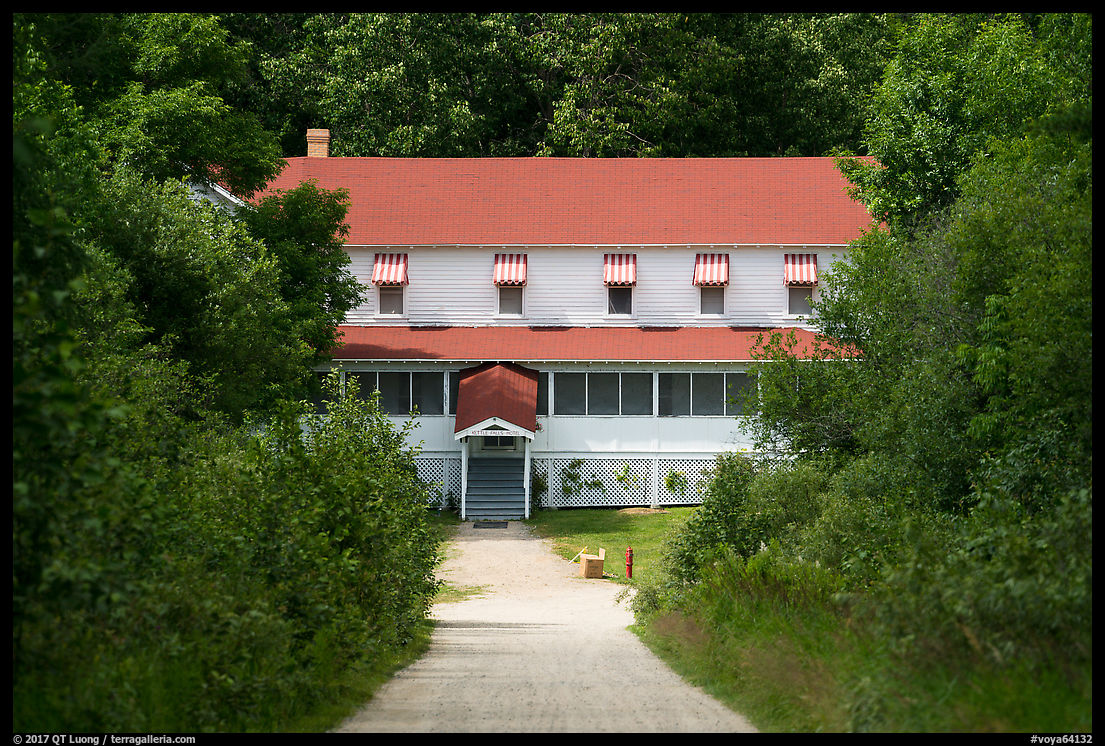 If you don't use a houseboat, there are more than 200 tent campsites in the park, and they are accessible only by boat. If there is no sandy beach, a dock is provided. Sites have tent pads, picnic tables, primitive toilets (bring your own paper), and bear-proof food lockers. You must make a online reservation for a specific site and a specific date. Once done, you need to carry a printed receipt, but if you didn't plan at home, the visitor centers have computers and printers that you can use to this effect. You reserve the whole site: sites are meant to accommodate only one party, so reserve early if you can.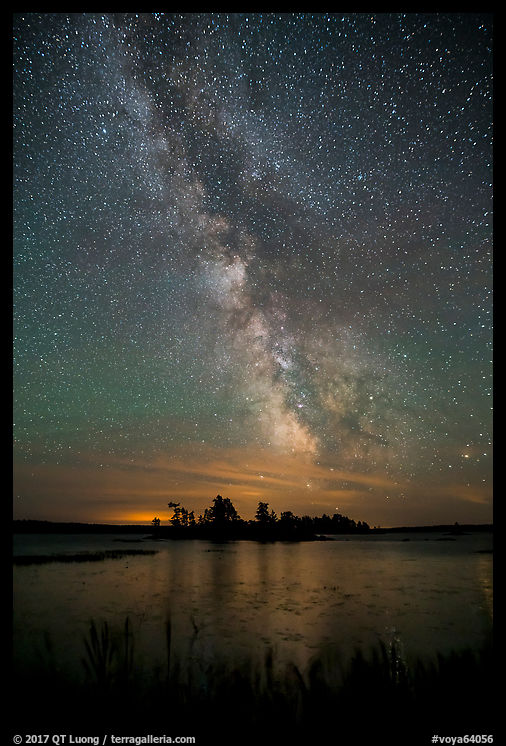 When choosing an island to camp, I picked Houseboat Island on Sand Point Lake because of its tiny size, which made it easy to access a range of orientations to photograph. At night, shooting towards the north offers an opportunity to capture the Aurora (which didn't appear despite a KP 4 night) while the Milky Way showed up in the south.