GPS Apps for photographers
No Comments
GPS can be a very useful tool for a photographer to reach locations and keep track of them. After finding out about the value of having a GPS app on my iPhone during a
close call in the desert
, I researched carefully many GPS apps. In this post, I survey the 8 most useful apps I've come across.
Links point to the iPhone/iOS version, which is the one I tested, however besides Topo Maps and GPS Tracks, all the reviewed apps are also available for Android.
With hundreds of GPS apps available, there is no doubt that using your phone as a GPS offers you more versatility than a dedicated GPS unit. In addition, a phone offers a larger screen, and network connectivity, all in a lighter package. They can be housed in hard/waterproof cases if desired. I've used a flexible waterproof case to swim in Zion's wet canyons. Carrying a small battery charger ensures that you do not run out of battery in the middle of nowhere. My favorite is this credit-card sized charger because it has integrated cables and its size makes it possible to charge a phone carried in a pocket.
Google Maps
Google Maps
(free) works very well for everything but some backcountry travel, especially with a few tricks which aren't well-documented.
Google provides the best search and directions of any apps for driving (turn-by-turn) and walking. Last January, amongst all my apps (including an automobile Garmin unit), it was the only who could find the recently relocated entrance of Olompani State Historic Park near Novato, CA.
Terrain and Satellite Views are available. Use terrain view for visualizing the topography. It even shows trails. Even if it is not a true topographic map suitable for backcountry travel, the app sometimes has data that it can use to guide you along a trail!
You can save maps for offline use via a hidden feature: enter "ok maps" into the search box when viewing the area you want to save. There is a relatively small limit on the size of the area that can be saved, so the app still works best with a network connection.
You can save locations (tap on location and hold until a pin is dropped on it, swipe up to save) with all information linked to your Google account. Refer to them at google.com/bookmarks
Google Maps has no importing capabilities and can handle only individual locations, not tracks.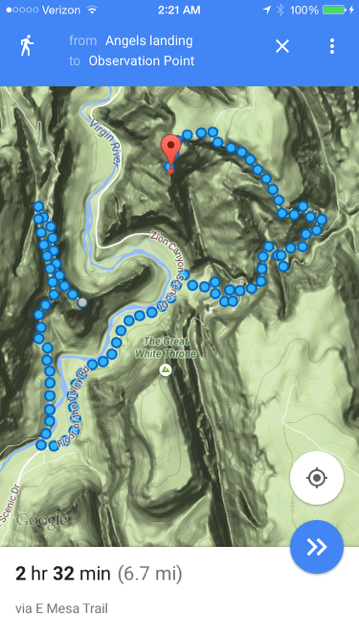 Here
Depending on your preferences and skills, on the trail, you may or may not rely on a GPS app. The pace of hiking leaves plenty of time to deploy traditional navigation tools – which many believe to be more reliable. However, I've found GPS indispensable on the road, particularly in unfamiliar cities.
Here (free) is a recent navigation map from Nokia which is great for offline travel on roads and streets, with directions for both driving (turn-by-turn) and walking.
The main benefit of Here is that you can download map sets for offline use without a connection. Even if you have a connection, you can save precious data usage if you have an economical plan like me. Unlike with Google Maps, you can download maps for entire continents, countries, or states. The USA map takes 4.4 GB. Last May, I used the Vietnam map (176 MB), which was very precise and complete, even on the Con Dao Islands, some of the country's most remote territories.
The display is the most elegant and flexible of any of the navigation apps I've seen, with adaptive labeling of streets, neighborhoods, and even 3D buildings.
Compared to Google Maps, the main limitations is the absence of terrain view and trails. Satellite views are available, but require an online connection. Locations can be saved, but not exported.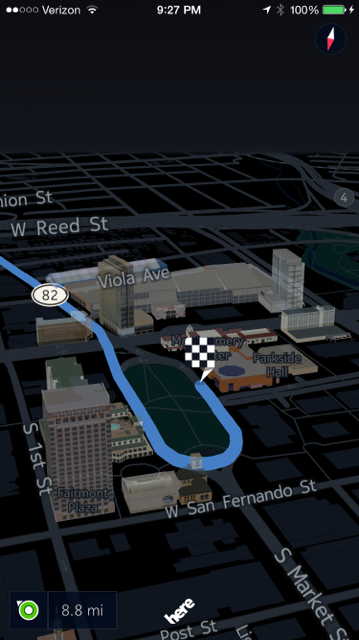 TomTom USA
TomTom USA
($25) is an offline app which brings to your iPhone the familiar solid but slow interface of an automobile GPS unit. I purchased it before becoming aware of the slicker and free Here. It does have one advantage: the well-curated database of points of interest by categories can be easily searched in the vicinity of any location.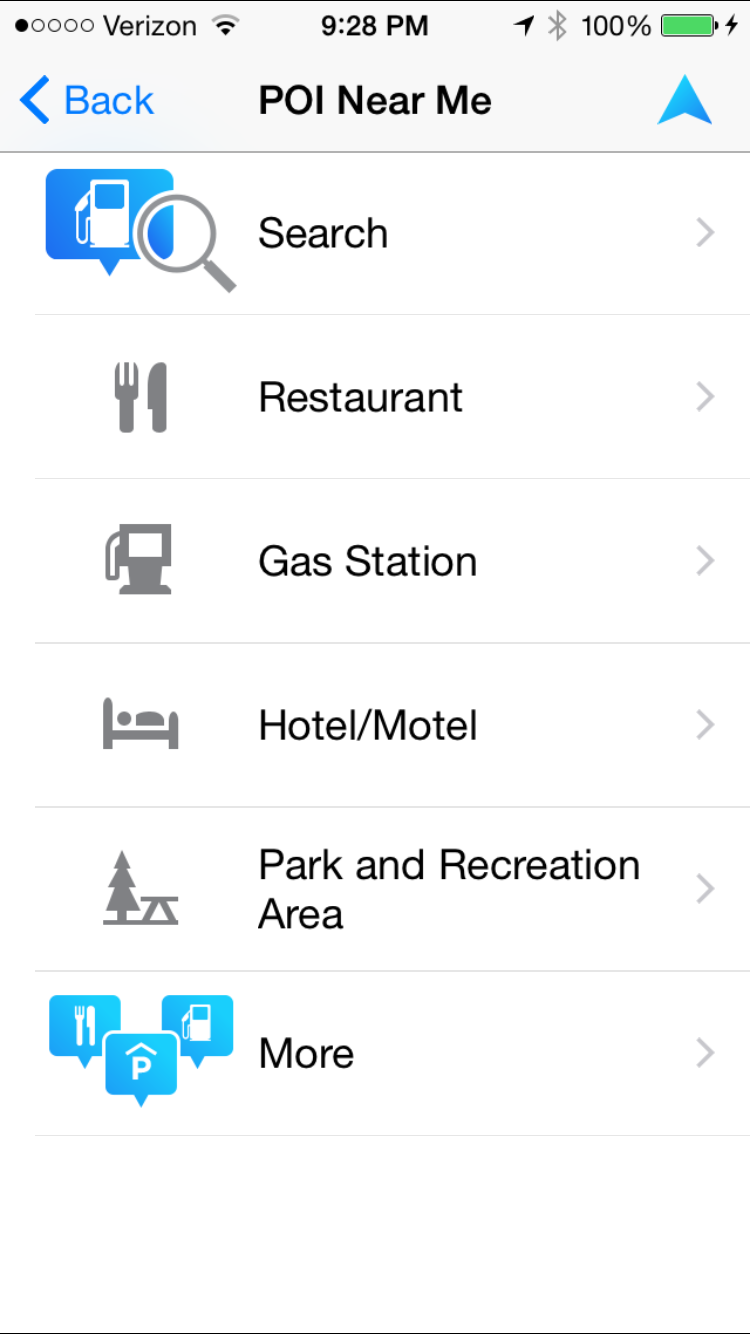 Topo Maps
The vast majority of GPS apps are not designed for outdoor use such as hiking, which requires the ability to store topographic maps for offline use.
Topo Maps ($8) has only one map source (scans of old paper 1:24,000 USGS maps for the US and 1:50,000 NRcan for Canada) and only one navigation functionality (waypoints, no tracks). However within its limitations, it has the cleanest interface of any of the hiking GPS apps. The price includes access to any of those maps. It lets you easily download them for offline use and navigate with an excellent distance/bearing tool.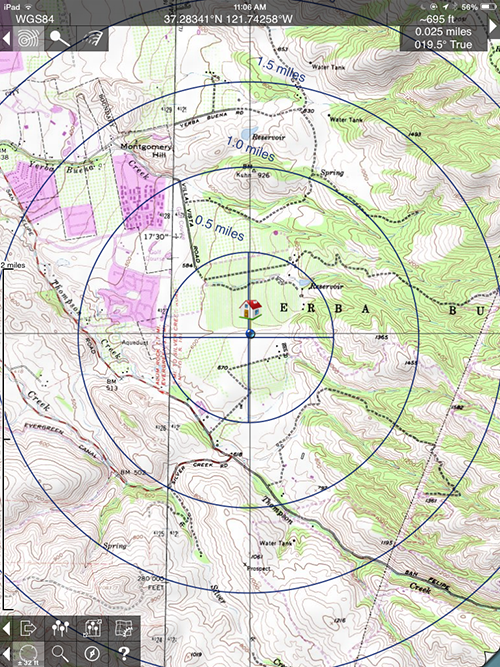 Maplets
Maplets
($3) is only a map viewer, with the ability to view your location on the maps which have been calibrated. It lets you easily download (no extra charge) for offline use a variety of official park maps created by US national, state, county, and city agencies. Those visitor maps often complement topo maps, featuring information not present on them.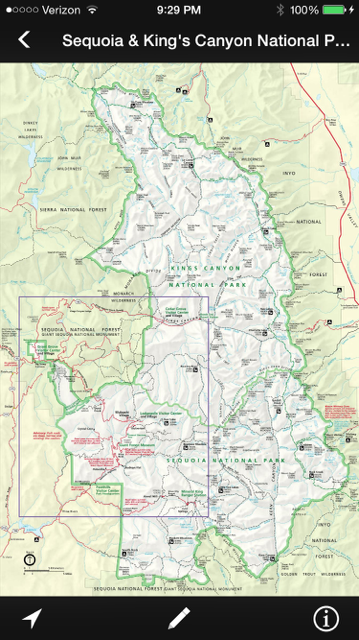 GPS Tracks
Phone camera pictures are automatically geotagged with GPS coordinates. Several point and shoot cameras also offer this functionality. It is a shame manufacturers have omitted it from most DSLRs, requiring (if available) the use of a cumbersome external GPS receiver mounted on the hot shoe. If you wish to geotag images, the alternative is to record a track, and then write the GPS data in the RAW files via time-stamp synchronization. Adobe Lightroom has offered that feature for a while.
From Dec 2014 to April 2015, I've used GPS Tracks ($8) with satisfaction, recording 75 tracks.
GPS navigation precision option let you optimize either accuracy or battery life. With the lowest accuracy option, I've been able to track for 12 continuous hours on the iPhone 6, and the tracks have remained quite precise.
Tracks can be auto-synchronized on Dropbox.
The app presents plenty of data about tracks and has an excellent player for reviewing them in detail.
GPS Tracks can also be used to create and navigate to waypoints, but unlike for the tracks, which work cleanly, the waypoints functionality is quite confusing. There are a number of offline maps offered, but they require a subscription – an unfortunate feature of many apps, so I haven't tried them, using the app exclusively for tracking.
When I was on Santa Rosa Island, the app froze. This doesn't seem to be an exceptional occurrence, as instructions mentioned the issue (database corruption) and the fix. However, since it involves saving data and reinstalling the app, I was not able to use the app for the rest of my stay on the island. Brian Matiash, who introduced me to GPS Tracks, also experienced tracks not properly saved.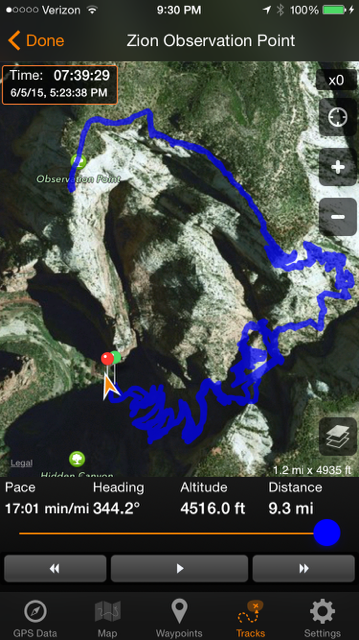 Runkeeper
As the name implies,
Runkeeper
(free) is designed to keep track of running workouts, producing a neat mile-by-mile split of your running pace. However, it also works well for recording tracks, as they are auto-synchronized to the cloud and can be downloaded from there. I've used Runkeeper to record more than 50 tracks, so far without any problem. If all you need is a tracker, the price of the app makes it well worth trying.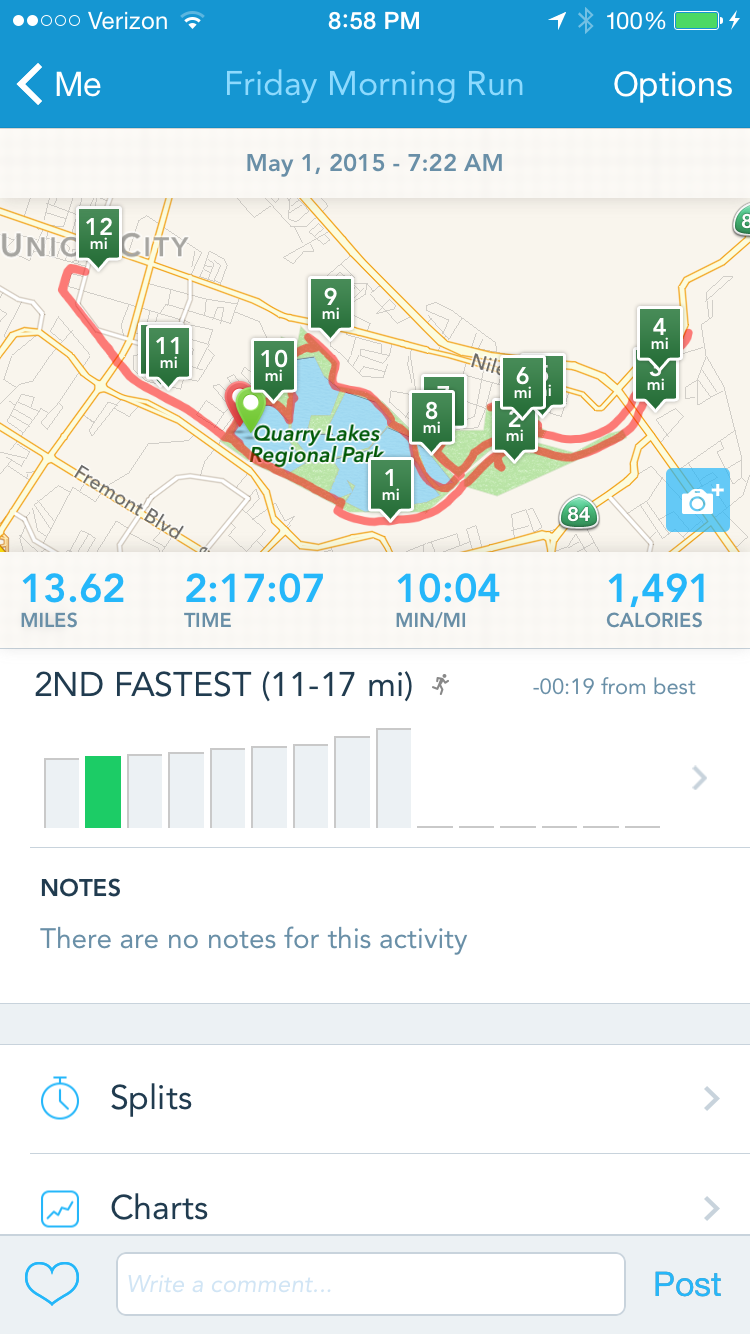 Gaia GPS
Apps reviewed so far perform only a set of tasks (map viewing, waypoint-based navigation, track recording).
Gaia GPS
($20) is the best option for a all-in-one outdoor GPS app.
The swiss-army knife of outdoor GPS apps, it lets you create, import, and export waypoints as well as tracks, and supports navigation to them.
You have access to a fantastic selection of outdoor maps for download at no extra charge. Those include satellite images from 4 sources, road maps, street maps, bicycle trail maps, and high-resolution topographic maps, as well as a number of specialized maps, such as those produced by the NPS. I was impressed to see how accurately some maps depicted a network of unpublicized trails on private land near my house.
Gaia Cloud lets you synchronize, share, and discover maps and tracks.
The interface is clean, especially considering the rich functionalities.
There are several options to maximize battery life. The app is said to be able to track for a day.
So far the only problem I've experienced with Gaia GPS is that the tracking turned out to be quite poor in the canyons of Zion National Park. To be fair, the combination of switchbacks on steep terrain and narrow canyons is challenging for any GPS. However, when I tried GPS Tracks in Zion, it recorded a less erratic track than the Gaia tracks.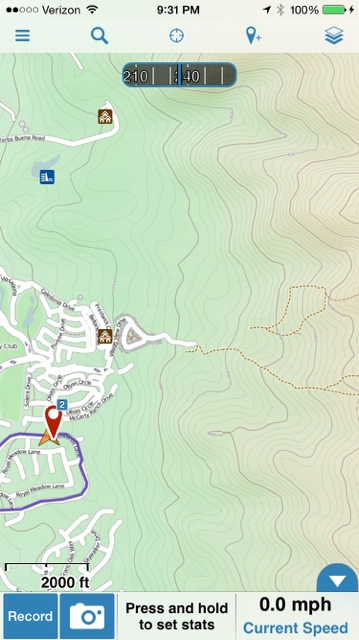 I hope that you'll find some of the apps reviewed useful. Do you have any favorite GPS apps that I have not surveyed here ?