Zion's Mystery Canyon
One Comment
Zion is a land of deeply cut and narrow canyons. With a few exceptions, their beauty cannot be seen by hiking. On my last trip to Zion, by descending some of the "technical" canyons that require the use of ropes and harnesses, I sought to experience parts of the park seen only by few visitors, such as Mystery Canyon.
Exploring technical canyons combines hiking, climbing techniques, and swimming into the sport of canyoneering. The reference resource for canyoneering in Zion is Tom Jones' Canyoneering USA. Tom named Mystery Canyon as his favorite Zion canyon, because it "has everything".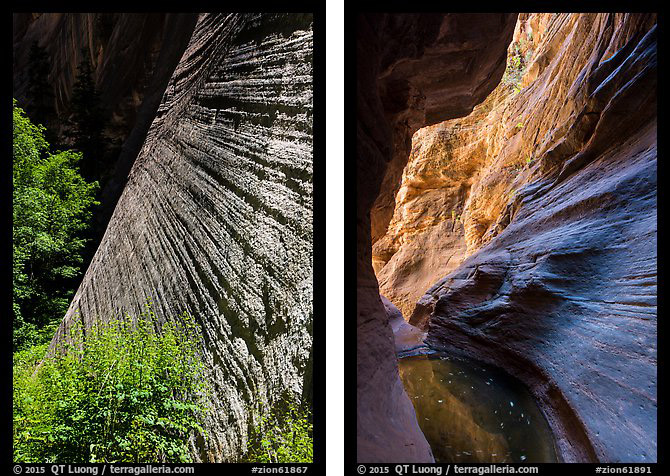 We started the day on the East Mesa Trail, which travels isolated forests and meadows atop a flat plateau to the east of Zion Canyon. Mystery Canyon involves a lot of hiking in a surprisingly verdant canyon beneath sheer walls, alternating between open and narrow sections that provide a wonderful diversity of scenery.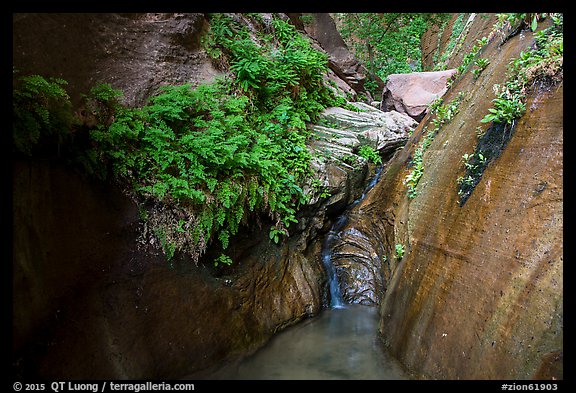 Besides exploration, the fun of canyoneering consists in using various techniques to pass obstacles. Rappels are necessary when you encounter large drops. We did a dozen rappels in Mystery Canyon. The first series are encountered in the Rock Narrows, when the character of the canyon changes to sculptured narrows.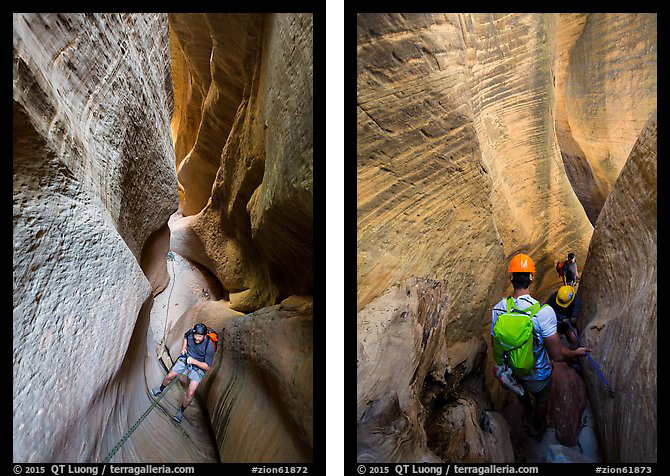 Unlike some canyoneering routes, Mystery Canyon is relatively dry. The most spectacular rappel of the day took place in a large alcove. Since I was one of the two most experienced climbers in our group, I went first. I made sure to put my camera away in a dry bag, since I knew that this rappel would land into a pool (called Mystery Springs). However, this wasn't enough to prepare me for the experience of rappelling straight into a pool too deep to stand. My first reaction upon entering the cold water, still attached to the rope, was "Now what ?". I figured out that with the large backpack I was carrying (containing my dry bag, tripod, and an extra rope), my best option was to swim out on my back.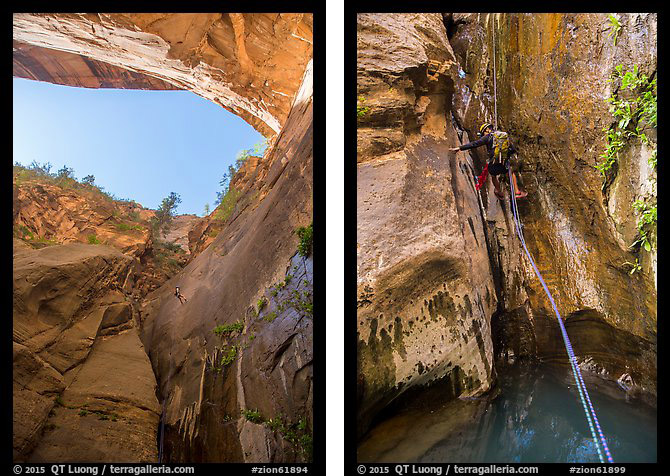 Our journey which started on a gentle plateau, ended up in the Zion Narrows. Mystery Canyon has a perfect finale, the rappel along Mystery Falls – the first landmark that you see when you hike into the Narrows. I was elated to see this familiar sight from a new perspective.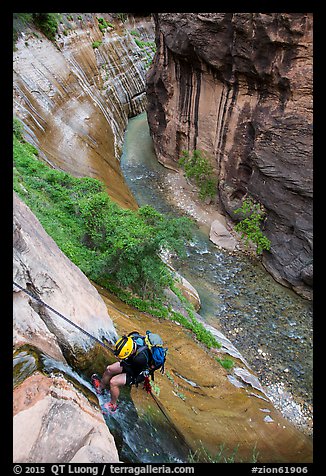 Our group had beginners that did very well on this long day. Canyoneering is quite accessible, provided that you travel with experienced partners. Unlike climbing, the focus isn't on difficulty, but rather on exploration.
More photos of Pine Creek Canyon
More photos of Zion Canyoneering
Zion Canyons: Part 5 of 5. 1 | 2 | 3 | 4 | 5