Close call at the Ibex Dunes
13 Comments
Before moving on to the marine environment of
Channel Islands National Park
for an awesome change from Death Valley and its 100F temperatures, I concluded my
short stay in the desert
with a visit to the remote Ibex Dunes. Read about this location, and how tech nearly got me lost.
Amongst the five sand dunes in Death Valley National Park, the Ibex Dunes are the second-easiest to access, after the world-famous Mesquite Flat Sand Dunes. Few visit them. What probably contributes to the low visitation is their position in the very south-east corner of the park, two hours away from the central attractions of the park. There are also no campgrounds nor facilities nearby – backcountry camping is allowed. From late afternoon to mid-morning the next day, I did not see another person around, which added to the sense of wilderness. That's one time I wished there were a few fellow campers around, though.
To get to this wild area, you need to drive only about 10 miles of unpaved road. That road, called Saratoga Springs Road, starts on the west side of Highway 127, 26 miles south of Shoshone or 30 miles north from Baker. I missed it at first because the intersection is not signed. It is the only road leading west in the vicinity and is near a historic marker, south of Dumont Dunes. From there, after 5.8 miles, turn north onto a smaller road and follow it for 2.7 miles. At the next intersection, the main road turns left for Saratoga Springs. Continue right for about a mile to an area where you can pull out to your right. Further, the road crosses deep sands that require 4WD.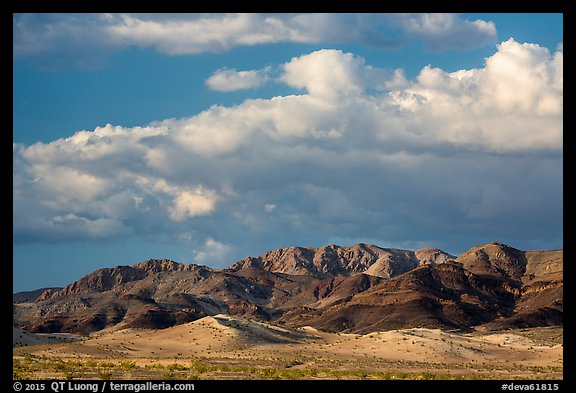 Unlike other dunes, the Ibex Dunes do not form a continuous dune field but instead consist of distinct patches that stretch for about two miles. The southern section has one large dune – the tallest in vertical rise of the Ibex dunes – and more scattered smaller ones further south. The tall dune is about 1.5 miles (one-way) from the road. There are no trails, but it is straightforward to hike cross-country towards the dunes.
The return trip is less straightforward, especially at night, because you need to to find your car! There are no natural landmarks, everything looks similar, and with rocks and shrubs on the way, you cannot see as far as you would in more open and flat terrain.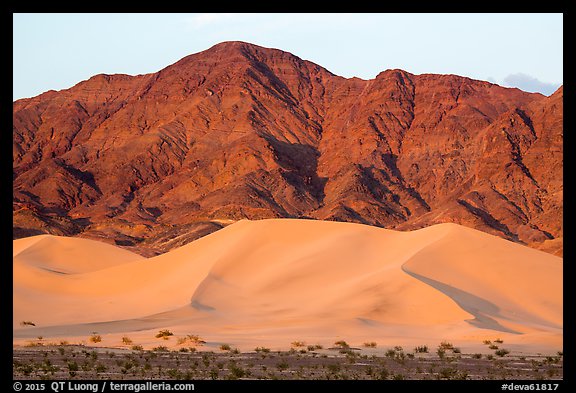 Because of the warm temperatures, I didn't start to hike until an hour before sunset. At sunset, the dunes receive directly the warm light of the setting sun as the terrain is open on the west. Usually, I don't rely on GPS for critical navigation, but given the nondescript terrain I thought it would be my best option. I marked the position of my car with a Garmin hand-held GPS and made sure that there were plenty of batteries left. Ten minutes into the hike, I thought that maybe I should have left a flashlight turned on at the car, but since I was already a bit late, I continued towards the dunes instead.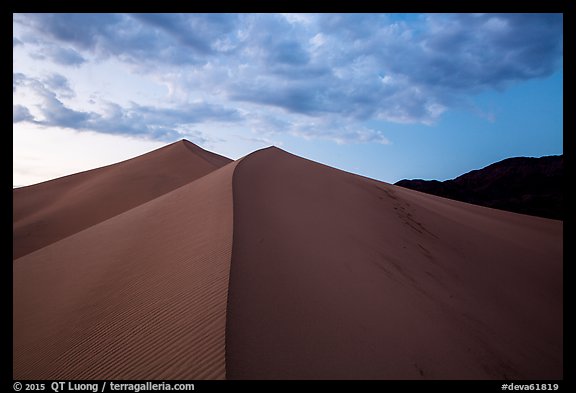 I initially planned to do some night photography at the dunes, but about an hour after sunset, strong winds kicked up out of nowhere. With the sand flying around, stinging me, reducing visibility, and threatening to get everywhere in the camera gear, there was no point in hanging out any longer. I promptly descended the dunes and hiked across the valley, turning the GPS on from time to time to check my bearings.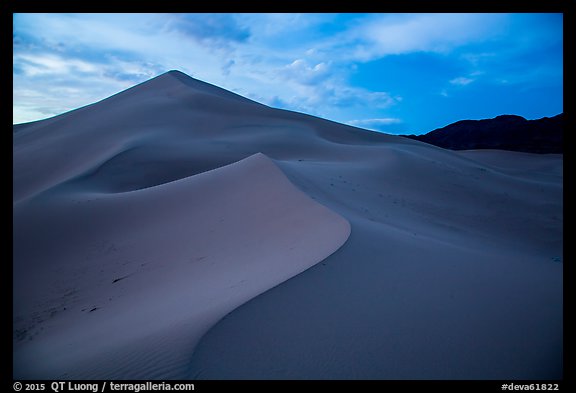 At about a quarter mile from the target, although it was pitch dark on that moonless night, the terrain looked more rugged than I remembered, requiring a bit of scrambling over ravines. When I arrived at the target position, I could not believe that no car was in sight! I tried to comb the area around the target position in a circular pattern. Even the dirt road was nowhere in sight. The night wasn't cold, but it was windy, and I carried only a light jacket and had little water left. Tired of walking in circles, I sat down to evaluate my options. It had been almost two decades since my last forced bivy!
Then, I remembered that my iPhone was running an app called "GPS Tracks". I had started the app to create a GPS track that I would later use to geo-reference the photos by synchronizing the time stamps in Lightroom. Although it is not a navigation app and I did not mark waypoints, I found that it did show my position, together with the track. By trail and error, I was able to walk towards the start of the track. I found my car, a stunning quarter mile from the target point marked on the hand-held Garmin.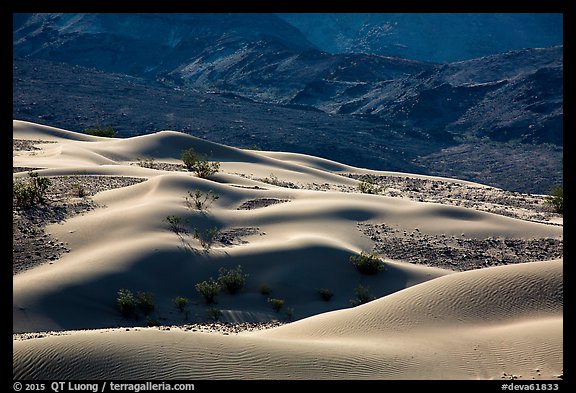 Due to last night's near miss, and late return, I did not feel like getting up by dark. Anyway, the Saddle Peak Hills, a cluster of desert mountains situated close to the dunes to the east, block the sunrise. I started after sunrise to hike towards the northern section of the dunes, which is longer and higher, but not as stark.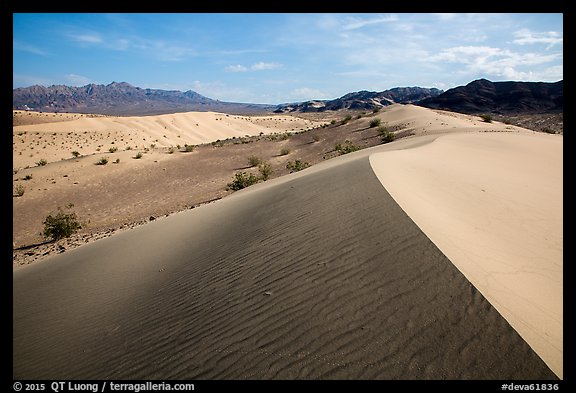 With careful positioning, the morning sun was still low enough to reveal textures. Returning in mid-morning, I had no problem to locate the car by sight. I then checked out Saratoga Springs, a surprisingly marshy environment in the desert.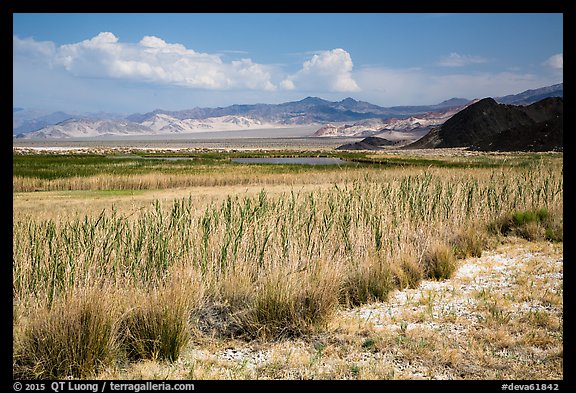 The Saratoga Springs road is well-maintained. It should be passable by any car in normal conditions. However, like many desert roads, it is quite washboarded. My strategy on those roads has been to drive fast. Past a certain speed the washboard frequency doesn't "resonate" anymore, so the drive feels smoother.
However, this time, maybe I ran out of luck. Or did I? When I arrived in Baker, after photographing the tallest thermometer in the world, I stopped at a gas station. One of my tires was completely flat.
What I learned: test GPS viewpoints, do not rely on a single device, and if possible, use a low-tech navigation method. Anything else you would have done differently ?