Alternative Icons in Death Valley
One Comment
Death Valley National Park is defined by its sand dunes, playas, salt flats, and badlands. Last April, I spent a few days in the park and photographed each of those iconic features, however not at the classic locations usually associated with them. I never saw another photographer. Read this post to learn about the alternative locations I visited.
Salt pan: the Cottonball Basin
Death Valley is the only National Park to feature extensive salt flats. They are formed there because, in this desert, the rate of water evaporation exceeds the rate of water precipitation. The salt pan around Badwater and Devil's Golf Course is the largest and most well-known. However, last April, I found the whole Badwater area to be brown and dirty-looking. The salt pan along the West Side Road wasn't much better. To produce beautiful polygons, the basins need to be flooded, but the last time this happened was 2010.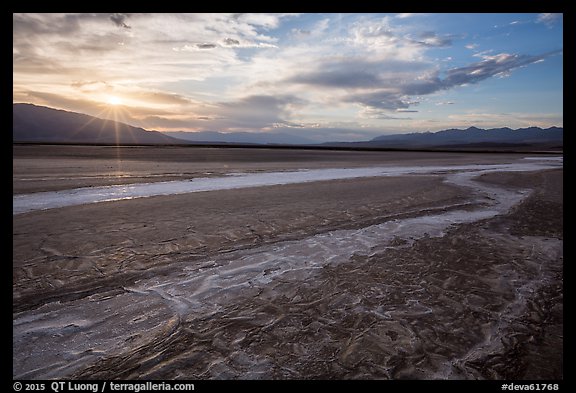 The Cottonball Basin, being close to Salt Creek (the wettest area in the park), fared a bit better. That's the only place where I could find decent salt formations, although not polygons. I drove about 5 miles north from Furnace Creek on CA-190, parked on the side of the road. Starting about an hour before sunset, I hiked cross-country towards the west for approximately a mile, heading towards the glistening areas in the distance. I was careful to avoid wet areas in order to avoid leaving noticeable footprints, and I hope that if you visit, you'll do the same!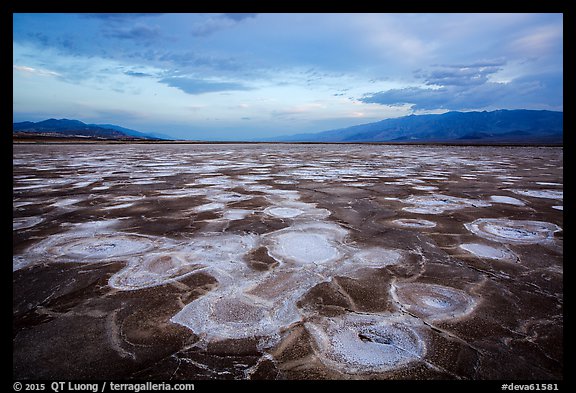 Mud Playa: the Panamint Valley
Playas are dried lake beds. Many exist in Death Valley, while they are quite rare in other National Parks. The most famous is the Racetrack, because of its moving stones, but it is quite out of the way. Recent road conditions make tire punctures much more likely than in the past when I drove there four times with various passenger vehicles, including a Toyota minivan.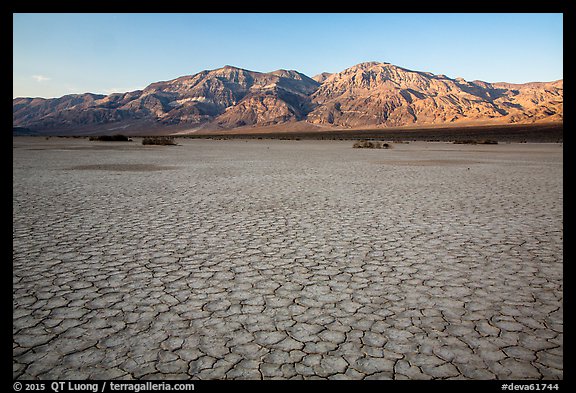 The Panamint Playa is quite extensive and much easier to access. It is bisected by CA-190 between miles 3.5 and 4.2 east of Panamint Springs Resort and extends for many miles in both the northern and southern directions. Late afternoon lights up the Panamint Range. I parked at mile 4 and wandered on the north side.
Badlands: Twenty Mule Team Canyon
Zabriskie Point being an icon (see my
tip on finding a better viewpoint
), the platform is crowded at sunrise.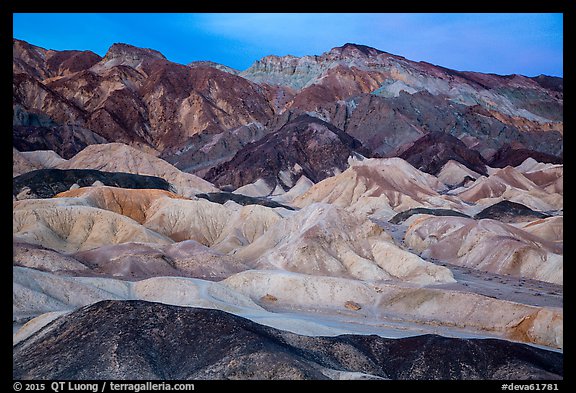 Nearby Twenty Mule Team Canyon feature badlands that easily rival those found at Zabriskie Point. Unlike at Zabriskie Point, you are not limited to a platform and its surroundings, but instead drive a 2.8-mile one-way dirt road (passable by any car) which offers you a variety of viewpoints. I saw only a couple of other cars from dawn to well after sunrise. The entrance of the road is 3.6 miles south of CA-190 from Zabriskie Point.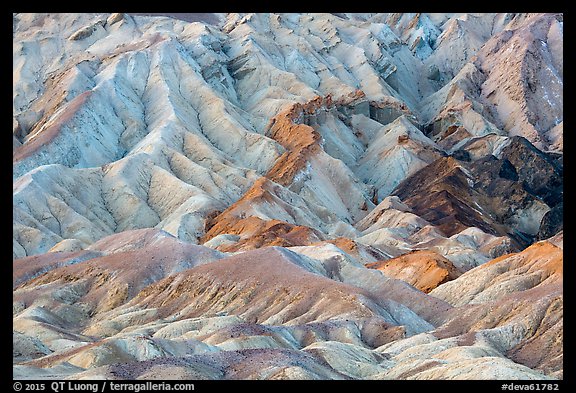 Sand Dunes: Ibex Dunes
Dead in the center of the park, conveniently located near Stovepipe Wells, the Mesquite Flat Dunes are one of the prime attractions of Death Valley for photographers and non-photographers. The popularity makes it very difficult to escape footprints and to exclude people walking on ridges. By contrast, I didn't see a single other car at the Ibex Dunes, nor did I notice any footprints other than mine. I still managed to ruin a good potential composition by trampling a ridge! However, this was the least of my worries, as I'll elaborate on in the next post, which will also give more details about those dunes located in the south-east corner of the park.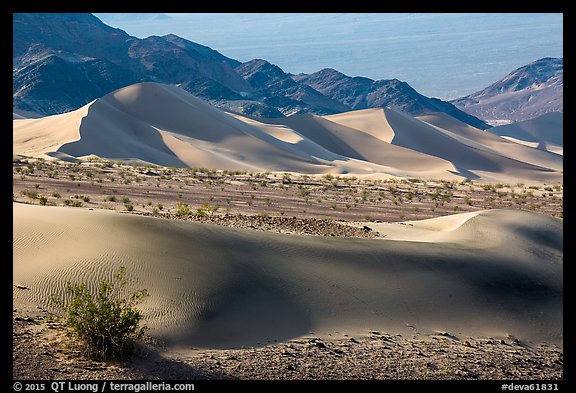 Death Valley National Park is so large that it is easy to find the same subjects that people photograph at iconic locations at those, and other out-of-the-beaten path locations that let you make your discoveries.
Is there a little-known location in Death Valley that you'd like to share?