Inside my General Purpose Camera bag: What I carry, Why, and How
13 Comments
Vision is better, but it can be an elusive topic to discuss or teach. On the other hand, talking shop is sure fun, and without gear, there are no photographs. In this post, I'm going to show you the gear inside my camera bag, why I selected it, and how it is organized.
This is the bag I carry for most of my outdoor photography outings as of summer 2020. I prefer to leave permanently all the accessories inside, rather than risk not having them in time of need. The weight of the bag, with all pictured equipment (including the 4 pictured lenses) is about 10.5 kg (23.5 lbs) and I break it down below by categories of equipment. Most of the time, add 2.1 kg (4.5 lbs) for camera support, plus any additional hiking/outdoor gear, food and water, for a total weight in the 13.5-18 kg (30-40 lbs) range.
F-stop Satori Bag
I've been using the F-stop Satori as my main camera bag since 2014. Back then, at 62 liters, it was the largest bag they made. It is now discontinued and falls between their current Tilopa (50 liters) and Sukha (70 liters) models. Before the Satori, I tried the Tilopa. While my photo gear fit, I found it too cramped to also carry outdoor gear for a day-long hike. Desert hikes require 2 or 3 quarts of water alone. F-stop was gracious enough to authorize an exchange. In the current line, the Sukha would be my choice. If the top and front pockets are not loaded, the Satori barely meets U.S. airline requirements for carry-on, but I don't know about the Sukha. F-stop bags had two novel features, since then much copied: they open on the side you wear, and you can easily swap different internal carrying units (ICU) to configure the bag. I almost always use the largest ICU, the X-large. Non-photo items like food, water, extra layers of clothing, go in the top and front pocket. Multiple attachment points and straps on each side and on the front are for carrying tripod(s), umbrella, hiking poles, and sometimes camping gear. At about 1,950 grams without ICU, it is not exactly a lightweight bag, but the weight is acceptable given its carrying comfort and versatility.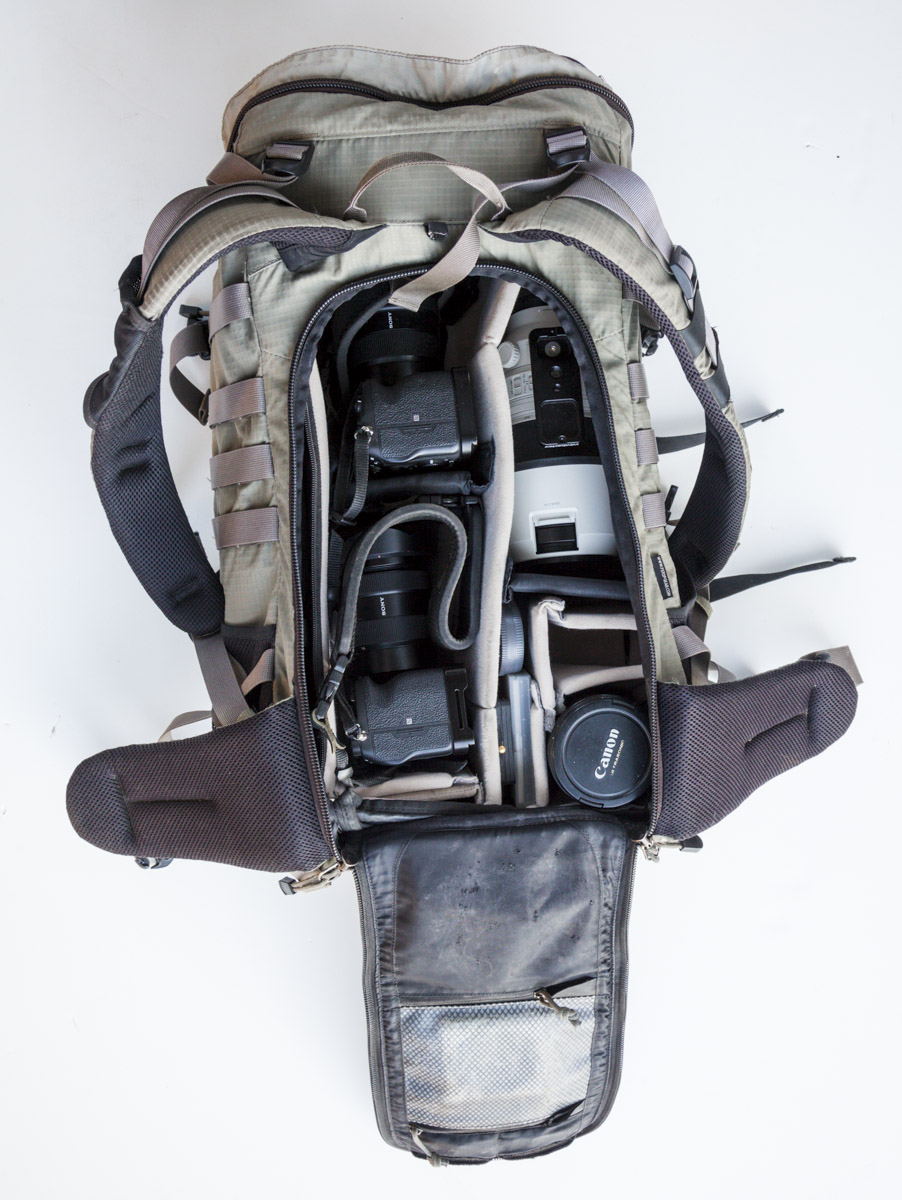 ICU
I've configured the ICU so that I can carry two camera bodies with lens attached, including the largest I use (the 100-400) and this leaves room for three more lenses in addition to the two attached to the cameras. In doing so, I have prioritized quick operation, such as not having to change lenses or reverse hoods, over the capacity to carry the maximum of gear. The bag is heavy enough as is! While traveling by air, I can still cram a lot of equipment to carry-on. Here is what always goes inside the ICU (7,250 grams with 24 TSE):
Two Sony A7R4 cameras, with Arca-compatible L-plate and neoprene straps. I switched from Canon to Sony in 2015 for image quality, innovation, and mirrorless. I prefer to use two bodies to minimize lens changes, because Sony mirrorless cameras are very susceptible to sensor dust and lack effective dust removal. Also, my A7R2s were capricious, and I've had on more than one occasion a camera go on strike for a few days without notice. Carrying a second body provides peace of mind.
Sony 24-105mm f/4, hood. My bread-and-butter lens, versatile and sharp, is used for more than half of my images, and I suppose in a pinch I could limit myself to just this lens. The 70-105mm range is much more useful to me than a faster lens, which is also heavier. The only drawback is excessive vignetting at 24mm (Review).
Sony 16-35mm f/2.8, hood. Very sharp up to 24mm, it is wide and fast enough for night astro-landscape photography and accepts filters unlike the wider zooms.
Sony 100-400mm f/4.5-5.6, hood and Arca-compatible replacement foot – tripod color greatly helps in windy conditions. Sharp over the entire focal range. Again, the 400mm reach is much more useful to me than a faster lens.
Sony 1.4x teleconverter for the 100-400. Worth carrying despite infrequent use because it is so small.
4-inch square ND filters: 10 f-stop ND (Lee) and 4 f-stop (Hitech). Mostly for long exposures of water. The Lee Big Stopper has a cold color cast, but that is easily neutralized in processing.
Lee 4-inch square filter holder, with 77mm and 82mm adapter rings for using the above.
Extra rear lens cap and body cap.
Additional specialty lenses can include:
Canon 24mm TSE f/3.5 lens with Metabones adapter (pictured). I almost always carry it both for its ability to preserve the parallelism of parallel lines by shift (perspective correction in processing degrades image quality and alters composition) and to extend the apparent depth of field by tilt.
Venus Laowa 15mm/f2 This manual focus/aperture lens is the best compromise for astro-landscape photography. Sharp, almost as fast and much smaller/lighter than the Sigma 14/1.8, reasonable coma.
Sony Zeiss 55mm f/1.8. Extremely sharp, light and small, AF.
Voigtlander Apo-Lanthar Macro 65mm/f2. The sharpest lens in the Sony system, even edging the 55mm f/1.8. Macro up to 0.5x makes it a better choice for nature photography. Shot wide-open, it produces shallow depth of field with sharp in-focus areas. Focus and aperture are manual, but all electronic aids are available unlike with Venus lenses. My main reservation is that the solid all-metal construction makes it quite heavy.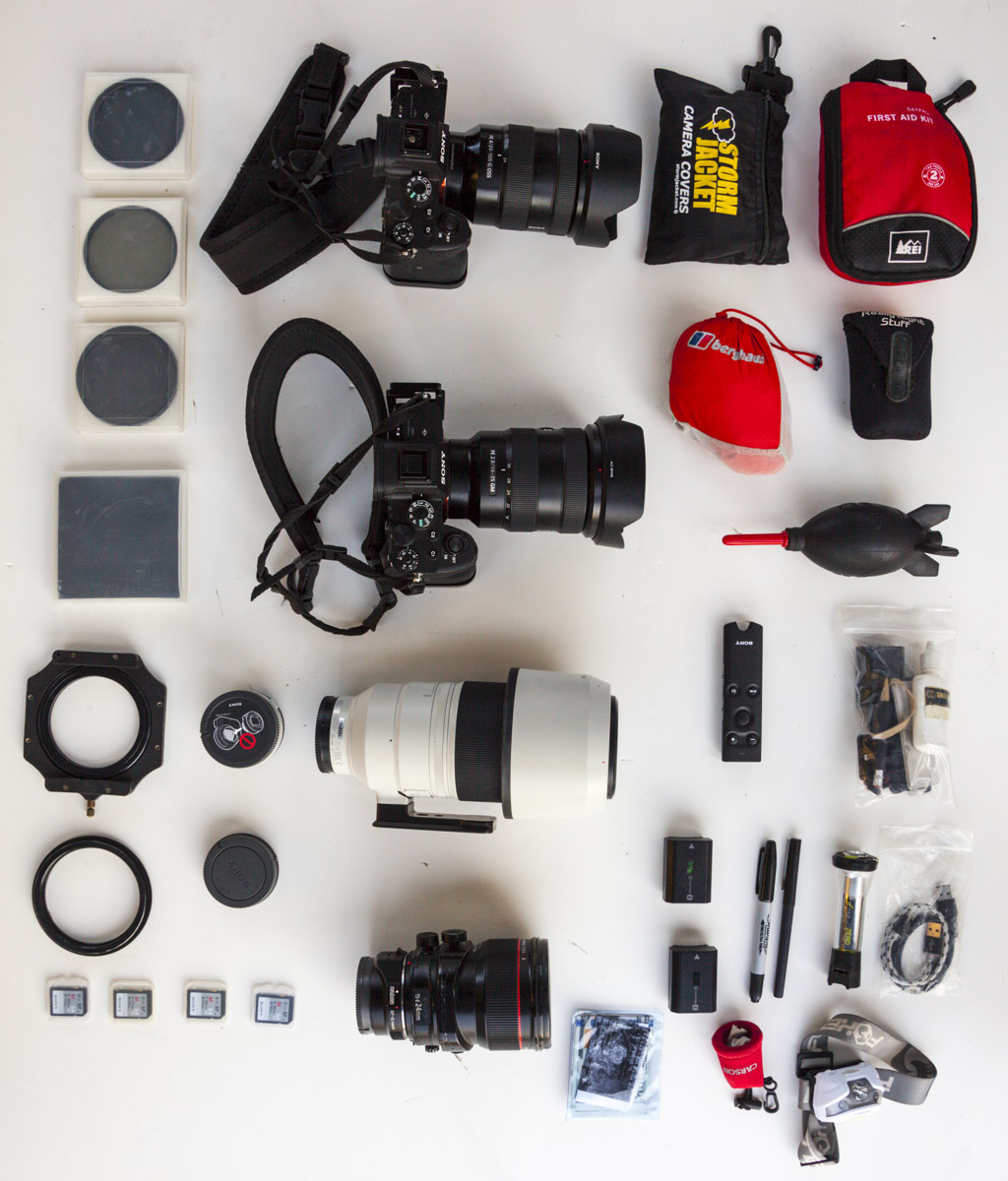 Back flap
The F-stop bag flap pockets are rather small, they have just enough room for filters and SD cards (180 grams):
Extra 64MB memory cards. Unlike Lexar, the Sony cards have a low failure rate. My main cards are the Tough G series, which are the fastest cards. I also carry M series, which are slower, but rarely need to use them on trips of less than a week. For me 64MB is a compromise between not having to manage too many cards and not having too many eggs in the same basket. With shooting split between two cameras, it lasts me a week.
Firecrest ultra slim 77mm polarizing filter to minimize vignetting on the Sony 24-105.
Hoya Pro1 77mm polarizing filter (for the 100-400 and TSE lenses)
Hoya Pro1 82mm polarizing filter (for the 17-35). I store all filters in plastic B&W filter boxes.
Main Compartment Side
On the left of the ICU, there is a bit of space meant for a water bladder. Instead, I use it to store emergency/weather outdoor gear that stays there permanently (600 grams).
Generic first aid kit (REI), to which I have added: toilet paper, foil survival blanket, water purification pills, various medical pills, blister treatment.
Emergency kit in a small (RSS) neoprene pouch: Mini multi-tool (Gerber Dime, 12 tools), loud whistle, lighter, navigation-grade compass, flashlight with spare battery (outputting 132 lumens, the Titanium Innovations CA1-TI is very bright for its size and weight).
Ultralight shell jacket: Berghaus Hyper 100 is the lightest waterproof/breathable 3-layer hooded jacket made, it weighs an incredible 125 grams and packs very small. On a sunny summer day, although wise, it always felt overkill to pack my other mountaineering-grade jacket. Now I don't have to think about it, as I always leave it in the bag. Tip: if you buy one, order a size up your normal size.
Storm Jacket camera cover. I use it mainly when leaving the camera out for a night time-lapse, against condensation or unexpected rain. Its 80 grams puts in perspective the weight of the jacket.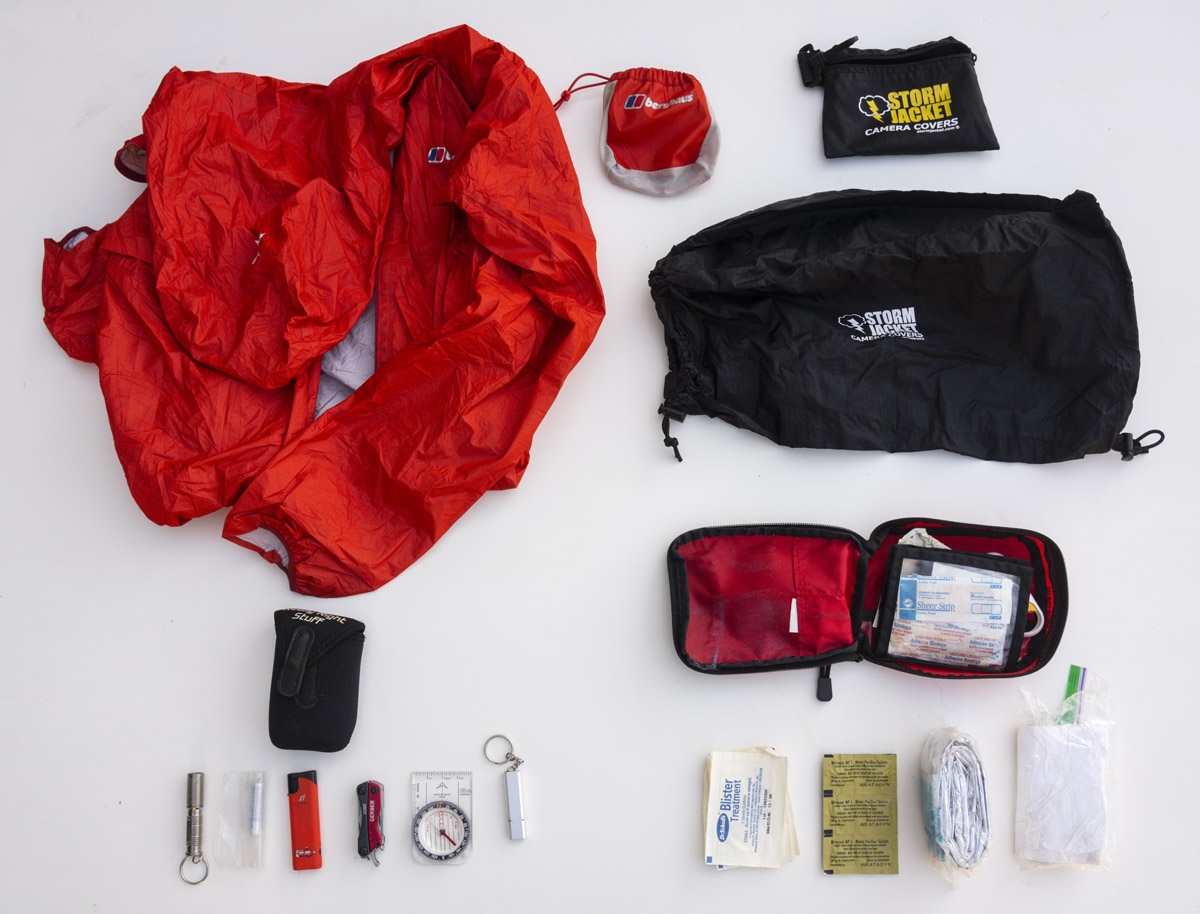 Main compartment top
The X-Large ICU takes most of the main compartment, so there is not much room left there. I store the following camera accessories (300g):
Accessory kit in ziplock: lens cleaner fluid, extra microfiber cloth, quarter, allen wrench, square Arca plate, gaffer tape (similar to duct tape, but removable) wrapped around pen, rubber band, white balance spectrally neutral card, CR2025 battery, emergency camera battery.
Giottos large rocket air blaster: useful not only for cleaning sensor and lenses, but also getting water droplets out of the front element. Worth the bulk, as the smaller sizes do not deliver a blast strong enough.
Sony wireless remote commander: connect by Bluetooth so no need for cable, more reliable than IR and works from a reasonable distance. It stays paired so it is ready to use. Thankfully, A7R4s have a built-in intervalometer.
There is enough room left to add a complete (folded)
spherical panoramic head
.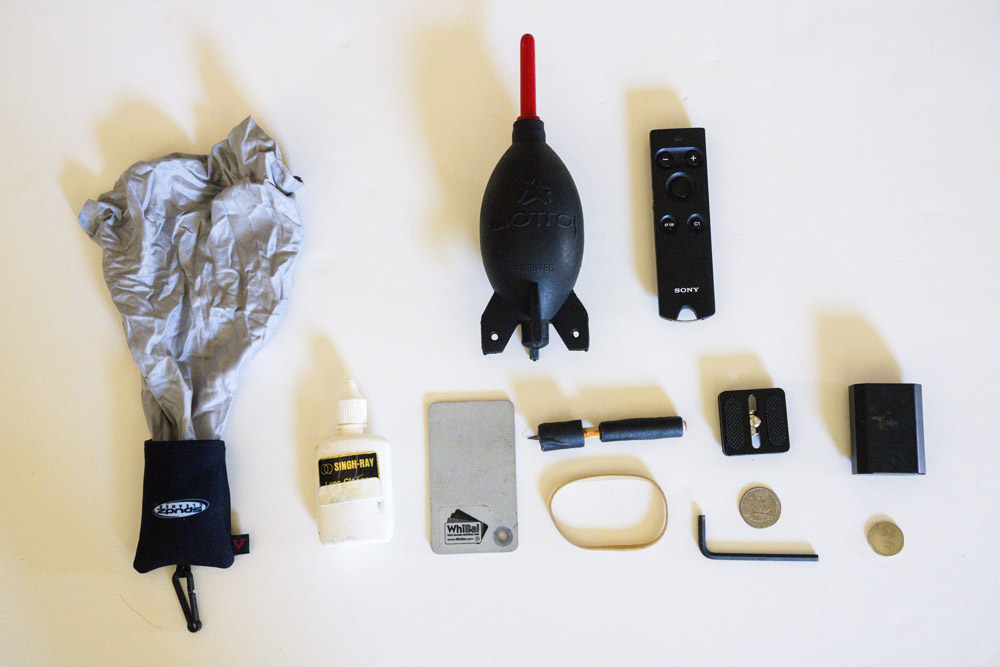 Lid pocket
I carry food and small pieces of clothing (like hat and gloves) in the lid. I use its pocket for general-purpose equipment (205 grams) and batteries (160 grams).
Goal Zero Lighthouse Micro Charge. A most versatile small piece of equipment, it serves as a flashlight or lantern with adjustable light levels, and a phone charger (More details).
Rechargeable headlamp. There are quite a few lights in my kit since when heading out in the afternoon, I invariably seem to come back after dark. Besides hurting myself, my biggest risk is to get lost at night.
Short micro-USB and Apple mobile cables (in Ziplock).
Sharpie and pen.
Microfiber cloth. It is useful to have more than one, as in rainy weather they quickly get saturated with water after wiping lenses.
2 camera batteries. Sony OEM batteries are 2-3 times more expensive than third party batteries but alleviate compatibility concerns and warning messages.
Photo IDs, cash, credit card in ziplock.
This bag represents my standard kit, typically for working on land in a national park or monument without overnight backpacking, when the main purpose of the trip is photography. I use a simplified kit for international travel, family trips, backpacking, or some long hikes. If there is interest, I will show it in a future article. On the occasions when I pull out my large format camera, such as when a new national park is established, I've stuck with the same
gear bag
for more than twenty years, except that I now use a different 35mm system.