New LED Lights for Stationary Light Night Photography
No Comments
In the past few years, progress in LED lighting has resulted in devices that offer significant advances for night photography. Find out why you should photograph at night with stationary lights rather than light painting, and read my review of my new preferred lights for that purpose.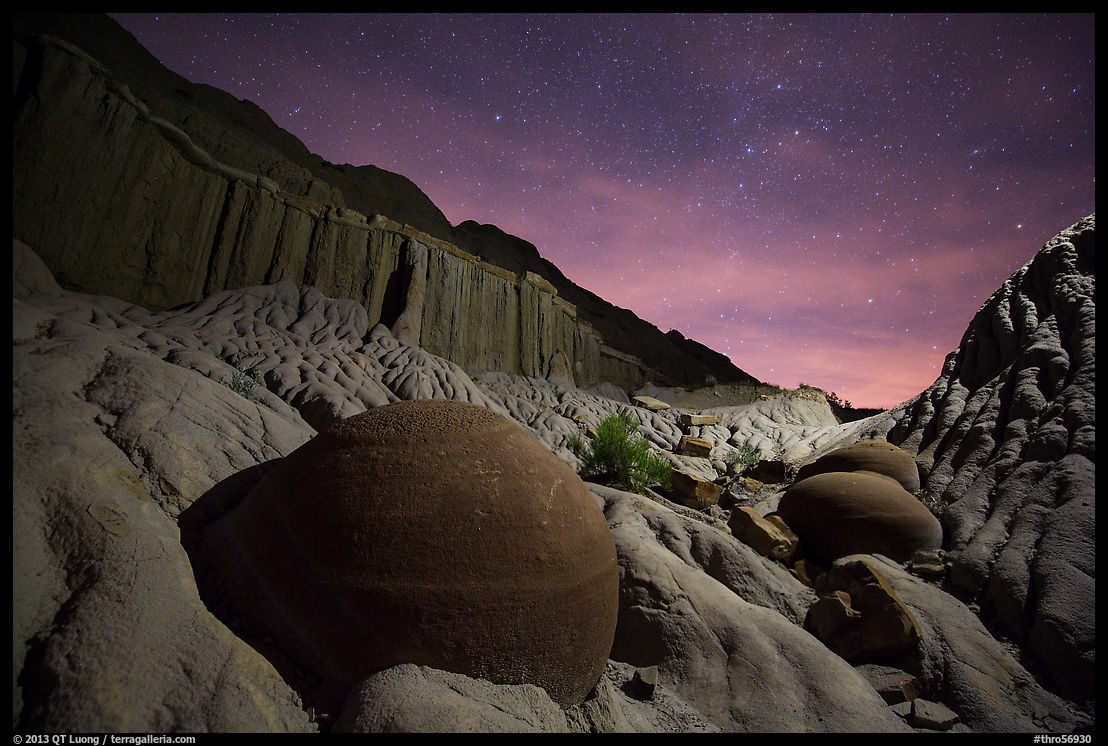 Cannonball concretions, Theodore Roosevelt National Park, 2013. Canon 5Dmk3, Nikon 12-14, 30 sec. at f/2.8, ISO 3200. Lighted by Rayovac Sportsman lantern.
Advantages of Stationary Light compared to Light Painting
The well-known method of illuminating parts of the landscape at night is "light painting". You move a hand-held light during a long exposure to light up large areas that could not be illuminated with the narrow beam of the light if it was fixed. Although it is convenient to deploy, requiring just a flashlight and no setup, it has many drawbacks. From a photographic point of view, results cannot be visualized, predicted nor repeated exactly. It is difficult to guess how long to shine the light on each part of the subject. You also need "painting skills" to overlap each stroke to produce even light, and in most case the illumination won't be uniform. From an experiential point of view, the bright light impairs your night vision, creates light pollution, and bothers others who come to photograph or just marvel at the night. For the later reasons, in 2017, Arches National Parks, Canyonlands National Parks, and Grand Teton National Park took the step of prohibiting light painting – although only for workshops with the first two.
The alternative to light painting is to use a stationary light, propped on a tripod, a rock, or a tree. I have favored that technique for many years because it eliminates all the drawbacks of light painting and also works for timelapse. Because the light is stationary, its illumination accumulates over a long exposure, so one can use a dim light level, comparable to moonlight. This is at least one order of magnitude less bright than the lights typically used for light painting, and much less intrusive. In April 2018, Arches and Canyonlands officially approved "using a low level light panel that emits extremely dim constant lighting" for workshops.
Limitations of older lights
On a moonless night, typically the light level I'd aim for on the subject is comparable in intensity to quarter moon, while a full-moon night would require a light level maybe ten times brighter. The Rayovac Sportsman lantern that I described in
Lights For Night Photography
, typical of that generation of camping lanterns, offered only the choice between two light levels, and even the lowest one was often too bright. To control the light intensity on the subject you had to move the light closer or further, or to wrap light absorbing materials around the lantern. In addition, as pointed out in that post, the LED lights were too cold, requiring a conversion filter. The lantern was also relatively bulky and heavy, at 31 ounces with batteries.
In the interleaving years, new LED lights have emerged on the market, and they represent significant advances for the night photographer. In this post, I will review the three that I currently use.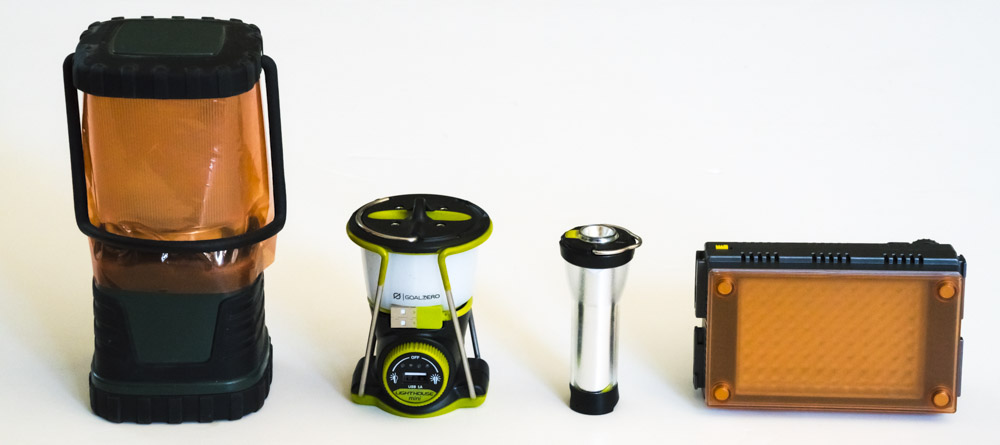 Left to right: Rayovac Sportsman lantern with added gel (for size reference), Goal Zero Lighthouse Mini Lantern, Goal Zero Lighthouse Micro Flashlight and Lantern, HDV-Z96 light panel
Lighthouse Mini Lantern
The
Goal Zero Lighthouse Mini Lantern
brings the following major improvements:
Continuously adjustable intensity from 210 lumens to 7 lumens
Choice of 360-degree or 180-degree illumination (the later saves batteries)
Warm (3500K) light
Rechargeable via built-in USB cable (battery lasts 4 hours at brightest setting up to 500 hours at lowest setting)
Can provide power (3000mAH) to recharge devices such as a phone via USB outlet
8.4 ounces with battery
As additional features, the lantern uses an interchangeable (unfortunately proprietary) battery, and for support, it features a built-in hanger, folding legs, tripod hole, and a magnet.
Lighthouse Micro Charge
The
Goal Zero Lighthouse Micro Charge Flashlight, Lantern and USB Recharger
retains the essential features of the Lighthouse Mini Lantern: continuously adjustable intensity from 150 lumens to 7 lumens (via single button, not as precise or convenient as the Mini's dial) 360-degree or 180-degree, warm light, rechargeable via built-in USB plug, 2600mA charger.
Best of all, its small size and weight (3.2 ounces) means that it stays in my bag all the time. For instance, I used it for the unplanned two night images in Berryessa Snow Mountain National Monument. You can easily carry several for multiple light set-ups. The Lighthouse Micro Charge lacks the additional features of the Lighthouse Mini, but instead can be used as a flashlight (120 lumens). Pared down models without the flashlight (Micro) or charger feature (Micro Flashlight) are also available at a slightly lower price, but I prefer the versatility of the Lighthouse Micro Charge.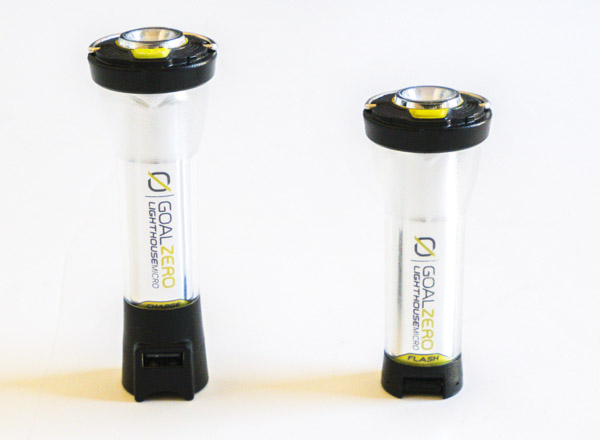 Goal Zero Lighthouse Micro Charge and Lighthouse Micro Flashlight
Z96 Panel Light
The only real drawback of lanterns is that they are less bright than the light painting flashlights, which can be an issue with distant subjects. Light panels solve this issue with an array of LED lights. Not only they are brighter, but also they produces a beam of about 65 degrees that concentrates the light more than the lanterns, but is still much wider than flashlights. They are quite a few LED light panels around, as they make great video lights – a market certainly larger than night landscape photography. I've found the Z96 panels a good compromise between brightness and portability. Their array consists of 96 (16 x 9) LED lights.
The Z96's light intensity is continuously adjustable by dial. The unit comes with a warming front filter and a diffusion filter that attach magnetically, a tripod hole, and a removable hot-shoe bracket. It is powered by 5 AA batteries, and lasts about one hour at full power. The unit measures 5 x 1.8 x 3″ and weighs 12.5 ounces with batteries.
The F & V Lighting Z96 UltraColor LED Video Light has a high color consistency (as measured by CRI), and a low power warning circuitry that let you know by blinking that the batteries do no longer have enough power to sustain the current output and that the light will get dimmer. The HDV-Z96 96 LED Light Kit (deceptively branded "F&V") lacks those two features but otherwise works well for half of the price.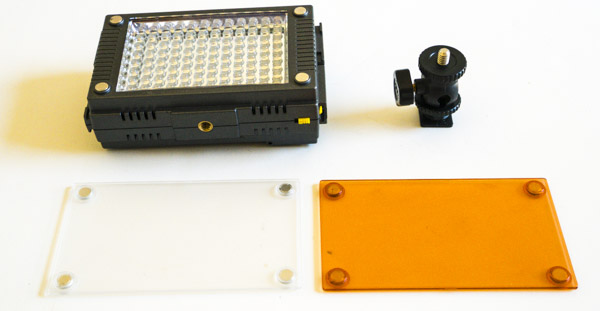 F&V HDV-Z96 96 LED Light Kit with filters and bracket
Conclusion
I hope that this article has convinced you that stationary lights are the way to go for night landscape photography, both from a technical and ethical point of view, and that you'll find the reviews of my favorite tools useful. Please share with other readers any other alternatives you are using.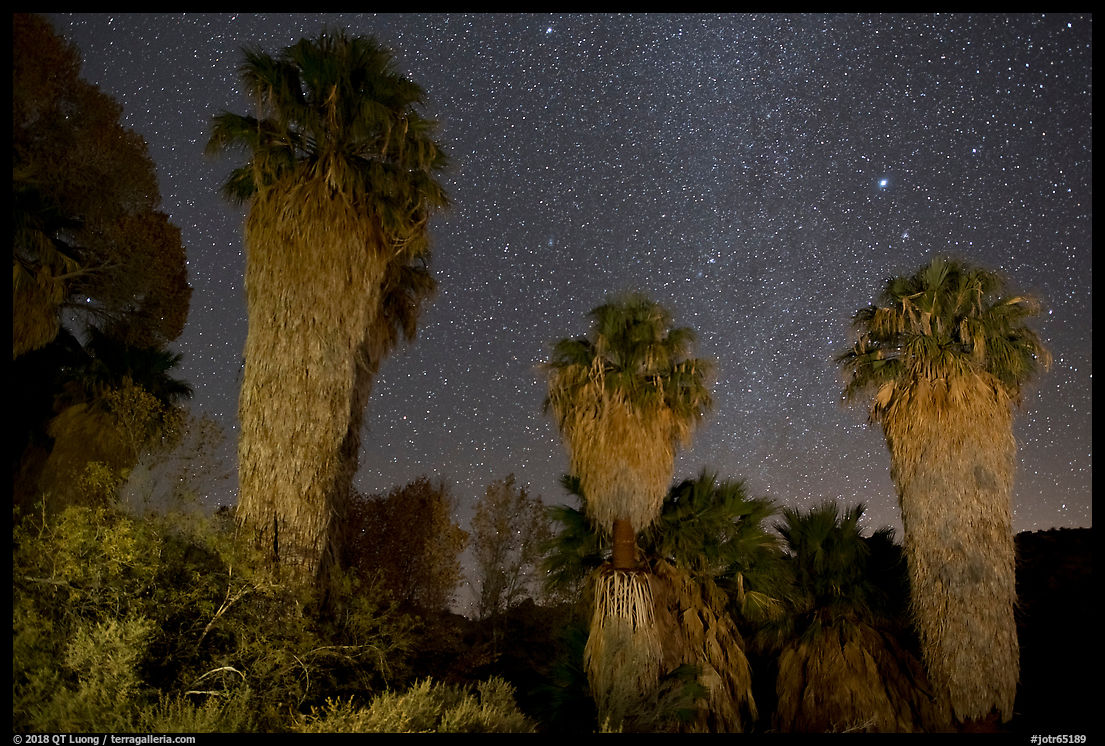 Cottonwood Spring Oasis, Joshua Tree National Park, 2018. Sony A&R2, Sigma 20 f/1.4 Art, 15 sec at f/2, ISO 3200. Lighted by Lighthouse Mini Lantern.