California State Parks and Wildlife Conservation Trust Fund Act
3 Comments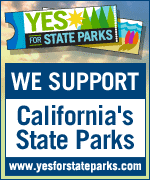 There was a good scare, last summer, when California threatened to close 100 of its state parks because of budget cuts. 100 out of 278, many worthy of being in the National Park system. A closure list was even circulated, but fortunately, it did not go into effect. Instead, maintenance, administrative staff and some facilities' hours were reduced.
However, this respite is only temporary. A funding crisis could occur again. As I mentioned in a previous blog post, this is in contrast with Oregon, where the state parks benefit from a fund that is independent from the state's budget, and therefore cannot be cut. As a result, I had found their facilities to be superb, with campground amenities such as hot showers, and water spigots in each campsite.
A new ballot initiative, the California State Parks and Wildlife Conservation Trust Fund Act of 2010 seeks to do the same for California. If enacted, the ballot measure would provide a dedicated funding stream for state parks by raising vehicle registration fees by $18 per year.
In return, vehicles registered in California would receive free admission to any California State Parks. If you visit the State parks, this is a great deal, since a couple of visits costs more than $18.
Is it unfair to those who do not visit the parks ? I don't think so. Public infrastructure is provided for anyone as part of the social contract. Whether you use them or not is your choice. If you do not have children, do you find it unfair that your tax dollars are used to fund schools ? You can more easily decide to visit a park than change your family situation. In addition, by providing a dedicated funding source for state park operations, General Fund monies would then be freed up for other uses.
How can you help now ? Make sure that the initiative gets enough signatures to make the November 2010 ballot. There is only 3 months left. I've volunteered to this effect with the Sierra Club, but there are many other organizations that endorse the measure and have similar volunteer programs. You can also volunteer directly on the Yes for State Parks site. Even publishing an article on a blog is deemed helpful !