Seeking Lee Friedlander's Signature
No Comments
We joke that if my wife had a haircut, I would not be able to recognize her. But I did well in identifying Lee Friedlander. His facial features had not changed that much since the year 1994 when he took his self-portrait in Tokyo, which was prominently displayed in the gallery. Besides, he was the only person wearing photography equipment. What appeared to be a small 35mm film camera hung around his neck, fitting for such a voracious photographer. I was wearing my trusty F-stop Gear backpack that must have weighed thirty pounds as usual, but there were no cameras inside.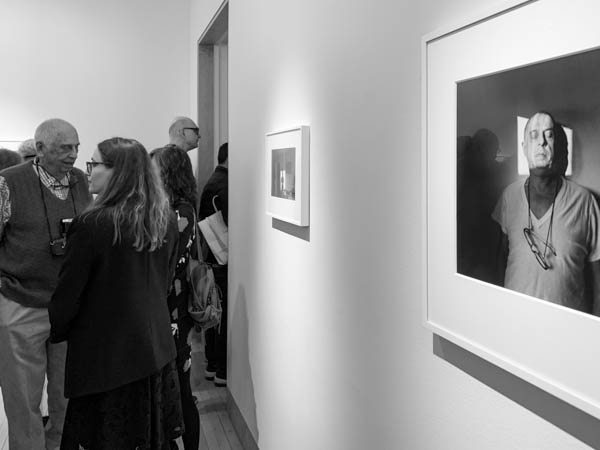 The Fraenkel Gallery in San Francisco on that day held an opening reception for the exhibit Lee Friedlander Framed by Joel Coen. Friedlander is of course one of the few greatest living photographers, his career spanning more than sixty years. His work is the subject of more than fifty books, and they keep coming up, with two titles already announced for 2024. Ansel Adams is associated with wild landscapes, Cartier-Bresson with street photographs, Avedon with portraits, and other greats are mostly known for a limited range of subjects, but remarkably, Friedlander has made his mark on almost every genre of photography. Unlike other contemporary photographers, his oeuvre includes an extensive body of work on the natural world which is quite distinctive. How did he pull that off? Mostly with a highly peculiar, chaotic, and off-kilter sense of composition that can be viewed as his signature style. The exhibit highlights Friedlander's signature compositions through a curation that draws connections between images through their formal elements and framing. Joel Coen, the curator, is not unfamiliar with slanted visions of America that uncover the mysterious within the ordinary. With his brother Ethan, he is one of the two Coen Brothers whose films include classics such as Fargo (1996) and No Country for Old Men (2007). I wondered if I would be able to learn something about Friedlander's way of seeing through the new selection.
When it comes to famous photographers, I am an admitted groupie. For more than fifteen years, I have been attending gallery openings, lectures, photography fairs, and book signings to meet admired artists. I collect photography in the form of books rather than prints. Except for rare hand-made "artist books", they are mass-produced. Therefore, I feel that a signature, which comes from the hand of the artist, helps confer them the status of art objects. While I buy signed books – and also go out of my way to make available my books signed for those who care – I much prefer to receive a signature directly from the artist. I once read on Jeffrey Ladd's blog that upon discovering on eBay copies of books he had signed the day before, Joseph Koudelka was disgusted and vowed not to do any book signings again. Since then, I always ask for an inscription. It lowers the resale value but provides a memento of a brief connection. Sometimes, they are a simple "To QT". Other occasions were more surprising, such as when Alec Soth made witty sketches in each of the books I brought, or when Paul Caponigro wrote a thank you note for coming to his lecture.
In 2015, my daughter was already developing an interest in the arts. I had made my way to the Fraenkel Gallery with her in tow. After we looked for the French conceptual photographer Sophie Calle without success, I assumed that she had disappeared into the private spaces of the gallery, maybe to meet with collectors. Not wanting to exceed the patience of a ten-year-old, we left. On Saturday, May 5, 2023, coming by myself shortly after the official beginning of the reception, I was determined to hang out for as long as it would take. But it didn't take long to locate Friedlander. I introduced myself, expressed my admiration, and thinking that it would be a busy afternoon for him, quickly asked if he would sign books. With a faint smile, he said that he couldn't because he had to go somewhere. Indeed, he quickly moved into the gallery's backrooms.
I went back to looking at the work on the walls, trying to understand Joel Coen's choices. Three of the walls were adorned with just three prints each, whereas the bulk of the exhibit was a salon-style assemblage of prints stacked up to three rows. Some of the common formal structures, such as the splitting by posts or the use of frames were easy to spot, but maybe because of the hanging order, others eluded me until I watched in a second room a slide show put together by Coen that made the formal relationships crystal clear. Besides its sequencing and grouping of images, the slide show also presented key examples not part of the exhibit, which had about 45 prints. Coen had remained in the public room of the gallery, and after expressing my appreciation for divulging the logic behind his curation, we had a personable conversation. Among other things, he mentioned that Friedlander didn't like crowds, which I could certainly sympathize with.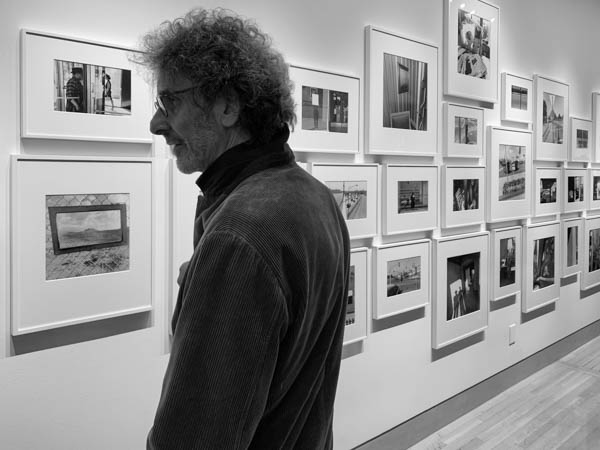 Guessing that Friedlander would not reappear for a while, I took a walk through the building. Remembering how the 49 Geary building, one block from Union Square, was a thriving art gallery complex with about twenty different galleries, I was shocked to discover that the building was largely empty. I knew that Themes and Projects (formerly Modernbook) had long left the building. I missed their owners who were so generous with advice when my wife and I had briefly operated an art gallery at the Bergamot Station in Santa Monica – the other long-established West Coast gallery complex. Robert Koch Gallery was still hanging in there but had to move to a smaller space. In total, only five galleries were left. Elsewhere in San Francisco, the acclaimed Pier 24 museum/collection is closing, also because of the high rent. Maybe like in other industries, only the top do well. Fraenkel is the top photography dealer on the West Coast, and the event shows why he has earned his reputation. I was grateful that they kept doing exhibits and public receptions rather than turn into a by-appointment-only affair.
Back to the Fraenkel Gallery, I studied some favorites more. Out of curiosity, I looked at the price list, where a wide disparity – $9,500 to $35,000 – was in evidence. Certainly, it wasn't correlated to print size, nor could be explained by edition numbers since Friedlander is one of the rare photographers of his caliber not to limit prints. It seemed like the more valuable prints were the older ones in terms of printing year rather than capture year, with a bonus added when those two dates were close to each other. I lingered in a third room consisting of prints by other gallery artists that used some of the same formal devices as the Friedlander photographs. I leafed through the just-released exhibit catalog and found out that its sequencing followed exactly the slide-show, and included all the additional images not on display, for a total of about 70 plates. Some Friedlander monographs may benefit from a tighter edit, but in this Coen did a perfect selection. It was difficult to resist buying such a beautifully printed book (I am still having second thoughts), but the reason I was lugging my Fstop Gear Satori was that it was the smallest bag I had that would fit my collection of Friedlander books, including the oversize The American Monument and the (too?) massive MOMA 2005 retrospective. I realized that in bringing all of them, I had been overly greedy, so after Friedlander re-emerged, this time I asked if he would sign just one book. He replied "No. I am finished for today."
At first, I was disappointed. In fifteen years, nobody had denied me a signature. The "worst" was when the Gagosian Gallery didn't allow inscription requests to William Eggleston, who on that day seemed to require much encouragement to continue the book signing. There are plenty of signed Friedlander books on the market. But I subsequently remembered reading from Maria Friedlander that back when he was self-publishing his seminal Self-Portrait (1970), although a gallery was his best customer for the books, he had refused to sign them, resulting in discontinued orders. I thought that at age 88, he must have felt tired by the event, especially if he had felt obligated towards Jeffrey Fraenkel. Their relationship dates from the early 1980s, when he was the second artist exhibited by Fraenkel – the first was Carleton Watkins whose photographs Fraenkel acquired by bidding against the Metropolitan Museum of Art. It had led to such beautiful books for all to enjoy, of which Lee Friedlander Framed by Joel Coen is only the latest. Lee and Maria Friedlander had been married since 1958, before I was born. My two favorite images in the exhibit were two unconventional portraits of her – Maria, Southwestern United States (1969) and Maria Friedlander, Las Vegas, Nevada (1970). As they exited the gallery, I was touched to see them constantly holding hands. After all, I didn't go home empty handed.