150 Years of Photography in Yosemite
9 Comments
June 30th, 2014 marked the 150th anniversary of the Yosemite Grant, the 1864 bill signed by Abraham Lincoln – in the midst of the Civil War, which set aside in perpetuity the world's first parkland for public use. True, Hot Springs Reservation was set in 1832, but it was with the purpose of protecting a single resource, the hot springs waters, rather than the landcape itself.
Seed of the Future by Dayton Duncan, elaborates on how the national park idea was born and evolved in Yosemite. Yellowstone became famously the world's first national park only because at that time Wyoming was a territory (thus unable to administer Yellowstone, requiring government administration), whereas California was already a state. The book is a great read about Yosemite's early history. Although some of the material appeared in the first two episodes of the National Parks PBS series, I enjoyed this more detailed refresher.
Photography acted as a driving force in the establishment of the park, because at that time, unlike words, drawings, or paintings, nobody questioned the reality of photographs. White men discovered Yosemite after the invention of photography, so American landscape photography has been there from the beginning and its development became intimately tied to the park.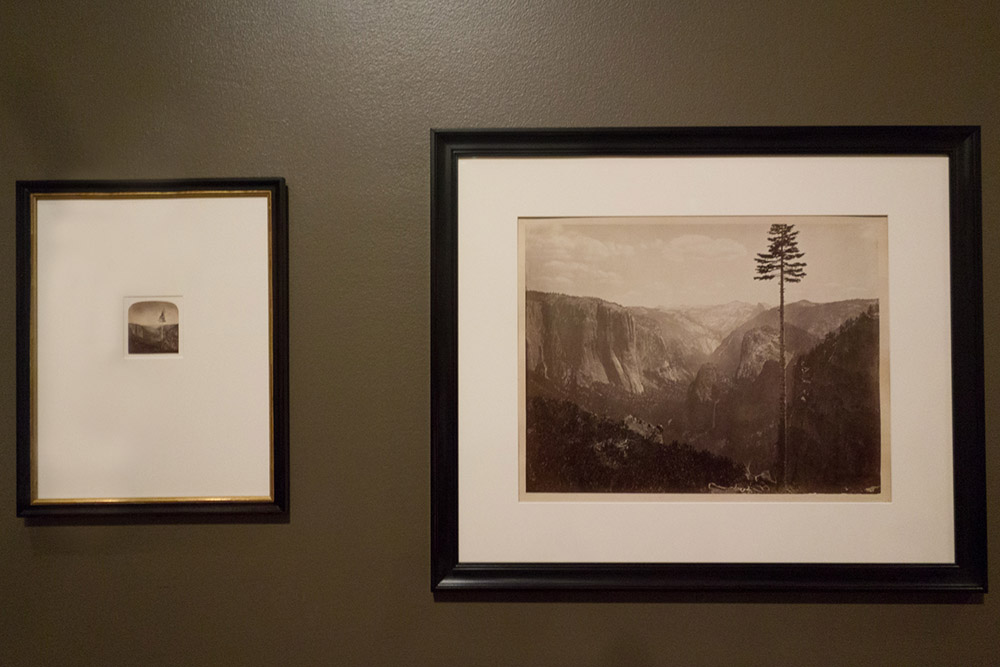 Charles Weed (left) made the first photographs of Yosemite in 1859. However Carleton Watkins ("Yosemite Valley from the Best General View" (1866), right), who began to photograph in Yosemite two years later, quickly eclipsed his work. Although this was a vast and unexplored park, Watkins often worked from the same exact locations as Weed. However, he consistently made better compositions by changes in camera position and light. For instance, the tree is better placed in this photograph, avoiding a merger with the valley rim. The most obvious improvement was print size. At that time, no enlargement was possible, so to obtain a larger print, you needed to produce a larger negative with a bigger camera. Watkins brought an 18×22 inch camera to Yosemite – together with 2,000 pounds of equipment, as glass plates had to be coated and processed in the field, a mind-boggling technical achievement. Photographers and esthetes may point out to the superior artistry in Watkins work, but I think it is the size that captured the public's imagination.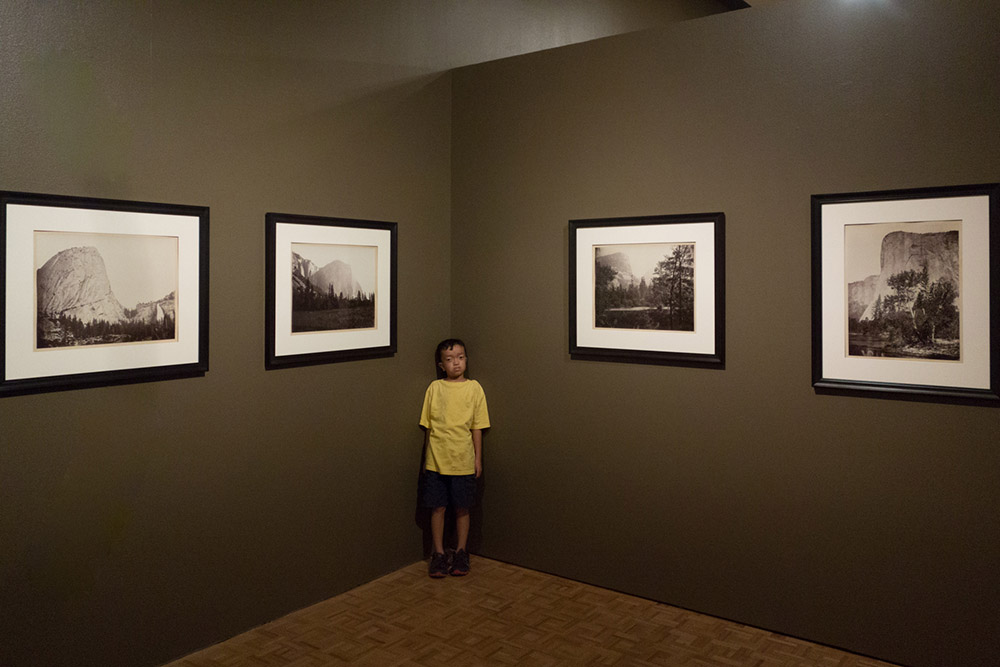 Watkins photographs of Yosemite quickly set the standard. They were circulated in Congress in 1964 to gather support for the Yosemite Grant. Seeing them in person, I was astonished by the beauty of the prints, which have exquisite detail and tonality. The comparison with the immense majority of modern prints is humbling. Many of Watkins viewpoints and compositions have been, and still are popular. This goes some ways to explain why you don't often see contemporary nature landscape photographs in art museums. If you live in the San Francisco Bay Area, you can view them for yourself at the exhibit Carleton Watkins: The Stanford Albums. The exhibit closes in less than two weeks, but if you miss it, the surprisingly affordable catalog is well worth buying, and will surely appreciate in value.
Man and Yosemite: a Photographers View of the Early Years by Ted Orland discusses in detail the work of the 19th Yosemite photographers. In the 20th century, Ansel Adams set a new standard for Yosemite photography with his sophisticated style and technique, as can be seen by comparing his "Clearing Winter Storm" (1944) to Watkins "Yosemite Valley from the Best General View". Ted Orland concluded "Man and Yosemite" with those words: "So pervasively has his vision become ours that many of the million people each year who photograph Yosemite Valley do so with the hope that, if everything turns out just right, the result will not simply look like Yosemite, it will look like an Ansel Adams photograph of Yosemite".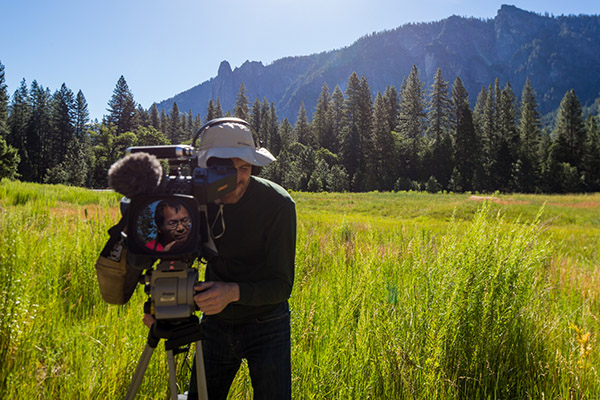 Last June, I was honored to be interviewed as a representative of 21th-century photography in a short TV report featuring Carleton Watkins and Ansel Adams by Al Jazeera America – two weeks after being quoted by Fox News. Use this link if the embed below doesn't show up.
The half-hour interview discussed the history of photography in Yosemite and the possibilities to create new work there, but the footage was edited to thirty seconds. I thought you might enjoy my comments about my 2002 winter sunset photograph shown in the TV report.
I don't consider the existence of so many great Yosemite photographs a hindrance. Rather, they provide a useful yardstick against you can measure yourself and try to go beyond – if only occasionally. Adams photographed many times from Tunnel View. His books (see survey) "American Wilderness" and "Ansel Adams at 100" include series of photographs from that viewpoint. I felt that Adams "owned" the view so much that I consider my work there to be an hommage. For a long time, I had wanted to make a photograph that Adams hasn't made before, while using his most often repeated composition. So I sought a photograph in which color would be an integral part, one which would not work in black and white. This meant looking for color contrast. The Yosemite granite walls being grey, the most color contrast would be found at sunset between the warm illuminated cliff tops and the valley bottom, which would turn blue in open shade. Most evenings, the valley bottom would be too dark, but fog in the bottom would lighten it up, and enhance the blue tint. One evening, as I was in the Valley, I noticed the fog forming and a hole in the western horizon. I rushed to Tunnel View, and here was my gift. The color added a new mood and emotional impact to the (kind of) 150-year old view.
Are you still photographing at Tunnel View ? Does the long history of photography in Yosemite inspire you ?