Indiana Dunes National Park Comes at Challenging Time
2 Comments
One of the consequences of the
government shutdown
is that we just got Indiana Dunes National Park, our 61th National Park. Let me explain a bit. In the 115th Congress, the Indiana congressional delegation pushed hard for the change of designation for Indiana Dunes National Lakeshore, which enjoyed wide local support except for the lone dissenter, environmental law professor John Copeland Nagle (
2017
,
2019
). However, at a summer 2018 hearing, P. Daniel Smith, acting director of the National Park Service, testified that the agency prefers to use the "national park" label for units that contain a variety of resources and encompass large land or water areas (consistent with
my discussion
), and the bill expired with the 115th Congress at the end of 2018 as all un-resolved bills do. Locals were determined to make it happen, so at the start of the 116th Congress, the bill was promptly re-introduced in both the
House
and
Senate
, but normally those things take a while. Having monitored the two bills that were not even out of commitee, I was shocked to see this:
February 15, 2019
How could have they gotten fast-tracked so dramatically? In order to provide funding for the government, Congress passed the
Consolidated Appropriations Act of 2019
, which is an "Omnibus Appropriations bill" with a hodgepodge of provisions that, unlike other bills, had to be signed promptly by the President in order to prevent another shutdown. One of those provisions redesignated Indiana Dunes National Lakeshore as Indiana Dunes National Park.
The 1st edition of Treasured Lands sold out of its three printings in two years and two months. Used copies sell for more than the list price of a new copy, while new copies retail for double the list price. I was therefore eager to get the second edition out as soon as possible and had been working for a few months to this effect.
Besides new images and location descriptions such as those above (Cataloochee and Elkmont in the Great Smoky National Park), what distinguished the second edition from the other reprints was that it would be up to date with all the then 60 national parks, but that was before Feb 15. You may think that "stopping the presses" happens only in the movies, but I had to call my printer to almost literally do so, and it was not for some newspaper but a 472-page high production quality book.
So far I have only made the maps. Besides "Indiana Dunes National Park", note the shaded relief, absent from the NPS map: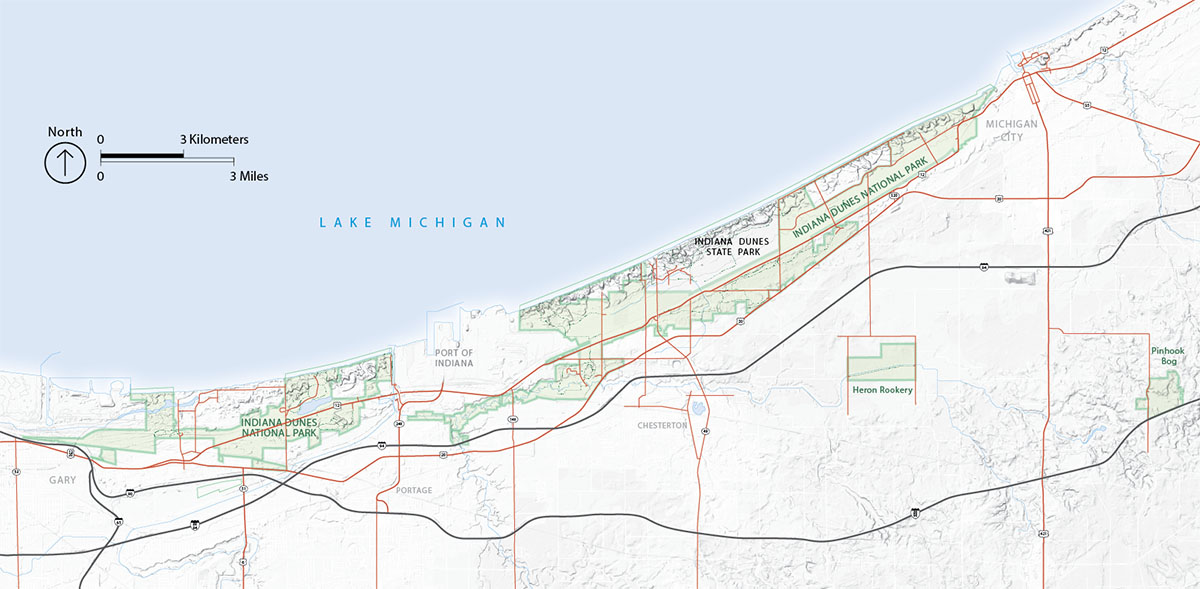 (click on map to enlarge)
Here is a detail of my general map of all the National Parks. Note that unlike the corresponding NPS maps and those who re-use it, my map provides the outline of all the parks, rather than a dot for the small parks: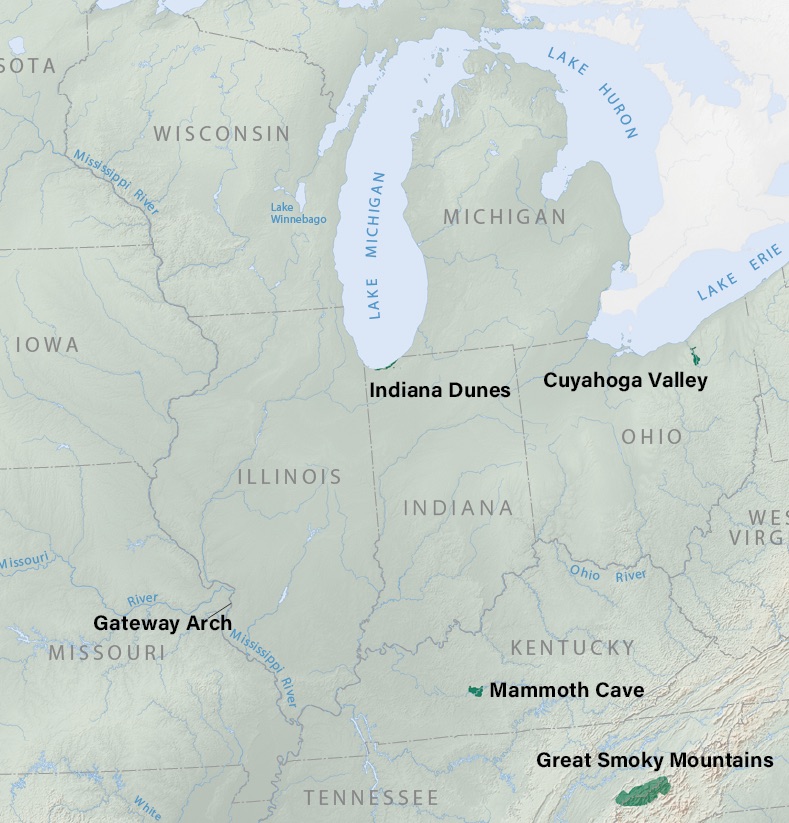 From a quick look at the map, which park is north of the other?
This matters because Treasured Lands orders parks from north to south: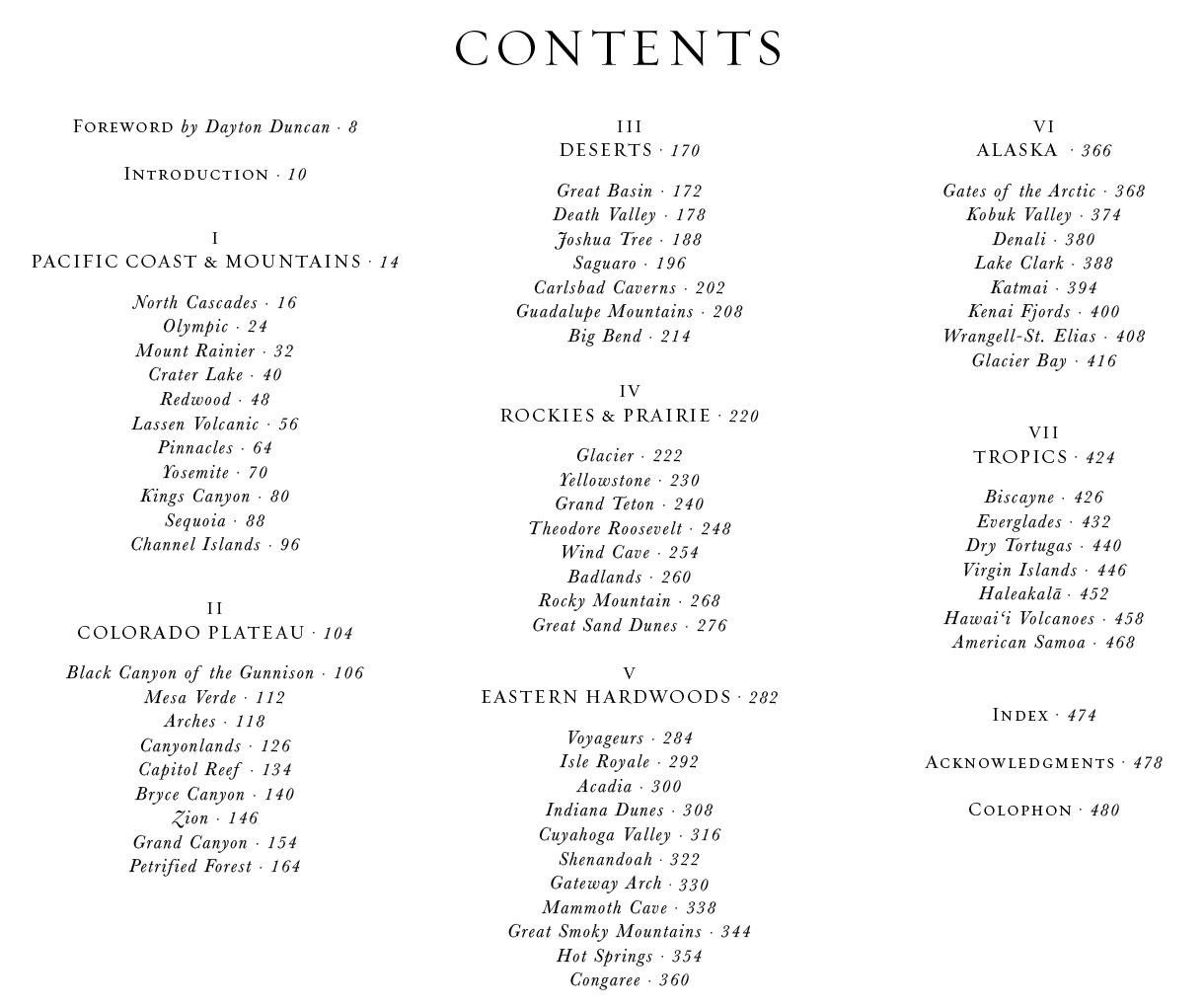 Although on the map, because of the projection it would appear that Cuyahoga Valley National Park is north of Indiana Dunes National Park, in fact the southernmost point of Indiana Dunes National Park (Melton Road, latitude 41.59) is north of the northernmost point of Cuyahoga Valley National Park (Cuyahoga Valley Scenic Railroad Rockside Station, latitude 41.39).
You can also see on this table of contents that I have allocated 8 pages for Indiana Dunes National Park. I have little time to fill up those pages, since I am hoping to have advance copies to sign during an international exhibit this spring (the general release will be later in the summer). My publicist has promised images to the media – for which I will be doing quite a few interviews, including newspaper, radio, and TV. Unlike for my other national park visits, the pressure is high. I have never been to the park, which I expect to be one of the less spectacular of all, it is now winter there with all vegetation bare, and the weather looks iffy during my projected 3-day visit. Quite a challenge.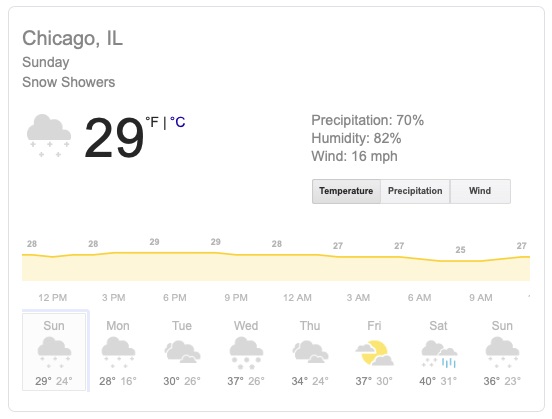 That last weather forecast was from a day before I flew out to Chicago on Monday. I take it as a good omen that in the few hours after I learned about Indiana Dunes National Park, on Friday two people emailed me for entirely unrelated reasons: a friend from Louis-le-Grand high school now living in Chicago, and a naturalist who used to work at Indiana Dunes. Stay tuned to see how I did!