Yangon, Myanmar
2 Comments
Part 1 of Myanmar photo tour diary: 1 | 2 | 3 | 4 | 5 | 6
Since my first visit there in 2000, I have always thought of Myanmar as the most enchanting country in South East Asia. In January 2014, I had the pleasure of leading a photo tour there. Thank you Alan, Massoud, Phuoc, Regis, Ron and Yasmina for being such fine and inspiring traveling companions and photographers. In this post, I will share images made during the tour in Yangon, where all tours start and end, but before that, I'll address a bit the changes I have seen in the country.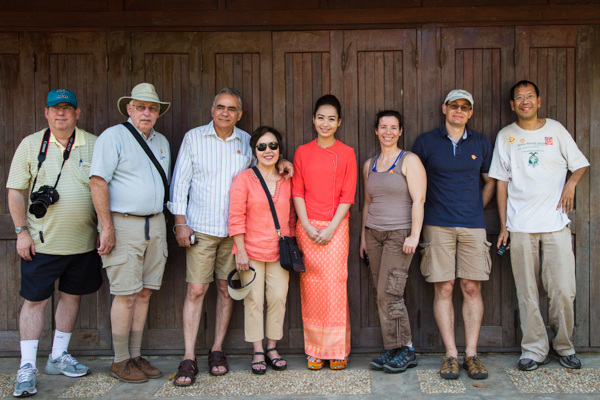 Change in Myanmar
Myanmar visitation has been historically low: a few hundreds of thousands visitors per year – for comparison, Thailand receives about 8 million, Yosemite Valley 4 million. It's not that the country was closed, dangerous, or difficult to travel. However, many in the West considered it politically incorrect to visit because Myanmar is ruled by a military dictatorship. There was this notion that visiting the country equaled to supporting its repressive regime. The locals seemed to have a different view, though, since every single Myanmar national I spoke to in 2000 said it was good to have visitors.
The situation changed a few years ago, with a transition to democracy, recognized with President Obama's official visit in 2013. Myanmar, long considered off-limits, had become the new hot travel destination in Asia.
As a result, travel costs have increased dramatically, because Myanmar doesn't have yet infrastructure to meet the demand. A room in the Panorama Hotel in Yangon, listed at $40 in the latest edition (2012) of the Lonely Planet guide, now costs $125. In the fall of 2013, although our tour group was not full, in response to new inquiries, I was disappointed to hear from our local travel agent that I could not add participants because hotels or flights were full. The Lonely Planet guide warns about quick changes, and they are right. Just one example: they advise not to use official money changers because the black market rates were considerably better. Now the money changers at the airport are invariably the ones with the best rate.
In 2000, even sites on the tourist trail were quiet and relaxed. Those same sites are now crowded. Popular sunset sites can be packed with tourists standing elbow-to-elbow. However, it is possible to get around this problem with careful planning. At sunrise the summit of Mandalay Hill was almost empty, whereas at sunset there was hardly enough room to deploy a tripod. Outside the main tourist trail – even in Yangon – things have not changed that much. It is still easy to observe a traditional culture and a way of life. There are places where villagers are now asking for money after posing for pictures, something I never saw in my first visit. But there are also places where they will ask to pose for a picture with you, because seeing a foreign visitor is a rarity.
Day 1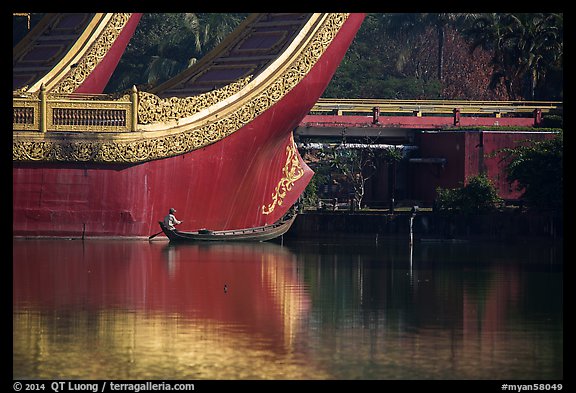 We began our day with a stroll along the peaceful shores of Kandawgyi Lake near the huge Karawek hall (where we would have our welcome dinner), replica of a royal barge.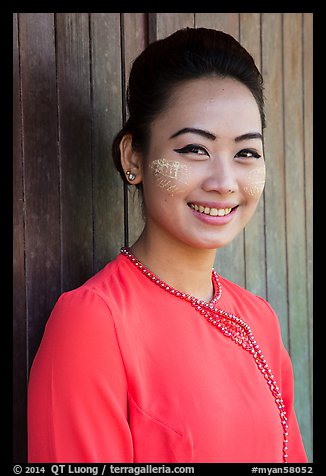 We spent an hour nearby with beautiful Moe, who posed for some portraits. Like most women and girls in Myanmar, Moe is wearing Thanaka, a cosmetic paste made from ground bark. Thanaka serves as a skin conditioner, sunscreen, and a perfume that has a delicate fragrance similar to sandalwood.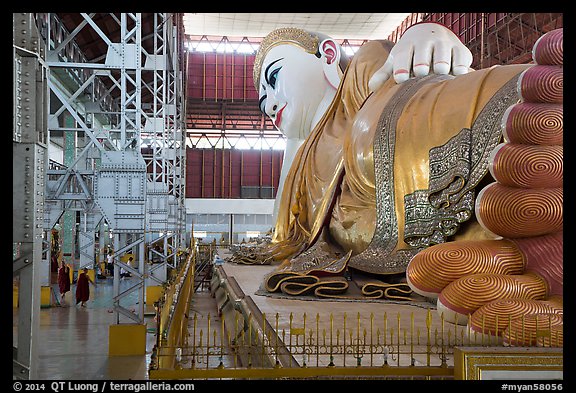 In the early afternoon, we visited indoor sites, first the 229-feet long reclining Buddha statue at Kyaukhtatgyi Pagoda.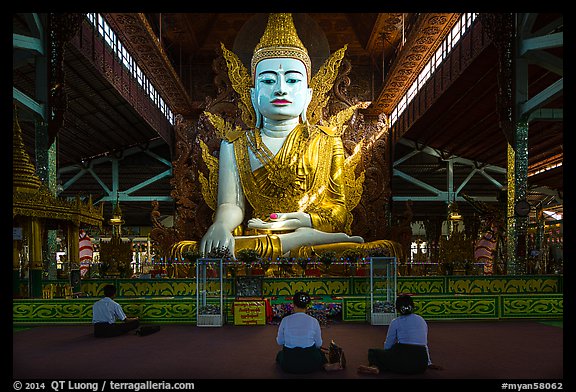 Not far from there, we saw the five-story tall buddha of Ngahtatgyi Pagoda.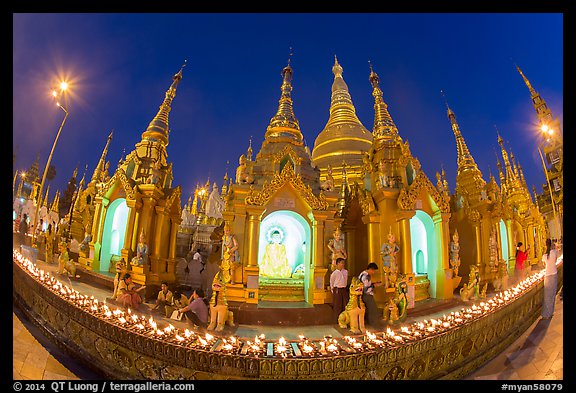 The highlight of the day was the Shwedagon Pagoda, possibly the oldest, largest, most sacred, and most beautiful pagoda in the world, where we stayed until dark.
Day 11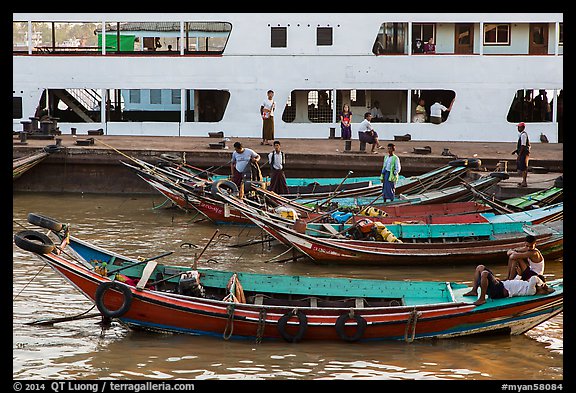 Upon return from Heho, we toured briefly Yangon's city center, then walked along the Sinoodan jetty to observe life along the river.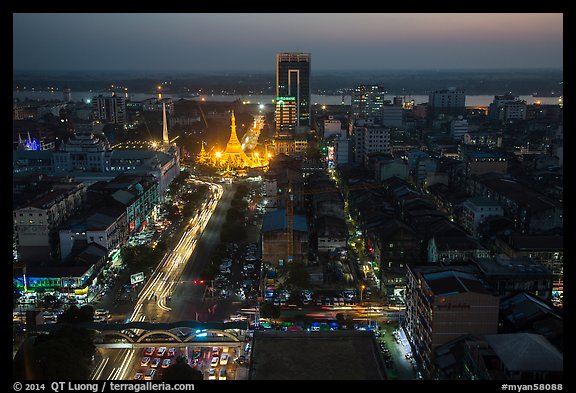 We returned at the Traders Hotel to photograph the city at dusk from its upper floors, a fascinating mix of old and new.
Day 12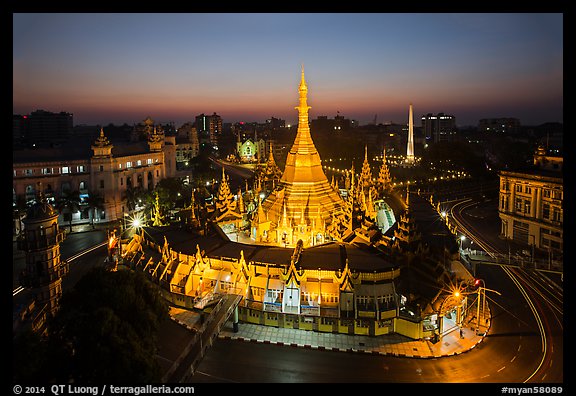 Before leaving for Kyaiktiyo (see part 6), by tipping a security guard, we were able to photograph at dawn from a private building a view that captures the essence of Yangon: you see Independence Monument, City Hall, 2,500 years old Sule Pagoda, Bengali Sunni Jamae Central Mosque, Emmanuel Baptist Church. Time window was less than 10 min: before it's too dark, after, lights are off.
Day 13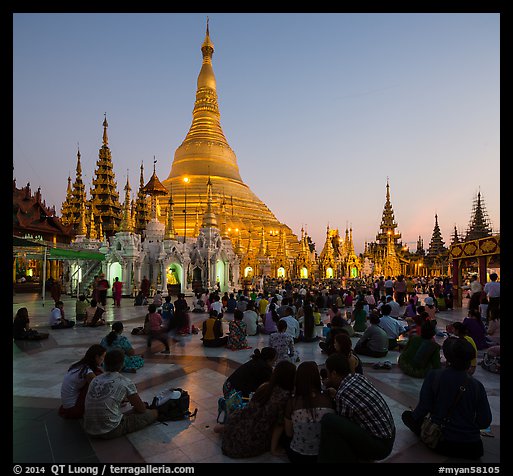 Back from Kyaiktiyo, Regis and Yasmina were eager to return to the Shwedagon Pagoda. It was my 6th visit on that trip, as I had flown in a few days before the start of the tour for scouting. Although the oil candles were not lit, I was rewarded that they had moved away canopies which prevented me on the previous visits to photograph from the Victory Place, my favorite location in the Shwedagon Pagoda.
Day 14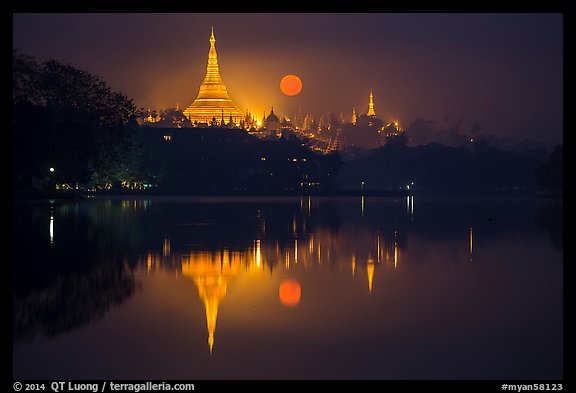 We wrestled ourselves out of bed early one last time to capture the full moon setting over the Shwedagon Pagoda from the shore of Kandawgyi Lake. I used ISO 1600 to keep exposure short enough (1/2 s) to avoid excessive blurring in the moon (which moves fast at 250mm). This is a single exposure.
See more photos of Yangon
Part 1 of Myanmar photo tour diary: 1 | 2 | 3 | 4 | 5 | 6