Virgin Islands National Park's Hidden Gem: Salomon Beach
One Comment
If you visit Virgin Islands National Park, you almost certainly won't miss famous
Trunk Bay
and its neighboring beaches on the North Shore. On an extended stay, you may explore the
wilder part of the island
, on the side opposite to Cruz Bay, the island's main town. However, it may come as a surprise that the beach I found the most photogenic in the entire park is not only a walking distance from Cruz Bay and the visitor center, but also pretty quiet despite that proximity.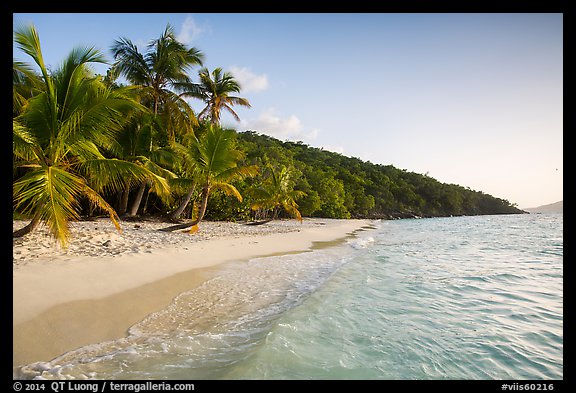 What makes Salomon Beach a favorite is the presence of three small palm trees right on the beach, with taller palm trees quite close to the water. They lend themselves to a number of compositions that evoke a tropical feeling. No other beach in this National Park presents a similar configuration. Note that as the tree on the left is quite small, I sat down on the sand for this composition, to make sure its palms didn't overlap with the trees fringing the beach.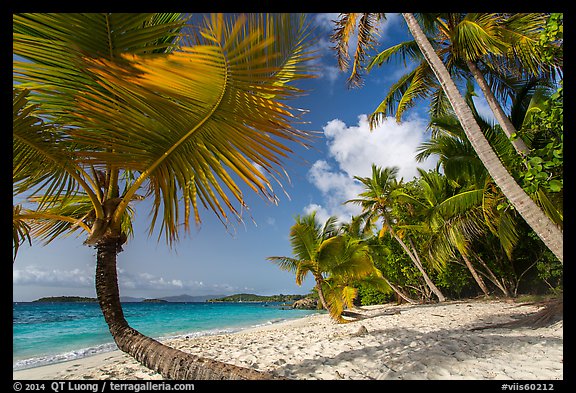 Why is this very pretty beach out of the beaten path ? Salomon Beach is much quieter than other north shore beaches because it takes a bit of a walk to reach. It is only about 1 mile each way, but you are walking in the heat of the tropics. Most people don't care about carrying their beach gear that far when they can park a short distance from other beaches. The beach is pristine, which means absolutely no facilities.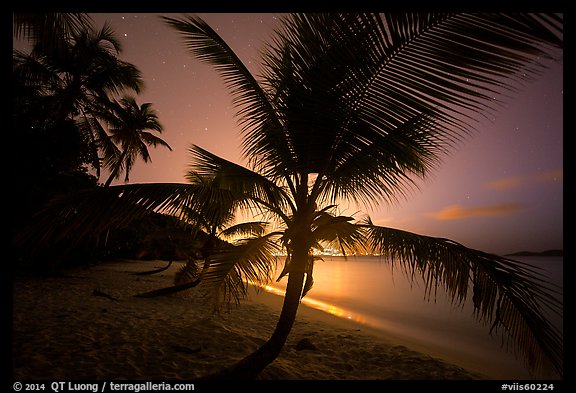 The trailhead is not obvious, although it starts right behind the National Park Visitor Center! The Visitor Center parking spots have a time limit, but you can get an extended parking permit inside. To start, climb the unmarked stairs on the side of the road opposite the Visitor Center, then veer left on the Lower Lindt Trail. You follow a well-maintained trail along the hillside before descending towards Salomon Beach on a steeper spur. If you continue 10 minutes on the main trail, you'll reach Honeymoon Beach, not as pretty and more popular due the proximity to the Caneel resort. From there, you could return through the Upper Lindt Trail, which, unlike the Lower Lindt Trail, offers some views.
I've read that more people visit in the morning, maybe because the palm trees provide more shade on the beach at that time of the day. For photography, the light on Salomon Beach is best from mid-morning to sunset, precisely when the palm tree shadows are less distracting. In the late afternoon, the trees are better lit, but mid-day, the water is a more vivid blue turquoise. When I visited the beach, I had the whole place to myself in the late afternoon, before a party of three arrived before sunset. They promptly left after the sun set. I stayed alone for night photography. The distant lights of St Thomas provided some faint illumination. Photographed backlit, they looked like a setting sun, although they were dim enough to allow the stars to shine above. Some additional light from my headlamp helped enliven the image with the greens of the palm trees.