Four Camera Systems to Photograph In and Above Water
3 Comments
A particular equipment challenge occurs when you are photographing mostly above water, but you may be briefly drenched or submerged in water. To address a range of needs, I review four camera systems that I've used in those situations, in increasing order of complexity, cost, and image quality.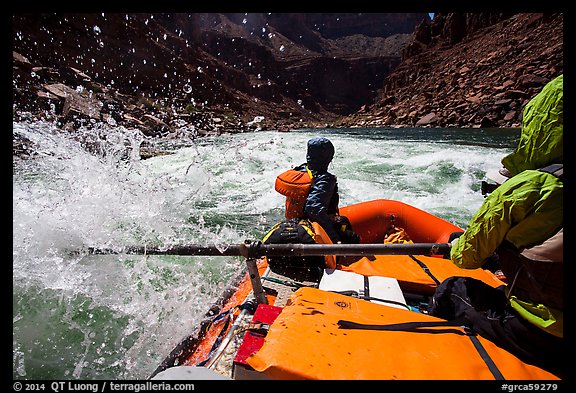 There is an entire industry dedicated to underwater photography. However, most underwater camera systems are overkill, and often not even usable in situations when most of the photography is above water, but the camera may also be submerged at a shallow depth, such as in rafting or canyoneering… or just a family holiday at the beach.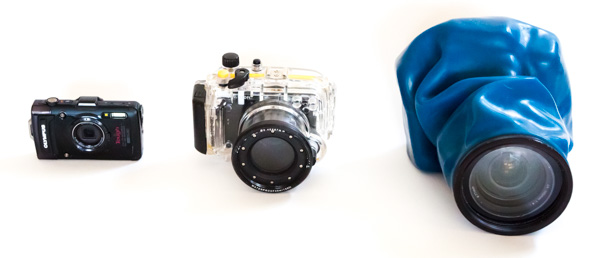 Phone: Moko flexible case
These days, the most commonly used cameras are phones. During our descent of
Zion's Mystery Canyon
, everybody in our group (except me) took pictures only with a phone. It is easy to make a phone waterproof while maintaining its picture-taking functionalities.
In a pinch, a good ziplock bag protects a phone against a short submersion. Somehow surprisingly, the touch screen works just fine. An inexpensive IPX8 certified waterproof case uses the same idea, with a thicker plastic and a more reliable locking mechanism which is claimed to work underwater down to 98 feet.
Point & Shoot camera: Olympus TG
A mid-range P&S camera is a step-up in image quality, flexibility, and ruggedness. However, unlike for a phone, putting a camera in a waterproof bag reduces its functionality, as controls become difficult to operate. The solution is to buy a amphibious P&S camera, which does not require an enclosure.
Almost each major brand offers one. When I bought my first waterproof P&S camera, a Panasonic Lumix DMC-TS1, I relied on reviews emphasizing image quality and functionality. It died on the first trip, an easy Hawaii vacation. The one thing that you want to make sure is to buy a camera which is actually waterproof. With similar small sensor sizes, all those cameras yield comparable image quality.
When I looked for a replacement, I eliminated all the cameras that had any reviews on amazon with owners complaining about leaks. This led me to the Olympus TG-2. So far it is still working. Being shockproof and crushproof it is good for lending to the kids or to my wife! We can assume the current Olympus TG-4 is as durable, and offers better images- it has RAW capture that the TG-2 lacked.
Premium compact: Sony RX100 with Meikon UW housing
The Sony RX 100 ushered in the area of "premium compact" cameras. Its relatively large 1-inch sensor, RAW capture, and relatively good lens let it capture images significantly better than P&S cameras (some say almost DSLR-quality) while remaining pocketable. There is only one camera in this class which is waterproof, the
Nikon 1 AW1
, but, as you can see in the 1-star reviews, there have been complaints of leaks.
Instead of going this route, I bought an underwater housing for my RX 100. Being designed for scuba diving, those are tough, rigid boxes sure to keep your camera dry! They are dedicated to a specific camera model, and equipped with buttons and dials designed to match almost each of the camera's controls.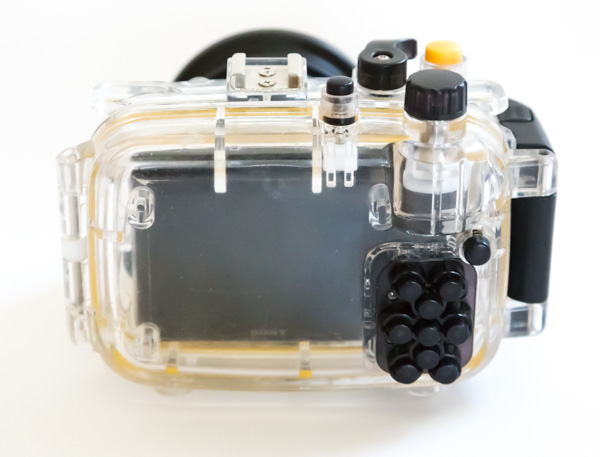 Underwater housing for larger cameras are extremely bulky and heavy. This is not a problem underwater where they become weightless, but it makes them unsuitable for use above water. However, the RX 100 is so small that its housings are only the size of a chunky compact, very manageable above water. The other issue with underwater housings is that they are usually quite expensive: the ones sold by UW specialist Backscatter range from $475 to $1,250. However, in the case of the RX 100, the Chinese manufacturer Meikon makes an affordable housing sold with various branding. Similar housings are available for the RX 100 II, RX 100 III and RX 100 IV cameras.
Compared to the more expensive housings, the Meikon's controls are not as smooth, and there is no way to rotate the central dial in the back, however by assigning carefully custom controls, it is possible to operate all significant functions.
DSLR: Outex
To shoot with your DSLR in a wet environment where the camera might be briefly submerged, there are only two solutions that I have found to be practical.
You can keep your camera in a small dry bag. When you want to photograph, you take it out of the dry bag. When there is a risk of submersion, you seal the dry bag.
If you want the camera to become waterproof so that you can keep it deployed at all times, the best solution I have seen is the Outex system. The Outex is IP08 tested, which means it can be submerged to depths of 30 feet, good enough for anything but scuba diving.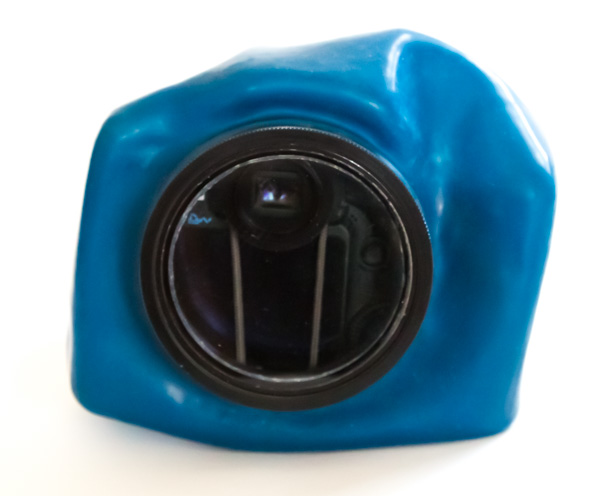 The other bag-based systems (such as EWA-marine) use a clear heavy vinyl. This let you see the dials, but the rigidity of the material makes it problematic to use any controls on the camera or lens other than the shutter release. A photographer I know liked it to "trying to use a camera with mittens designed for subzero conditions". By contrast, the rubber used in the Outex is flexible enough to give reasonable access to controls above water. On the other hand, the Outex is totally opaque, so you need to be familiar enough with your camera that you can operate it without looking at the controls!
The Outex is a modular system. The basic system consists of a cover, optical lens, viewfinder adaptor, and viewfinder lens, all fitted to your camera body and lens (about $400). You need to be careful when ordering components, since Outex does not accept returns. If you don't want to have to purchase multiple optical lenses, you should make sure to get the largest filter thread size you need, then adapt to smaller lenses with a step-down ring. Choose also carefully the main cover. For instance, the basic cover, with openings just at the front and back, cannot be converted for tripod use. If you ever plan to use a tripod, you need a cover with a hole for the tripod adapter.
Installing the Outex takes some effort, as you have to pull and stretch it over the camera so that it passes into openings that are smaller than it. You also have to make sure the pressure rings are properly screwed. It takes me about 10 minutes, so it's not something you can take on and off easily.
For a while, I was frustrated by a serious design flaw: the viewfinder lens and adaptor does not stay in place in its slot. Once it falls off, it's difficult to see through the viewfinder and it's tricky to put back on, making the unit barely usable. However, I solved the issue with an easy (in hindsight) DIY solution: wrap a string around the top of the adaptor, tie it to the tripod mount in order to prevent the viewfinder lens from sliding up, keep the tension with a cord lock. Other problems which cannot be fixed are that the dials aren't easy to turn (especially in the water), the viewfinder lens prevents access to some buttons, and it is not easy to see the viewfinder if you are wearing glasses.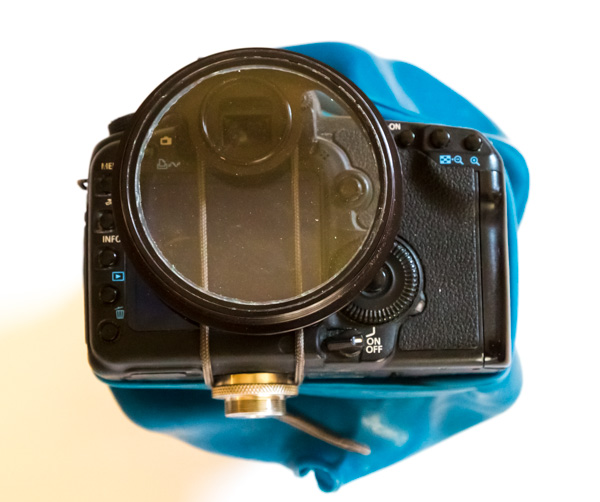 In spite of those limitations, the Outex works. It kept my Canons dry while splashed by the rapids of the Grand Canyon and while wading in the pools of the Zion Canyons. I would not hesitate to use it again for similar outings.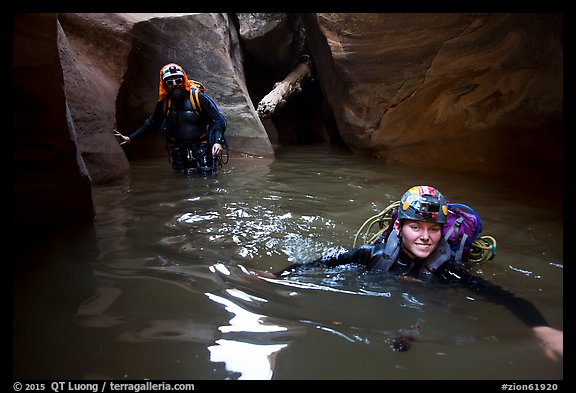 Have you photographed in such situations where you most of the photography is above water, but the camera may also be submerged ? What was your equipment choice ?