Upcoming Local Presentations
No Comments
After a
well-received exhibit in San Jose
, and a summer of productive travels, this fall I will continue to present my work in the San Francisco Bay Area.
All the presentations are about my project to photograph the national parks, and include an illustrated lecture (aka "slide-show"), a Q&A session, and a book signing for Treasured Lands. Copies will be available for purchase if you don't have your own yet.
The presentations are hosted by various groups, however they are all open to everybody and are free. Here is what has been scheduled up to October, with more to come in the fall.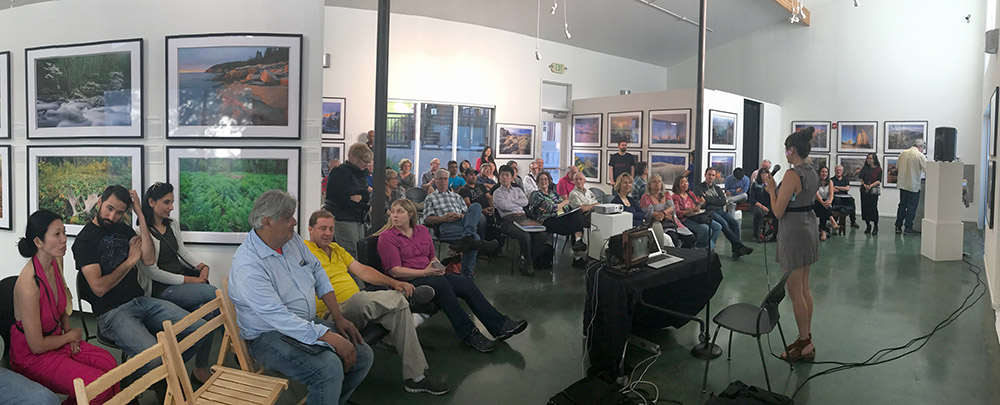 Gallery Director Genevieve Hastings introduces lecture at Art Ark, June 2017
Sunnyvale Photographic Club
Monday August 28, 7:30 PM
Murphy Park Recreation Bldg
250 N Sunnyvale Ave., Sunnyvale,
More info
Palo Alto Camera Club
Wednesday, September 20, 7:00 PM
Palo Alto Art Center
1313 Newell Rd, Palo Alto
More info
Sierra Club Santa Cruz Group
Thursday, September 21, 2017 – 7:00 PM
The Live Oak (Green) Grange Hall
1900 17th Ave, Santa Cruz
More info
Light and Shadow Camera Club
Tuesday, October 10, 7:00 PM
Church of the Nazarene
2575 Coit Drive, San Jose
More info
I'll be delighted to meet you on one of those occasions!