Treasured Lands Exhibit in San Jose CA, June 2017
2 Comments
Treasured Lands: Photographs of National Parks
will be on display in San Jose CA for the next month.
I am particularly pleased with this chance to engage with my local community, since I have lived in the San Francisco Bay Area since 1993, and in San Jose since 2002. Of all places in the U.S., I came here when I moved from France because of the proximity to Yosemite.
Installation in progress, May 22
The Yosemite Grant of 1864 was the first time any nation had set aside a large tract of natural land for all people and for all time, and it would pave the way for all national parks. Currently, California has nine of them, more than any other state, and the most recent, Pinnacles National Park, is located only one hour and half away from San Jose. Considering also the prominent contributions of John Muir, it could be argued that the national parks originated from Northern California. With such an history and proximity to many of them, national parks have long been important to the local community.
Although last year's National Park Service Centennial was an occasion for celebration, this year is a time of concern, as America's public lands have become a topic in the nation's political conversation. I view my work as a much-needed reminder of the beauty, lasting value, and importance of our treasured lands.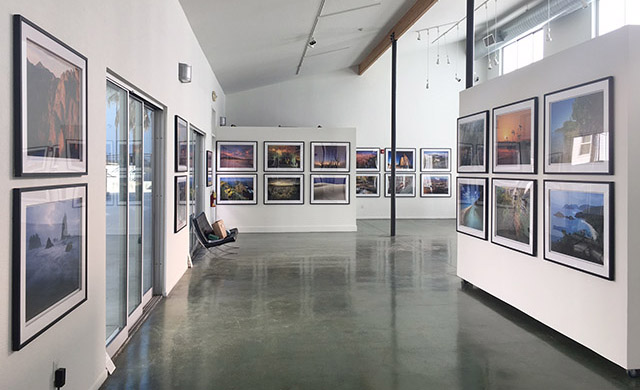 Installation in progress, May 23
For the first time, South Bay Area residents have the opportunity to view this traveling exhibit of each the 59 US national parks. The exhibit returns home from its national tour that included venues such as the Museum of Science, Boston. It will be on display from May 26, 2017 through June 26, 2017 at the Art Ark Gallery in San Jose, CA.
During the events, I will also sign my new book, Treasured Lands: A Photographic Odyssey Through America's National Parks, which won four national book awards in the last two months. Copies will be available for sale if you'd like to support me.
Opening Reception and Book Signing: Friday, June 2, 2017, 6pm-9pm.
Artist Talk and Book Signing: Wednesday, June 14, 2017, 7pm.
Free entrance. The best times to visit are during the two events, but the gallery is also open by appointment. Address: 1035 S. 6th Street San Jose, CA 95112. More information: artarkgallery.com
I would be honored to see you there!