The San Juan Islands: San Juan Island
4 Comments
This post made possible by Secure Data Recovery, scroll to bottom to read how.
The San Juan Islands, located in the northern reaches of Washington State's Puget Sound, eighty miles north of Seattle, are a delightful destination. Comprising beautiful scenery of woodlands and shoreline, their atmosphere has remained pastoral and relaxed. This series of posts will describe highlights from the three largest of those islands, starting with the most populous, the namesake San Juan Island. It takes only about 15 minutes to cross the island from east to west, and 30 minutes from south to north.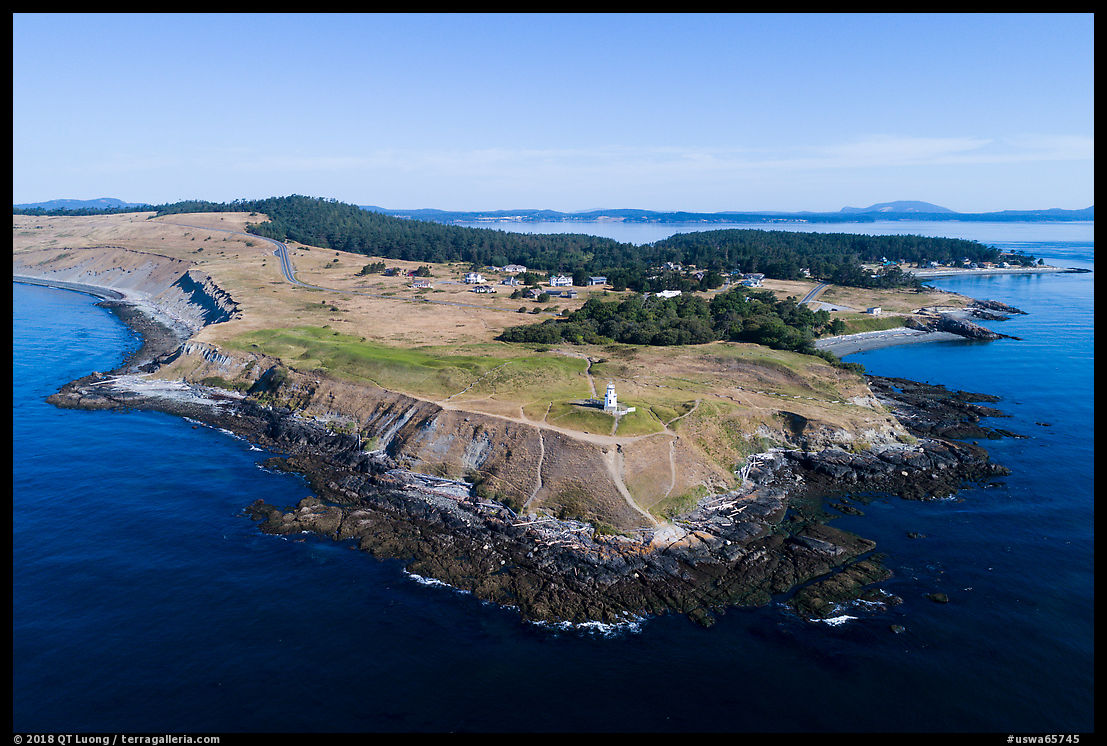 Getting there
The San Juan Islands form a vast archipelago located in the Salish Sea, with over 450 islands, but only the four largest – San Juan, Orcas, Lopez, and Shaw, are accessible by public transportation. Getting there is part of the fun. When I rode the ferry, it immediately made me feel like I was on a vacation. The ferries are part of the Washington State Ferry system (
website
).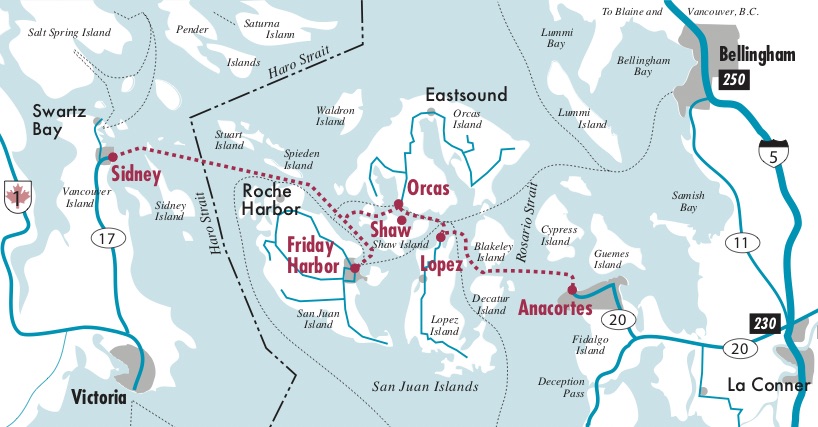 They are large (accommodating as many as 150 vehicles), affordable, and easy to use. While loading and unloading you only need to drive forward into lanes wide enough for semi-trucks. They run through the day with eight departures, and during my trip in July arriving half an hour before departure time was sufficient during mid-week to get into the ferry from the islands. However, for the departure from Anacortes, I took advantage of the new reservation system which allows you to secure a slot for your car for a specific ride. If your visit coincides with a weekend, you definitively will want to do so if leaving Anacortes on Friday afternoons and Saturday mornings and returning on Sunday afternoons. When visiting multiple islands, the easiest is to start with the furthest (San Juan), because all tickets are round-trip even though you are charged only for the westbound fare. On your way back to Anacortes, you can stop at any of the other islands and re-board when you want, and you won't even need to show your ticket.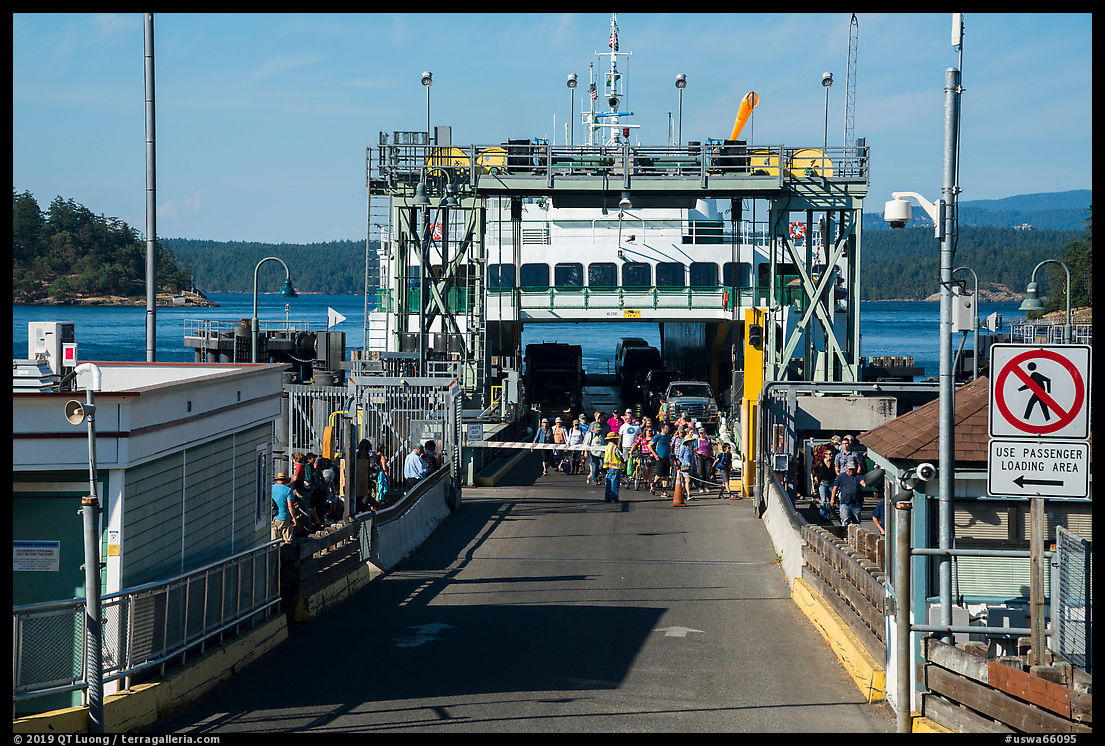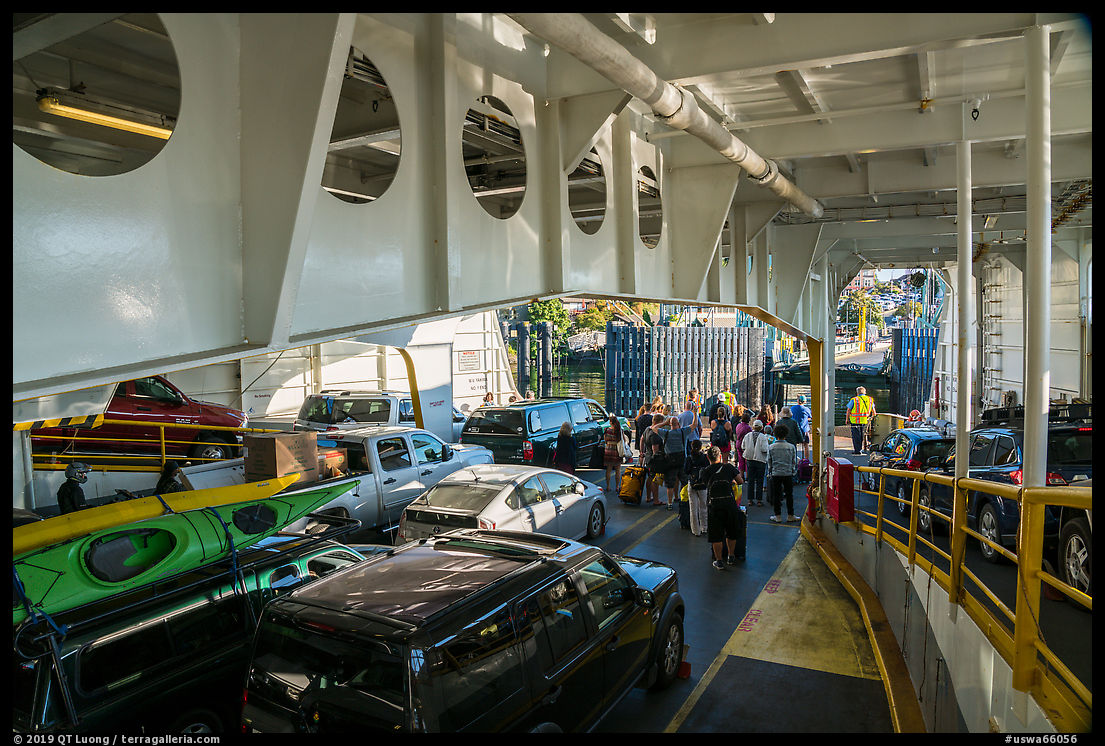 Towns
Friday Harbor, a ninety-minute ride from Anacortes, is the largest town in the San Juan Islands, with lodgings, restaurants, and other services such as the only movie theater on the islands. During summer, it is recommended to make advance lodging reservations. I did not stay there, but I checked out the scenic harbor while waiting for my ferry, after parking my car in the nearby ferry lane. As the town is settled on a hillside, by wandering around the streets, I was able to find a high viewpoint. The second largest town on San Juan Island is the resort of Roche Harbor, where you will find the San Juan Islands Museum of Art Sculpture Park with more than a hundred sculptures in a nature preserve setting.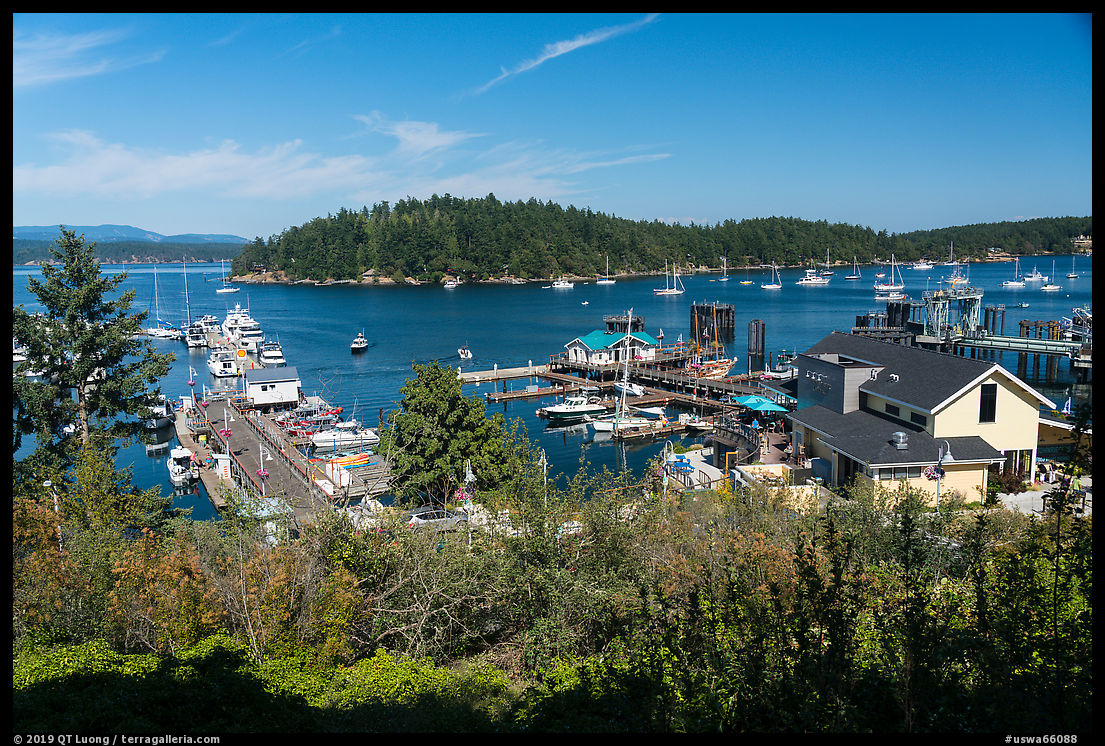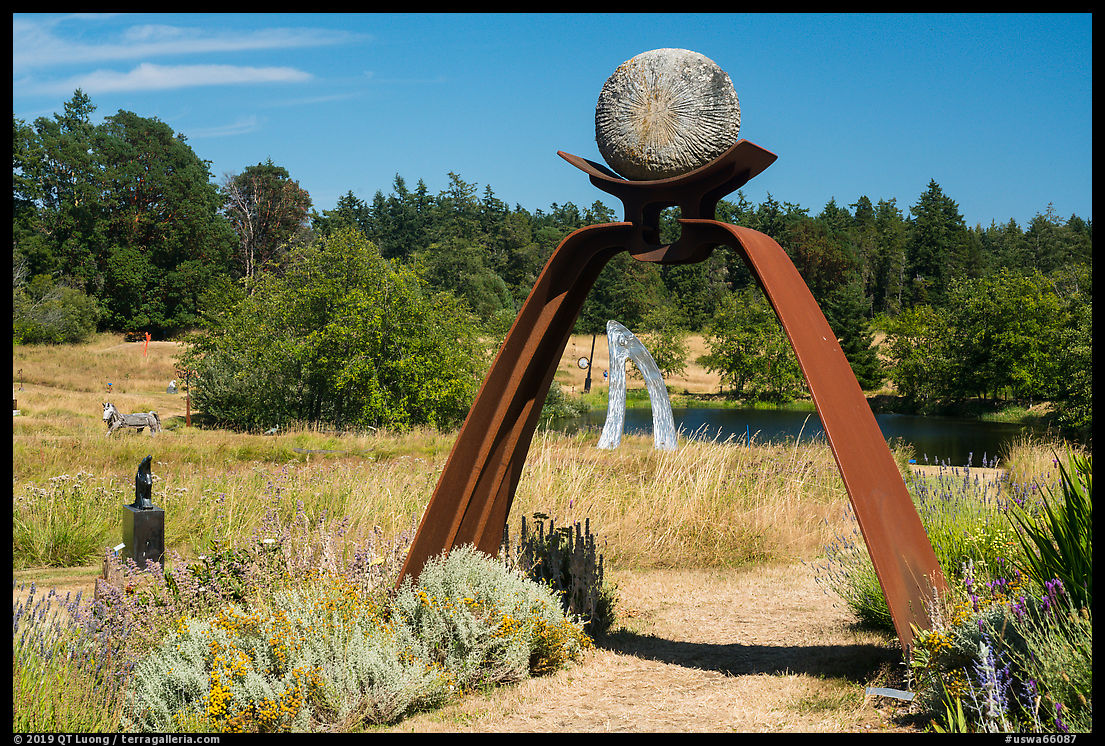 Most of San Juan Island is rural and consists of farmlands, and there is one farm that stands out, Pelindaba, thanks to its several acres of lavender fields, which bloom from mid to late summer. Using a telephoto for a tight composition resulted in depth of field too shallow to encompass both foreground and background even at the smallest aperture, so I used focus stacking, combining photos focused at different distances.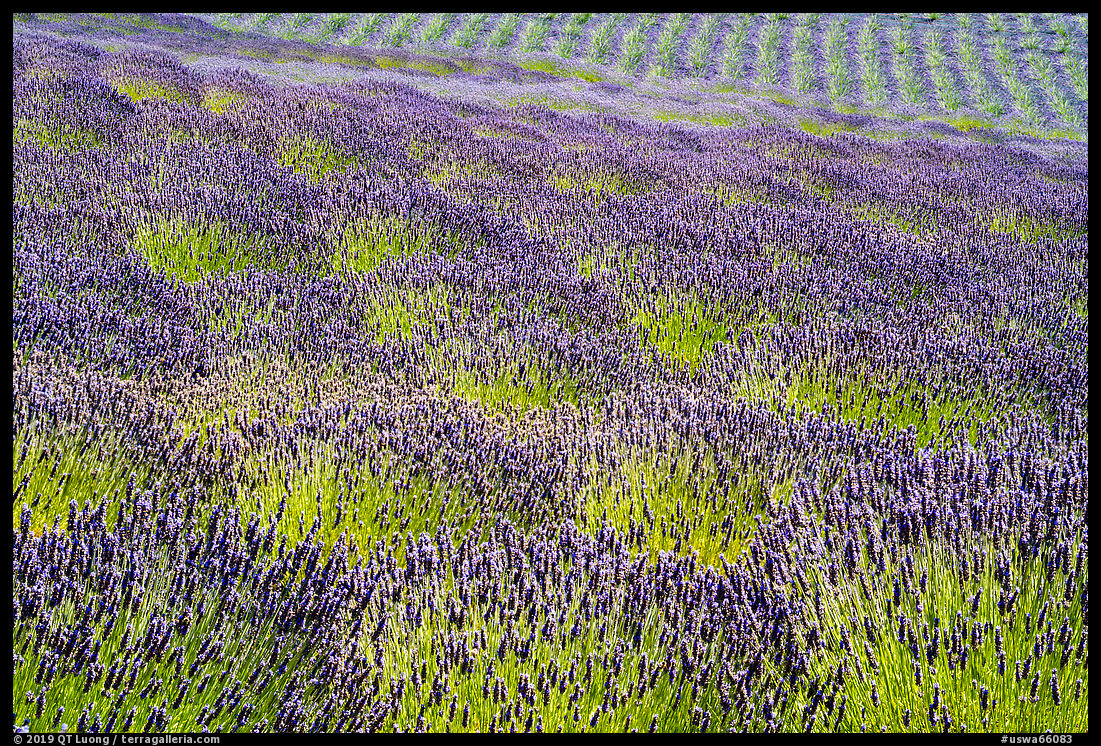 San Juan Island National Historical Park
In 1859 the United States and Great Britain nearly went to war over possession of San Juan Island after a pig was shot. That pig belonged to the Hudson Bay Company and was rooting in the garden of an American. The dispute was eventually resolved without resorting to violence. Today you can visit the historical British and American camps at two separate sites on the island. Besides the building, the American camp park also offers a 3-mile hike (longest on the island) to Mount Finlayson.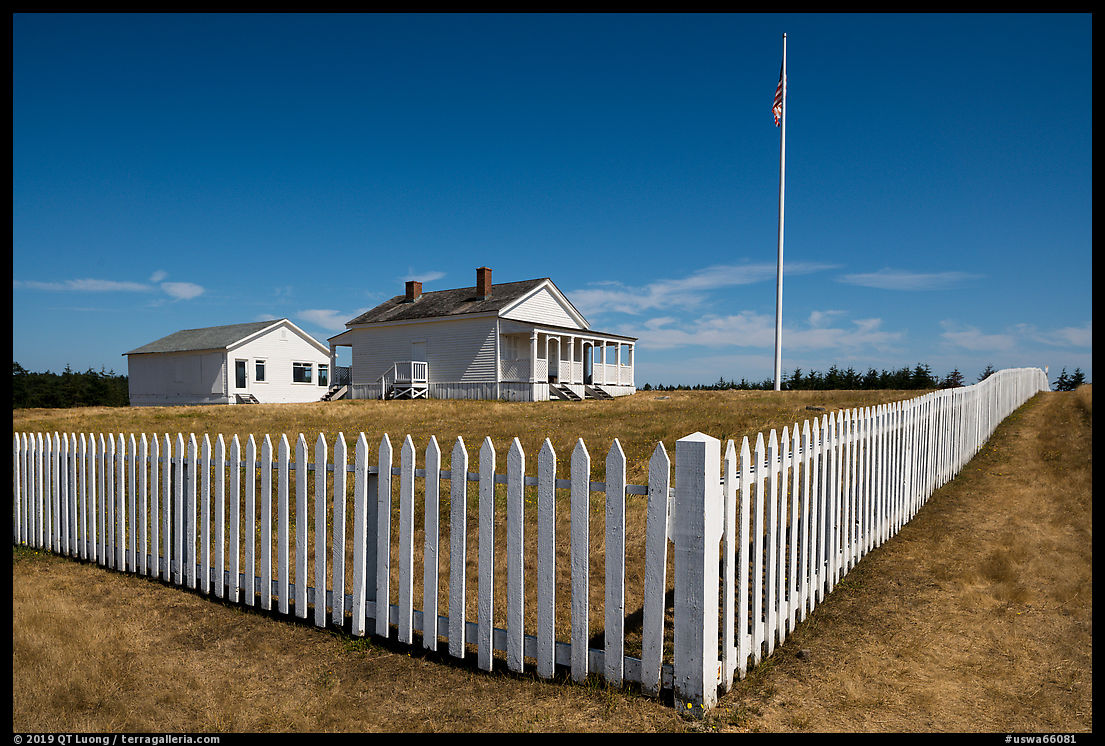 Cattle Point
South from American Camp, Cattle Point offers sweeping vistas of grass-covered dunes, with the backdrop of nearby islands, the Olympic Mountains, and the Salish Sea. The area has been included into the recent San Juan Islands National Monument to protect one of the last native prairie ecosystems in the Salish Sea. At sunrise, the low light helps define the prairie that you can walk via a network of trails, and in the summer, wildflowers including California poppies are present between the grasses. East of the lighthouse, you can go down to the shore on a slippery user trail.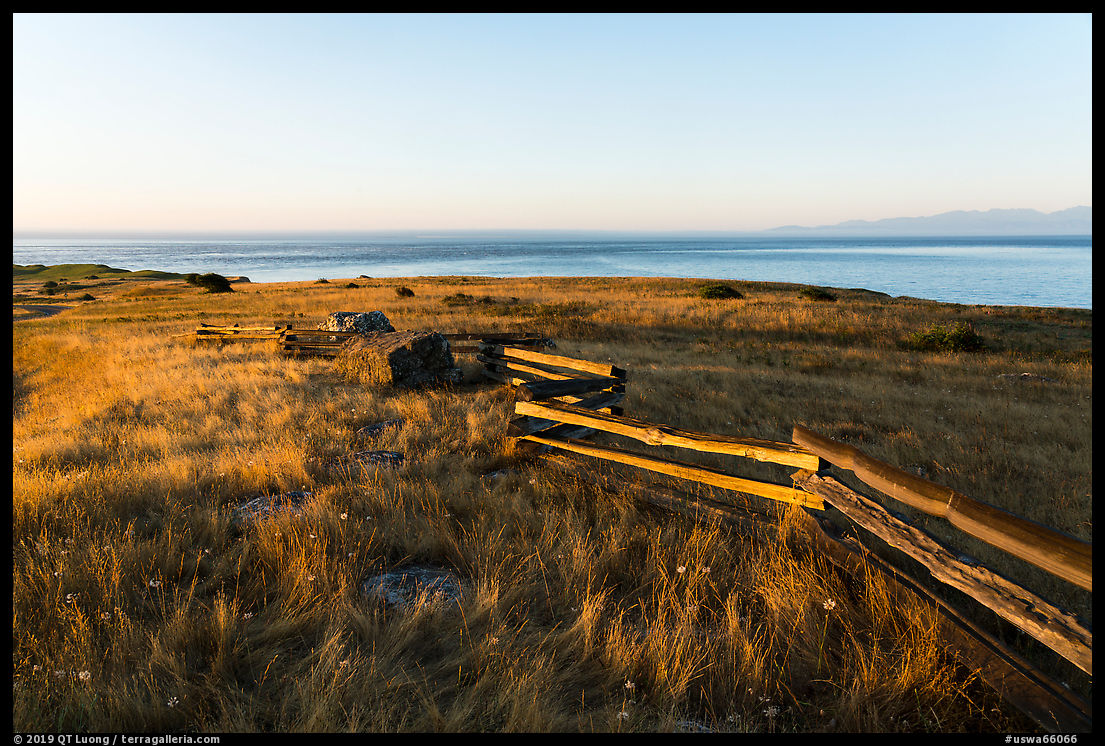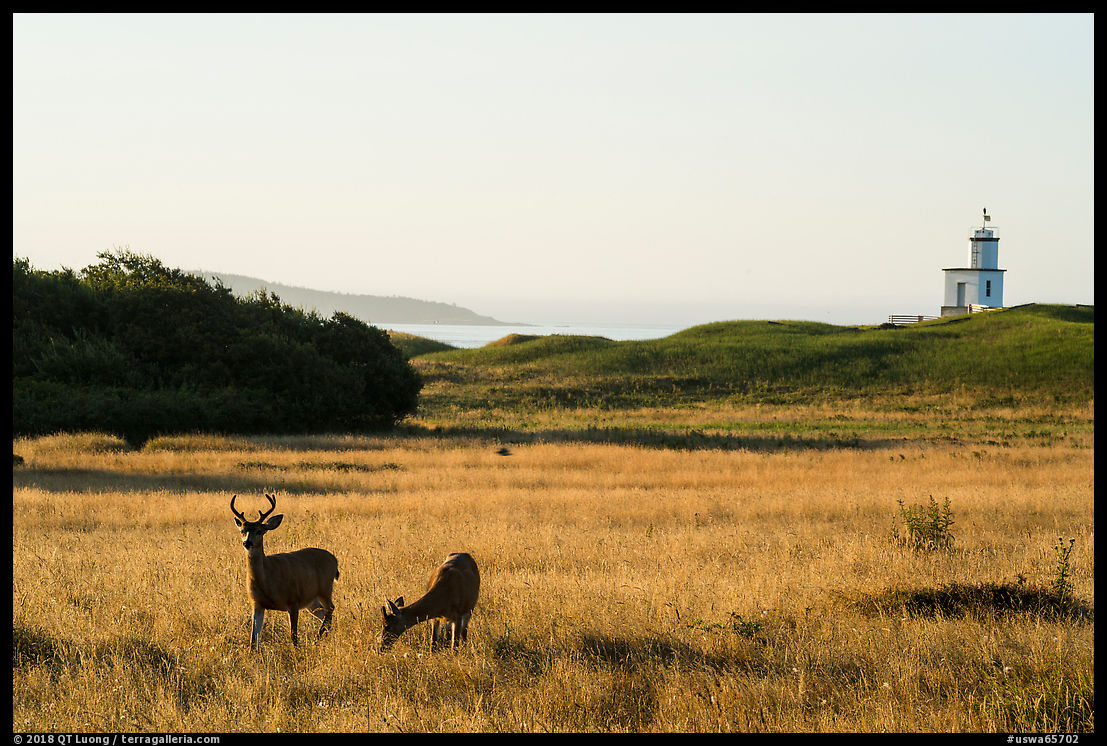 Having arrived there in pitch dark night, I wondered at first how to reach the lighthouse. You have to walk south from the Cattle Point Interpretive Area parking lot a hundred and fifty yards along the road to a trailhead, and then half-mile on trail. The Cattle Point Lighthouse isn't particularly photogenic when seen close, and there was a rope fence around the hill on which it sits, but from a distance, it provided a nice focal point. I photographed it from as far as one mile away. It was visible from a roadside pullout with interpretive signs, but from there the lighthouse merged with the island in the background, a problem that I solved by hiking up the hillside opposite the road.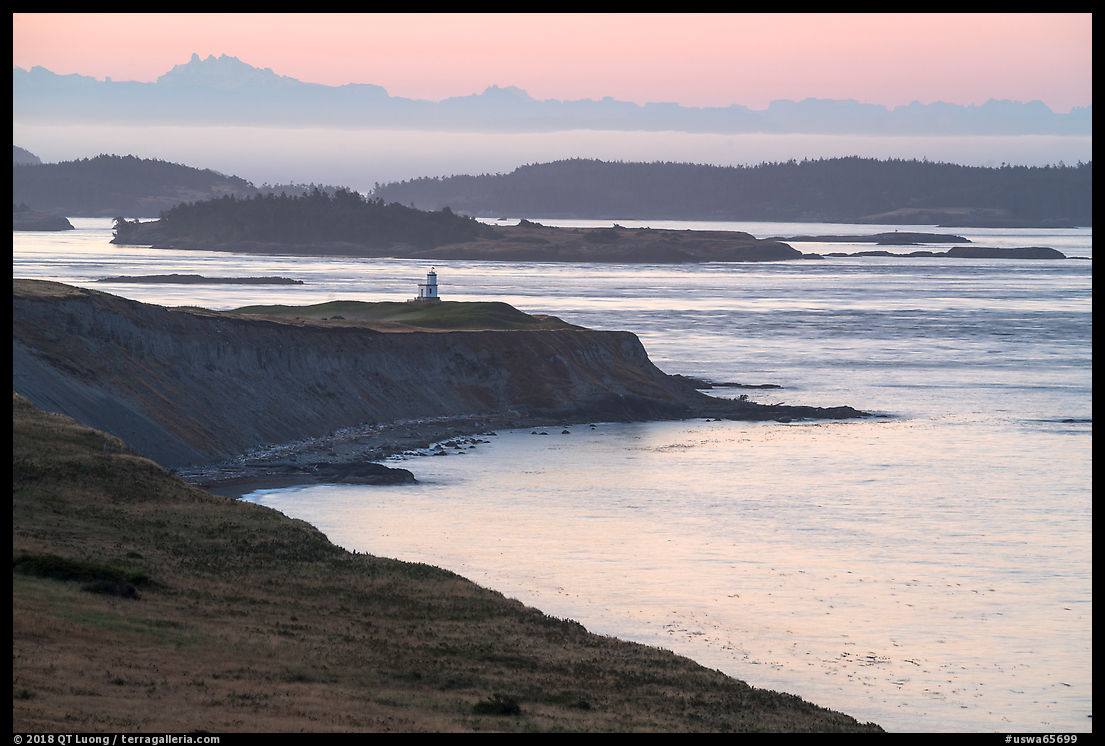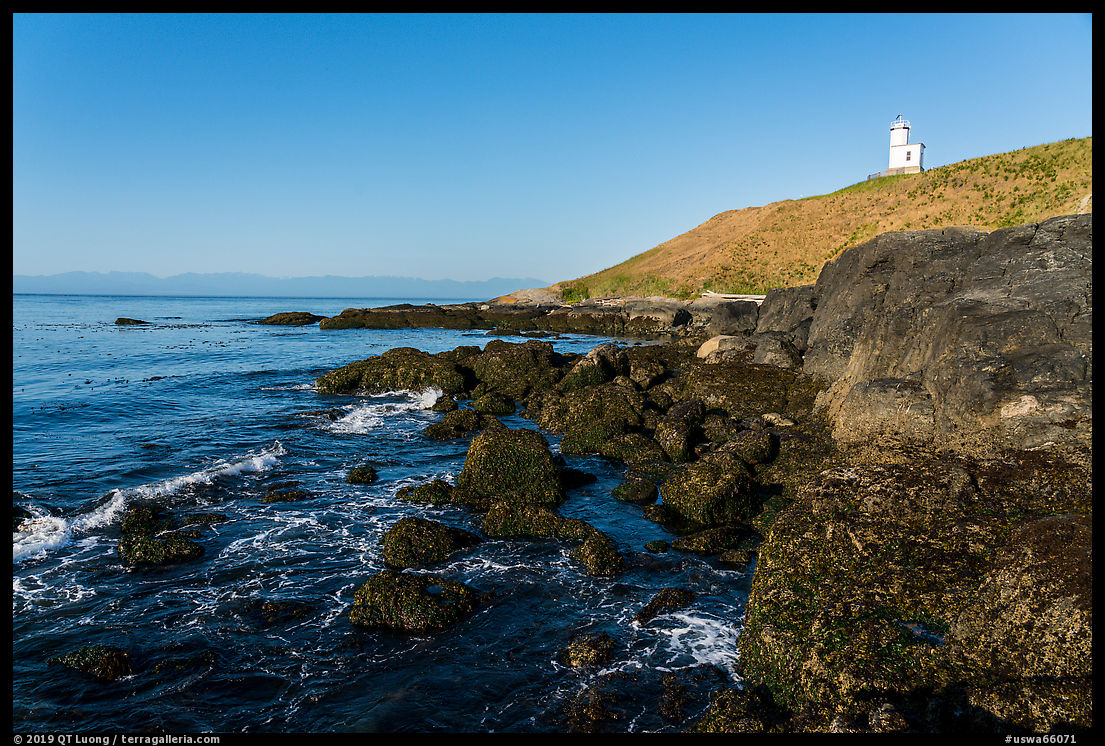 Lime Kiln Point State Park
Lime Kiln Point State Park features a rocky coastline lined with colorful madrone trees. The San Juan Islands are one of the best places in the world to observe whales from the shore, and Lime Kiln Point State Park is said to be a particularly good spot for watching orcas – sighting records are posted at the lighthouse.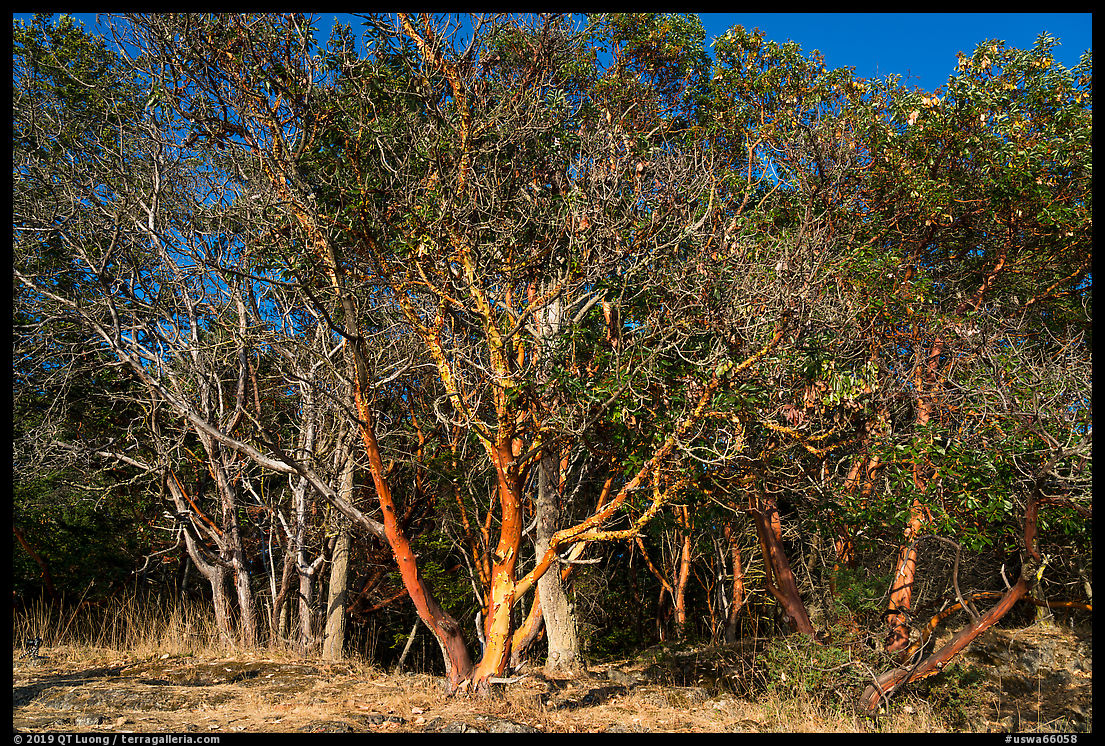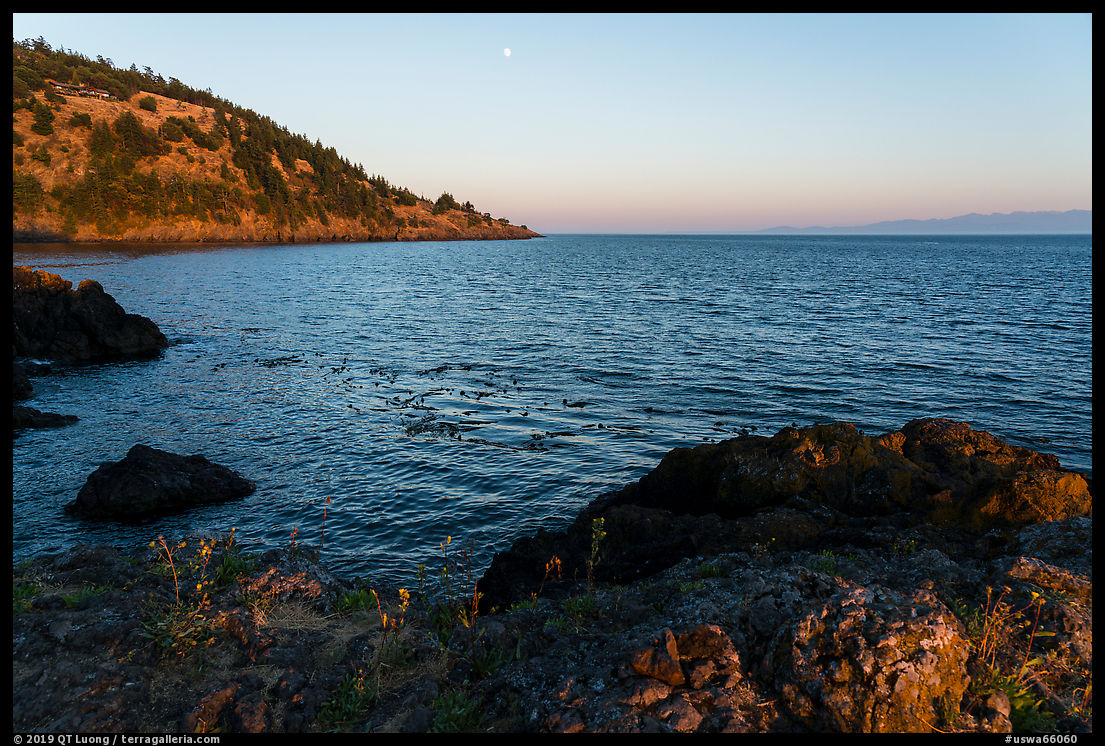 The photogenic lighthouse offers a range of compositions from both sides. Its west-facing orientation makes it one of the best choices on the island for a sunset. Twenty minutes after sunset time, the colors to the west intensified. The light became dim enough that the lightouse' light stood out, as I made sure to time my photograph with the rotation of the beam. One of the three campgrounds on San Juan Island is located three miles north of Lime Kiln Point at San Juan County Park.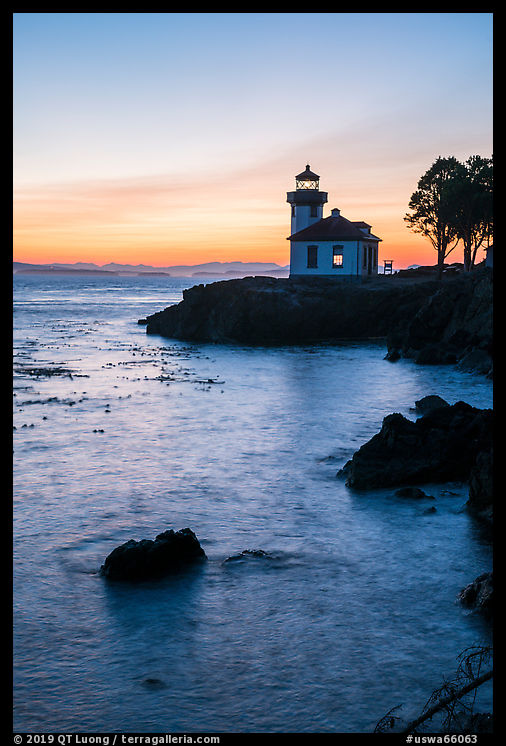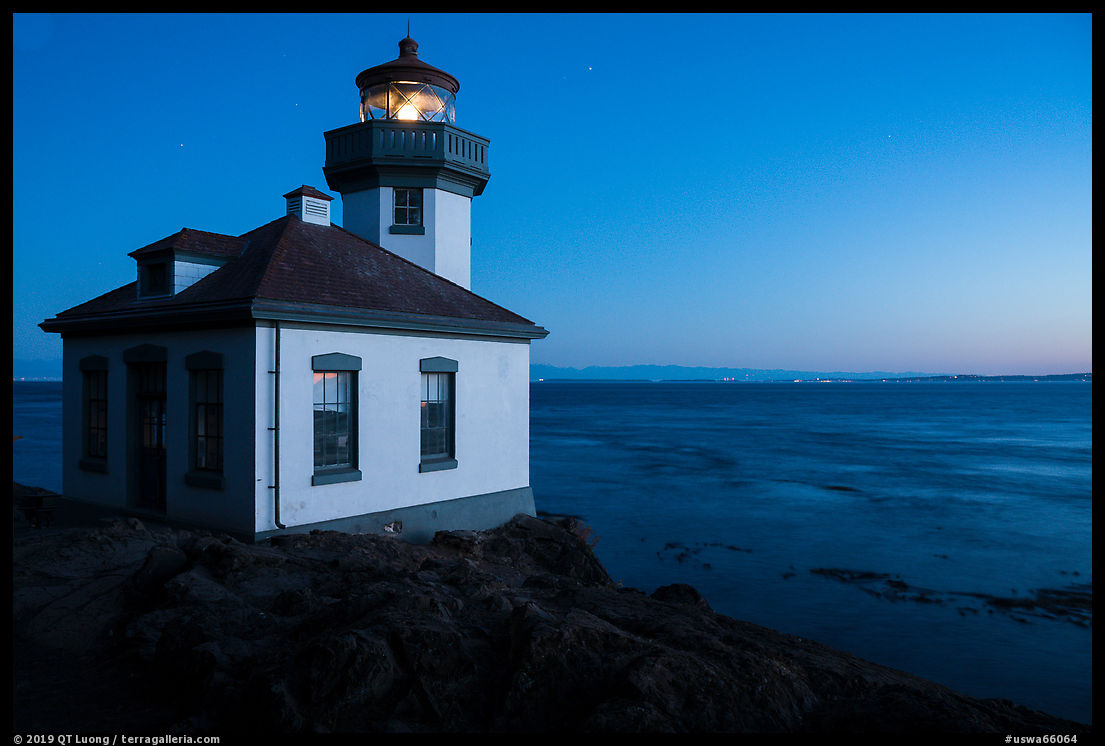 Thank you to Secure Data Recovery for making this series of posts possible. If you remember, I lost a week of photos from memory card failure. After that post appeared last fall, a representative from Secure Data Recovery contacted me to offer pro-bono recovery. I sent in my failed card and a new card for data transfer. My technologist friend was skeptical that they would succeed. However, they did, and this winter I got back all my files on the new card, with not a single one missing or corrupted. Well done and thanks!