The First National Parks Photography Book
12 Comments
As you all know, 2016 marks the 100th anniversary of the National Park Service. What is less known is that 1916 is also the year when the first photography book about the national parks,
National Parks Portfolio
, was published.
It was no coincidence. As recounted in the film by Ken Burns and Dayton Duncan, The National Parks: America's Best Idea, Stephen Mather built a formidable publicity machine to advocate for the creation of a new federal agency to oversee what had been a haphazard collection of National Parks with inadequate protection and management. National Parks Portfolio was a centerpiece of that effort.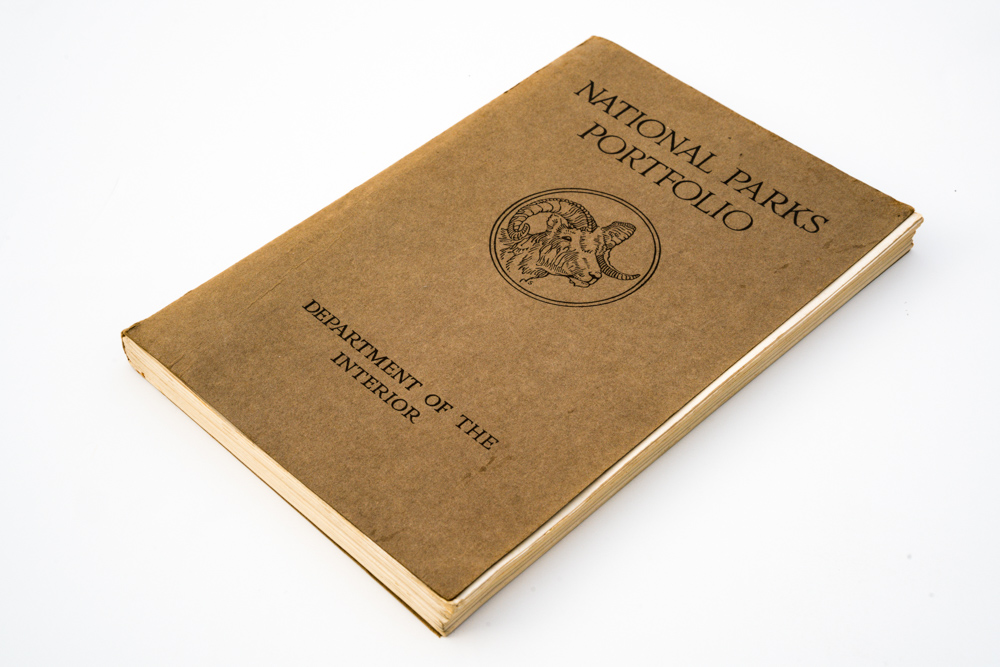 The cover of the publication gives credit to the Department of the Interior, however, the government had allocated no budget to cover its cost. So the financing model deployed by Mather was the same as some of today's self-published photography books: fund part of it out of his own pocket, and look for corporate sponsorship for the rest. Except that at more than one million of today's dollars ($48,000 in 1916), amounting to $3.8 per copy with a first printing of 275,000, that was an ambitious project by any measure, dwarfing any self-publication project that I know. The "sponsors" turned out to be the Western railroads – there was no Eastern national park yet. You can see their influence on the interior of the Portfolio cover, a map entitled "National Parks and Principal Railroad Connections", and the back of each booklet, which repeats the same map under the heading "How to reach the national parks", with street addresses of 17 railways companies.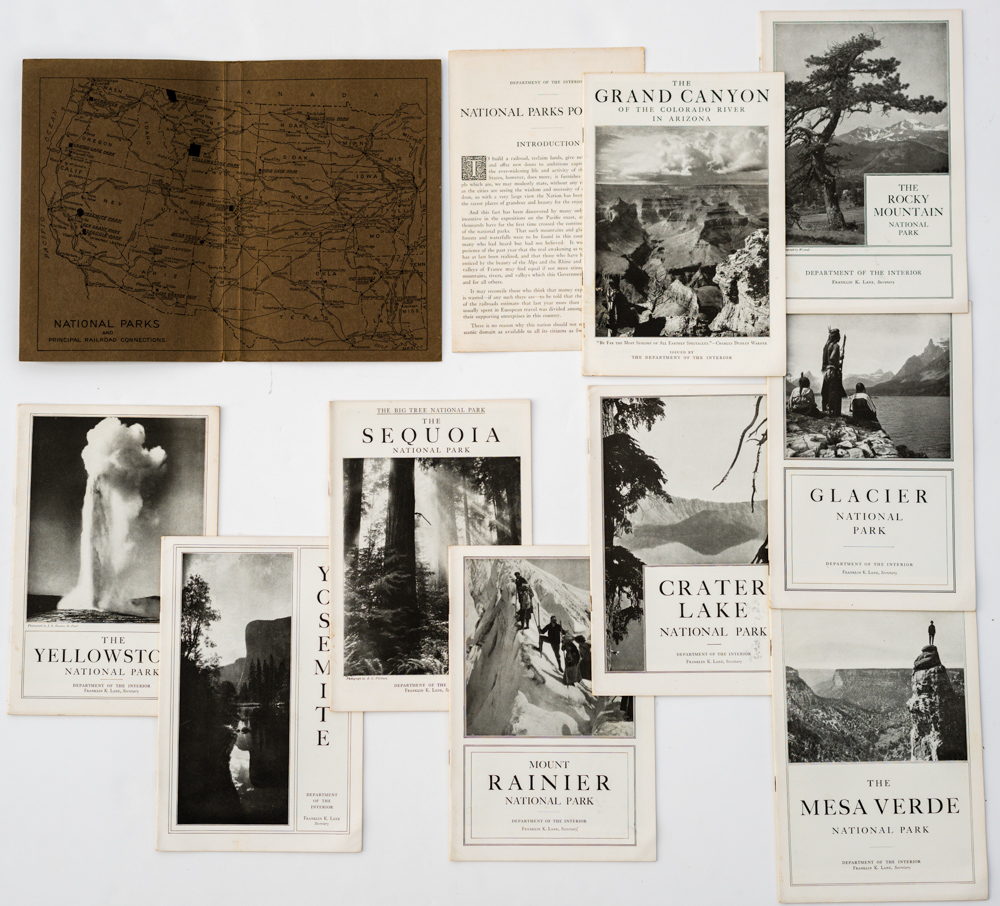 Rather than a bound book, the publication, put together by Robert Sterling Yard, consisted of a soft cover holding nine illustrated booklets of 24 pages and a trim of about 6×9 inches: Yellowstone, Yosemite, Sequoia, Mount Rainier, Crater Lake, Mesa Verde, Glacier, Rocky Mountains, and Grand Canyon – the later was still a National Monument at that time, but its significance was properly recognized. In the preface, printed in a separate spread, Mather writes: "This is the first really representative presentation of American scenery of grandeur ever published, perhaps ever made". The previous paragraph summarizes in succinct words what fascinated me so much about the national parks, and motivated me to visit each of them: "Each park will be found to be highly individual. The whole will be a revelation".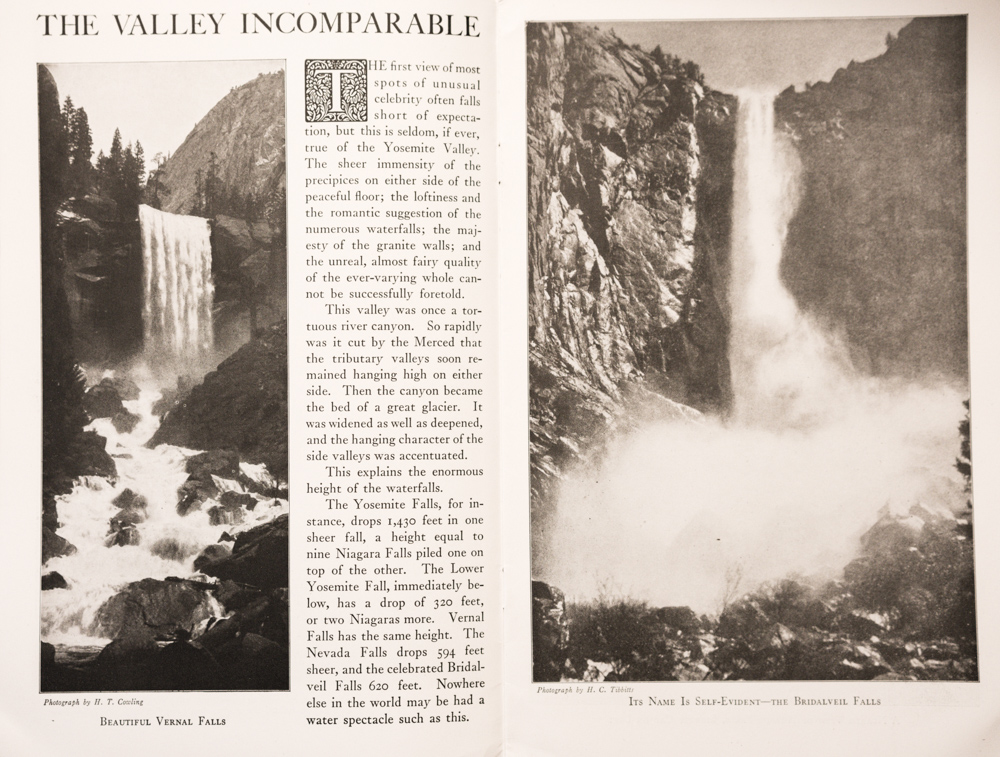 Although the printing quality pales compared to modern standards, and to original Watkins prints made 50 years earlier, leafing through the publication, you realize that some of your tripod holes have been in used for more than a century. This reminder that landscape photography had already reached a mature state back then helps put today's achievements in perspective. The last page of the Yosemite booklet includes an image of two women in long dresses, followed by a man who looks like a ranger, hoping over snow hummocks in the ascent of Mount Lyell, whose glacier looks much larger than it is now. The location is still on my to-do list.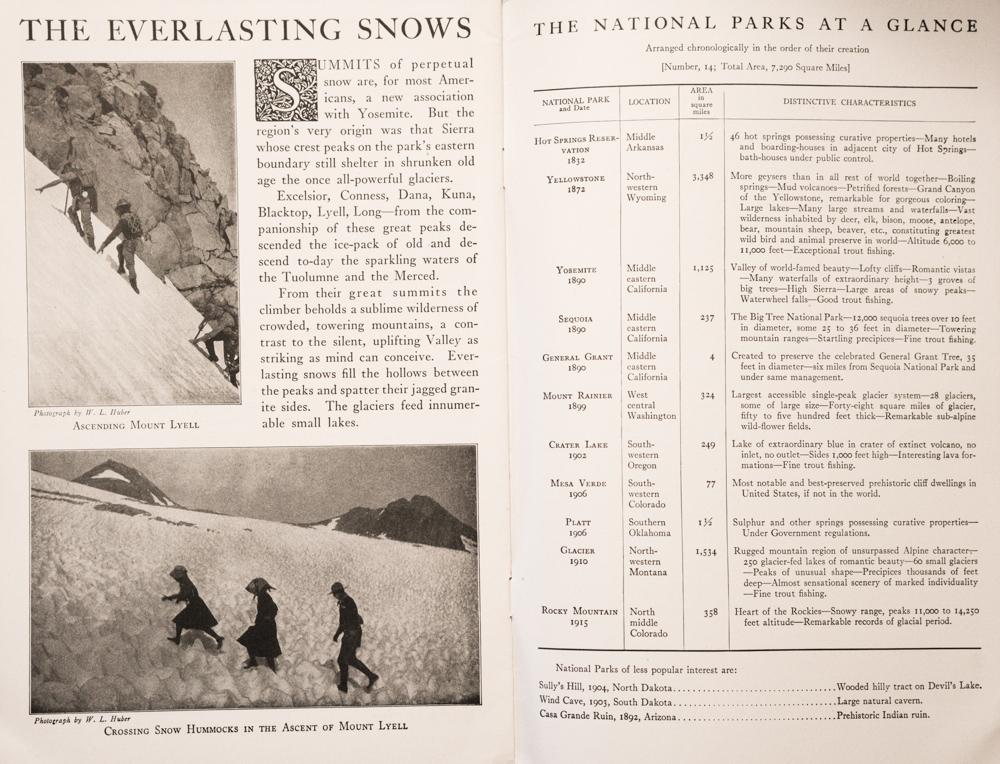 The whole publication is available in electronic format from the National Park Service. However, as a book collector, I was delighted to find a first edition copy in good condition. As I work on my own national park photography book, expressly designed to be 2016's version of National Parks Portfolio, It is cool to hold in my hands the one that started it all – exactly a century ago. In a century, our computers, tablets, and phones will certainly be obsolete, but this book has traversed a century, passing through the hands of many generations. In addition to his intrinsic power, it carries a great historic value. Although ebooks are a lot cheaper and more convenient, they lack the tactility and the focussed, distraction-free experience of reading a physical photography book. Viewing a form of art is an experience.