Photo spot 9: Grand Canyon National Park – Toroweap
2 Comments
The Grand Canyon defines immensity. It is so vast that the Colorado River, which has carved it, is a distant sight from most overlooks. The only place in Grand Canyon National Park where you can look straight down to the Colorado River from the rim is Toroweap. You will stand at the edge of a shear cliff with a 3000 ft drop with no railings.
While during the summer the overlooks on the South Rim can get crowded well before sunrise, at Toroweap, there is a chance you'll have the view for yourself, as Toroweap is within the Tuweep Wilderness, one of the most remote areas in the United States. From the North Rim, the driving time is almost four hours.
Toroweap is reached by driving CR 109, a 60+ mile graded, unpaved road that starts 9 miles west of Fredonia on hwy 389. Stay on the most heavily-traveled branch, and you'll arrive to a ranger station. After 5 more easy miles, the road crosses solid slickrock for the last 2 miles. With careful driving, a normal car can pass that section (I drove a Subaru Legacy), but watch for sharp edges that can cause tire punctures. When you reach the edge of the canyon, the road loops in a circle. You'll be only a hundred feet from the rim.
One of the most spectacular locations for a sunrise in the Park, the classic view looks northeast as the rising sun illuminates the vertiginous cliff below. For a change, I am displaying a photo of myself, taken with a programmable self-timer. Had my wife been with me, she wouldn't have let me even think about doing that. Views in both directions are interesting and should also be tried at sunset. You would be camping at a nice, but primitive site just fifty feet from the rim. Do not wander in the dark !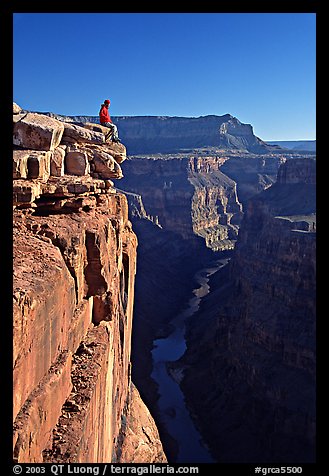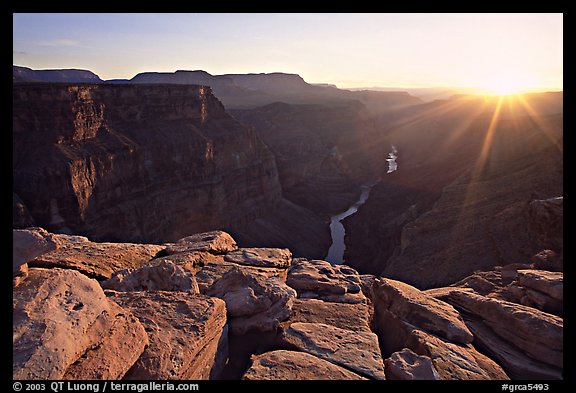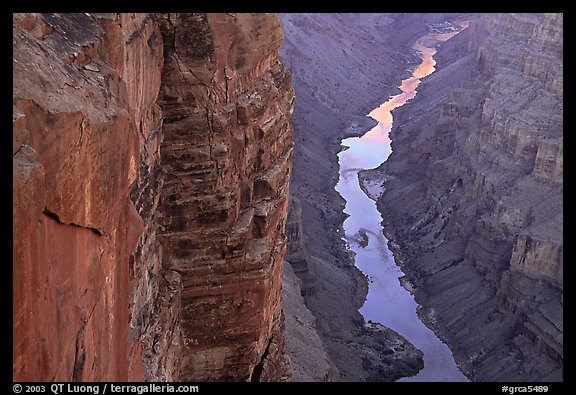 View all images of Grand Canyon National Park