Photo Spot 23: Petrified Forest National Park – Blue Mesa
No Comments
At the edge of the Painted Desert, erosion is washing away soft badlands to expose fossilized remnants of ancients forests. Petrified Forest National Park is the place to see a large concentration of perfectly preserved trunks, turned cell-by-cell to colorful stone. What makes the park unique is that eroded badlands with a variety of textures and shapes surround the petrified wood.
Of all the badlands areas, the most spectacular may be the Blue Mesa, where petrified logs can also be found in abundance. There, a well-marked one-mile trail leads you from the top of the rim into the bottom of a canyon surrounded by eroded cliffs, providing you with a variety of viewpoints over blue, gray and tan-stripped cliffs.
From the top of the mesa, look for abstract images of erosion patterns. As you come down, check the buttes stripped with colors. Inside the canyon, many logs can be found at the base of the washes. In particular, a gully on the west side of the trail features a chute of logs. Although the light is generally better in the afternoon, that particular gully would be lit in the morning. I waited for it to be fully in the shade of late afternoon. In the evening, the bottom of the canyon is in the shade. The Park is day use only with an exception made for backcountry permit holders. Even though, such a permit does not allow you to drive around after park closure. At sunset, you will need to be in your car, heading for the park exit, but if the conditions are right, it is possible to grab an image of the whole canyon with good light before heading out, especially in the shorter days of winter. I'd avoid visiting in summer, as temperatures can be hot.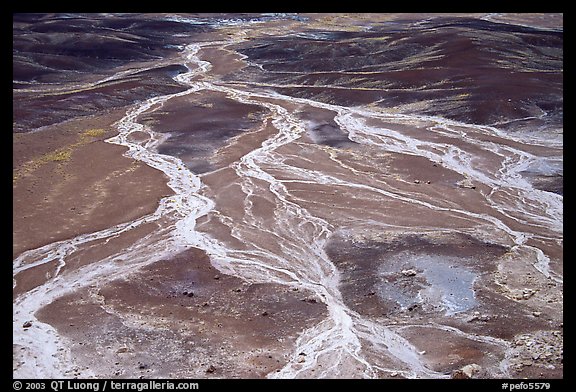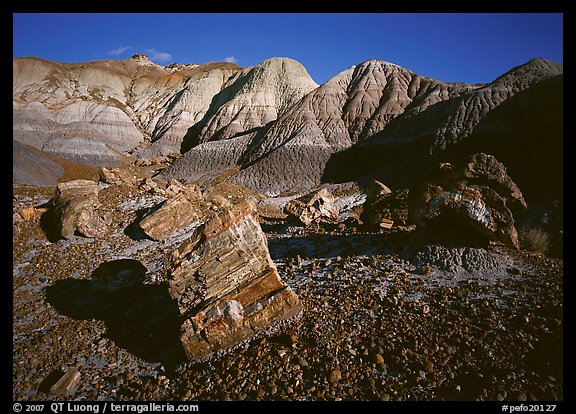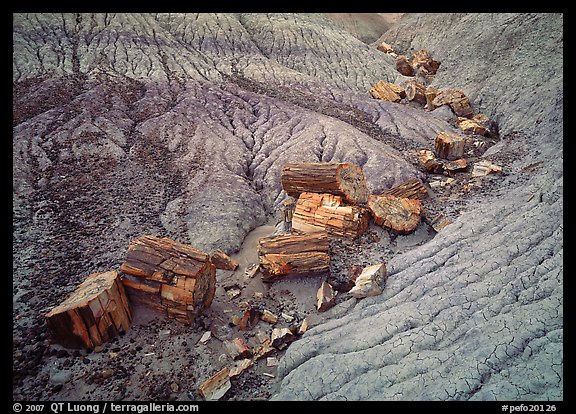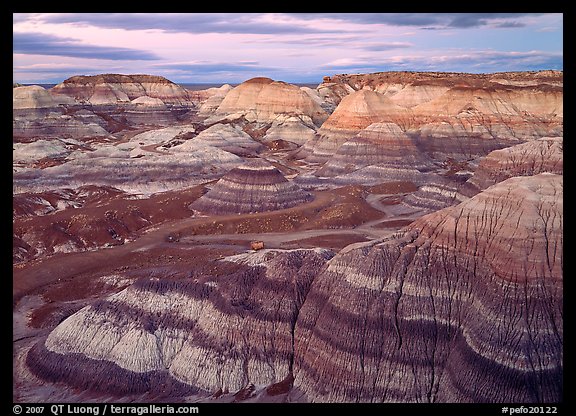 View more images of Petrified Forest National Park