Our National Monuments pre-order – National Public Lands Day
7 Comments
Last Thanksgiving, I
announced
a new book depicting all the national monuments subject to the review of 2017. We missed the initial target release date of National Public Lands Day today. However, I am pleased to confirm that
Our National Monuments
will be published on Nov 9, with a special pre-publication offer ending on that day.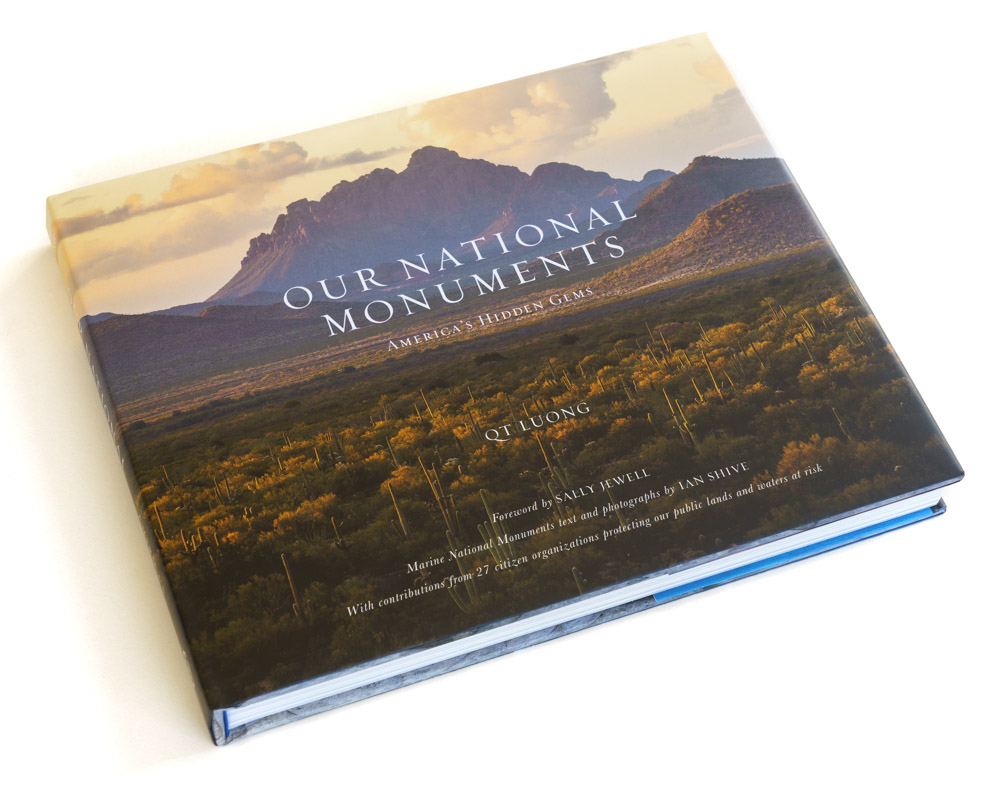 Our National Monuments breaks new ground as the first photography book entirely dedicated to America's national monuments. While the book includes only a subset of them (the 27 monuments at risk from the review), they comprise the vast majority of the large, park-like monuments. I am so grateful to 27 local citizen associations caring for those national treasures to make Our National Monuments the first book with their perspective, to former Secretary of the Interior Sally Jewell for her first foreword, and to Ian Shive for his photographs and words – they made it possible for this book to be the first to depict all the marine national monuments. I reprised the innovative format of Treasured Lands that combined an art book and a guidebook, depicting each national monument in depth through a selection of representative highlights with keyed maps and location information. There is much there, but I won't elaborate further on the book's contents since details and more spreads are provided on the book's website.
Treasured Lands was the almost accidental byproduct of more than two decades of explorations driven by a desire to experience the diversity of the national parks and photograph them in large format. After the review, President Trump eviscerated Grand Staircase-Escalante and Bears Ears National Monuments in December 2017. I immediately resolved to take action the only way I knew by visiting and photographing the 22 land-based monuments. I had the concrete goal to publish a book that could help conservation organizations raise awareness of those lands. Leaders of the Conservation Lands Foundation, the umbrella organization for many community-based advocates participating in the book, have confirmed how useful Our National Monuments will be for their efforts. To be most impactful, this contribution had to come out in the two-year window when a debate about protections of those lands could be re-opened and political action taken. I had to complete the project within just three years. The pandemic made it more challenging, but embodying the principle that public lands are open to the public, at least the BLM national monuments remained freely accessible. The pandemic also complicated publication logistics, resulting in significantly increased costs, but I plowed ahead to ensure a timely publication.
Treasured Lands, conceived as a tribute, is now in its 6th printing. Its success stems from being a best-in-its-class book on a popular subject. The lands and waters depicted by Our National Monuments are quite obscure – if they can even be identified as such from the book title by most people. Therefore, I do not expect the book to be as commercially successful. Selling out the copious first printing would only cover my writing and publishing time at minimum wage. As for the travel, that I was privileged to have spent months in those beautiful landscapes was in itself enough of a reward. On the other hand, the general lack of awareness of those lands is also why I felt this book is needed. I hope to inspire readers to discover, visit, love, and protect those beautiful and critically important public lands. In Treasured Lands, I tried to highlight lesser-known parks and sometimes lesser-known corners of well-known parks. The new book goes a step further in highlighting lesser-known lands. On National Public Lands Day, we appreciate the lands that belong to all of us and maybe try to give back by volunteer work. Our National Monuments is my gift to our public lands and those who care for them.