Lehman Cave, Then and Now
No Comments
Twenty years ago, I photographed Lehman Cave on a private tour. Last month, I participated in a regular tour. A comparison of photos from both occasions shows how much camera technology has changed for the better.
Accessed by way of Hwy 50, "the loneliest road in America" in the middle of the American West (some would say in the middle of nowhere), Great Basin National Park is one of the least-visited national parks. Even when crowds fill the Southern Utah and California national parks, midway between them, Great Basin remains quiet. It's not because of the lack of attractions. I cannot think of any other national park that offers a more intriguing mix of natural wonders: a peak with one of the most southerly glaciers, bristlecone pines and aspen growing nearby, a six-story limestone arch, and a cave with rare formations.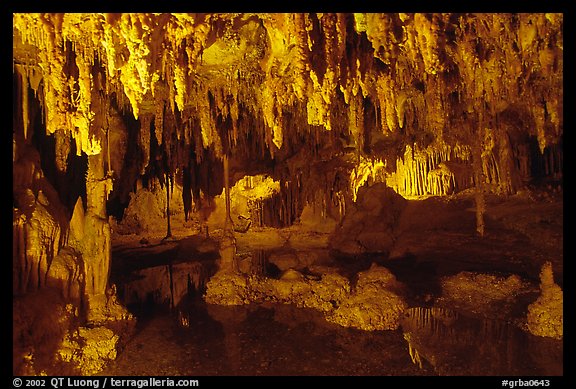 The Swamp, 1995. Fuji Velvia, exposure unrecorded
Lehman Cave is relatively small but is remarkable for the beauty of its intricate formations, which you can view from quite close. The most famous are the Parachute Shields, which Lehman Cave has in unusual abundance. Tours are conducted right from the visitor center, and I recommend the "Grand Palace Tour," the longest one available, covering only 0.6 miles in 90 minutes. Tripods, backpacks, and even camera backs are not allowed because you walk in narrow and heavily decorated passageways.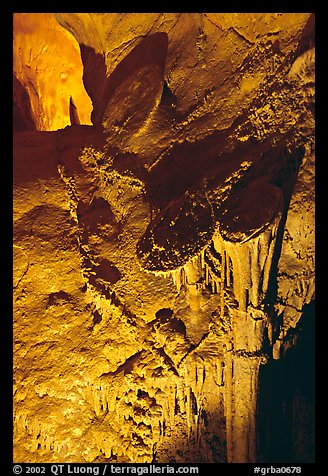 Parachute Shields, 1995. Fuji Velvia, exposure unrecorded
Twenty years ago, on a low-season fall visit, I was able to arrange a private after-hours tour on short notice, paying the ranger for overtime. At that time, with slide film, it was just not possible to obtain any usable image without a tripod. My large-format exposures lasted several minutes. In the course of the month-long trip, I traveled across the Canada-US border, and most of those shots were ruined when an x-ray machine fogged the film. It was the first of several incidents I experienced with large format film, made more heartbreaking by the effort required to make the photographs. Fortunately, the 35mm frames I had made as backup survived.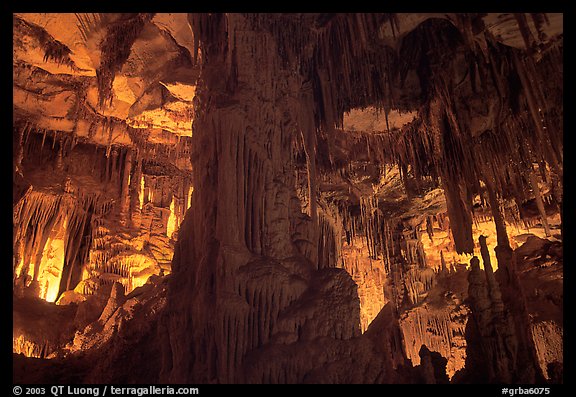 Grand Palace Room, 1995. Fuji Velvia, exposure unrecorded
Last month, I revisited Lehman Cave with our family of four. I was hoping to re-photograph the Swamp, an area of columns reflected in an underground pond, but it turned out to be totally dry due to low rains. Two decades ago, in such a situation, the National Park Service would artificially fill up the pond. But respect for natural processes grows stronger all the time, and this practice has now been discontinued. I was not able to improve the twenty year old shot, but found a few new ones.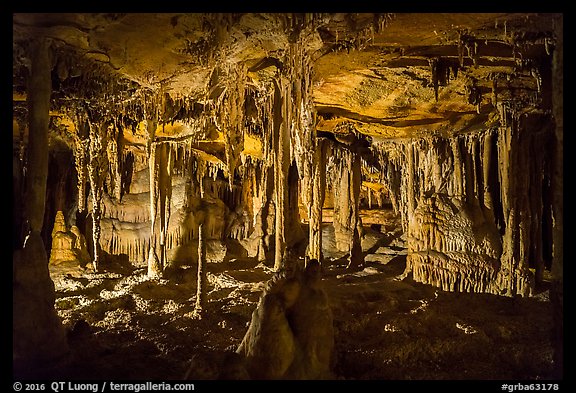 The Swamp, 2016. Sony A7R2, 24mm, 1/20s at f/4, ISO 3200
I had stuffed a 20mm f/1.4 lens in a pocket (since no bags are allowed) but due to the close proximity of the foregrounds, shooting it wide open resulted in blurred areas due to the shallow depth of field. I ended up using two f/4 zooms, a 24-70 and 16-35.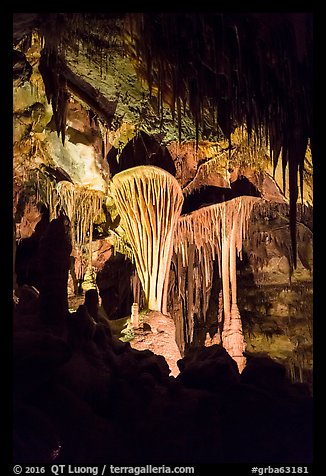 Parachute Shields, 2016. Sony A7R2, 62mm, 1/80s at f/4, ISO 10000
In combination with the remarkable in-body image stabilization and high ISO capacities of the Sony A7R2, although I was shooting hand-held, I got technically much better images than I was able to obtain twenty years ago with slide film on a tripod. Not only they were considerably sharper and with more dynamic range, but also by adjusting the color temperature of the RAW files, I was able to bring out colors and contrast that were lost to slide film under incandescent illumination, in particular in the photographs of the rare Parachute Shield formations. The RAW files shot at high ISO did exhibit a fair amount of noise, but the standard noise reduction built into Lightroom made short work of it.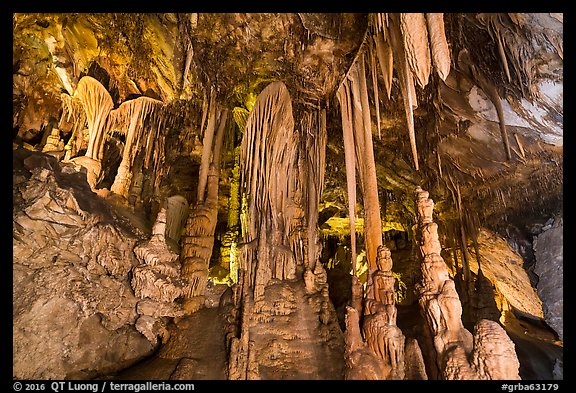 Grand Palace Room, 2016. Sony A7R2, 17mm, 1/20s at f/4, ISO 3200, flash
Although one needs to be considerate of other visitors, flash photography is permitted, and most of the rooms have low ceilings favorable for bounce flash, which produces better results than direct, on-camera flash. In the Grand Palace Room, possibly the center piece of the cave, the central column wasn't well-lit twenty years ago, and is still dark today compared to the rest of the room. This isn't ideal, since the central column is the main subject. But in the intervening twenty years, I had added portable flash to my arsenal of techniques. With just a bit of bounce fill-flash from a tiny unit, I was at least able to bring that central column to light. The room was filled up while the ranger did a talk, but I simply waited for it to end, stayed behind for less than a minute to compose the shot, and quickly caught up with the tour group. It's certainly a good time to take pictures!