Bigelow Cholla Garden Wilderness
No Comments
Day 2
In Mojave Trails National Monument, Bigelow Cholla Garden Wilderness, 18 miles west of Needles, protects California's densest population of the fluffy cactus. The Wilderness area is bounded by I-40 on the north and power utility roads on the southwest and southeast. On my first visit, I tried to drive the later roads in a regular SUV starting from the Water Road Exit, but they seriously degraded towards the east, and I had to turn around before locating the dense stands of cactus. The photograph below, made by standing on the car roof, is the best I could find. Not exactly dense.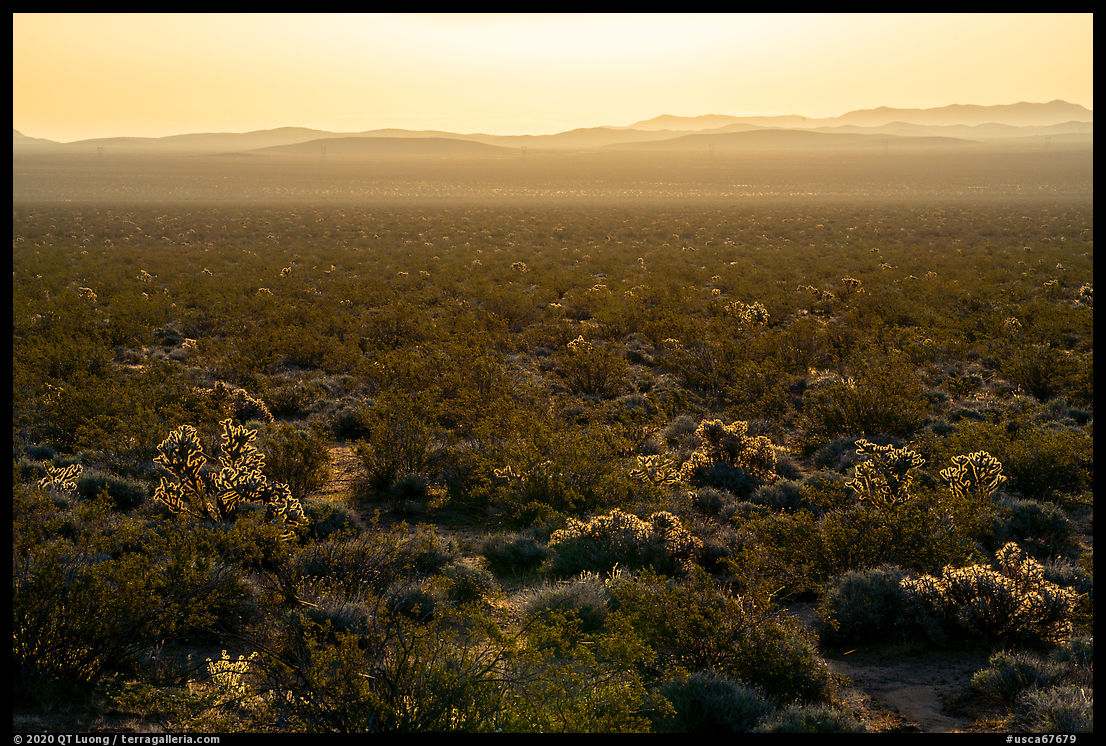 Looking for more information about the area, I found the name of a BLM land manager who had posted images. Although he was no longer working in California, by contacting a local BLM bureau, I was able to get in touch with him. I learned from him that the easiest way to access dense stands of Bigelow Cholla cactus is right from I-40, just before South Pass. When planning my next trip, I used Google Earth to try to decide whether to show up for sunrise or sunset. Google Earth has a slider that lets you visualize shading at a given time of the day and year. It appeared that the light would be better at sunset (2nd image) since at sunrise closer hills on the east would block the light, as evidenced by the darker tones.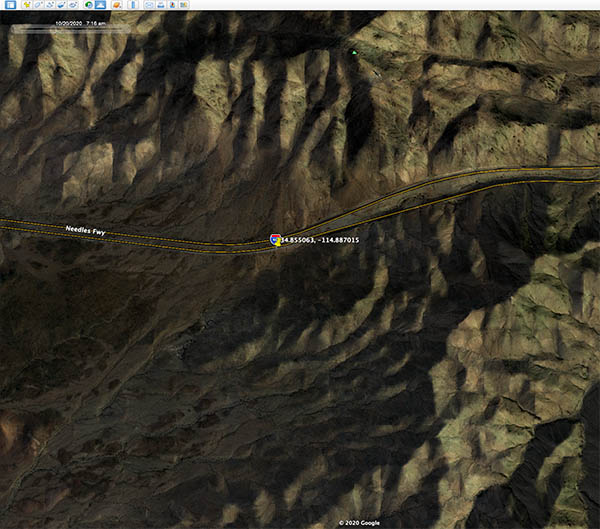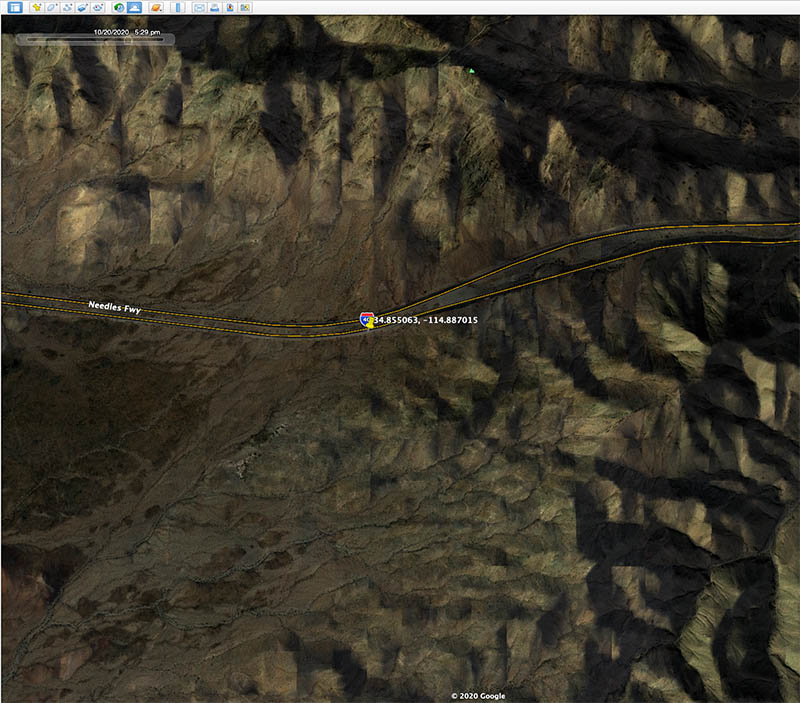 However, since I would be driving from San Jose and also planned to visit Bonanza Springs, located west of Bigelow Cholla Garden Wilderness before continuing on to Arizona, visiting the Bigelow Cholla Garden Wilderness at sunset meant that I would have to backtrack at night to be at Bonanza Springs for sunrise. Not only that, but I would be parked on the eastbound side of the I-40 and would need to continue east for quite a while to the next exit before going back west. Since it was already high-mileage a solo trip in an SUV, I didn't like the idea of backtracking. Having read that Bonanza Springs requires 4WD, I also didn't like the idea of trying to get there at night, when it is more difficult to see the road. So I decided to visit Bonanza Springs at sunset and Bigelow Cholla Garden Wilderness at sunrise.
In the previous entry, you can read how this plan turned out. By the time my replacement car had arrived, it was already mid-afternoon, way too late to make it to my next destination near Tucson before dark. That delay was a blessing in disguise, as it made it possible to photograph at sunset rather than sunrise. Going eastbound on I-40, South Pass has an enlarged shoulder used for emergency parking by trucks, with signs prohibiting non-emergency stops. I made sure to pull over before getting to South Pass. From the freeway shoulder, decent telephoto images are possible, but getting closer is much more satisfying.
Walking less than half a mile into the wilderness, I found those stands more extensive and dense than Joshua Tree National Park's famed Cholla Cactus Garden. The land slopes towards the west. As the backlight of the late afternoon made them glow, I was elated to be able to walk cross-country around them in topographically diverse terrain with nobody else around, but even armed with a comb and pliers to remove spines, I had to be careful not to brush or even step on cactus segments, as the spines would easily go through my shoes.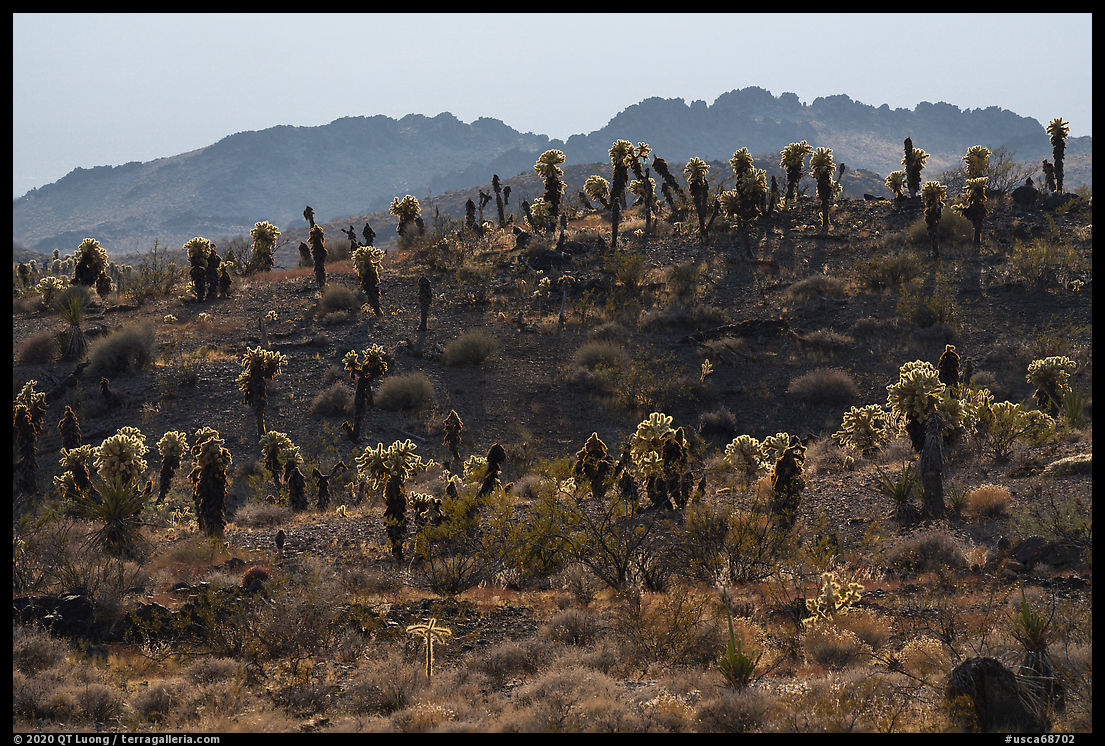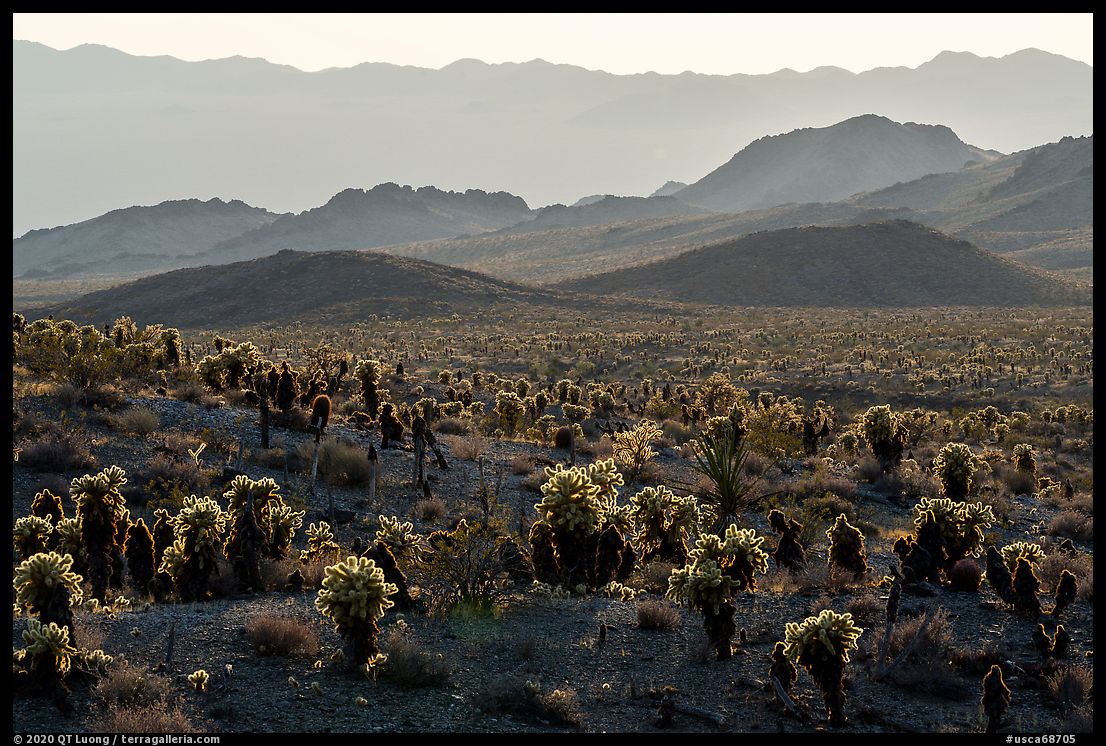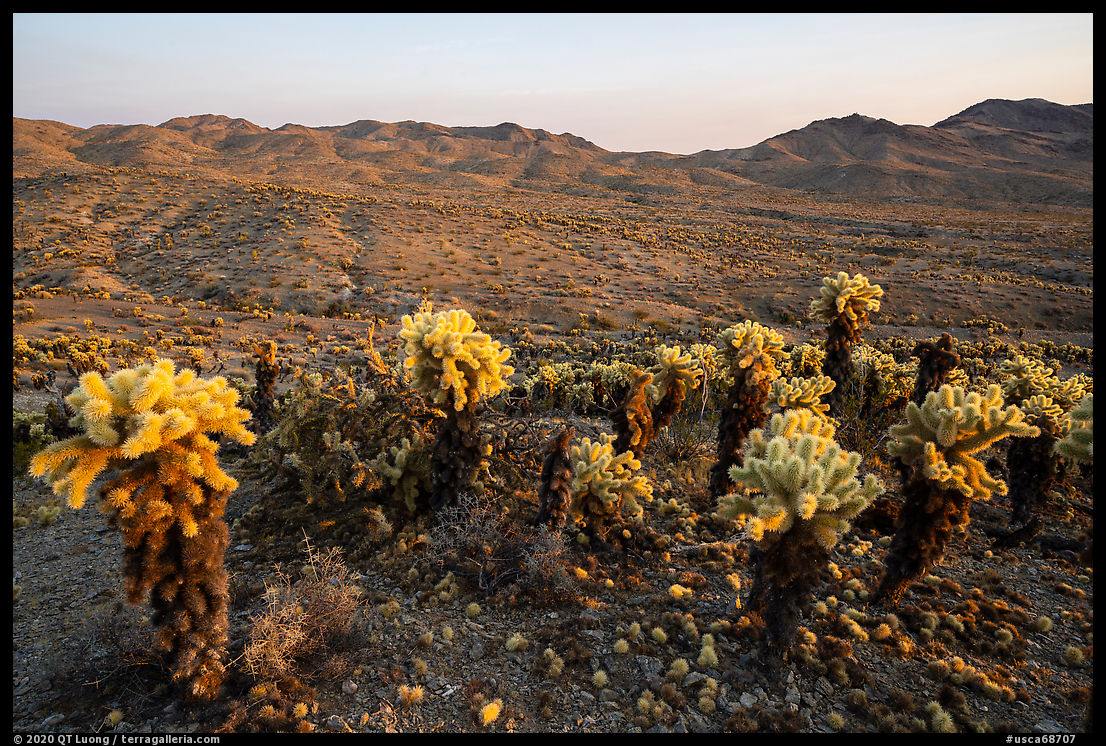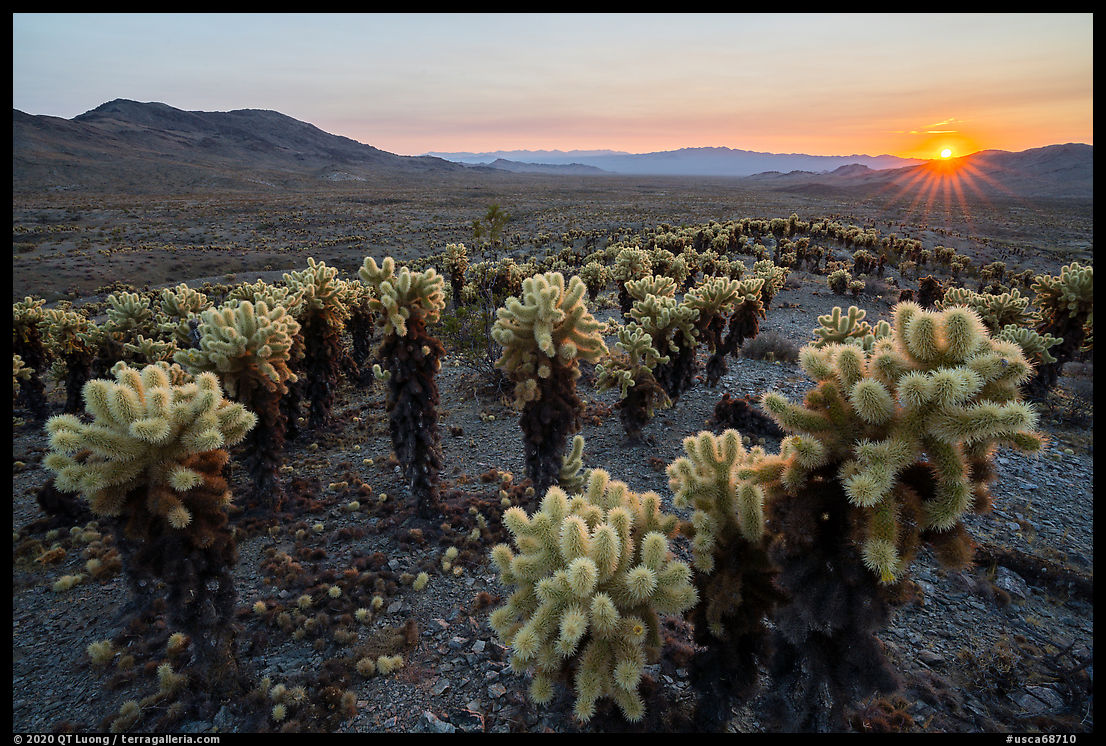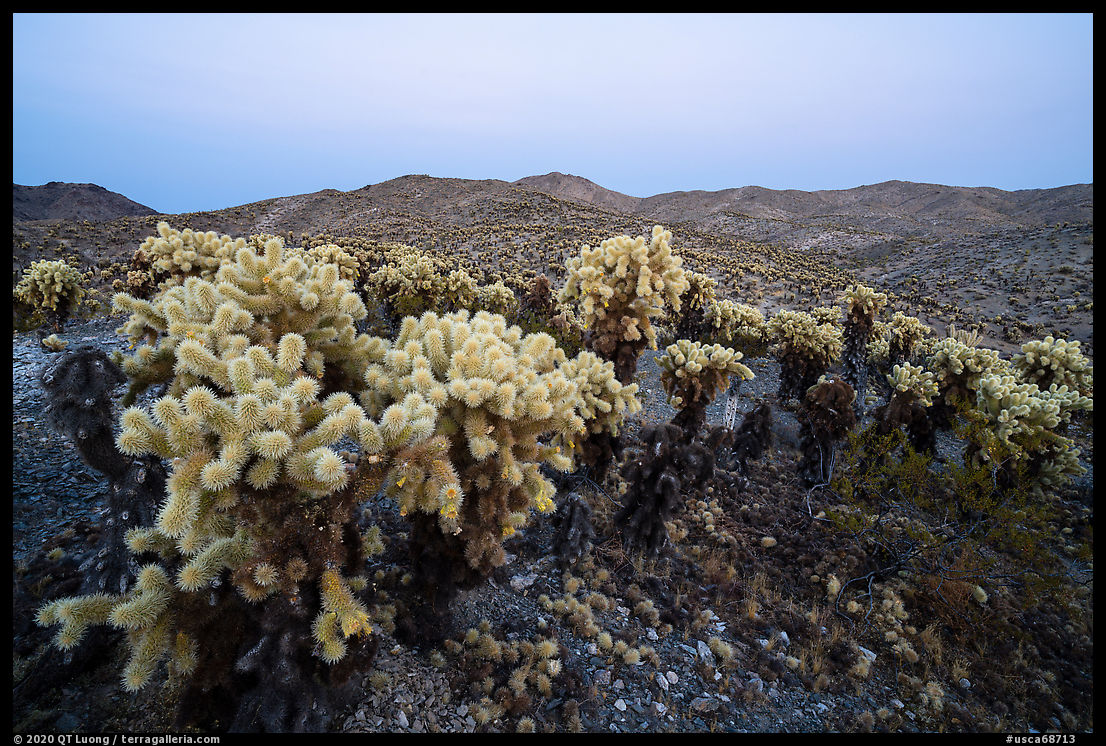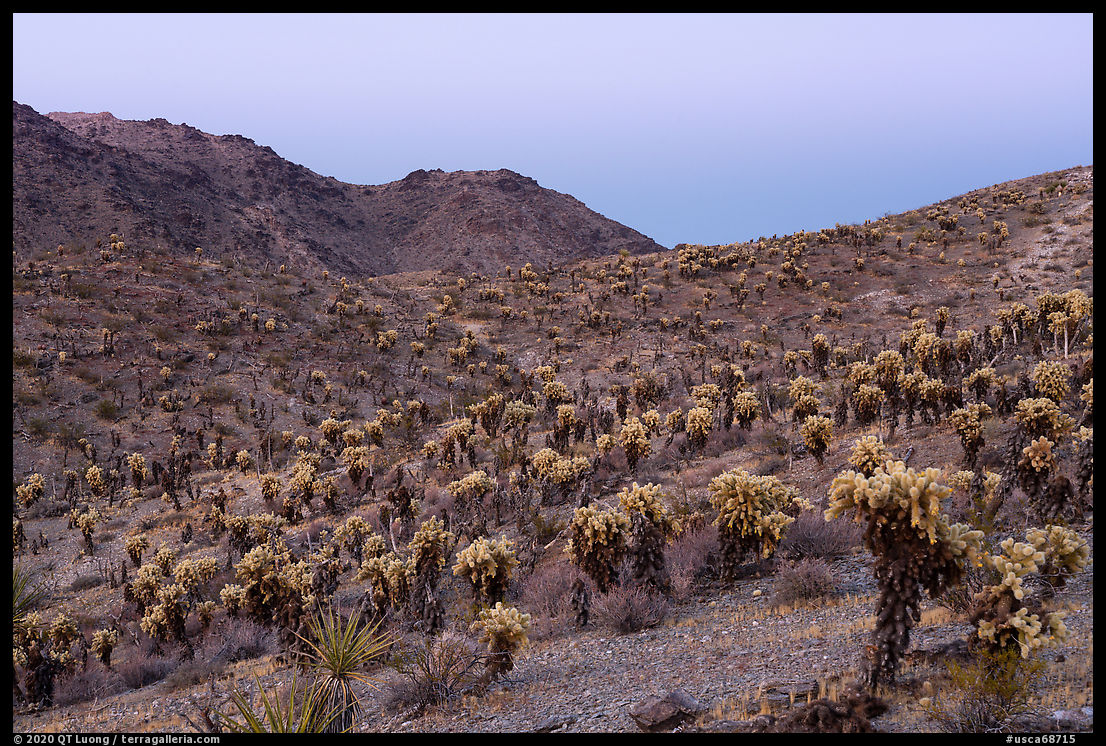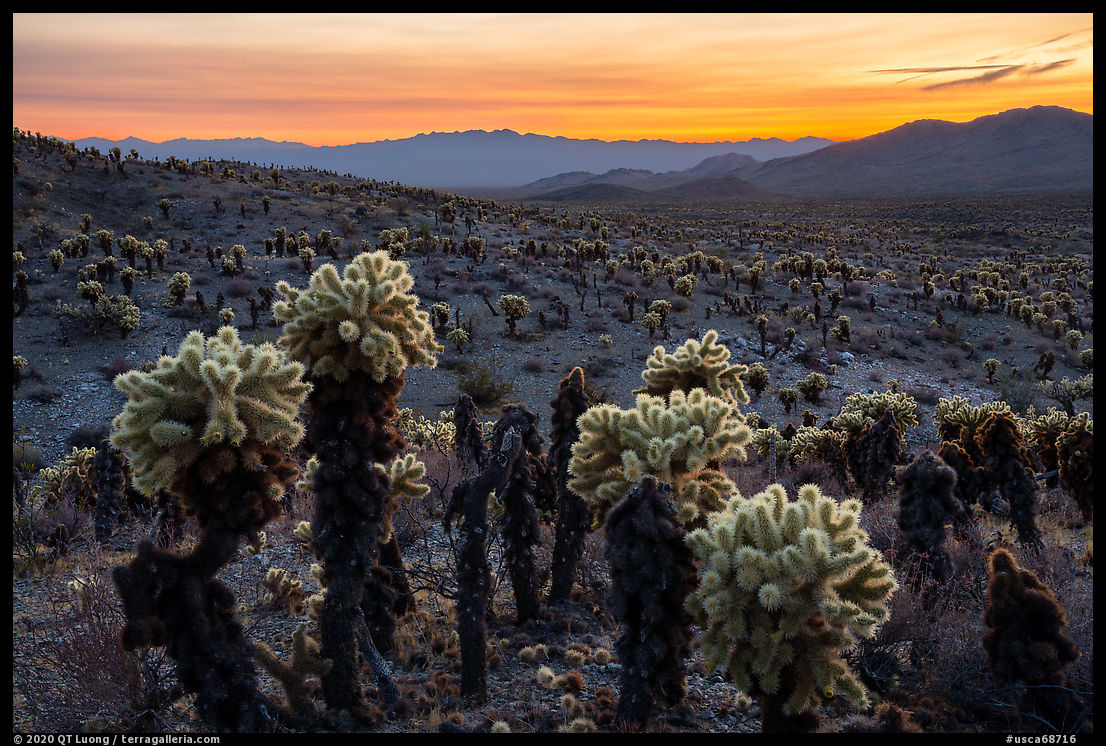 I got back to my car as darkness felt around 6:45 PM, and started on the 350-mile drive to my next destination, Ironwood Forest National Monument. For the first half of the drive, the route did not follow freeways, but instead US-95, at this point winding and plied by many commercial trucks. At last, I got in sight of I-10. After refueling, I got my usual Subway veggie sandwich. It turned out to be the most sour ever, and the last time in a week I would buy any food. Due to the vagaries of time zones – Arizona is on MST but doesn't observe Daylight Savings, the GPS estimated time to arrival jumped up by one hour, making me wonder how much sleep I would get since I had planned to start hiking up the mountain before sunrise the next day. It eventually self-corrected, and I arrived at 12:30 AM.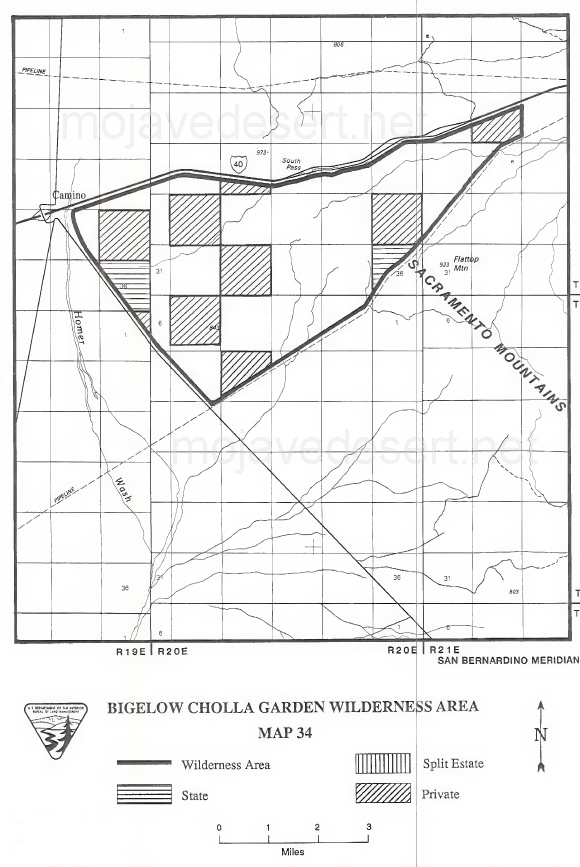 The Last Road Trip: 1 | 2 | 3 | to be continued