Yosemite unseen IV: Indian Arch and North Dome
No Comments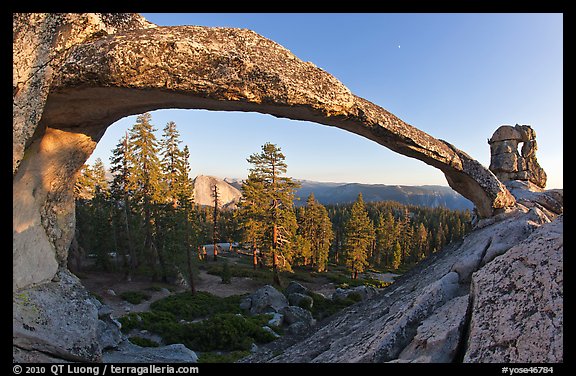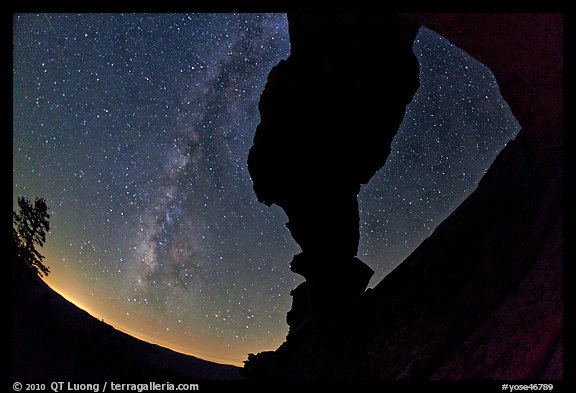 The three first hikes in this series may have given the impression that to see something out of the beaten path in Yosemite, you need to venture out of established trails, on exposed or strenuous paths. This could well be true of Yosemite Valley, so unique and so full of landmarks such as Yosemite Falls and Half Dome that it is easy to forget that it occupies a mere 7 square miles. Its small area and steep walls limit the number of trails. However, the greater Yosemite National Park stretches over 1,200 square miles. Only 5% of visitors venture outside of Yosemite Valley. Be amongst them, and you will discover relatively little known sights even along a well-established and easy trail such as the one I'll describe in this post.
Natural sandstones arches are relatively common (Arches National Park alone features more than 2000 of them), but granite arches are much more rare. There is only one such known arch in the whole Sierra Nevada, and although it is situated right in Yosemite, most have not heard of it.
The Indian Rock Arch is reached from a short spur trail branching out of the Porcupine Creek to North Dome trail. The whole trail is about 10 miles RT with modest elevation differences, easy to follow and shaded, except for the final section when you drop down to North Dome. You will not be alone, however the trail is much, much less crowded than those found in the Valley.
When you get out of the forest, near the rim, you get a wide and unusual view of the Valley. The vertical Half-Dome face is right in front of you, and contrasts with the rounded top of North Dome.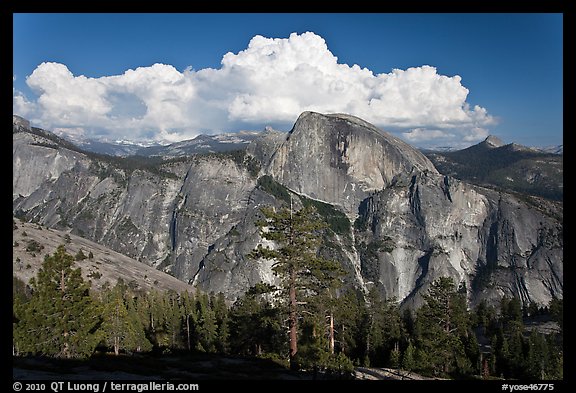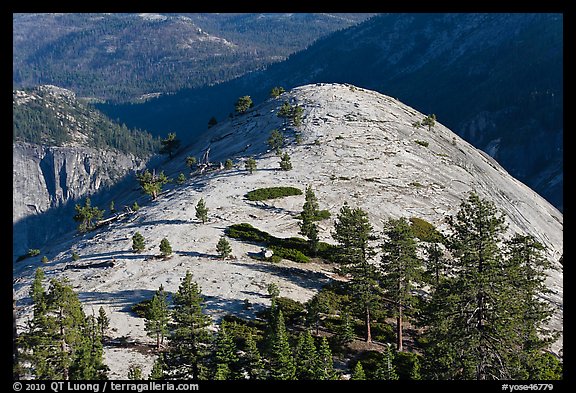 Drive to the Porcupine Flat trailhead on Tioga Pass Road (so accessible only in summer and fall), about a mile east of the Porcupine Flat campground, marked by a small parking area and an outhouse on the south side of the road.
From there, starting at about 8,100 feet, you will loose 300 feet of elevation over 1.5 miles and gain it back as you reach a pass at the top of the Indian Ridge at mile 3.5. You will see a sign pointing to Indian Rock, which is about a steep third of a mile north.
After that junction, the trees clear soon, and you come in view of North Dome. The descend to North Dome is rather steep, crossing granite slabs and loosing about 600 feet, but reaching the top of North Dome rewards you with 360 degree views.
For photography, the best conditions are in late afternoon to sunset. There are dwarfed junipers on North Dome that would make for a nice foreground to a sunset Half-Dome shot – for which I'll have to return one day. During my visit, instead of staying at North Dome for sunset, I went back to Indian Rock Arch. The west side of the arch, as seen in the first image is its more interesting, as you can get high enough to see Half-Dome through the opening (but please don't step of the arch, as it looks quite fragile !). That side is well lit at sunset. From the other side of the arch, you are looking up, which I used to my advantage for the night shot. Capturing both images required an extremely wide angle lens. I very seldom use or even carry my 15mm fisheye, but I was glad that, anticipating a tight space, I brought it that day.
More images of North Dome and Indian Arch.
Part 4 of 6: 1 | 2 | 3 | 4 | 5 | 6
Check out my book: Spectacular Yosemite