Photo spot 6: Capitol Reef National Park – Strike Valley Overlook
One Comment
Capitol Reef National Park offers more geological variety than any other park on the Colorado Plateau, which itself is possibly the most unique area in America for natural landscapes. You can find there multicolored cliffs and domes, slot canyons, arches, stone monoliths, and badlands.
Most visitors stay on UT 24 and the scenic drive, both of which cover only a tiny portion of the park. Venture on the dirt roads south or north of UT 24, and you'll make fantastic discoveries. You will see only a few souls during a whole day if you come off-season. These opportunities for solitude, as well as the variety of landscapes make Capitol Reef one of my favorite national parks.
The main feature of Capitol Reef National Park is the Waterpocket Fold, a 100-mile long wrinkle on the earth's crust consisting of an uplift of sandstone cliffs with colored horizontal layers. After getting the official NPS map of the park, you will notice that they have used an aerial photograph as the cover image, whereas in general the cover images for those maps are landscapes photographed from the ground. This is because it takes a high viewpoint to reveal the structure of the Waterpocket fold, and none is readily available in the park, except for the Strike Valley Overlook, which comes closest.
The Strike Valley Overlook is a remote vista point, far from any facilities, so plan accordingly, which ideally means being ready to camp primitively in the desert under exceptionally clear skies. From the Burr Trail (accessed from Boulder or from the gravel but well maintained Notom Bullfrog Road), take the 3 mile long Upper Muley Twist Canyon road to the north, marked by a "Tour stop" sign. The junction is about a mile from the Burr Trail switchbacks that cannot be missed. The Upper Muley Twist Canyon road can be very rough, but with careful driving does not necessarily require the high-clearance of a 4WD. I have driven it with my Subaru Legacy (not Outback). In doubt, you could always walk. From the trailhead parking, you will see two trails. One heads north into Upper Muley Twist Canyon. The other heads east to the Strike Valley Overlook, first following a sandy wash, and then up a slickrock slope. It takes about half an hour to reach the rim of the Waterpocket fold.
You will be a thousand feet above the Strike Valley with great views. The light is best in the afternoon. Before sunset, the Strike Valley is in the shade, but at dusk, the light becomes even again. I suggest driving by night to Halls Creek overlook, which is nice at sunrise.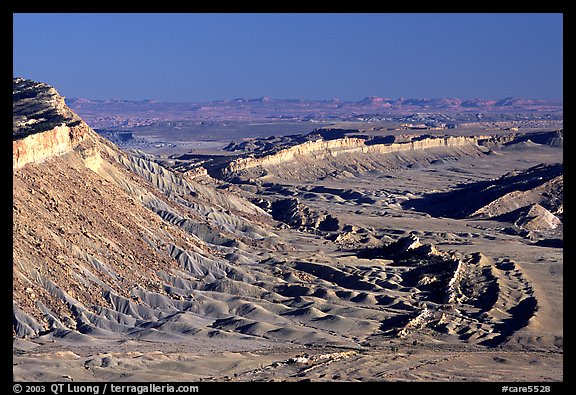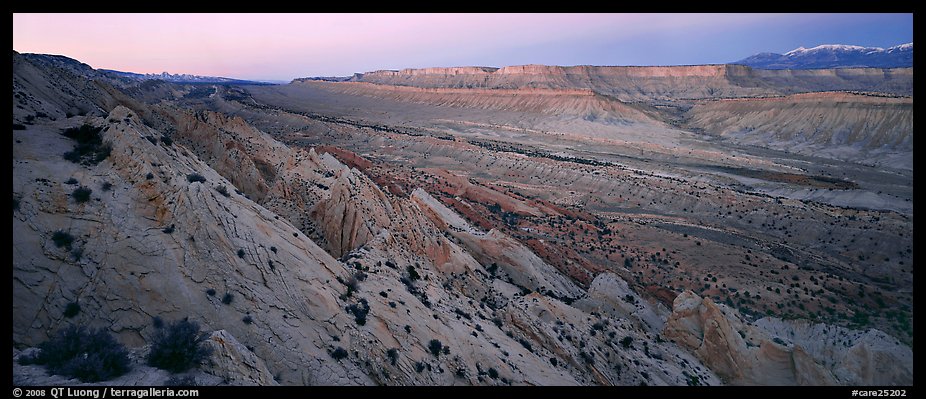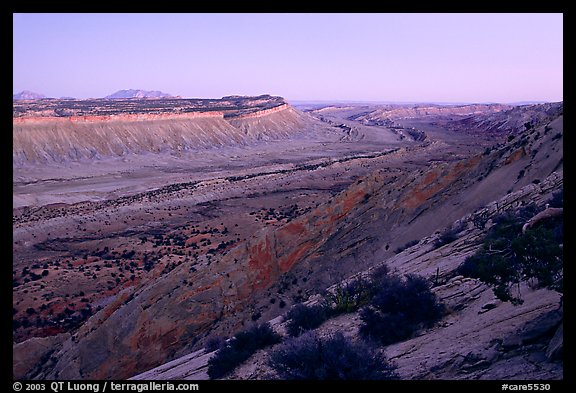 View all images of Capitol Reef National Park