Photo spot 17: Redwood National Park – Damnation Creek Trail
3 Comments
Redwood National Park protects a forty mile long stretch of foggy California coastline, home to the earth's tallest plants, the giant redwood trees. The national park is made up a patchwork of state parks. Situated in Del Norte Coast Redwoods State Park, the Damnation Creek Trail is unique in that it lets you experience both a rich virgin redwood forest environment and a isolated black beach in a cove with sea stacks offshore. You are sure to find a measure of solitude and tranquility in those ancient forests, and on the coastline.
To find the trailhead, drive 8 miles from Crescent City along hwy 101, to a marked small pull-out area on the west side of the road, near mile marker 16. The trail is 5 miles round-trip, with 1000 feet of elevation loss, that you'll have to climb on the way back.
Even if you do not hike all the way to the Ocean, the beginning of the trail offers one of the most beautiful redwood forest environments in the park. Giant ferns carpet the forest floor. The hilly character of the trail and its witswitchbacks offers you more varieties of compositions than the flat forest trails.
If you visit during the last weeks of May or the first weeks of June, you will be treated with pink and purple rhododendron blossoms that climb high overhead. That particular section of Del Norte Coast Redwoods is only one in three of Redwood National Park where such blossoms can be found in great density. They create a wonderful accent amongst the dark woods, popping up on a foggy day. I have found that the more fog in those forests, the better the photography. Fortunately, as fog is the frequent visitor that allows the redwoods to thrive, if you stay a couple of days, you'll likely to encounter some.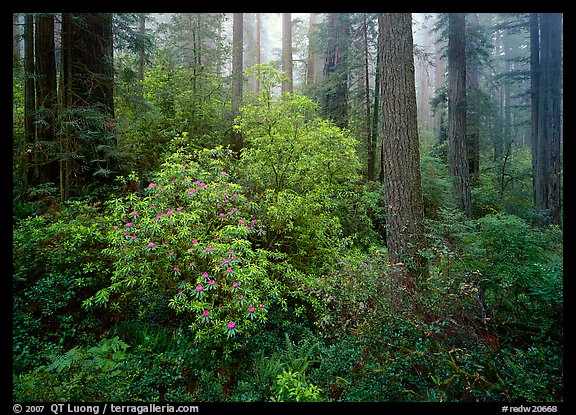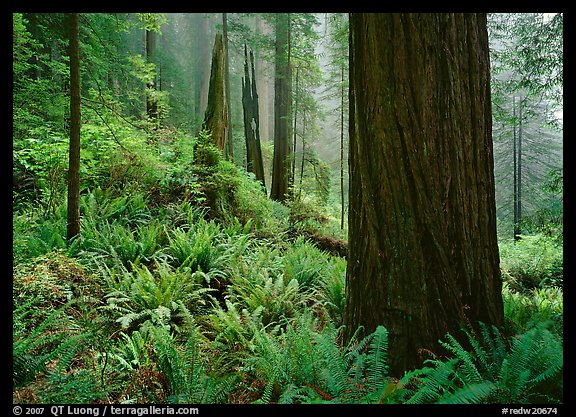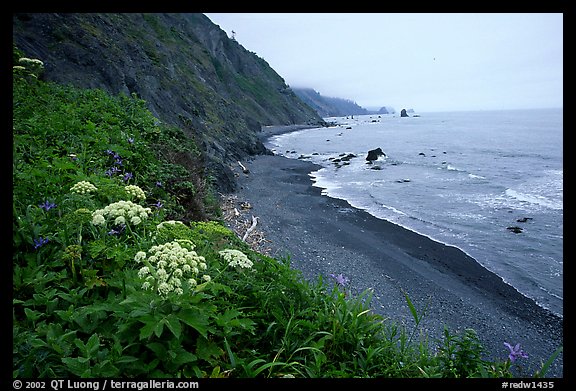 View all images of Redwood National Park