Gold Butte Peak: Southern Nevada's untraveled view
5 Comments
Among photographers, Gold Butte National Monument is renowned for its surreal
Little Finland
area, but it is only an area of about one square mile. With its huge 468 square miles, the monument has much more to offer, and a good way to appreciate its vastness is to hike to a mountain top. For a rewarding and relatively easy outing, there is no better choice in the monument, and possibly in Southern Nevada, than the namesake Gold Butte Peak.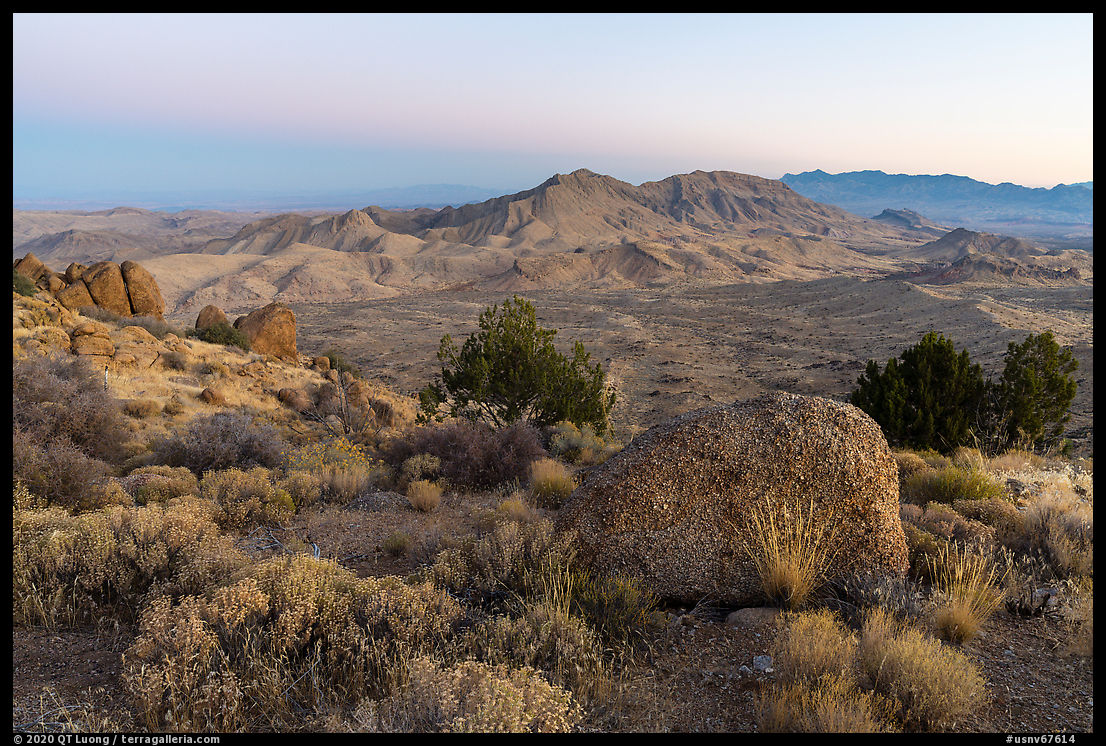 Driving to Gold Butte Townsite
Visitors must be totally self-sufficient, since Gold Butte National Monument is lacking water and services of any kind, with cell phone coverage limited. There is no other parkland so far where I have seen more off-road vehicles of various types. In my visits I have also never seen a regular car beyond the end of the pavement at the popular Whitney Pocket site. This stretch connecting Interstate 15 to Whitney Pocket is not your usual paved road. I was laid 50 years ago, and since then has become riddled with potholes and chunks of missing asphalt requiring constant vigilance. Even an eminently capable Jeep Wrangler was subject to a flat tire. However, with careful driving, you can embark on the adventure described here with almost any type of car. I felt perfectly comfortable driving a Prius. Past Whitney Pocket, the unpaved but well-graded Gold Butte Road leads in about 20 miles to the Gold Butte Townsite. The dirt road at first felt like a relief from the paved section.
In 1905, the precious metal was discovered on Gold Butte Peak, hence the name. In the short interval before the mines were depleted and abandoned in 1910, the population of Gold Butte Town, established in 1906, had peaked at 2,000. Because of the expense of bringing lumber into such a remote area, all structures, including the post office and saloon, were tents. None of them remain, but one can still find scattered historic mining and ranching equipment, gravesites, and grated mineshafts.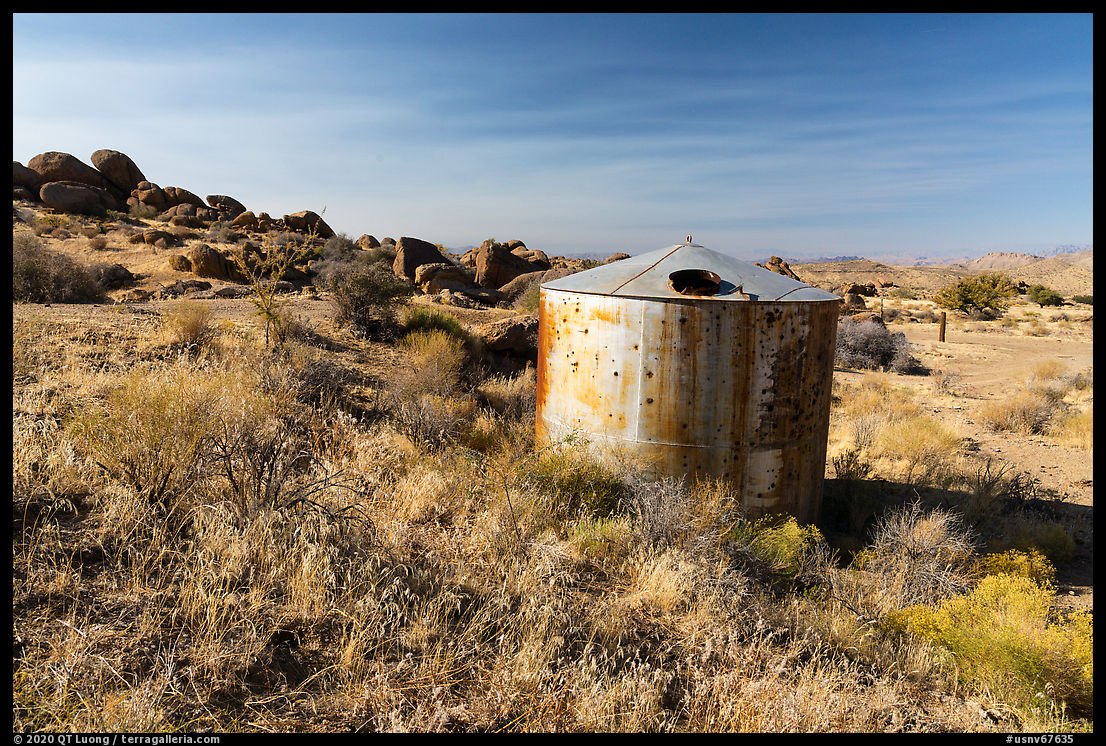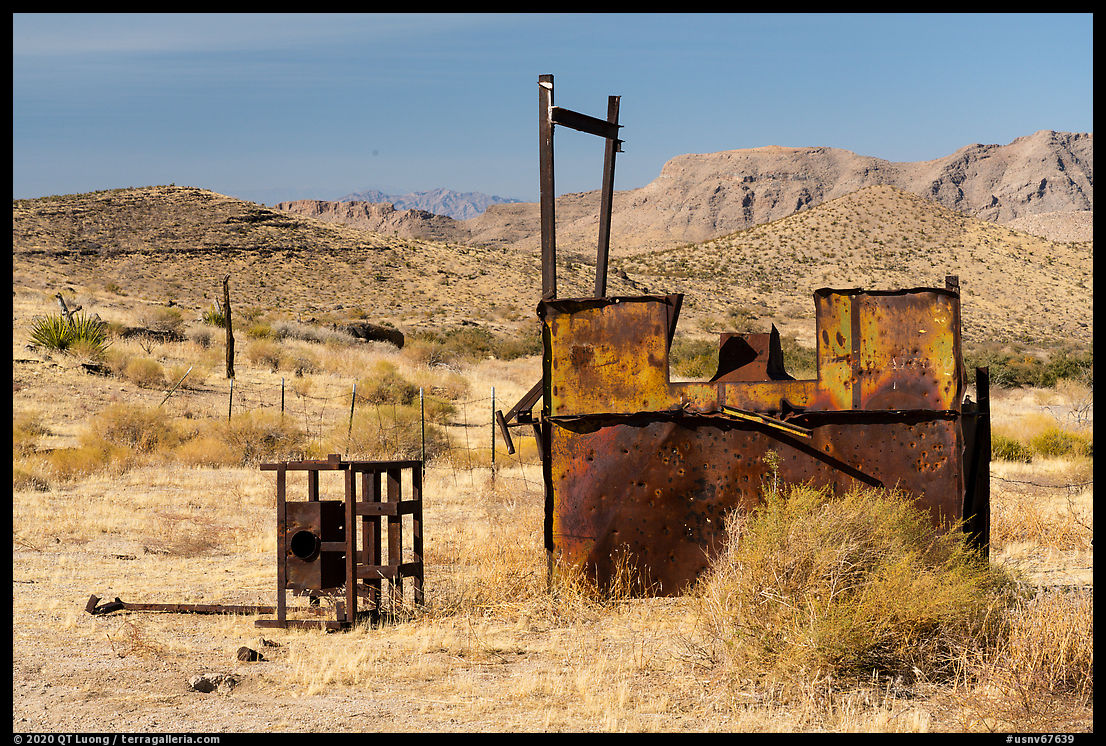 Gold Butte Peak Hike
Past the cattle guard, turn left onto a secondary road, and at the corral stay left. I camped at a wide area with trees (36.28322, -114.19226), and that's where one should park unless you have a narrow off-road vehicle. Shortly after, the road narrows and squeezes between two large characteristic boulders.
From there, it is a hike of less than 4 miles round-trip to the peak with 1200 feet of elevation gain, steep but almost entirely on a good trail, or a very rough road suitable only for ATVs, depending on your point of view. Once I found the two boulders, I had no difficulty following it in the dark, as I was aiming to be on the summit for sunrise. The road ends with a turnaround at a saddle, less than 150 feet below the summit. From there, a steep but easy scramble over rocks leads to the summit.
For such a small mountain (4,992 feet), the 360-degrees view from Gold Butte Peak, right at the heart of the monument, is varied and impressive. Encompassing desert terrain, close and distant other mountains, and Lake Mead, it is one of the best in southern Nevada. I heard a few ATVs below, but by the time I hiked back to the Gold Butte Townsite, I hadn't seen anybody.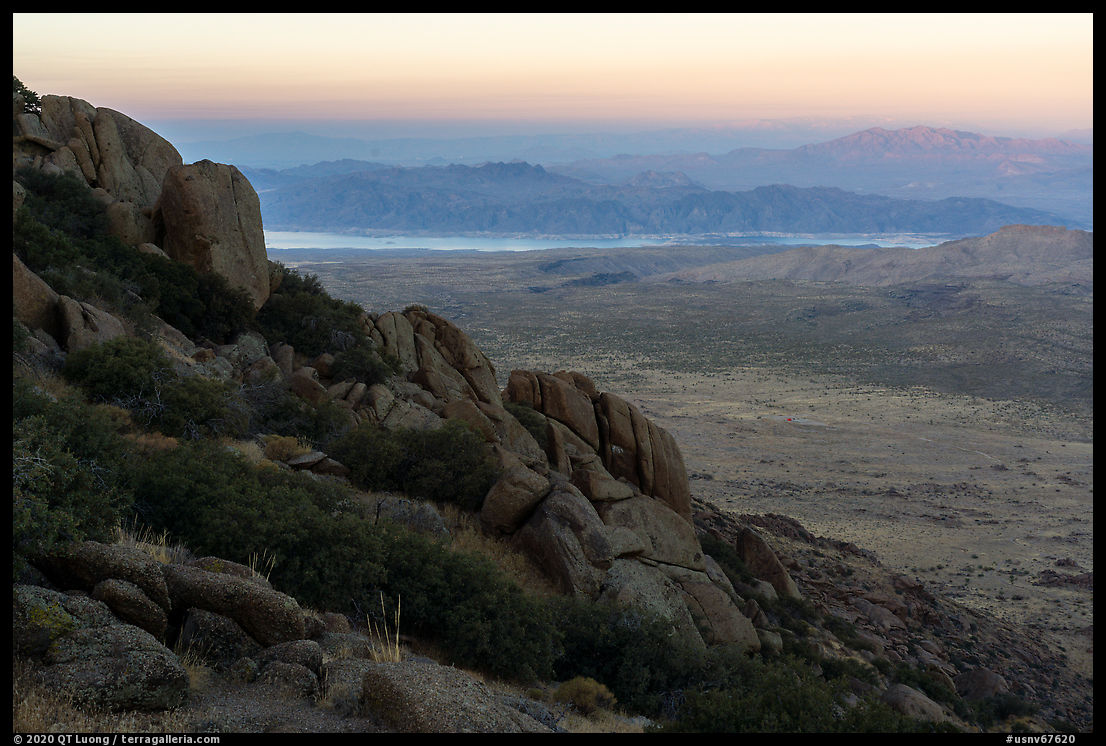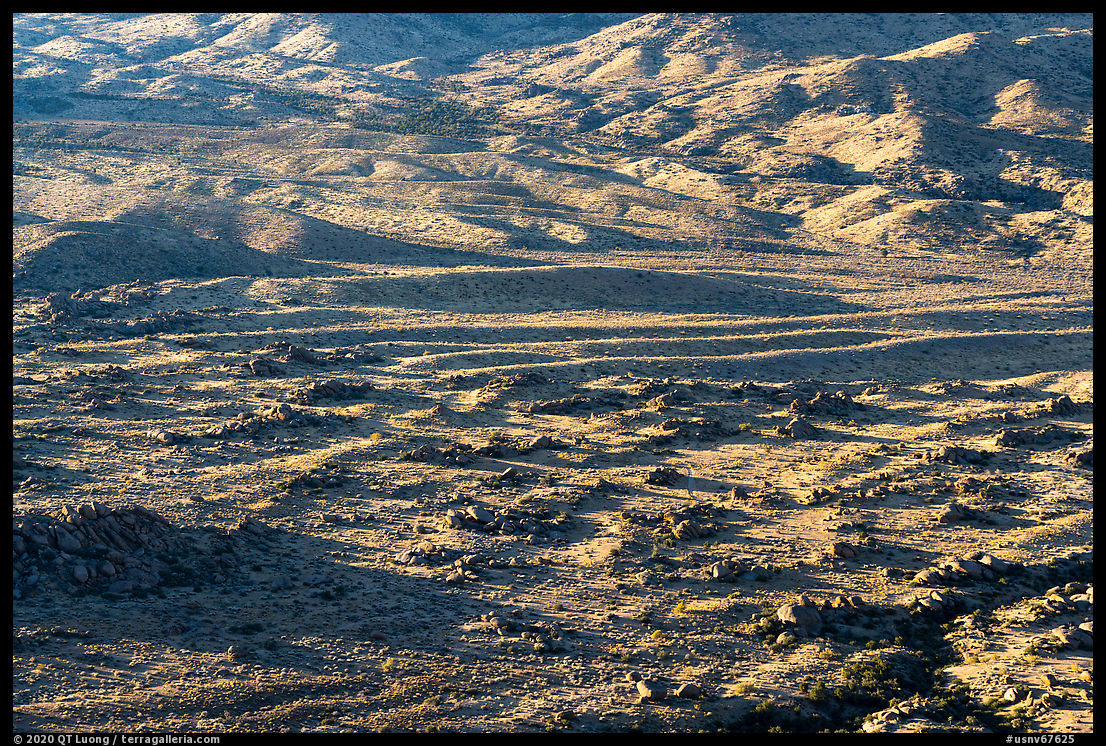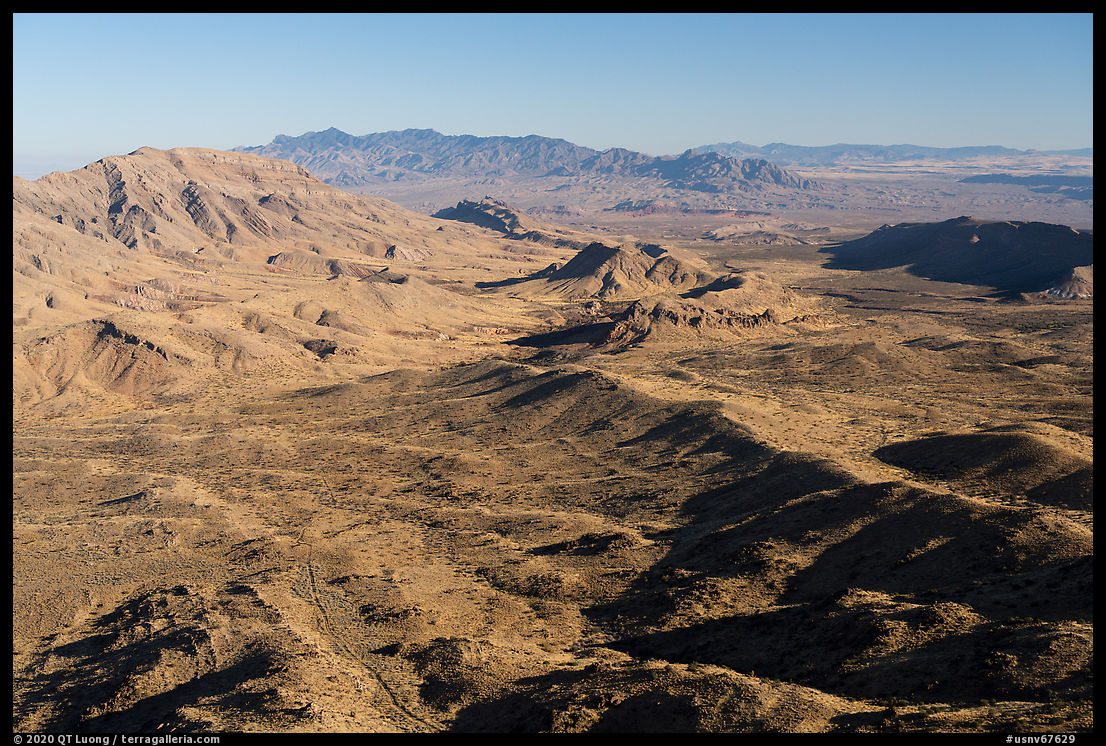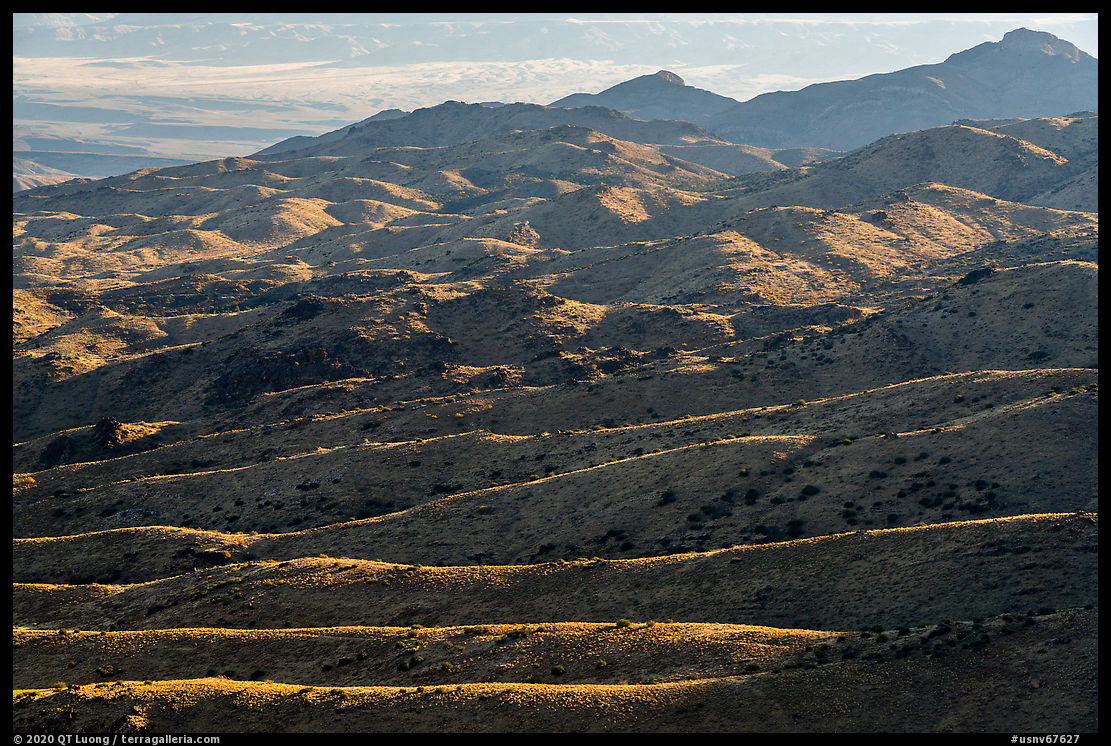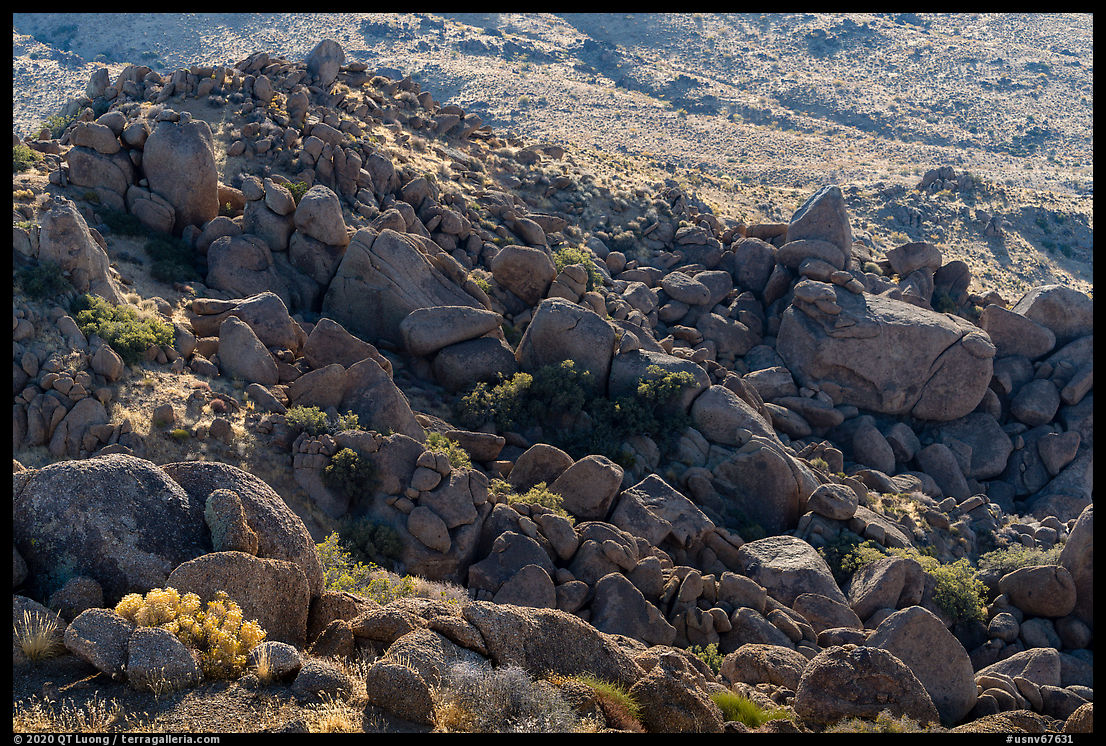 Devils Throat
Driving way back to Whitney Portal, I made a 0.5-mile detour to check out Devils Throat, a sink hole about 120 feet wide and deep that formed when the roof of a large cave collapsed. Imagine standing at that spot in the middle of the flat desert plain at that moment! The crumbling sides of the sinkhole have kept collapsing, swallowing various fences. For that reason, the current chain-link fence is so far back that it is difficult to have a good look from the ground, and it is a bad idea to jump the fence for a better look, so the drone was handy. I photographed from a backlit angle such that the sinkhole walls were all in the shade, with no parts lit, so that the shape of the sinkhole coincided with the visual mass of the shadow.