A Crash and Thanksgiving
11 Comments
Today is a day to remember what we should be thankful for. While I have many people and things to be grateful for both in my personal and professional life, this autumn, I am simply happy to be alive and in good health.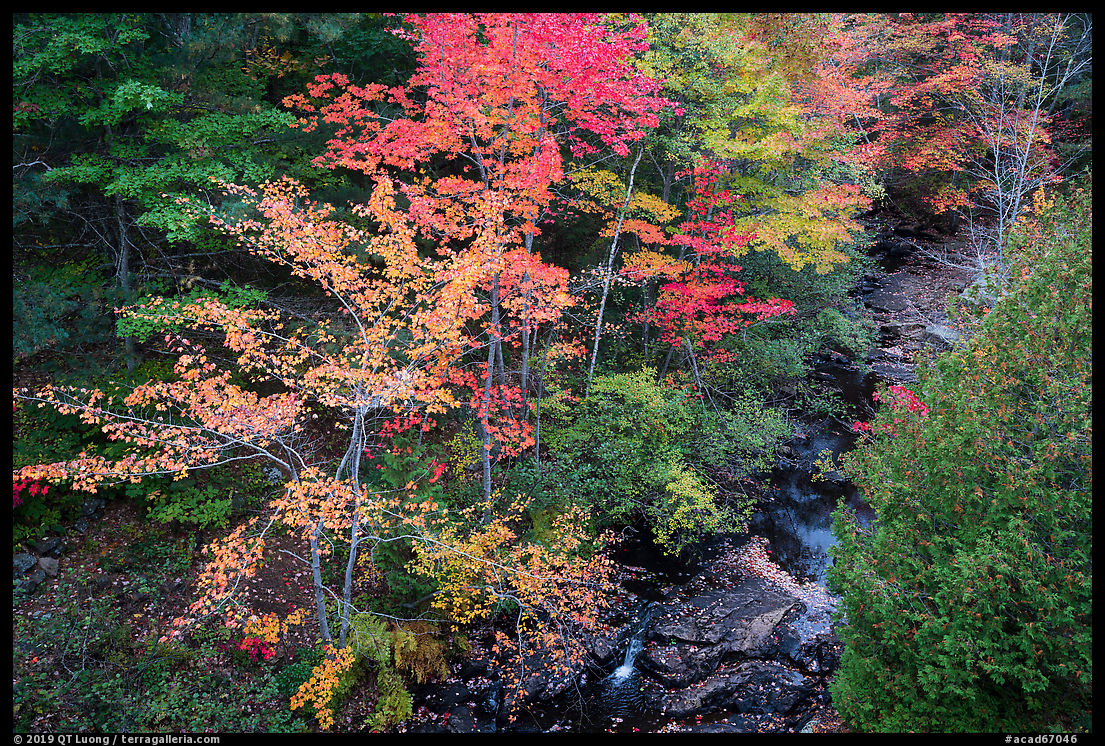 On Sept 30, half an hour after dropping off nine large framed prints for the Blue Marble exhibit in Palo Alto, I headed to a meeting with my book distributor in Berkeley. As I was driving on the left lane, the freeway traffic was dense but fluid. The car in front of me slowed down suddenly, and I braked too. All I remember is a very loud noise in the back, a sharp pain, and the dreadful anticipation of another collision and feeling of helplessness as the car that was drifting out of control. After a few seconds that felt like an eternity, the car came to a stop on the emergency lane, against the wall on the right side of the freeway.
A couple helped me out of the car and I sat at the base of the wall in a daze, my vision blurred not only because I had lost my glasses but also from the shock. It wasn't long before an ambulance came. It first stopped on the left side of the freeway to load the other driver who appeared to be more injured than me and then took both of us to the emergency room at the Highland Hospital in Oakland. After a few hours and x-rays, I was diagnosed with a sprained ankle (from being hit in the rear?), rib contusions, and released with just ibuprofen pills. Had the prints still be in the car, besides being destroyed, they would likely also have flown around dangerously in the car.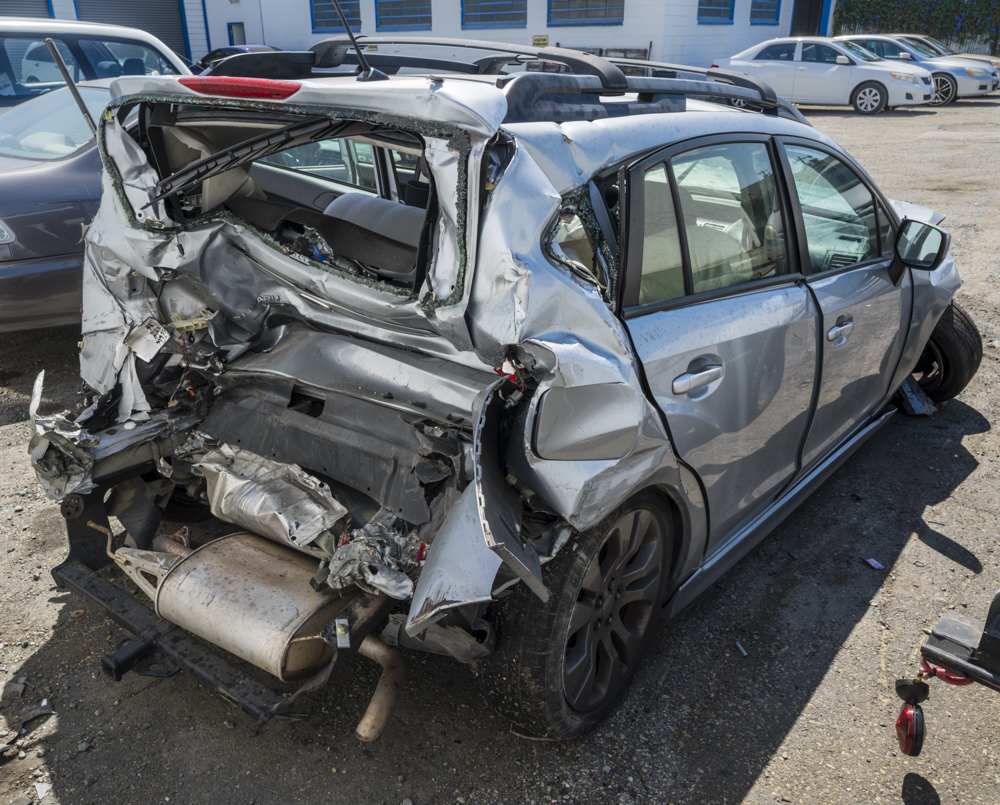 It wasn't before we came to retrieve possessions from the wreck that I could see it from all angles and realize how severe the accident had been. A towing company had moved the car from the emergency lane to a storage lot. Our insurance agent recommended that I got it out promptly, since those outfits often charge outrageous storage fees, well over a hundred dollars per day. Upon learning the name of the towing company from the police, I was dismayed to see average review on Yelp lower than 2 stars, with most customers describing them as scammers. Fortunately, it turned out that a different company was storing the vehicle. They were professional enough to deal with, although we still had to make a trip to a shady part of Oakland and pay a bill of almost a thousand dollars. We took pictures to establish that the car was a total loss, and instructed the company to dispose of it. David Muench commented that looking at those photos "it seems a miracle" that my injuries were minor.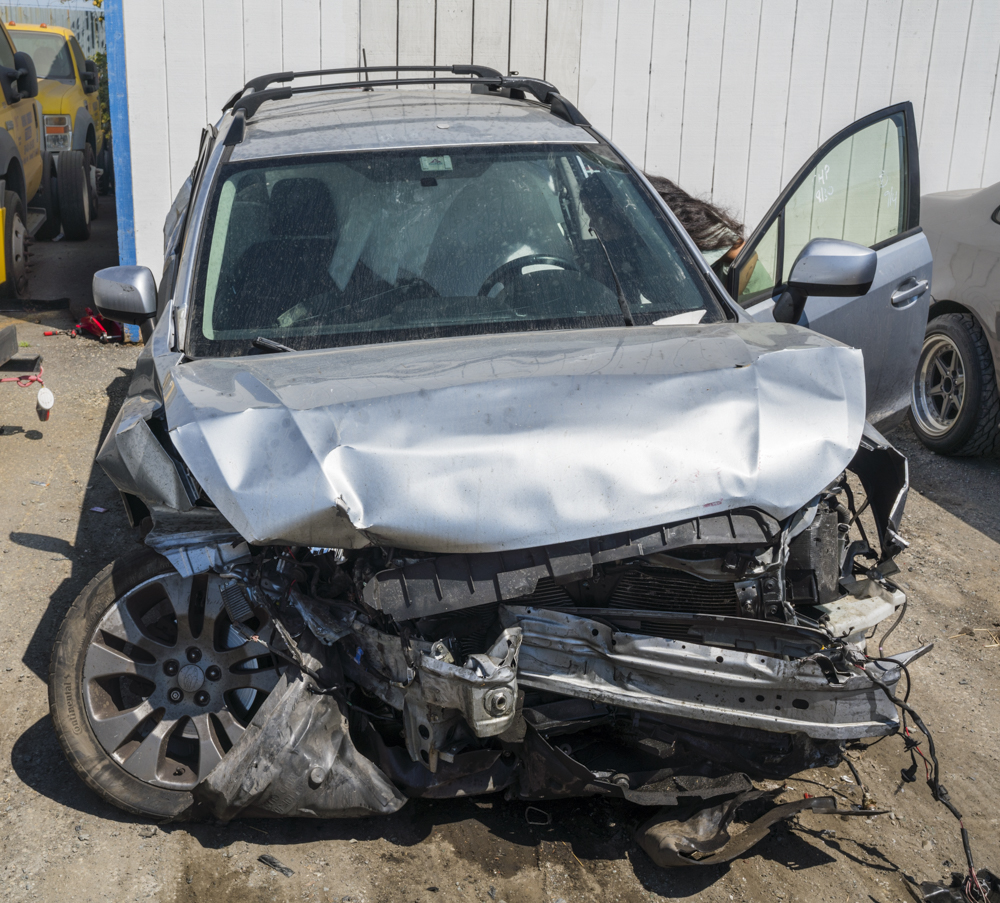 In the few weeks following the accident, while I was mostly all right sitting or standing, as soon as I laid down, I felt sleep-robbing discomfort, with the worst pain occurring getting in or out of bed. Who would have guessed that such a simple act could be so difficult? September was a key month for an on-going project, and by October, winter would come to northern Montana, but I was in no shape to even walk because of my sprained ankle. Eager to not entirely let the autumn, by far my favorite season, pass by, towards the end of September, I paid a visit to my physical therapist. She cautiously approved of a trip in October, using hiking poles. There were a couple of longer hikes that I wanted to do in Katahdin Woods and Waters National Monument and Acadia National Park, but I restrained myself to no more than six miles, and within this limitation, my ankle seemed to hold, so I considered myself recovered.
From the police report, I learned that I had been part of a four-car pile-up. The car that hit me from behind sent me hitting the car in the front before bouncing to the right of the freeway. The impact caused that car to hit the one in front of it. Despite the report placing all the blame on the driver in the rear, and that driver being properly insured, three months after the accident, I had not received even a timeline for compensation, let alone a single cent (Thanks Allstate!). When staying at home, my family could mostly make do with just one car, but this would be out of the question if I was to go on a road trip, since the kids would need to be driven to school while I am gone. Fortunately, we were able to pay cash for a new car, not a given for a pair of artists living in the Silicon Valley – another thing to be thankful for. Its choice, the subject of the next post, may surprise you. In the while, I hope that you have many more reasons to be thankful!