Year 2014 in Review and 2015 Greetings
25 Comments
I wish everyone a year 2015 full of happiness, health, and success. My sincere thanks for your continuing readership and interest in my photography.
In order to explore some of the corners of the National Parks that had escaped me so far, in 2014, I was going to engage in more water-based adventures: rafting, canyoneering, scuba diving. As you'll see, this didn't quite work as well as I had hoped. I've still kept water (in one form, or another) as the theme of this eclectic selection of images.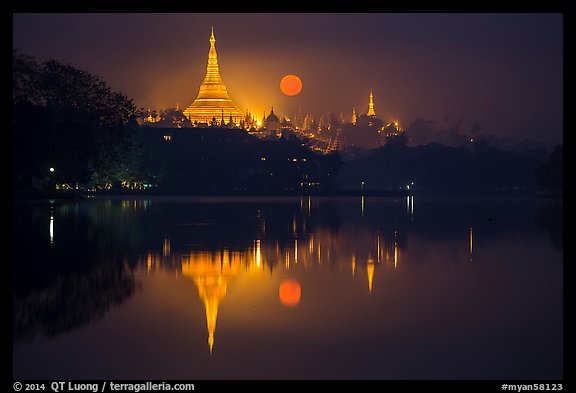 Moonset over Shwedagon Pagoda and Kandawgyi Lake, Yangoon, Myanmar
I spent most of January in South-East Asia, first leading a photo tour in magical Myanmar. For details, see the the 6-part Myanmar photo tour diary. After the photo tour, I visited family in Ho Chi Minh City, Vietnam, during which time I added images to the series HCMC, a work which attempts to come to terms with Vietnam's history.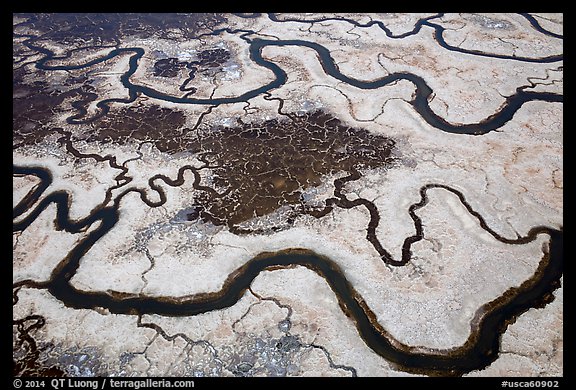 Aerial view of salt marsh. Palo Alto, California
In February, I began to experiment with drone-based aerial photography using a DJI Phantom 2. Here is the first 360 aerial pano I made above my home with the standard GoPro camera. This is a natural extension of the ground-based 360 Degrees Spherical Panoramas explained here. I started to modify the aircraft to carry a much better (for stills) Ricoh GR camera. In the spring, results with early iterations of the new rig, such as this one, were promising enough.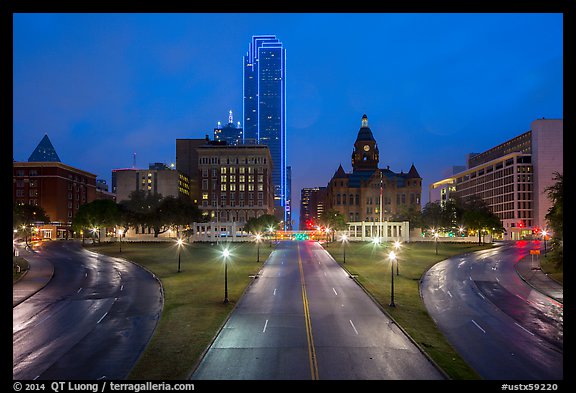 Site of JFK's assassination. Dallas, Texas
In late March, I took my first trip ever to Texas that didn't consist of flying to El Paso to visit the West Texas National Parks (Big Bend and Guadalupe Mountains). The occasion was to attend Fotofest in Houston, to seek feedback about a new direction I've been exploring in the National Parks – for an example, see The Window. It was the first portfolio review that I attended, and I found the experience very rewarding. During Fotofest, I photographed Houston. After my portfolio review sessions, I drove the "Texas Triangle" delimited by the cities of Houston, San Antonio, Austin, Dallas/Fort Worth, which I found to each have a distinct character. See the gallery of images of Texas I made in about a week.
Lithodendron Wash, Black Forest Wilderness. Petrified Forest National Park
In late April, I traveled to Flagstaff, AZ. It was supposed to be a flight, but as a snowstorm closed the airport, I arrived there by airline bus from Phoenix. I obtained an overnight backcountry permit at Petrified Forest National Park. Regulations stipulate that you need to leave your car at least one hour before park closing time. They are strictly enforced! As I was still fiddling with gear at that time, a ranger voided my permit on the spot. Next day, I managed to check out the Black Forest Wilderness as a day trip.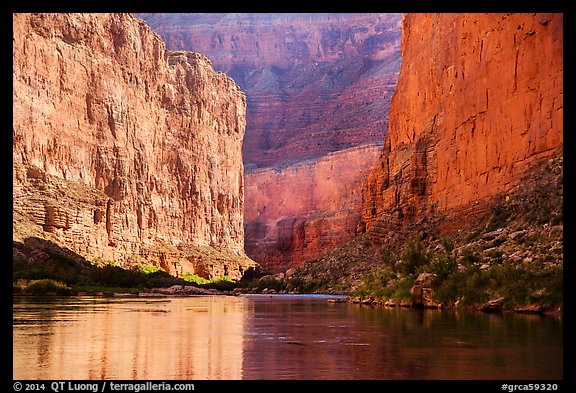 River-level view of red walls in Marble Canyon, Grand Canyon National Park
Petrified Forest was a prelude to the 12-day Grand Canyon by raft workshop that I was co-leading with Oliver Klink. Unfortunately, after an excellent first half of the trip, I was injured while riding the Horn Creek Rapids and had to be helicoptered out. For most of May and June, I was in pain and unable to move much, resulting in cancellation of canyoneering plans. By the end of June, I had improved enough to be able to make a quick trip to Yosemite, with the assistance of my wife, to be interviewed by Al Jazeera America for a short Yosemite Grant 150th anniversary report also featuring Carleton Watkins and Ansel Adams, although you can see on the video that I was far from recovered.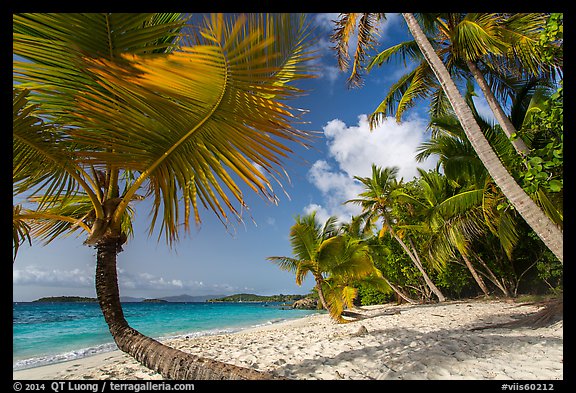 Palm trees on Salomon Beach. Virgin Islands National Park
In August, we took a family trip to Cozumel. Afterwards, I revisited St John, Virgin Islands. The most interesting part of the trip was to explore the secluded south side of the island. However, I found the "tropical atmosphere" I was looking for on a beach only a mile from the island's main town, Cruz Bay. Although one of the most pretty beaches in Virgin Islands National Park, it is relatively quiet because of the need to hike to get there. The tree on the left is quite small, I sat down on the sand for this composition, to make sure its palms didn't overlap with the trees fringing the beach. My bad luck with water continued. I brought a underwater housing for my Canon 5Dmk2, carried at great effort and expense (Spirit Airlines charges outrageous fees for the third bag). It flooded on my first dive, ruining the camera – and any prospect of subsequent underwater photography. Despite this glaring miss, I'm still proud of my gallery of pictures of Virgin Islands National Park.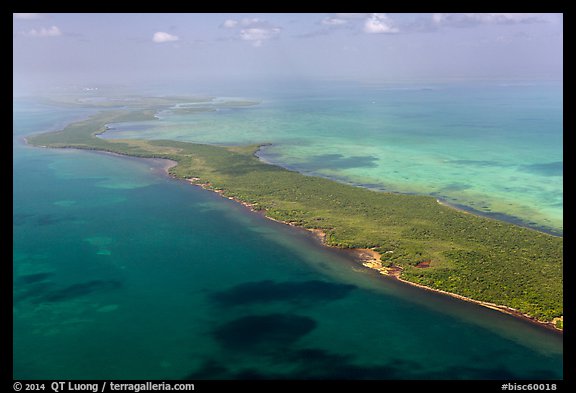 Aerial view of reef, Elliott Key, and Biscayne Bay. Biscayne National Park
Back in Florida, Biscayne National Park hadn't found a new concessionaire in a year, so there was no public transportation to the islands. I couldn't find any affordable boat to rent, even with help of friends from Miami. Instead, I hired a pilot for an hour of aerial photography. As great as drones are, they don't get you there like a plane.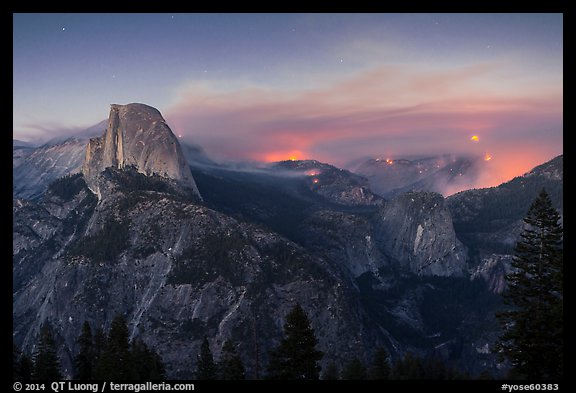 Meadow fire and moon rising. Yosemite National Park
On September 7th, I heard of the Yosemite Meadow fire on Twitter and saw a few dramatic photos on the 8th. Unlike others, the fire happened in the scenic heart of the park, next to Yosemite's icon, Half-Dome. I drove to Yosemite, making a time-lapse video as well as photographs.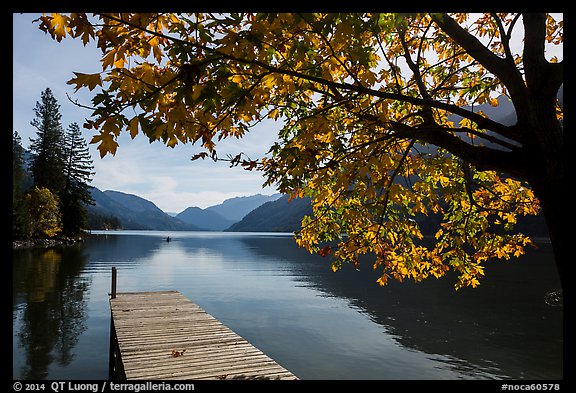 Lake Chelan, Stehekin, North Cascades National Park Service Complex
In October, I returned to the Pacific Northwest to try and capture autumn foliage in this part of the country. My timing worked well for the North Cascades Alpine Larch, which I was even able to photograph at night on the last dry day of the trip. I also reached my second goal, an autumn visit to Stehekin, arguably the most remote community in the lower 48 states, on the final days of the year with services.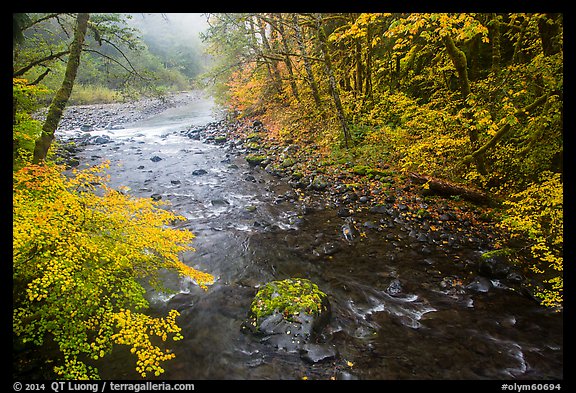 Confluence of North Fork and Sol Duc River in autumn. Olympic National Park
In both Mount Rainier, and Olympic National Park, it was raining steadily. I didn't see a single sunset nor sunrise, but the soft light was great for capturing the foliage as rain brought out colors in the old-growth forests. A blog post will follow, in the while, see images of Olympic National Park fall colors.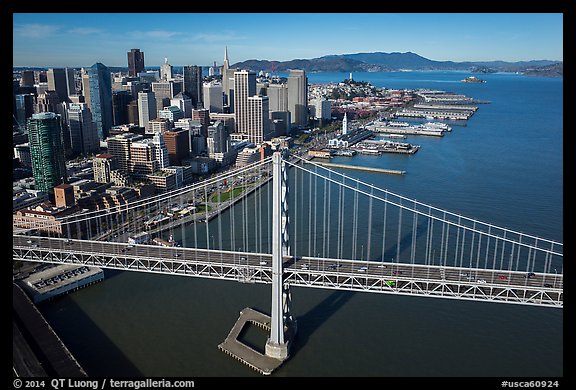 Aerial view of Bay Bridge, downtown, and piers. San Francisco, California
I had lost some motivation in flying the Phantom 2 due to the NPS ban. It wasn't until the summer that with great help from my brother-in-law Nhon Vo (a mechanical engineer by trade), I had a better Ricoh GR rig. By the autumn, we had a complete solution including tilt control. I used it to create the photograph that illustrates Seasons Greetings, as well as this Ricoh GR 360 aerial pano that I invite you to compare resolution-wise to the one made in February with the GoPro.
As I reflect on the past year, I realize that despite difficulties that initially led me to view it as a disappointing year, I have been more privileged than most. Part of my job, I visited several great destinations worthy of being on a lifetime list. I expanded technical skills to include drone aerial imaging, and found some validation for a more conceptual approach to photography I've been pursuing for a few years. Although I still feel some pain in my shoulder, I've regained enough functionality that my therapist discharged me in December. I am grateful for 2014, and I wish you also found reasons to be grateful too. Looking forward to a great year 2015!