Railay, Krabi Province, Thailand
No Comments
I am mostly known for my work in the US National Parks. However, one of the reasons I came to appreciate them so much is that I have traveled in many corners of the world. This gave me a wider perspective which made it possible to understand how unique they are. This website started ten years ago with images of Asia, so it is fitting that in the months leading to its 10th anniversary I will post mostly new images of four countries in South East Asia from a recent month long trip.
Last December, I traveled for half a week in the Krabi Province of Thailand. I purchased in Bangkok a combined sleeper train and bus ticket for about $42. Train travel by night is environmentally friendly, and saves time as well as a hotel night. Since the bus ticket was purchased at the train station, I expected a comfy government bus, so I was surprised to ride from Surat Thani to Krabi on a mini-bus, packed solid with other backpackers. In addition, instead of arriving in town, the mini-bus dropped us at a tour agency located far from the town center ! After another half-an-hour mini-bus ride to Ao Nang, and then a fifteen minute hop on a long tail boat, I arrived in Railay, a peninsula accessible only by boat, where the most dramatic vertical limestone cliffs of the area drop right onto beaches.
Although December normally marks the end of the rainy season on the Malay Peninsula, I was greeted by a drizzle. In hot places I am familiar with, such as the American Southwest or Vietnam, the rainy season is a good time for photography. When it is not raining, the sky is clear, and the rain itself is preceded by dramatic skies and storm light. Not in Southern Thailand. I was disappointed by a mostly overcast sky. However, although scenic images wouldn't be too successful (except at twilight), there were still plenty of interesting scenes to work with.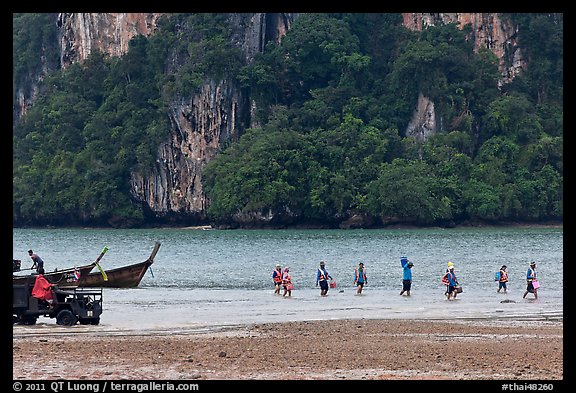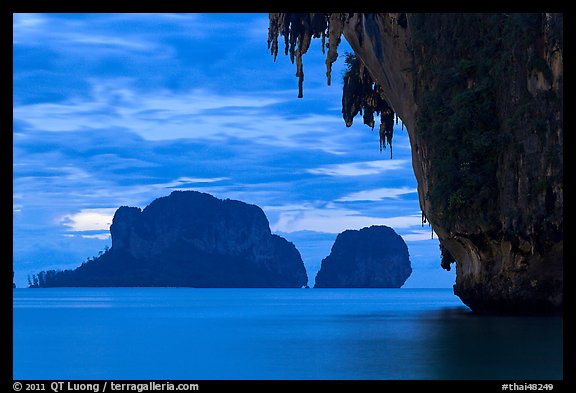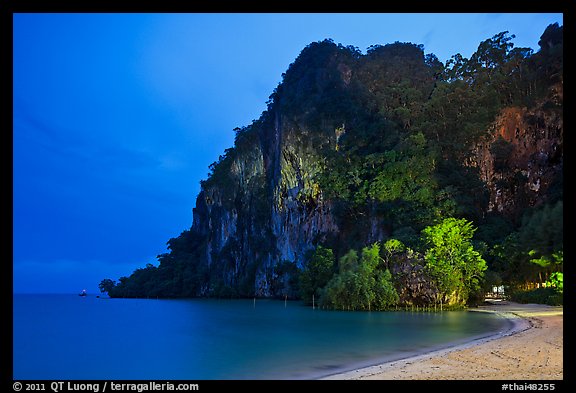 See more images of Railay