Photo Spot 38: Rocky Mountain National Park – Trail Ridge Road
No Comments
The Front Range of the Rocky Mountains provides one of the most abrupt changes of scenery and elevation anywhere. The western edge of the Great Plains transitions quickly to the mountains that form the Continental Divide, two miles higher. Those Colorado mountains include some of the most accessible high-altitude terrain in North America, including Mount Evans (14,264 ft, 4348 m), reached by a road that has long been the highest paved road in the world.
Further south, Trail Ridge Road, which bisects Rocky Mountain National Park, has the distinction of being the highest continuous motorway in the United States. More than eight miles lie above 11,000 feet, reaching a maximum elevation of 12,183 feet. As expected with such an elevation, the Trail Ridge Road is closed during winter and remains closed until early summer.
Driving the road, I felt I was moving in a short amount of time from a high prairie environment to the Arctic tundra. After a steady uphill section, I emerged above treeline. Starting at Rainbow Curve, I couldn't decide which panoramic views from the overlooks was the more vertiginous and impressive. However, it's only when I began to stroll on the tundra that I discovered the richness and variety of the tiny plants that grow there. The tiny sedges, mosses, and alpine flowers, invisible from a distance, formed a rich tapestry revealed by kneeling down. Stones covered with colorful lichens dotted the tundra. I was careful to walk on them in order not to tramp the fragile alpine vegetation. Although I concentrated on the landscape, I noticed pika and marmots.
The legs of my Gitzo tripod could spread almost flat, yet the regular center column was getting in the way of placing the camera low enough. I wished I had remembered to pack the short center column. Instead, I placed the camera directly on flat rocks, doing all sort of contortions in order to be able to focus on the ground glass. The alpine flowers were too tiny for a balanced composition with mountains in the background, but in the course of exploring along the Trail Ridge Road, I eventually found a patch of larger flowers. As the afternoon thunderstorm was moving in, I retreated to the car, wary of the danger of lighting. The rain eventually stopped, leaving me with a dramatic sky as the clouds were clearing.
After photographing the tundra, I looked for some larger features further West. The most interesting I found were the rock formations and summer snow fields at Rock Cut that came alive in the last light before sunset. If instead of going West, I had planned to return towards the East, I would have tried to photograph twisted pines about a mile West of the Rainbow Curve overlook.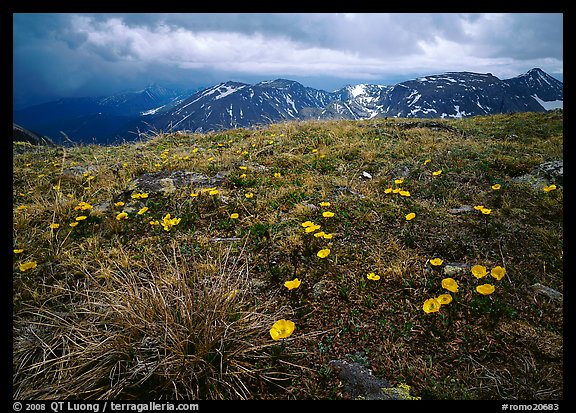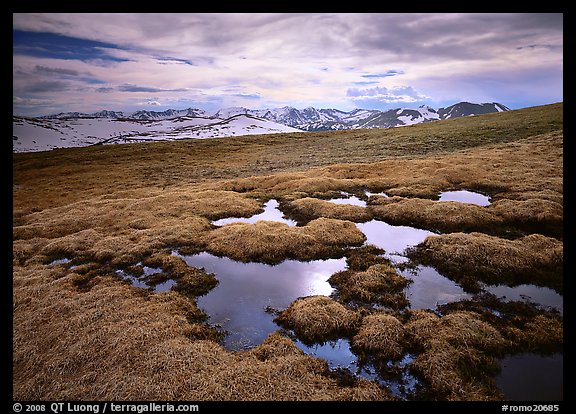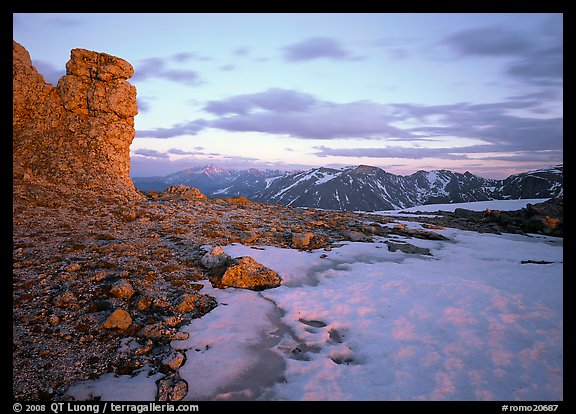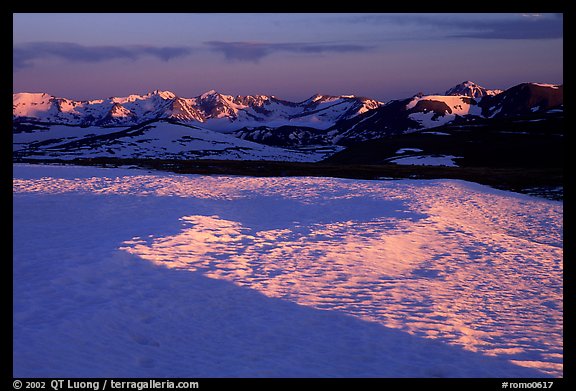 View more images of Rocky Mountain National Park