Photo spot 3: Death Valley National Park – Zabriskie Point
5 Comments
Zabriskie Point gives you a good introduction to Death Valley. From there, fantastically eroded and colored badlands surround you, with Telescope Peak (the highest point in Death Valley, at 11,000 feet) and the salt pan in a distance. During the winter, temperatures in the Valley are mild, the air more clear, and Telescope Peak snow-capped, contrasting it with the desert. By mid-March, temperatures are already too warm, sometimes reaching in the 90s or even low 100s.
The location is excellent at sunrise, looking towards Telescope Peak, and also good at sunset, looking towards the badlands in the south. From there, you can either photograph a wide scene or isolate landmarks such as Telescope Peak and Manly Beacon. You can compose more abstract images with details such as the giant "elephant feet".
Zabriskie point is a just a few miles from Furnace Creek, and about 35 miles from Stove Pipe Wells. From the parking lot, you hike a very short, but steep, paved trail to an observation platform. Almost everybody photographs from that platform, or when making a wide photograph, steps over the stone wall to the edge of the hill to avoid having extra foreground in the frame.
Here is a little tip that took me a couple of visits to figure out. When standing on, or near the platform, during the winter months, you are shooting at sunrise in the same axis as the sun, straight in your back, resulting in a flat lighting. Instead, walk a narrow user trail, starting from the parking lot towards the right (north) of the paved trail, and continue for less than 10 minutes. You will get on a narrow ridge, higher than the platform. From there, you can see more of the salt pan. You can include Manly Beacon and Telescope Peak in the same shot. Last but not least, you can shoot a bit towards the south rather than the east. The cross-lighting will give more relief to the landscape, and a polarizing filter will do a better job at bringing out the colors than from the platform. An additional benefit is that you will escape the crowds that gather at the platform at sunrise and sunset.
After shooting at sunrise from Zabriskie Point, you can hike into the badlands, following a trail to Golden Canyon. If you are in a party with two cars, you can hike one-way, which is about 3 miles, otherwise, try returning through the Cower Gulch. There are good views of Manly Beacon and the Red Cathedral rocks.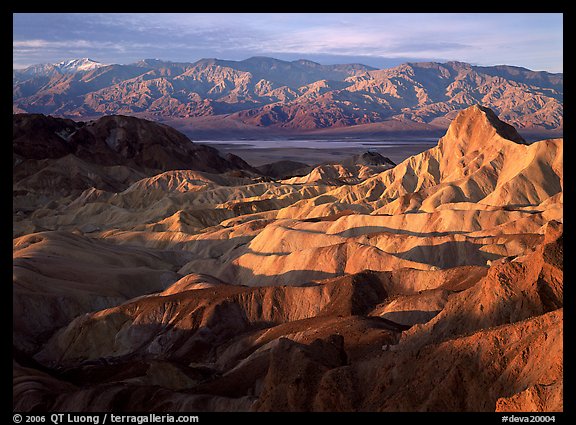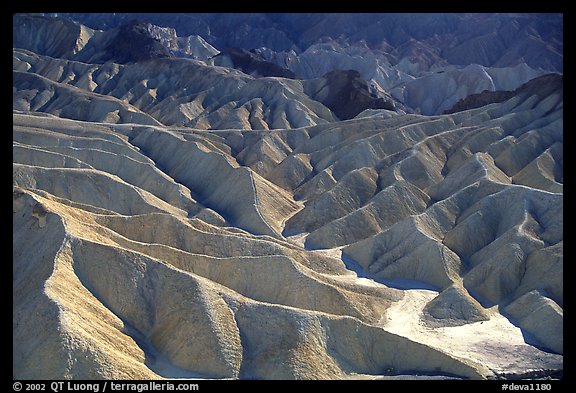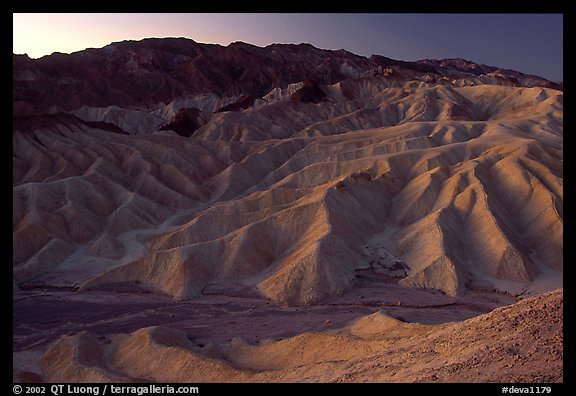 All images of Death Valley National Park