Photo Spot 18 : Sequoia National Park – Giant Forest
3 Comments
Sequoia National park is named after the trees it protects, the giant sequoias, the largest trees on earth. The heart of Sequoia National Park is the Giant Forest, an area of just 3 square miles that include dozens of sequoia groves, amongst them General Sherman tree, the most massive living thing on earth. While there are other areas of the park dense with sequoia groves, none is as easily accessible.
Because of that, the area around General Sherman can see heavy visitation, particularly in the summer. Moreover, several trees there (including the General Sherman) are fenced. However, a walk around the Congress Trail (easy 2 mile paved loop), which starts at the General Sherman tree, will let you get away from most of the crowds, and discover many other equally impressive and more approachable trees. Those include a number of photogenic clusters (the House group and the Senate group) and other presidential trees. In particular, a side trail offers a good view of the McKinley tree. Huge fallen logs and a stream can also be seen. For an even more peaceful setting, try some of the other trails that connect to the Congress Trail.
The sequoia trees are so tall that they are difficult to photograph. From the ground, I found out only two possible approaches: either point the camera up to capture the whole trees with wild converging lines, or try to capture only the base of the trees, maintaining their parallelism with a perspective control (shift) lens. The first approach works in a range of conditions, including a sunny day, a day with thick fog, and at night, while for the second approach I prefer the softer, but directional light of dawn or dusk that will reveal the texture of the bark. If you have other ideas, please comment !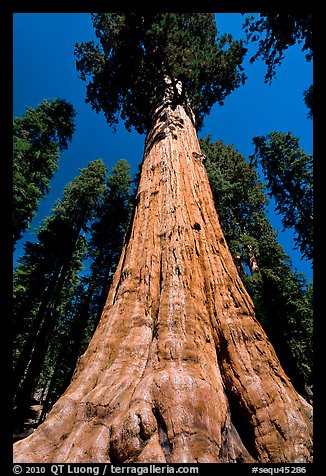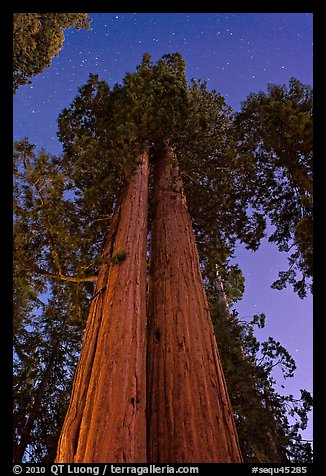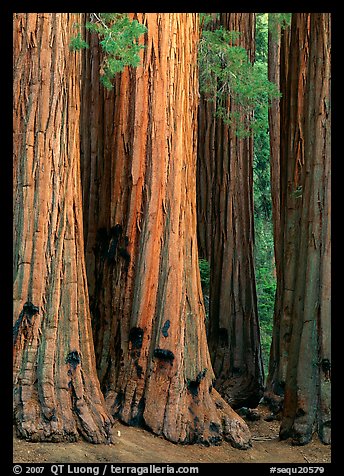 View all images of Sequoia National Park