Photo Spot 13: Grand Teton National Park – Schwabacher landing
4 Comments
Among all the mountains in America, the Grand Tetons – rocky, jagged, and abruptly rising seven thousand feet above the valley of Jackson Hole – remind me the most of the Alps, on the high peaks where I had my first life-changing wilderness experiences that inspired me to become a photographer.
With many lakes laying in the valley, there are quite a few choices for photographing the Teton range reflected, but some are a bit too close, while others are a bit too far. The body of water which yields the best reflections is a modest pond, called the Schwabacher Landing. To reach it, watch for Schwabacher road, a dirt road 4 miles north of Moose Junction on hwy 191, and follow it to the end. Then walk a short distance along the river until you see a spot to your liking.
You will be shooting straight west. Since this is considered by some to be one of the most beautiful mountain scenes in America, many gather there for sunrise. A grad filter helps to brighten the reflection, but even though, I find that without clouds above the mountain (more likely in summer), the scene looks a bit flat because of the lack of cross-lighting.
You sometimes read that landscape photographers should just take a nap at mid-day, as the light is "bad" (this will be the subject of a future blog post), however, after photographing the scene at dawn and sunrise, I made sure to come back for a mid-day shot. I positioned the reflection better, since I had missed a better spot while setting up in a hurry before dawn, anticipating that the contrast of the cloudless sunrise would be to high. More importantly, the cross-lighting brings more relief to the mountains, and the polarization angle makes the autumn colors shine brightly. The enduring popularity of the resulting image (more on that later too) would seem to contradict that "golden rule" of landscape photography.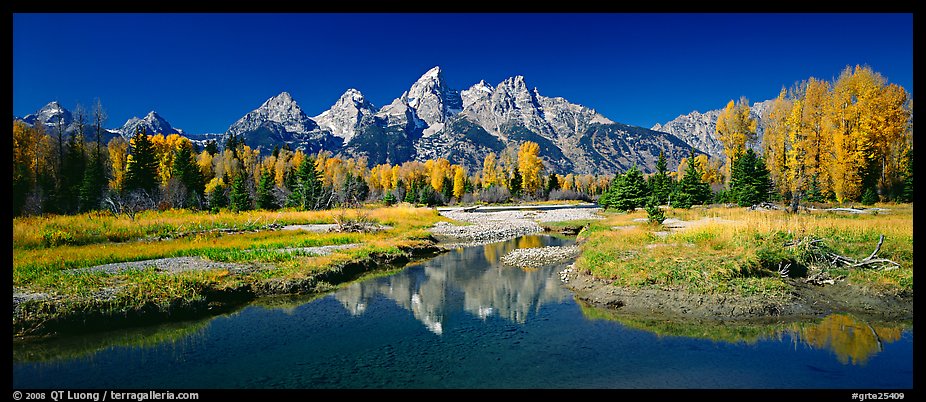 More images of Grand Teton National Park