Vignettes from Seoul, South Korea
No Comments
Last fall, before I traveled to Vietnam for a family visit, I noticed that most flights had connections in Seoul. Thanks to my wife and sister-in-law influences, I've watched a few 15-episode Korean TV dramas, but I'd never been in the country, so I was curious to check it out.
While on the Asiana (excellent service, Star Alliance) plane from Ho Chi Minh City, I browsed through the Lonely Planet guidebook and chose the Inn Daewon for its location and character – it is a hanok-style hostel (hanok are traditional houses). After picking up my luggage at the super-efficient Incheon international airport, I called the hostel to reserve a spot using my iPod Touch and free WiFi, then headed towards the help desk to get directions. The lady helpfully wrote down the shuttle number and I was on my way.
After a ride of about an hour – less than $10, individual TV screens – , the shuttle dropped me on the street. I was just a few blocks away from the hostel, but it was difficult to locate. Fortunately, despite the late hour (close to 11pm), the streets were still bustling with activity. I asked a local vendor, by showing him the guidebook, which has Korean script for all destinations, and although he didn't speak English – like most people in Korea – he was kind enough to walk me half a block towards the right direction. The hostel owner was friendly, like the guidebook mentioned. He showed me with much gesticulations and sign language how to help myself to breakfast. Since there were no private rooms ($27) available that night, I settled for a spot in a dorm ($13). Generally speaking, I was surprised at the low cost of travel in South Korea. It was the lowest I've seen in all the developed countries I've visited – South Korea is a fully developed country, with an infrastructure often superior to the US.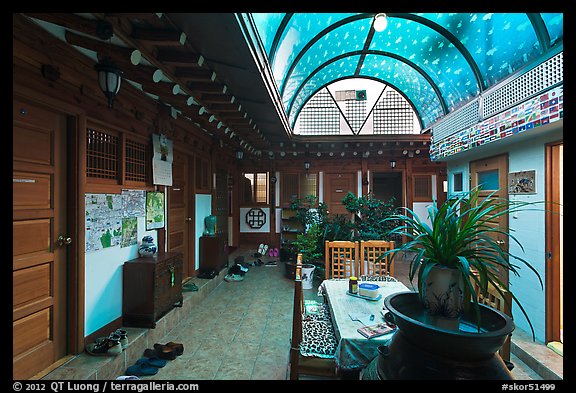 This was going to be a quick trip of just 10 days with travel along the whole length of the country, so my time between visiting architectural sites – my main objectives – was limited. Along the way, I witnessed some slices of life in the city.
Cheonggyecheon is a stream running through downtown Seoul. Following the Korean War, it became filled with waste and was then covered with concrete and an elevated highway. In 2003, a project was initiated to bring nature back to Seoul and to promote a more eco-friendly urban design. The restoration of the stream was a great success as the Cheonggyecheon quays are filled with strolling people every time of the day.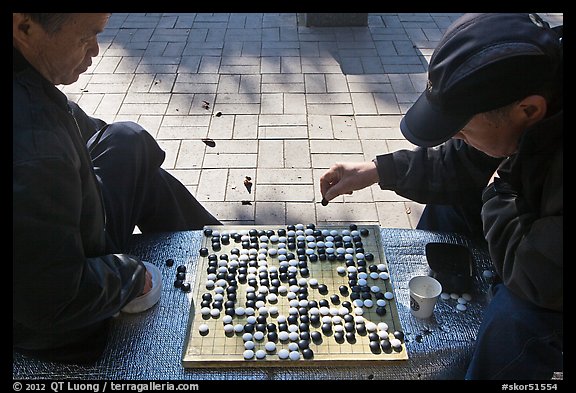 Pensioners play Go in a public square. Go has been played for more than 2,000 years. Despite its extremely simple elements – a square grid, white and black stones – Go is possibly the most complex of board games. While a computer chess program running on a laptop has defeated the world champion in a match, computer go programs are still far from reaching professional levels of play. That was the first time I saw the game played in the street. When I played a bit of Go in my youth, it wasn't easy to find partners.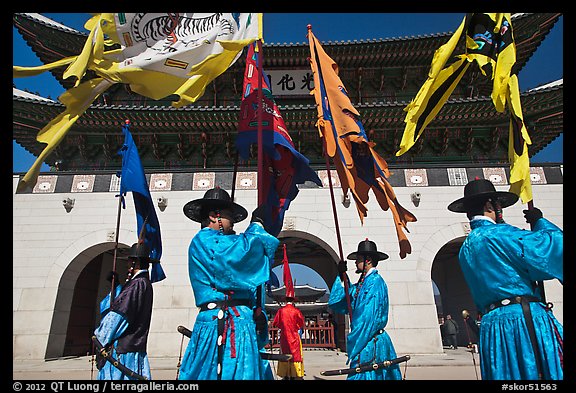 South Korea has been a democracy only for a relatively short period of time. Seoul was the seat of the Joseon dynasty, one of several kingdoms that dominated the peninsula over time. Part of an effort to preserve history and culture, in front of the Gyeongbokgung Palace, the changing of the guard offers a lively pagentry which do not have anything to envy to the ceremony at the Buckingham Palace.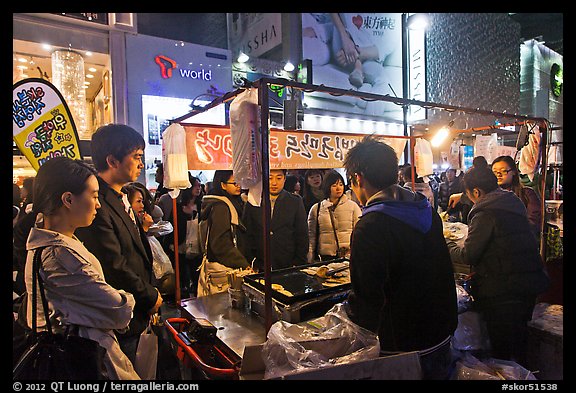 On a busy pedestrian alley lined up with glitzy modern stores and neon signs, shoppers line up at street stalls to buy traditional foods.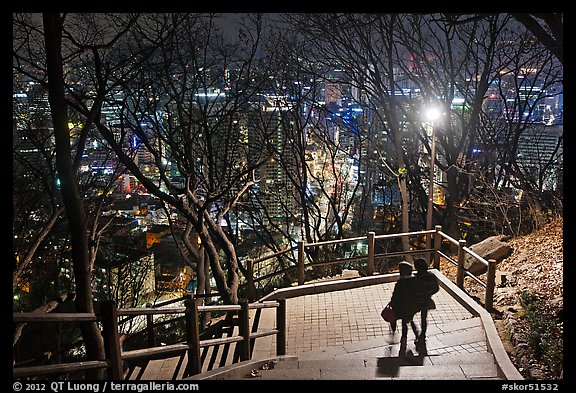 On a freezing night, a couple walks down the 1000 feet high stairs of Namsan Mountain, a hot dating place where I've seen more young couples together than anywhere else in the world.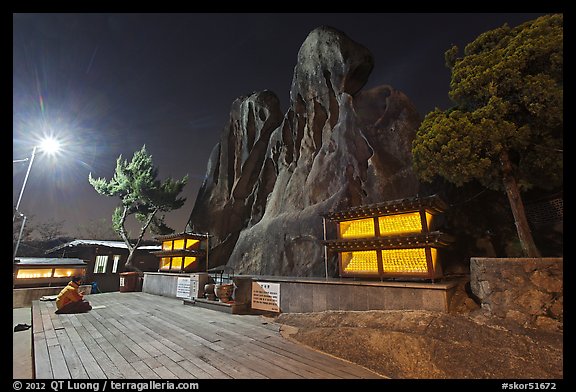 On the sacred Inwangsan Mountain, shamanism – the belief that shamans are messengers between the human world and the spirit worlds – continues at the site of Seon-bawi, a Dali-esque outcrop of rocks. Wearing a thick parka, a young woman sits in prayer for a long time.
More pictures of Seoul, South Korea