Mui Ne Sand Dunes, Vietnam
4 Comments
Mui Ne
's reputation as resort is growing, but besides the beach, there is also an interesting mix of natural and cultural elements, found north of the resort area.
Despite development in the resort area, the fishing village (Lang Chai) hasn't changed much. I found the fishing beach particularly lively and active in the morning, when boats return from sea with fresh catch.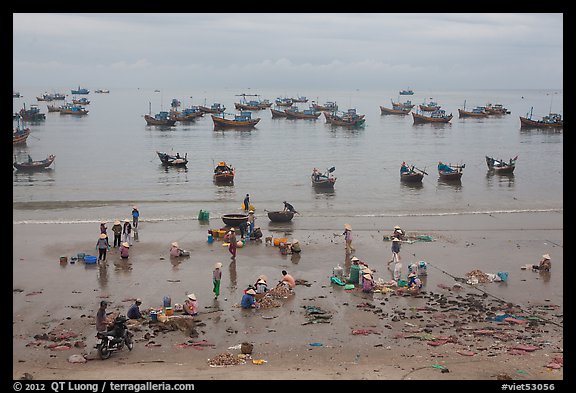 More specific to the area, I followed the Fairy Spring, a shallow stream flowing through interesting red rock formations, until a nice waterfall.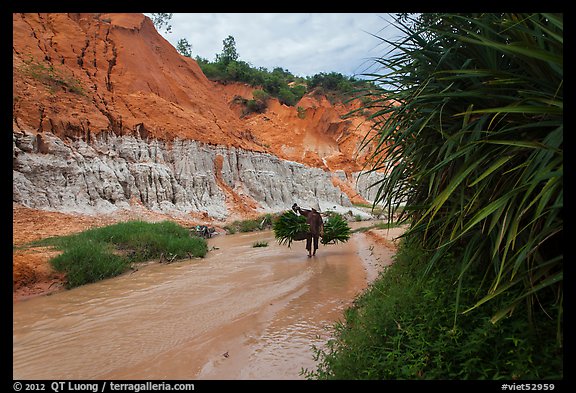 However, I came to Mui Ne mostly for the sand dunes. One of the most iconic subjects in Vietnamese photography consists of women with conical hats walking on those dunes carrying the two typical Vietnamese baskets on the shoulder pole, an intriguing mix of human interest and nature setting.
Those images don't happen by chance. All the images are staged using cooperative models. I normally don't stage images, nor hire models. In particular, when traveling in third world countries, I always make sure not to "tip" any children for posing. This may sound harmless, but a tip can be a significant amount of money compared to what parents earn the hard way, which could incite kids (with approval from their family) to skip school. On the other hand, it's fair to pay adults for modeling, as this is a legitimate occupation for some in the West.
As I've seen many of those images in Vietnamese calendars – they seem relatively absent from travel photographers portfolios, though, maybe because it's not that easy to make arrangements – I thought it would be fun to try my hand at photograph them. With the help of my cousin, who has spent much time in Mui Ne, we found a woman in the evening. We made appointments with motorbike drivers to pick her and me a dawn. The Vietnamese photographers often have women wearing the elegant Ao Dai, but I thought it would be more natural for her to wear everyday clothes. Since I am not used to directing models, even though I speak Vietnamese, the session felt a bit awkward at the beginning, but after a while, both of us got used to the situation. This type of shooting requires a good coordination with the model, since after you've stepped somewhere, the patch of sand is marred by footprints, so you get only one chance before you have to find a few one, with the appropriate ripples, orientation, and background.
The dunes are formed by red sand. The variations in color that you are seeing are due to the changing light color (sunrise is warmer) and angle. I kept the session short, as it is tough work to walk up and down sand, and the temperature was quickly rising after sunrise, yet it produced a large variety of images. I'm showing here only a selection of horizontal images.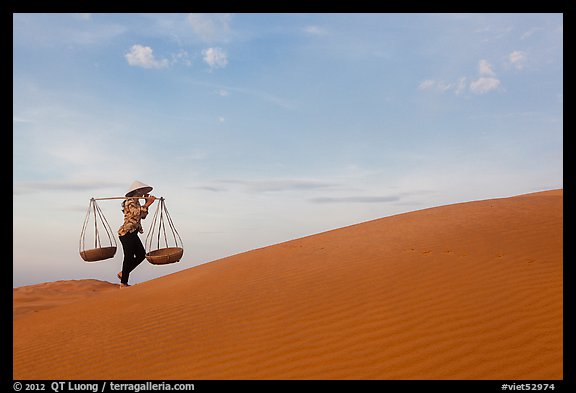 A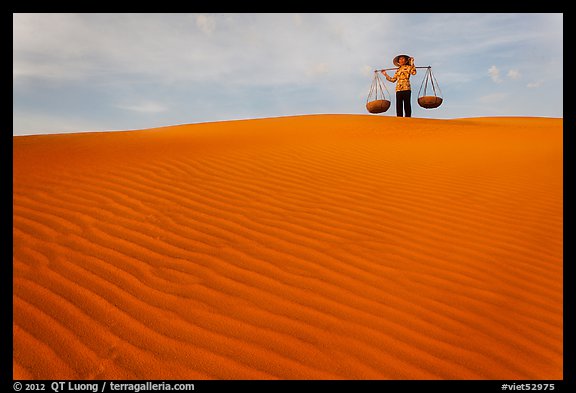 B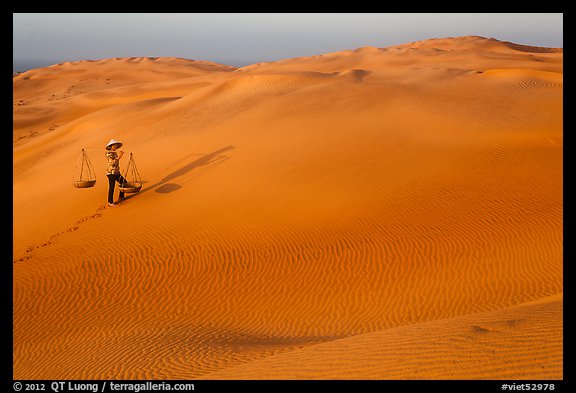 C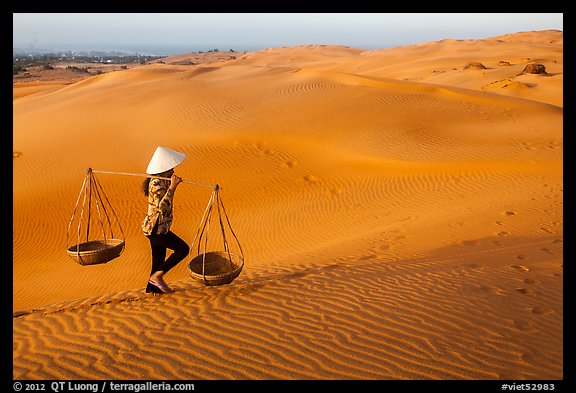 D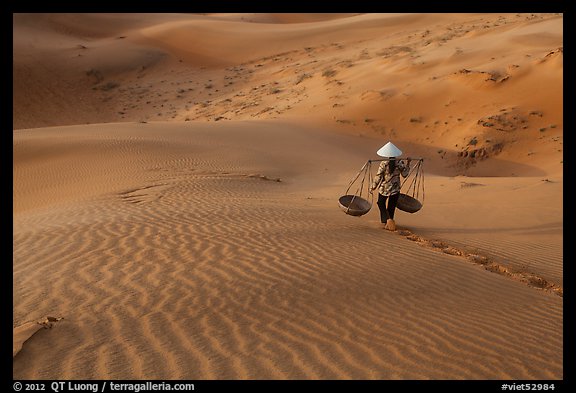 E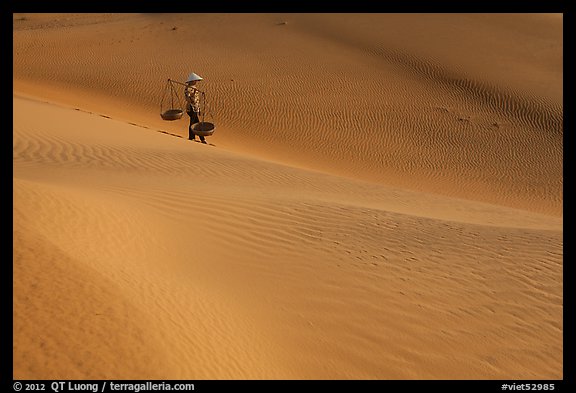 F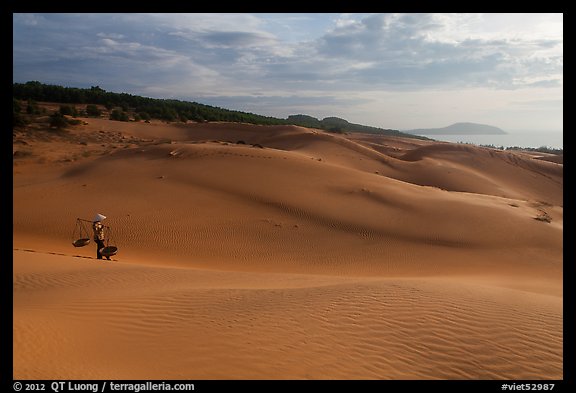 G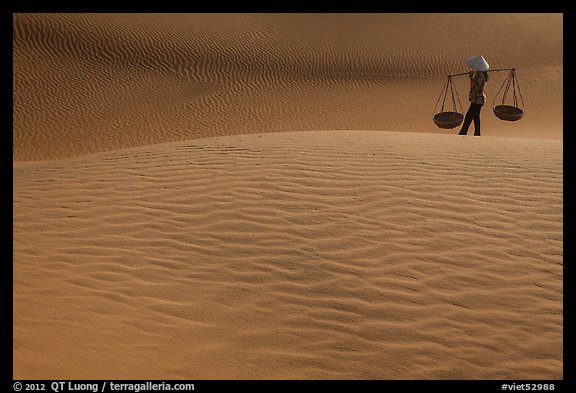 H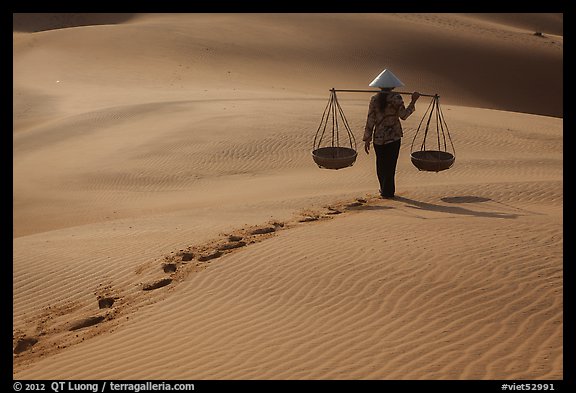 I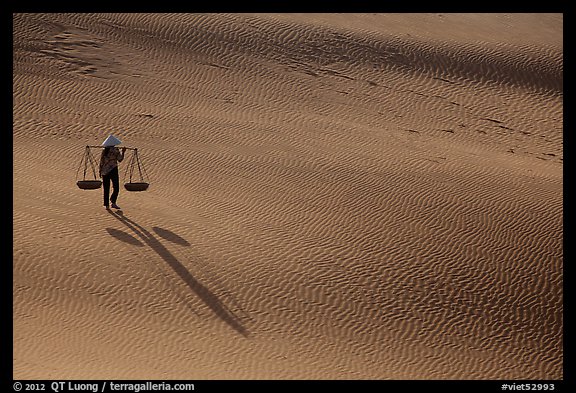 J
More images of Mui Ne
Interested in photographing Vietnam ? Join me for a photo tour this fall.