Ko Phi-Phi Island, Thailand
2 Comments
After
Railey
, my next stop in southern Thailand was
Ko (island) Phi-Phi
. I catched a long-tail boat ride at Railey East to the small pier of Ao Nammao. The tour operator with whom I had booked the trip sent a mini-bus – late by almost an hour and again packed to the gills – to shuttle us from there to the shiny Krabi passenger terminal, where we boarded a larger vessel for the hour and half crossing.
From the boat, we saw plenty of barely developed beaches, with just a few bungalows nearby, but by contrast Tonsai Village surprised me by being a wall-to-wall patchwork of tourist-oriented businesses. In particular, i had never seen as many dive shops before, offering instruction in any possible language. Yet the atmosphere was relaxed, with not a single motorized vehicle in sight.
The waters, crystal clear, must have been a stunning sight in good weather, when the sun could penetrate them to reveal their turquoise hues, but unfortunately the rainy weather continued. In those conditions, I thought it wouldn't be worth it to take a boat tour, and instead wandered around with an umbrella. My most interesting discovery was a small muslim cemetery (at the bottom of this page), which, with its low profile graves, was unlike any of the cemeteries that I have seen before.
However, since staying for hours in a cemetery is no way to spend a tropical island vacation, despite the cloudy weather, I headed to the beach, which was lined up with long-tail boats.
The long-tail boats are an iconic watercraft in this part of the world. These ingenious boats use a common automotive engine, mounted on a turret which can rotate through 180 degrees, allowing steering, and also swivels up and down to provide a "neutral gear" where the propeller is outside of the water. The propeller is mounted directly on the driveshaft (with no additional gearing) through a long metal rod of several meters (see here) giving the boat its name. Since there are no roads on Phi-Phi Island, long-tail boats are the means of transportation for locals and tourists to destinations outside Tonsai Village.
Although the scene lacked brilliant colors, there was a sense of tranquility that I tried to capture. As I lingered for a long time there, I noticed that despite the overcast conditions, the light and pastel colors changed in a subtle way as the hours passed. The difference was enough to yield different images that feel different to me, even with a similar composition. Which one do you prefer, and why ?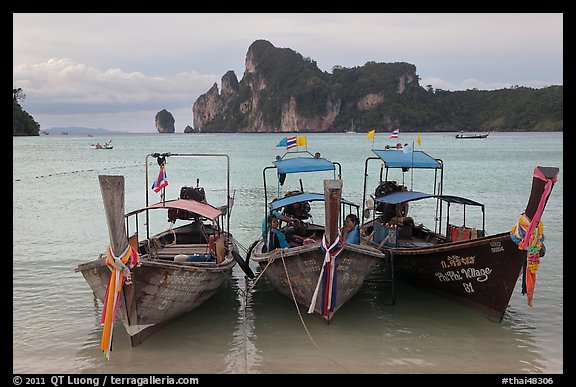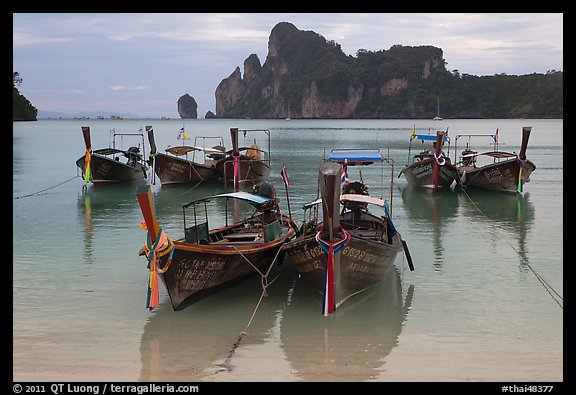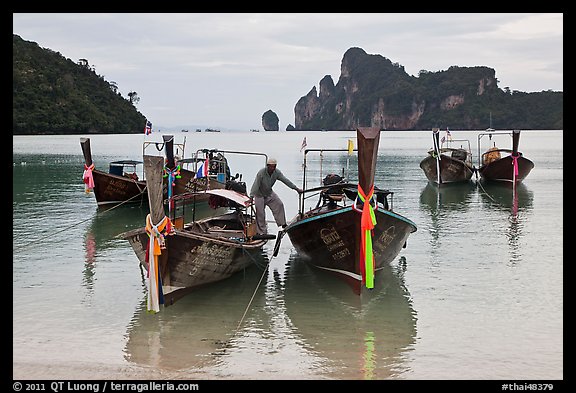 View more images of Ko Phi-Phi.