Mount Rainier National Park new images: Comet Falls
3 Comments
Mount Rainier dominates the surrounding landscape like no other mountain in America. The ice-capped volcano is visible from more than 100 miles away. However, the mountain is so big that it creates its own weather, often hiding in the clouds when everywhere else is clear. During my last trip to Mount Rainier National Park, I saw the mountain for only a few hours.
This let me concentrate on closer subjects which are easy to overlook, as the mountain is so prominent. Although the rain forests in the park are not as impressive as those on the Olympic Peninsula, they are nevertheless very lush.
I found Comet Falls to be one of the most beautiful waterfalls in the Park. While it is only 1.9 miles to the falls from the trailhead (ten miles from the Nisqually Entrance), the elevation gain is almost 1500 feet. I found the trail to be very pleasant, as it follows the cascading stream, in and out of a beautiful forest. This was a perfect hike for a rainy day. At 300 feet tall, Comet Falls is quite impressive, but what makes it stand out are its three tiers. I first took a general view from a viewpoint overlooking the falls. Then, I moved lower in order to align the three tiers more tightly. I eventually scrambled above the lower tier to get closer to the water flowing from the middle tier. Although that lower tier is no longer visible, I feel that the flowing water and stronger perspective added dynamism to the image. What do you think ?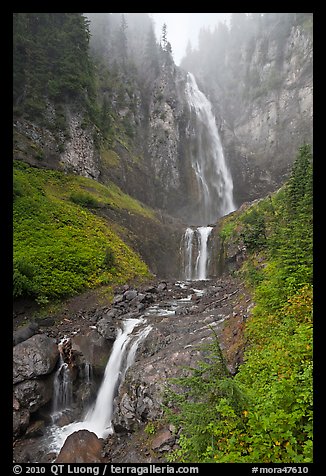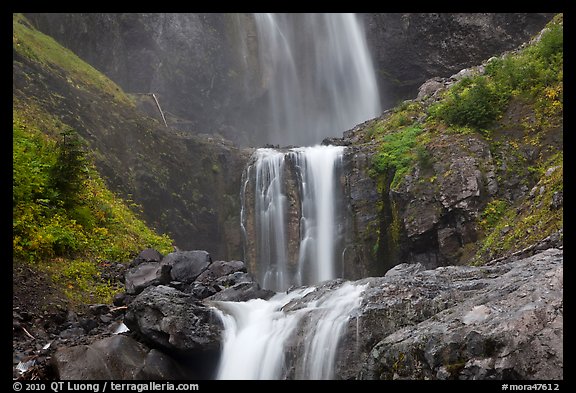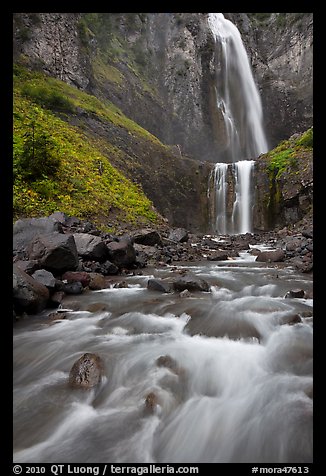 More images of the trail to Comet Falls