Eliot Porter books
16 Comments

Eliot Porter was to color photography what Ansel Adams was to black-and-white. The jacket flap of one his books published in 1970 simply stated "Eliot Porter is recognized as the finest color photographer alive today". It can be argued that Porter was not only the first color nature photographer, but also the first major artist working in the medium of color photography, a decade before "early colorists" Saul Leiter and Fred Herzog, and more than two decades before William Eggleston.
Eggleston began to experiment with dye-transfer printing in 1973, but Porter had worked in the early 1940s with an even more complicated precursor, the washoff-relief process, which was so obscure that Porter – who was initially a research scientist with a MD degree from Harvard – had to obtain information about it in research papers. Dye transfer allowed a fine control of hue, saturation, and contrast which Porter would use to make highly expressive prints. In those early days, technical challenges of color photography were such that Porter's photographs were a supreme technical achievement. From an artistic point of view, besides seeing in color, Porter broke away from the sublime emphasized by Ansel Adams expansive romantic views of the landscape, striving instead for intimacy and abstraction, and defining the genre of "intimate landscapes". Here is a 20 min introductory film about Eliot Porter's work:
Books of color photography are nowadays omnipresent, but it was not always so. There was a first, and it was Eliot Porter who lead the way in 1962 with "In Wildness", the pioneering "coffee table" book. It has since then spawned an entire industry which also includes nature posters and greeting cards. Its success led him to eventually publish more than 25 books. At the time of his death, in 1990, in terms of publications, public and institutional acclaim, influence on other photographers and on the environmental movement, Porter stood apart. Yet, for reasons I am not sure, in the 21st century, Porter's reputation seems to have faded to the point that none of his books remain in print, as of this writing. However "In Wildness" is coming back soon, and a new catalog from the Getty Museum, Eliot Porter: In the Realm of Nature is announced for this fall. Fortunately, so many of his books were sold that most titles can readily be found on used-books websites at prices that are a bargain.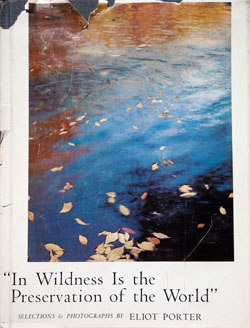 In Wildness Is the Preservation of the World
In the 1940s, Porter began a personal project to photograph forests, ponds, leaves, and wildflowers in the Eastern woods, introducing a more intimate window on nature, in color and soft hues, in which he looked for the transcendental as he was reading Thoreau at the suggestion of his wife. When David Brower accepted the proposal from Porter to publish the project as his first book, the Sierra Club did not skimp on its production. Raising $40,000 ($300,000 in today's currency), they printed out a large (10×13) and heavy book – part of the "exhibit format series" which had started with "This is American Earth", possibly Ansel Adams most important and famous book. "In Wildness" consisted of 72 large format color photographs of the New England woods, reproduced as well as they could be at that time, using four-color lithography and a special varnish only on the photo pages which used Kromekote paper. Each of them is cleanly paired with a quotation from Henry David Thoreau – printed on the left opposite page and served by great typography – which matches the image in spirit. First published in 1962, the book was an instant sensation, selling close to 60,000 copies – more than "This is American Earth". To understand the magnitude of this success, notice that the cost of the book was $25. This is $188 in 2012 currency. The book revolutionized the publishing industry by setting new standards for designing and printing fine art photography books, and proving that there was a market for them. It earned the Sierra Club an international reputation as a publisher of fine books, and helped expend their audience (for a thorough exposition, see the book chapter The Sierra Club and Coffee Table books). Published in the same year as Rachel Carson's "Silent Spring", and delivering a complementary message, the book had a lasting effect on the nascent conservation movement. Besides establishing Porter's reputation as the pioneer of color photography, and effectively launching his career, the public's positive response to "In Wildness" showed him that he could use photography to make people aware of nature's beauty without compromising his artistic goals. This transformed him into an active conservationist. "In Wildness" would remain in print for decades. According to the Amnon Carter Museum, more than one million copies were sold. I remember purchasing a used copy in the first month after I moved to Berkeley in 1993, and keeping it at my bedside for weeks, as I found it incredibly inspiring, even with the diminished power of the paperback edition. Porter's images showed to me that beauty could be found in the most humble scenes, and revealed by a honest representation without excessive effects. I eventually bought a copy of the first hardcover edition, which is more satisfactory with its large size and more vivid reproductions. Yet, there is no doubt that book printing has improved considerably since then. Comparing side by side, the reproduction of the original cover image ("Pool in a Brook, Brook Pond, New Hampshire, October 4, 1953") looks better in Intimate Landscapes (1979) and Eliot Porter (1987). With that in mind, I had good hopes for the 50th anniversary edition released by Ammo books in Nov 2012, but didn't purchase a copy after seeing that Michael Johnston and Geoff Wittig gave it a thumbs down: "In comparison with the original first edition, which I have, the reproduction in the reissue looks like bad color Xeroxes". The link at the top of this entry points to the first 1962 edition, which is somehow difficult to locate amongst all the amazon links for various editions.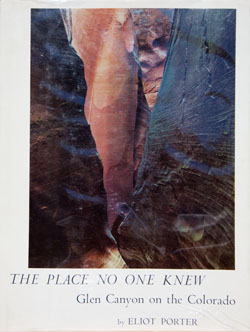 The Place No One Knew, Glen Canyon on the Colorado
Unlike his first one, the second book of Eliot Porter was to be part of an environmental campaign – to stop construction of the Glen Canyon Dam. Unlike the gentle woods were Porter spent much of his early years, it depicts the more striking and harsh geology of the Southwest where Porter would live for the second half of his life after his move to Santa Fe. This setting, and the stronger light yields some of Porter's most colorful and abstracted photographs. The influential conservation photographer Robert Glenn Ketchum considers this work to be the pinnacle of Porter's career, because "he was free in those canyons to give service to his science and his documentation and still be in abstraction heaven". The book is all the more precious because it is an eulogy. It came too late to affect public opinion and prevent the flooding, although it did result in federal review of reclamation projects on western rivers and the eventual passage of the Wilderness Act in 1964. Therefore, when looking at the vibrantly colored photographs of gulches, rock walls, and hidden canyons carved by the Colorado and San Juan Rivers, one cannot help remembering that those treasures would never be seen again. The book design – by David Brower himself – and format are identical to "In Wildness", making it almost a companion volume. The design used in the Sierra Club Exhibit series has varied over the years, but all the Porter books in the series present images with adequate white margins, consistent placement, and no gutter overlap, although the print quality appears to have degraded over the years. A compelling writer who would often share the circumstances of his photography adventures and educate about their subjects, Porter wrote the text in the opening and concluding pages. He selected the quotations facing the photos from a variety of writers to face the photos instead of just one.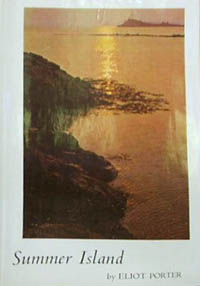 Summer Island: Penobscot country
This is the most personal of all Porter's books. His father had bought Great Spruce Head Island, accessible by an hour boat ride in the Penobscot Bay of Maine, where "there was nothing anywhere that was unnecessary; nothing; whether the work of man or nature that existed without a purpose". The summers that he spent there were the source of his love of nature and photography. The book is divided in two equal parts. In the first part, autobiographical texts are mixed with early black and white photographs of Penobscot Bay. The second part, in the spirit of the two first Porter Books, consists of color photographs in Porter's mature style, mixed with short literary quotations from more than a dozen of authors. Published in 1966, this was the third book by Porter in the Sierra Club Exhibit series. Twenty years later, in 1986, Porter revisted the place closest to his heart by compiling unpublished images into a new book Maine where he lets the photography do all the speaking – there is little text besides a short opening autobiographical essay – in a clean NYGS/Eleanor Caponigro design.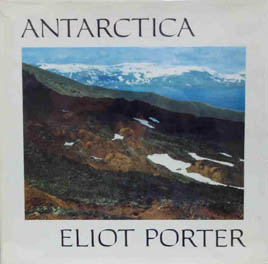 Antarctica
Maine and the Eastern forests were Porter's first stomping grounds. He then explored extensively the Southwest where he relocated, but his sense of adventure led Porter to expend his horizons to exotic locales as diverse as Baja California, the Galapagos, Africa, Greece, and China, each trip resulting in a book. But none location was as remote as Antarctica, which he visited on two trips in 1974 and 1975. At that time, no commercial trips were available, but Porter had been selected as an artist-in-residence by the National Science Foundation, which provided him transportation and logistics that allowed him to work in a large array of locations for several months. The book consists of an extensive travelogue supported by maps. In between written chapters, there are six photo sections which illustrate diverse aspects of Antarctica, including wildlife as well as landscapes – both ground and aerials – and even historic settlements. Porter was remarkably fit for his age, however he was 74 during those expeditions. Because of the difficult working conditions, he used a 35mm camera for much of this work, which sometimes compromised a bit the quality of reproduction compared with his older books, although in most cases with his later books, the printing was too contrasty.
Birds of North America: A Personal Selection
Porter had been photographing birds since his early years, but in 1939 a publisher rejected his bird book proposal because he thought that color was essential for bird identification. This was the impetus that prompted Porter to take up of the challenge of color photography. To fully appreciate it, remember that Porter was working with a 4×5 camera, a few feet from some birds, and the speed of the initial Kodachrome was a ridiculously low ISO 5. With the support of a Guggenheim grant, using custom lighting equipment and building towers, Porter was able to make color bird pictures which were good enough to be the subject of a solo exhibit at the Museum of Modern Art, New York, in 1943. Those are far more interesting than the visual simple contemporary bird photographs with a blurred background captured with AF, super-teles, and fast frame rates, and high ISO. Instead, Porter portrays the birds at close-range, in their natural nesting environment with exquisite colors and textures revealed by great resolution and depth of field. Despite artistic recognition, the book had to wait because of the high cost of color quality color reproduction. It wasn't until 1972, long after gaining success with his non-bird photographs, that Porter would publish that book about his first photographic love. It consists of a five-chapter narrative about his time in the field as a caring bird photographer, ("the steps necessary to safeguard the welfare and even the lifes of the subjects may take up more time than the photography itself") mixed with seven groups of full-page photos – 64 in color, 16 in black and white.
Intimate Landscapes
In 1979 the work of Eliot Porter was exhibited in Intimate Landscapes, the first one-person show of color photography at The Metropolitan Museum of Art, New York. This exhibition earned Porter praise as the individual who brought credibility to color photography as a medium of fine art. The image selection defined what is now meant by the term "intimate landscape": the close-range, quiet compositions of natural elements with muted colors and dense textures, meditative and dense with layered meanings, which were the hallmark of Porter's work at the exclusion of more expansive and spectacular landscapes. The book is the catalog of this landmark exhibition, well printed (although maybe too muted) and flawlessly designed by Eleanor Morris Caponigro in an understated way which fits perfectly the work. Curator Weston Naef authors one of the first essays on Porter, describing him as "captivated by colors that had not yet been named". Except for a few, all the images are in vertical orientation, therefore fitting the format of the book well. Unlike others, this book has become collectible, with no reprints available, so there are no inexpensive copies.
Eliot Porter's Southwest *
Long before bursting on the scene with the color photographs of "In Wildness" in 1962, Porter had become a recognized black and white photographer through a body of work which is now mostly forgotten. His black and white photographs were exhibited at Steiglitz "An American Place" art gallery in 1938 – not an insignificant honor since Ansel Adams and Paul Strand were the only other photographers represented there -, prompting him to leave science and devote himself to photography full-time. In 1980, Janet Russek who Porter had hired to help catalog his photographs, came across boxes of pictures that she did not recognize. There were hundreds of unpublished images taken in New Mexico, Arizona, Colorado, and Utah from 1939 to 1962. This 1985 book, the only one devoted to Porter's black and white work, consists of a selection of 90 of those images, covering an unexpectedly large range of subjects.
Eliot Porter
The book was published in 1987 on the occasion of Porter's first major retrospective at the Amon Carter museum, to which Porter would later bequeath his entire work, which is available to view at the extensive Eliot Porter online collection guide. It opens with a 75-page autobiographical memoir which ranges from his early years, move to Santa Fe, work with the Sierra Club, to his later exotic travels. Porter remembers a pivotal encounter early in his career: "The other photographer turned out to be Ansel Adams, of whom I had never heard… After dinner, I was asked to show my pictures, which I did with a certain amount of self-satisfaction. Ansel Adams looked at them but said nothing, and then showed his. That was a traumatic and embarrassing experience; I saw immediately how vastly superior his photographs were to mine, and how little I know about photography technically, or what its potential was for creative expression … Sensing my embarrassment, Ansel Adams tried to encourage me, suggesting that my photography could be improved by using a larger format camera." The memoir concludes with an epilogue: "But before all else a work of art is the creation of love. Love for the subject first and for the medium second. Love is the fundamental necessity underlying the need to create, underlying the emotion that gives it form, and from which grows the unfinished product that is presented to the world. Love is the general criterion by which the rare photograph is judged. It must contain it to be not less than the best of which the photographer is capable". The plate section presents a selection from all his projects, including not only color natural landscapes, but also early black and white work and bird photographs, and later foreign cultural work, which even includes a few portraits. Excellent reproductions and design (also by Eleanor Morris Caponigro) make it the best introduction to Porter's work.
Nature's Chaos
When his son gave him James Gleick's recently published book about chaos theory, Porter felt as if all he intuitively sensed in nature and tried to capture in his photographs, but could not conceptualize scientifically during all his life, was described by complexity sciences and fractal geometry. Science and art, the two strands of his life that had been separated for a long time – despite in background and continued interest – were all of the sudden reconciliated, which brought him much peace. Porter quickly made contact with James Gleick and he validated his intuition as they began to work on this book, his last before he passed away in 1990. Nature's Chaos was the first book of Eliot Porter that I saw. I bought it during a brief scientific visit to the US in 1991. At that time, as a PhD student in Artificial Intelligence, I was first drawn to the science, but it the photographs that had a lasting impact on me. They opened my eye to the richness, diversity, simplicity and complexity of nature. It remains one of my favorites because the selection of images – almost all previously unpublished – is very cohesive and strong, and as one of the more recent books, it is has some of the best reproductions. "The images selected for this book are mostly details of nature which emphasize how nature's apparent disorder can be reduced to aesthetically stimulating fragments. Although subjects such as mosses, lichens, or leaves that have just fallen are not orderly at all, when viewed as detailed sections, they become orderly. This process suggests a tension between order and chaos. When I photography, I see the arrangement that looks orderly, but when you consider the subjects as a whole or on a larger scale, they appear disorderly. Only in fragments of the whole is nature's order apparent."
The Color of Wildness *
The most comprehensive survey of Porter's work to date, published in 2001 as a catalog to the centenial exhibition, using the same large trim as "In Wildness". Although there are plenty of autobiographical essays in Porter's books, not too many critical essays were available in previous books. "The color of Wildness" include two interesting ones: John Rohrbach addresses Porter's innovations in photography compared to photographers such as Ansel Adams, while Rebecca Solnit explores its environmental influence. In addition, his son Jonathan memoir discusses Porter's lifelong love of the natural world, his working methods, and his interests outside of photography. Since this is a relatively recent book, I would have expected excellent reproduction. While most plates are fine, some do suffer from excessive contrast, resulting in blocked shadows. Although Porter used a large format camera, he made small, gem-like dye transfer prints, whose richness is very difficult to reproduce by ink. Maybe the best reproductions so far are in Regarding the Land: Robert Glenn Ketchum and the Legacy of Eliot Porter, which as indicated by the title, is more about RGK than Porter.
I have a half-dozen more books by Eliot Porter on my shelves – of uneven quality I must say – but those are either my favorites (for a variety of reasons), or books that shed a particular light on Porter's work. Did any other book inspire you ?
Part 3 of 5: 1 | 2 | 3 | 4 | 5