Canon 70-200/2.8 IS II, 70-200/2.8 IS, and 70-200/4 IS: comparison/review
2 Comments
The short 70-200 tele-zoom is one of the most popular professional lenses. It covers a useful focal length range, good from portrait work to sports shooting and also for distant landscapes as well as details.
Canon makes four of such lenses. All of them use a ring USM motor which offers fast, silent focus plus full time manual focus override, and have internal focus. They come in f2.8 and f4.0 versions, with and without Image Stabilization (IS). The versions without IS are less expensive and slightly lighter. Personally I think that IS is such a useful feature that I think it is well worth the additional price.
Since the f4 lenses are more recent that the venerable first 70-200 f2.8 lens, they benefit from some improvements, for instance sporting a more efficient IS. The advantage of the f4 lenses are: lower price (however the tripod collar is not included), slightly smaller size, and half the weight. The advantage of the f2.8 lenses are: half shutter speed wide open, greater background blur wide open to isolate subject, auto-focus operation at all fstops (works in lower light, faster, more precise, works with 2x TC).
I read everywhere that the 70-200 f2.8L IS USM is one of Canon's best lenses. That isn't my experience, and mine ended up one of my least used lenses. While its construction and operation are superb, I was disappointed by its lack of sharpness. It could certainly be that I had a bad sample – at the time when I acquired it, I didn't test lenses like I do now. But to me it looks like that Canon themselves recognized that they could do better, since last year they released the 70-200 f2.8L IS II USM.
I passed on the 70-200 f4, since, for a lighter lens, I preferred the longer reach of the 70-300/4-5.6 IS USM lens, which by the way, I did not find optically inferior. Last December, my friend Regis, who carefully hand-picked his 70-200 f4 IS, brought two copies of the new 70-200 f2.8L IS II USM.
The two f2.8 lenses look almost identical. The only visible difference are that the focusing ring on the II version is a bit wider, and the switches are lower profile, but the lens has been in fact totally redesigned: besides additional special lens elements, the II lens has better focus distance and magnification, AF (improved speed through new algorithms), and IS.
We used Imatest to measure the MTF 50 (the most accurate numerical indicator of sharpness/contrast, see this post for details) of the four lenses at 70mm, 135mm, and 200m:
A/C: two new 70-200 f2.8 II
B: 70-200 f2.8
D: 70-200 f4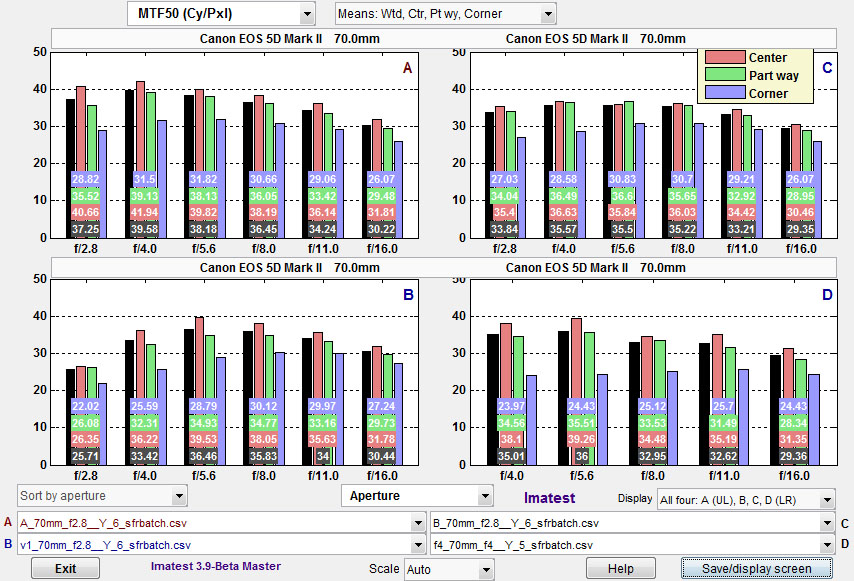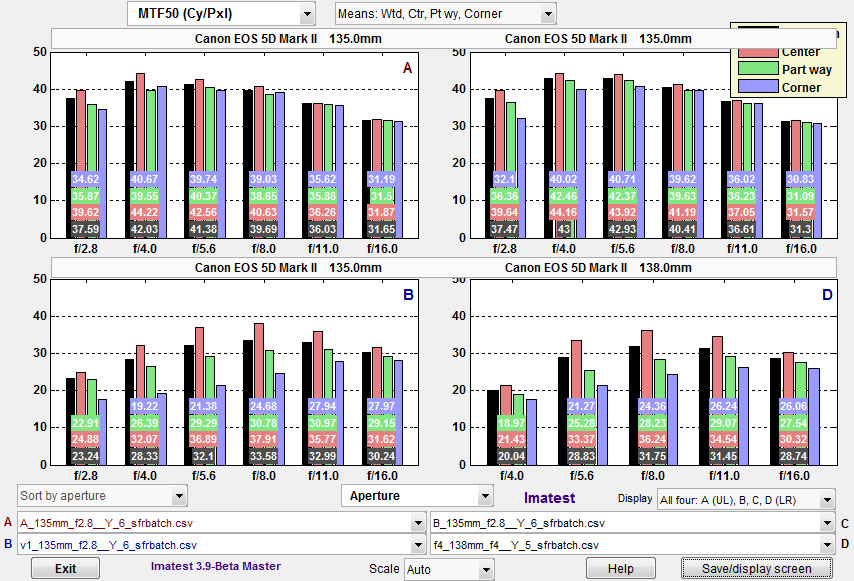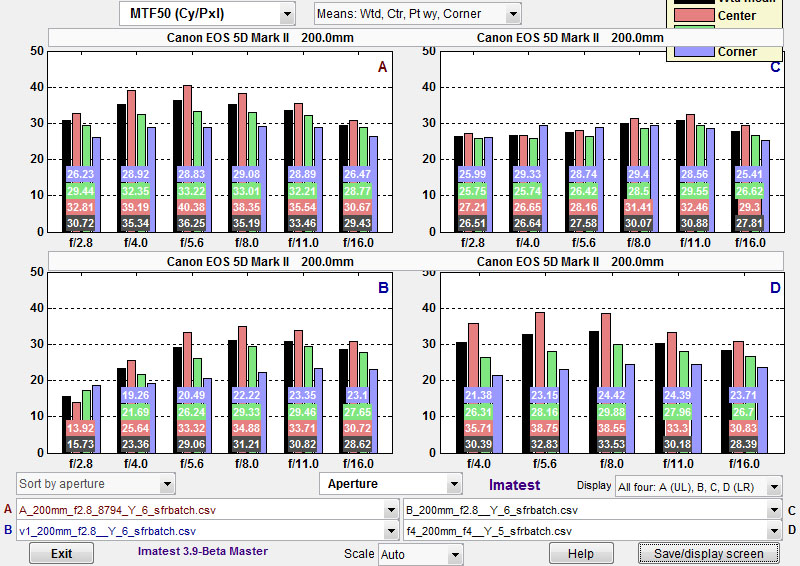 Main conclusions from the graphs:
The new 70-200/2.8 II improves considerably on the old 70-200/2.8, in particular at wide apertures. It also beats the 70-200/4 (hand-picked, unlike the 70-200/2.8) which came in second place. Canon did deliver on their promise of a better lens.
While results at 70mm and 135mm are roughly comparable, there is a significant sample-to-sample variation between the two copies of the 70-200/2.8 II at 200mm. In fact, there is as much difference between the two (identical) lens samples than between a 70-200/2.8 and the 70-200/4. Test your lenses !
Summary:

70-200 f/2.8 II
70-200 f/2.8
70-200 f/4
Maximum aperture
f2.8
f2.8
f4.0
Close Focus
3.9 ft./1.2m
5 ft./1.5m
3.9 fr./1.2m
Max. Magnification
0.21x
0.16x
0.21x
Lens construction
23 elements, 19 groups
23 elements, 19 groups
20 elements, 15 groups
Special Elements
1 Fluorite, 5 UD
4 UD
1 Fluorite, 2 UD
Image stabilizaton
4 stops
3 stops
4 stops
Filter size
77mm
77mm
67mm
Size DxL
3.4 x 7.7 in/ 86 x 197mm
3.4 x 7.7 in/ 86 x 197mm
3 x 6.8 in/ 76 x 172mm
Weight
52oz / 1490g
51oz / 1470g
27oz / 760g
Distortion
70mm: 1.4 (barrel)
135mm: 0.7 (pincushion)
200mm: 1.3 (pincushion)
70mm: 1.4 (barrel)
135mm: 0.8 (pincushion)
200mm: 1.3 (pincushion)
70mm: 1.6 (barrel)
135mm: 1.3 (pincushion)
200mm: 1.8 (pincushion)
Sharpness
Best (see graphs)
Good (see graphs)
Better (see graphs)
Price (01/2012)
$2069 @ BH
$2069 @ amazon
discontinued
$1131 @ BH
$1131 @ amazon