Best Photobooks 2017: the Meta-List
One Comment
How do you separate wheat from chaff within the several thousand photobooks published last year? Photographers, critics, curators, and journalists have been writing year-end lists of best (favorite, interesting, notable…) photobooks. However, each list is subjective and limited by the number of photobooks to which the writer had access. The meta-list is a methodology to aggregate them together into a more consensual and inclusive list.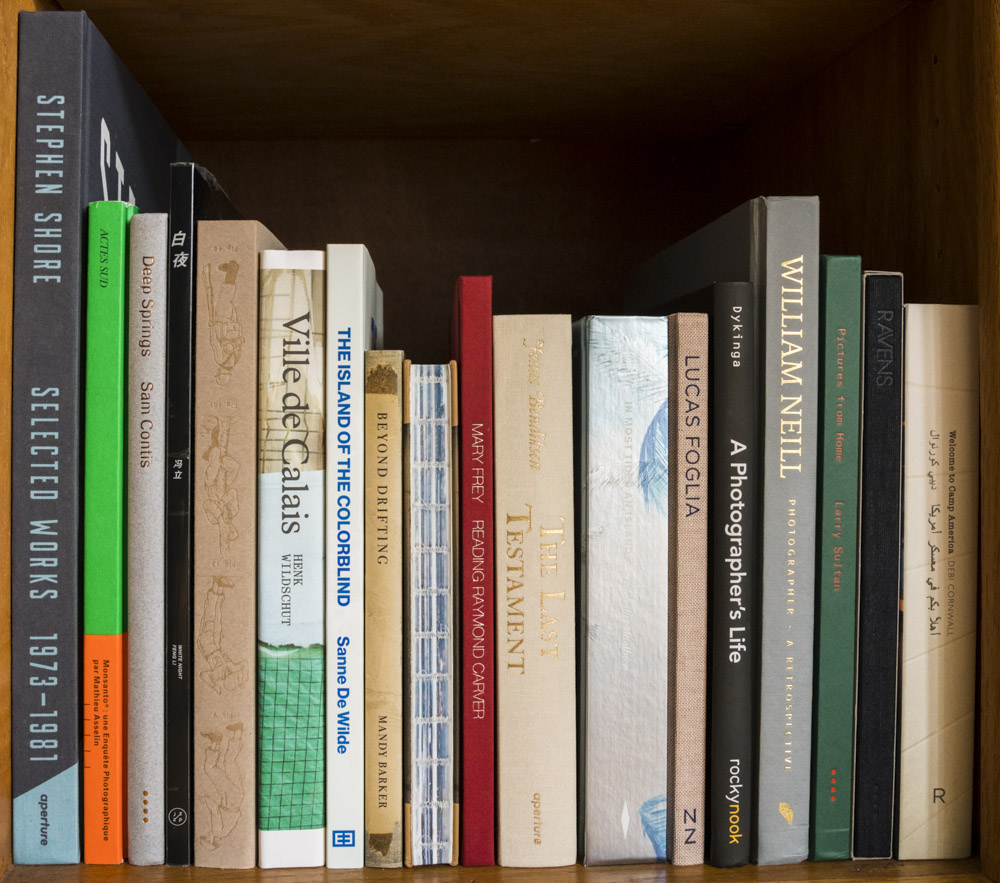 In my meta-list of best photobooks, titles are ranked by how many lists they have appeared in, each listing counting as one "vote", and only titles that have appeared at least in two lists are considered. The 2017 meta-list (2012, 2013, 2014, 2015, 2016) is derived from 41 sources, totaling 92 individual lists. Unlike in previous years, I couldn't rely on an existing compilation of lists, so I made my own, using Google searches and browsing of sites that posted lists on previous years. The list compilation is posted below the meta-list and each entry makes for good reading. Also, new this year, I've added a link to a video flip-through for the top titles, as well as links to Amazon, or in the case of self-published books, to the author's page – a good way to support them and get a signed copy.
(15 votes)
Monsanto: A Photographic Investigation MATHIEU ASSELIN Verlag Kettler video amazon

(14 votes)
Deep Springs SAM CONTIS Mack video amazon

(13 votes)
Welcome to Camp America, Inside Guantanamo Bay DEBI CORNWALL Radius Books video amazon

(12 votes)
Reading Raymond Carver MARY FREY Peperoni Books video amazon

(10 votes)
Island of the Colorblind SANNE DE WILDE Kehrer Verlag video amazon
Ville de Calais HENK WILDSCHUT Self-published video author

(9 votes)
Buzzing at the Sill PETER VAN AGTMAEL Kehrer Verlag video amazon
Selected Works, 1973-1981 STEPHEN SHORE Aperture video amazon
The Last Testament JONAS BENDIKSEN Aperture video amazon

(8 votes)
The First March of Gentlemen RAFAL MILACH Muzeum Dzieci Wrzesinskich (1st), GOST (2nd) video amazon

(7 votes)
Museum Bhavan DAYANITA SINGH Steidl video amazon
Prince Street Girls SUSAN MEISELAS TBW Books Series video amazon
Slant Rhymes ALEX WEBB & REBECCA NORRIS WEBB La Fabrica video amazon
War Sand DONALD WEBER Self-published video author
White Night FENG LI Jiazazhi video amazon

(6 votes)
Beyond Drifting: Imperfectly Known Animals MANDY BARKER Overlapse video amazon
Blind Spot TEJU COLE Penguin Random House video amazon
California JOHN CHIARA Aperture video amazon
Halo RINKO KAWAUCHI Aperture/Thames & Hudson video amazon
In Most Tides An Island NICHOLAS MUELLNER SPBH video amazon
Local Objects TIM CARPENTER The Ice Plant video amazon
Night Procession STEPHEN GILL Nobody/Self-published video author

(5 votes)
Boardwalk Minus Forty MIKE MANDEL TBW Books Series video amazon
Endangered TIM FLACH Abrams video amazon
Human Nature LUCAS FOGLIA Nazraeli video amazon
Nausea RON JUDE Mack video amazon
On Abortion LAIA ABRIL Dewi Lewis video amazon
On The Frontline SUSAN MEISELAS Aperture video amazon
Pictures from Home LARRY SULTAN Mack (reprint) video amazon
Ravens MASAHISA FUKASE Mack (reprint) video amazon
The Last Son JIM GOLDBERG Super Labo video amazon

(4 votes)
A Beautiful Ghetto DEVIN ALLEN Haymarket Books
Bleu ALIX MARIE Morel
Borne Back VICTORIA WILL Peanut Press
Dublin KRASS CLEMENT RRB Publishing video
Election Eve WILLIAM EGGLESTON Steidl (reprint)
General View THOMAS ALBDORF Skinnerboox video
Good Goddamn BRYAN SCHUTMAAT Trespasser video
Hidden Mother LAURA LARSON Saint Lucy Books
I Love You, I'm Leaving MATT EICH Ceiba Editions video
If You Have A Secret IRINA POPOVA Self-published (reprint) video
Man Next Door ROB HORNSTRA Self-published video
Manhattan Transit The Subway Photographs of Helen Levitt HELEN LEVITT Walter Konig
Obama: An Intimate Portrait PETE SOUZA Little, Brown and Co video.
Only the Lonely, 1955-1984 WILLIAM GEDNEY University of Texas Press video
People In Cars MIKE MANDEL Stanley/Barkervideo
Photobook Phenomenon MORITZ NEUMULLER (ed) RM CCCB/FUNDACION FOTO COLECTANIA video
The Ending LEIF SANDBERG Bœcker Books video
The Mechanism MÅRTEN LANGE Mack video
The Restoration Will MAYUMI SUZUKI Self-published video
The Transverse Path (or Nature's Little Secret) MIKE SLACK The Ice Plant video

(3 votes)
30/Exposure KAZUMA OBARA Self-published
36 Views FYODOR TELKOV Ediciones Anomalas
An autobiography of miss Wish NINA BERMAN Kehrer Verlag
And from the Coaltips a Tree Will Rise LATOYA RUBY FRAZIER MAC'S Grand Hornu
Beyond Here Is Nothing LAURA EL TANTAWY Self-published
Centennial IRVING PENN Metropolitan Museum of Art/Yale University
Corbeau Anne Golaz MACK
Dandy Lion: The Black Dandy and Street Style SHANTRELLE P. LEWIS Aperture
Fancy Pictures MARK NEVILLE Steidl
Fink on Warhol: New York Photographs of the 1960s LARRY FINK Damiani
Firecrackers: Female Photographers Now FIONA ROGERS & MAX HOUGHTON Thames & Hudson
Head LEE FRIEDLANDER TBW Books Series
I Fought the Law OLIVIA LOCHER Chronicle Books
In that Land of Perfect Day BRANDON THIBODEAUX Red Hook Editions
Iowa NANCY REXROTH University of Texas Press
La Grieta (The Crack) CARLOS SPOTTORNO Astiberri Ediciones
Mean Streets: NYC 1970-1985 by Edward Grazda powerHouse Books
Merrie Albion: Landscape Studies From A Small Island SIMON ROBERTS Dewi Lewis Publishing
Mfon: Women Photographers of the African Diaspora LAYLAH AMATULLAH BARRAYN, ADAMA DELPHINE FAWUNDU, & CRYSTAL WHALEY Eye + Inc.
Money Must Be Made LORENZO VITTURI SPBH
Pittsburgh 1950 ELLIOTT ERWITT GOST
Portraits DUANE MICHALS Thames & Hudson
Red Flower: The Women of Okinawa MAO ISHIKAWA Session Press
Ren Hang REN HANG Taschen
Sleeping by the Mississippi ALEC SOTH Mack (reprint)
The Disappearance of Joseph Plummer AMANI WILLETT Overlapse Photobooks
The Family Imprint: A Daughter's Portrait of Love and Loss NANCY BOROWICK Hatje Cantz
The Iceberg GIORGIO DI NOTO Edition Patrick Frey
They Shall Take Up Serpents BILL BURKE TBW Books Series
Think of Scotland MARTIN PARR Damiani
This Is Not My Book ERIK VAN DER WEIJDE Spector Books
Witness: Kashmir 1986-2016 SANJAY KAK (Ed,9 Photographers)
You Get Me? MAHTAB HUSSAIN Mack

(2 votes)
50 Years of Rolling Stone JANN S WENNER Rolling Stone
A Rock is a River MAYA ROCHAT
Alternative Moons NADINE SCHLIEPER & ROBERT PUFLEB
Arbus Friedlander Winogrand: New Documents, 1967 JOHN SZARKOWSKI Museum of Modern Art
Archiving Eden DORNITH DOHERTY Schilt Publications
As it may be BIEKE DEPOORTER Aperture
Billie Holiday at Sugar Hill JERRY DANTZIC Thames + Hudson
Bluewater Shore DOUGLAS STOCKDALE self-published
Bord de Mer GABRIELE BASILICO Contrasto
Bystander: A History of Street Photography JOEL MEYEROWITZ & COLIN WESTERBECK Laurence King Publishing
Christian Borchert – Schattentanz / Shadow dance HANSGERT LAMBERS & JENS BOVE (editors)
Clear of People MICHAL IWANOWSKI Brave Books
Continental Drift TAIYO ONORATO & NICO KREBS Edition Patrick Frey
Daily, In A Nimble Sea BARRY STONE Silas Finch
Days of Smelling Like Grass YOSHIO MIZOGUCHI
Diary of a Leap Year RABIH MROUE
East/West HARRY GRUYAERT Thames & Hudson
Ed Forbis LOLA PAPROCKA & PANI PAUL Palm* Studios
Eternal Friendship ANOUCK DURAND Siglio
Expired Paper ALISON ROSSITER Radius Books
Extra! WEEGEE Hirmer/University of Chicago
Feast for the Eyes SUSAN BRIGHT Aperture
Flow TYMON MARKOWSKI Self-published
Front Line Towards Enemy LOUIE PALU Yoffy Press
Generation Wealth LAUREN GREENFIELD Phaidon
Here For The Ride ANDRE D. WAGNER Creative Future
Hunter Grill ALEXANDRE CHRISTIAENS
I loved my wife (Killing children is good for the economy) DIETER DE LATHAUWER
Internat CAROLYN DRAKE
Kensington Blues JEFFREY STOCKBRIDGE Self-published
Magnum Manifesto CLEMENT CHEROUX & CLARA BOUVERESSE Thames & Hudson
Mother MATTHEW FINN Dewi Lewis
Natten MARGOT WALLARD
Nokturno ANDREJ LAMUT The Angry Bat
Order of Appearance JIM JOCOY TBW Books
Out of the Blue VIRGINIE REBETEZ Meta/Books
Passport ALEXANDER CHEKMENEV
Past Perfect Continuous IGOR POSNER
Pictures From the Next Day ROBERT LYONS Zatara Press
Pop BRIAN GRIFFIN
Preston Bus Station JAMIE HAWKESWORTH
Prison Photographs NICOLO DEGIORGIS
Real Nazis PIOTR UKLANSKI Edition Patrick Frey
Really Good Dog Photography LUCY DAVIES (Ed) Hoxton Mini Press & Penguin Books
Recent Histories: Contemporary African Photography and Video Art from the Walther Collection DANIELA BAUMANN, JOSHUA CHUANG, OLUREMI C. ONABANJO Steidl
Rex ZACKARY CANEPARI Contrasto Books
Roadside Lights EIJI OHASHI Zen Foto Gallery
Shot: 101 Survivors of Gun Violence in America KATHY SHORR
Siloquies and Soliloquies on Death, Life and Other Interludes EDGAR MARTINS The Moth House
Small Town Inertia JIM MORTRAM
State of Nature CLAUDIUS SCHULZE Hartmann
Tales Of Lipstick And Virtue ANNA EHRENSTEIN Editions Bessard
The Erratics DARREN HARVEY-REGAN RVB Books
The Flying Carpet CESARE FABBRI Mack
The Gravity of Place ISRAEL ARINO Ediciones Anomalas
The Japanese Photobook: 1912-1980 MANFRED HEITING Steidl
The Kids The Children of LGBTQ Parents in the USA GABRIELA HERMAN The New Press
The Pigeon Photographer NICOLO DEGIORGIS Rorhof
The Run-On of Time EUGENE RICHARDS Yale University Press
The Topography of Tears ROSE-LYNN FISHER Bellevue Literary Press
The World is not Beautiful; Photographs 1973-1981 JOHN MYERS
There's A White Horse In My Garden ANNE SCHWALBE
Veterans: Faces of World War II SASHA MASLOV Princeton Architectural Press
Walden S.B. WALKER Kehrer Verlag
We Are Still Here DEVYN GALINDO DG-Print
You Wait ROMAN PYATKOVKA


Source lists
Antiquated Modern
A Photographic Mind
Mother Jones
NY Times Mag
CAPE
Liberation Fr
The Heavy Collective (3 lists)
Scotsman
Bintphotobooks
Internazionale It
Women Photograph
The Camera Store
Previiew
LensCulture Curators
LensCulture Personal Favorites
LensCulture (multiple votes counted)
The Photobook Blog
1000 Words Mag
NY Times
Humble Arts Foundation
Booktrib
Elizabeth Avedon Part 1
Elizabeth Avedon Part 2
Shooter Files
Calvert Journal
Vulture
Buzzfeed
Crave
Parade
Amateur Photographer UK
Elin Spring Photography
Atlas Obscura
Artsy
Times UK
The Guardian UK
Photobookstore UK (23 lists) + meta-list
PhotoEye (28 mini-lists)
Smithsonian
PDN
The 2017 PhotoBook Awards Shortlist
The following lists have some photobooks in them but have not been used either because they are too general (also feature non-photobook titles), or more rarely, too specialized:
CIIN
CL Tampa
Culture Type
Elle UK
Fashionista
AFR
Format
Independent UK
Inside Hook
Jackson Art
LA Times
Magnum Photos
Readings
Sleek Mag
Daily Beast
Guardian UK
The What
Vogue
WRAL
BJP
NYMag
Bouilla Blaise
Regardless of what one may think about the practice of listing best photobooks of the year, I think that the Meta-list provides a good snapshot of what the "photobook world" thought about the year past standouts, and more importantly is an invitation to discover work that wouldn't have come to your attention otherwise.
By the way, the photo includes two personal favorites that could be considered "outliers" that I will review on this blog. Can you spot them?